Heading to Austin, Texas? I'm sure you've got live music, food, cocktails, and nice weather on the brain. And you're in luck because you can find so many fun things to do in South Congress that include all of it. This neighborhood will give you a great taste of what this city offers and you're bound to leave with great memories.
Walk along the iconic South Congress Avenue…
Where you will find coffee shops, restaurants, boutiques, art, and music. It's a fun, hoppin' area on the weekends with a great vibe that makes you want to stay all day.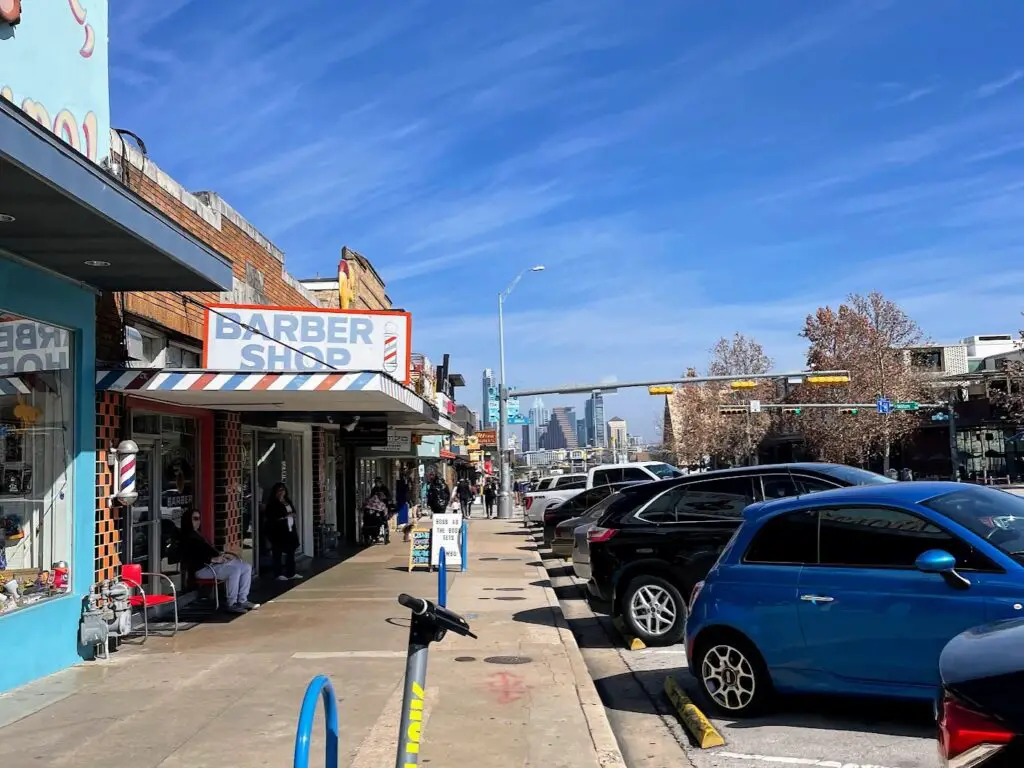 South Congress is 5 miles from Downtown Austin and you'll want to spend at least a few hours here.
South Congress Austin Tips
Parking in South Congress: Many businesses have their own (small) lots. There is street parking—metered along South Congress Ave. and free on most side streets. (This area can get busy on weekends so be prepared to drive around for a spot.) And there are a few parking garages as well.
Everything is within walking distance. It's one of the true beauties of this area! Time spent getting your steps in while admiring arts, shops, and restaurants along the way.
I recommend a full day here—there is PLENTY to do as you'll see below. You may even make a full weekend of it. But know one day is enough; I know there is MUCH to explore across Austin.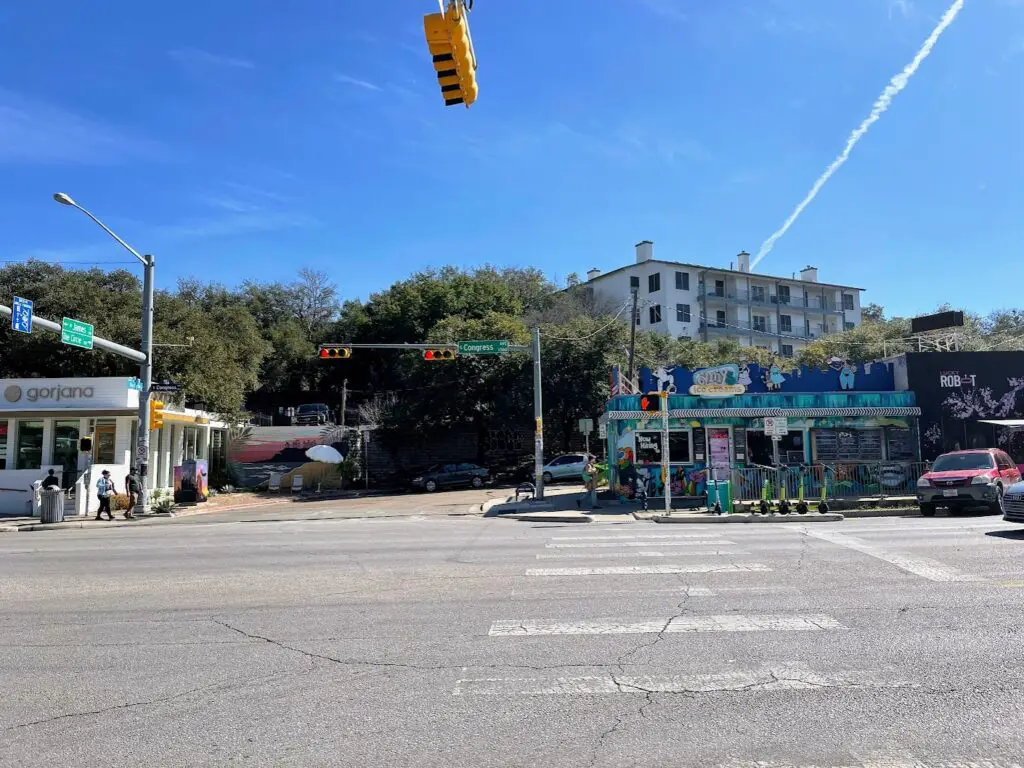 Coffee in South Congress, Austin
The best way to start the day, right? There is no shortage of coffee in the city of Austin, and South Congress is no exception. Here are the spots you want to hit for coffee, sweet treats, and lovely aesthetics.
Jo's Coffee
One of the most well-known coffee shops in all of Austin! And it's not hard to figure out why once you visit the South Congress location. Jo's Coffee is super casual, fun, and right in the heart of all the South Congress action. An open-air coffee shop with a walk-up window, Jo's is the place to be on a sunny Saturday morning. Plus, there's often live music on Sundays.
Their iced coffee is fantastic, and you can choose to enjoy it out on the patio or take it with you to all of the funky shops in the area. Don't forget to snap a picture at the I love you so much mural!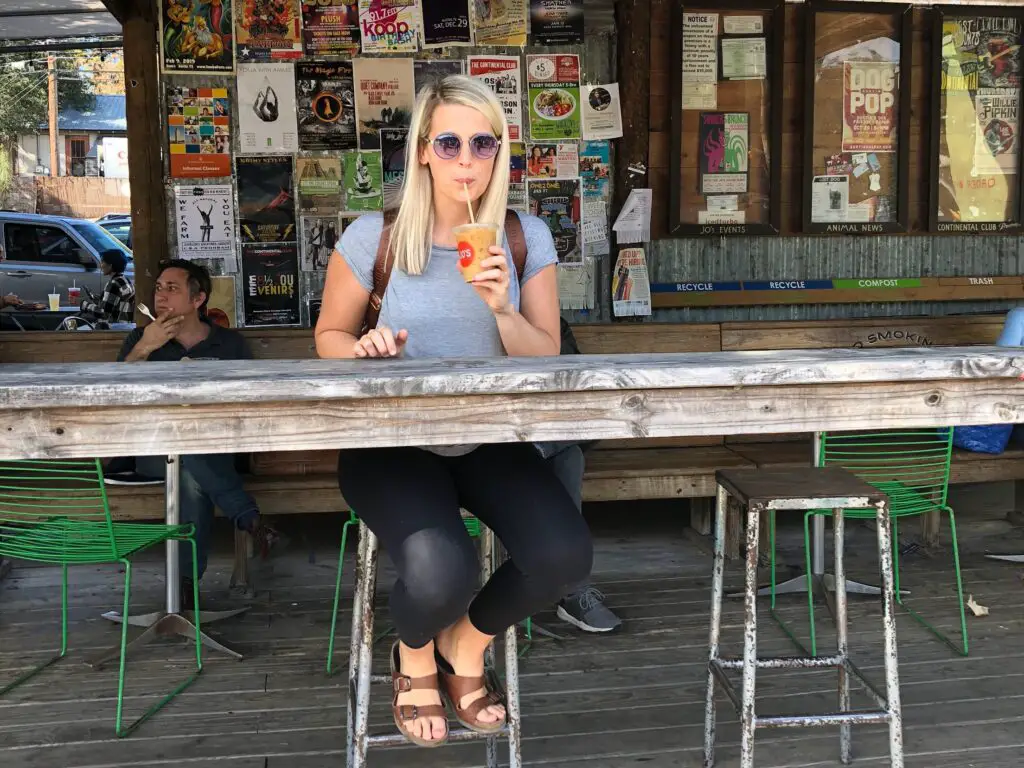 Summer Moon Coffee
This is my favorite coffee shop in South Congress! Located on South 1st, the inside of Summer Moon Coffee is simple and rustic with a variety of seating for those looking to work or those visiting with friends. The staff is next-level friendly and will surely put a smile on your face.
My vanilla latte was the best one I had in the area, and they have small breakfast tacos for the perfect morning snack. Could it get any better?!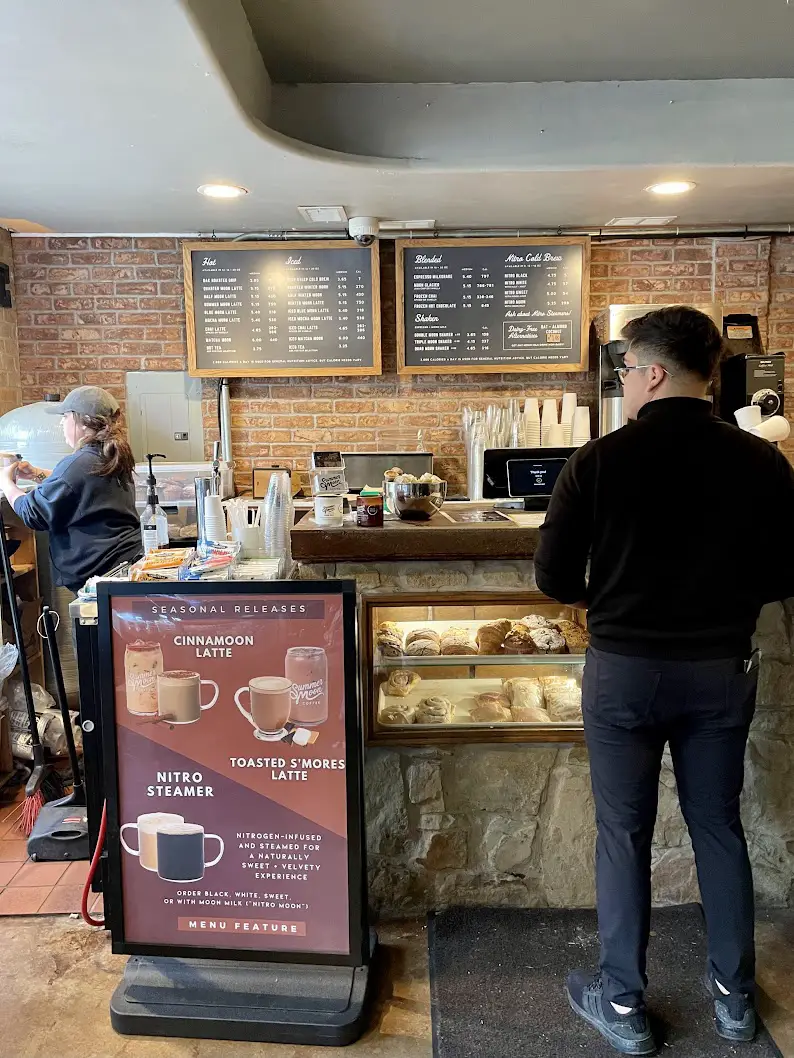 The Salty Donut
Good coffee. Better donuts. Best vibe. The Salty Donut is the perfect place to come and get some work done while enjoying a cup of coffee—and something sweet, of course! The atmosphere is open and spacious with a comfy couch area, personal tables (with outlets), and then a large community table to work together or meet new people.
I went simple with the glazed donut holes (you get 6) which were delicious, but if you feel like something from the wild side, choose Strawberry Shortcake, Brown Butter and Salt, or Almond Mocha Fudge.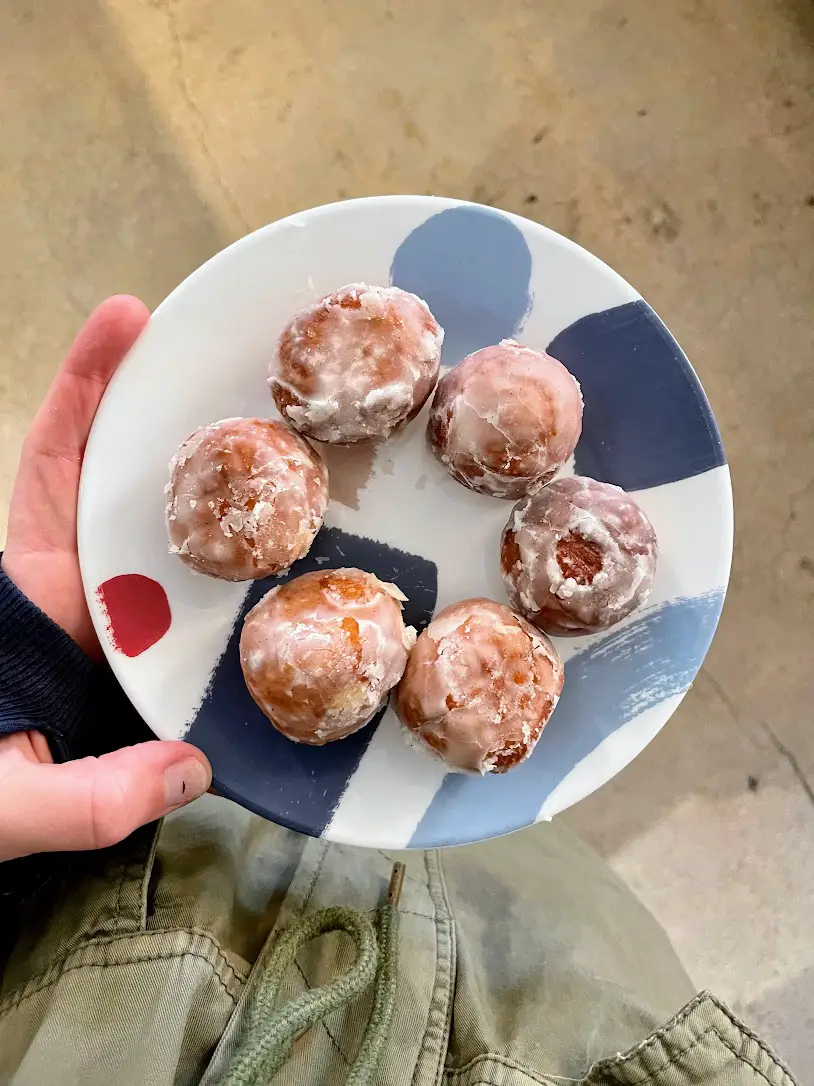 Once Over Coffee Bar
This was a totally random stop for me, and I am SO GLAD I stopped in. I stumbled upon Once Over Coffee Bar, ordered a Ginger tea (which is so good and comes in your own mini kettle), and noticed they had a back patio complete with string lights, art, overhanging trees, and a little stream. I highly recommend this place if you're looking to ease into the morning with a hot drink, a fresh bagel, and a good book.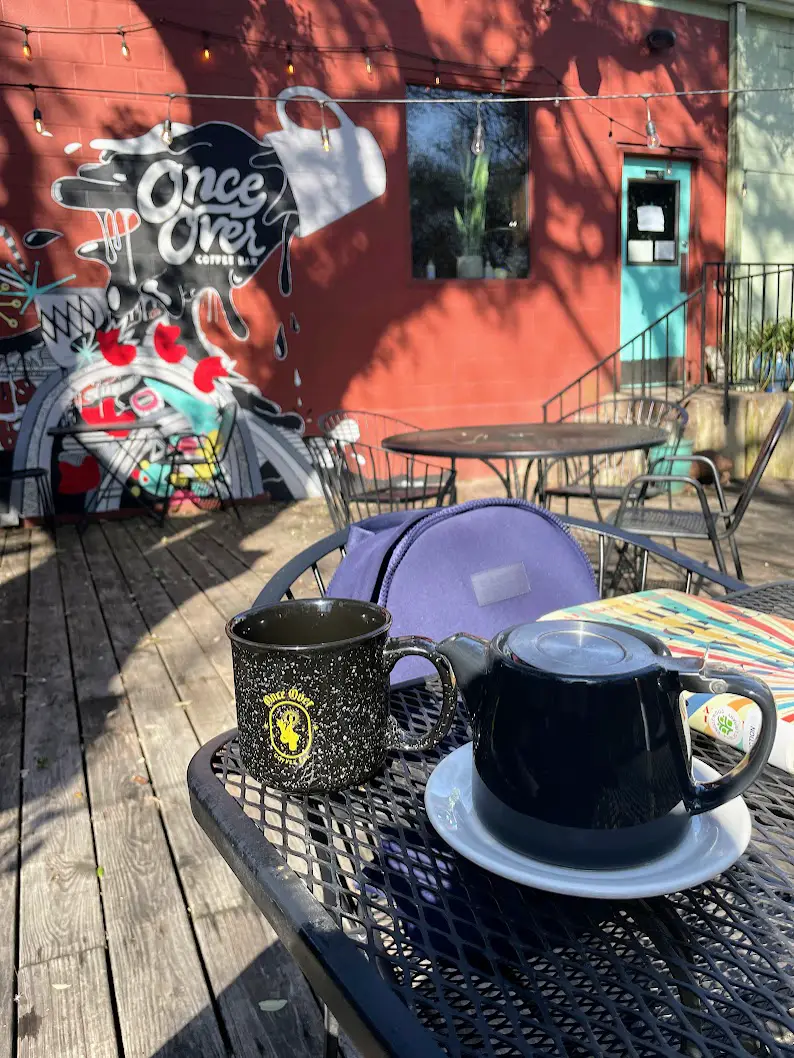 There's more where that came from! Read The Best Coffee Shops in South Congress to find the best place for you.
Breakfast in South Congress, Austin
One of the best things about Austin is the GREAT food. You will find some of the best restaurants in the country that offer local cuisine and fresh takes on common dishes. Make sure you start the day with a good breakfast at one of these places:
Magnolia Cafe
One of South Congress' hottest eateries! Magnolia Café, right along S Congress Ave, is bound to have a line out the door, and unfortunately, I didn't make it in. The first day, they opened late for renovations, and the next day, the wait was an hour and a half (so it must be as amazing as they say!) They offer traditional breakfast plates and Tex-Mex at an affordable price—and many recommend the omelets.
TIP: Put your name in then walk along South Congress Ave and stop in shops to kill some time before your table is ready.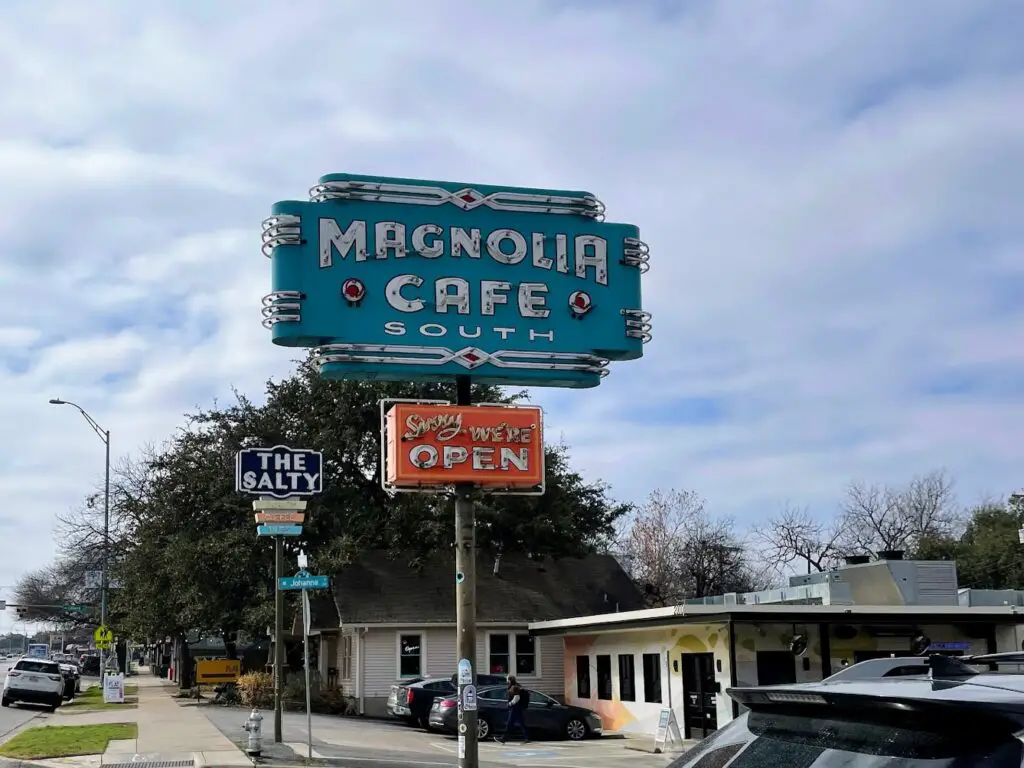 Teal House Coffee & Bakery
If you're looking for a quick, sweet breakfast in a cute space, head over to Teal House Coffee & Bakery. And don't skip the cinnamon rolls because when they say "the best cinnamon roll in Austin," they AREN'T LYING!
This is a great spot, their staff is extremely friendly, and I said "wow" at least three times while eating my cinnamon roll. They are the perfect size (about your palm) so you don't feel sick afterward, and both the texture and flavor are impeccable! Stop in for one, plus a cup of coffee.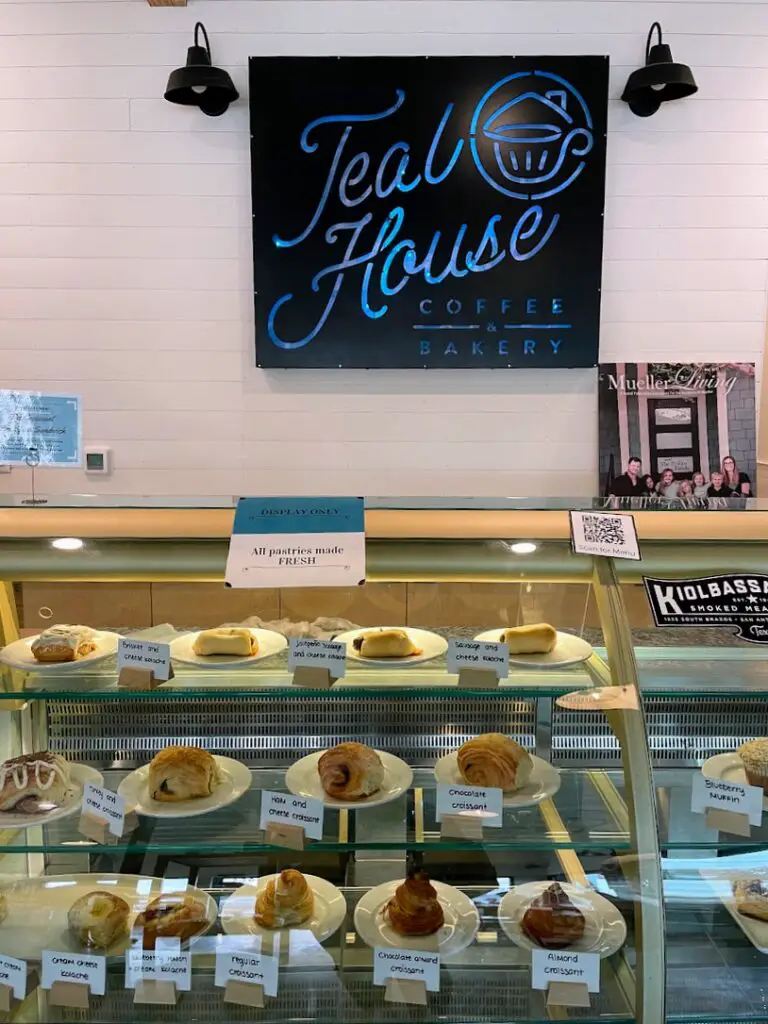 Café No Sé
This bright, airy, rustic-modern cafe is a vibe. Located in the South Congress Hotel, Cafe No Se offers a small, yet high-quality menu and they don't stop at breakfast. You can grab lunch, happy hour, and dinner here as well. And if it's a nice day, sit on their outdoor patio.
Snooze Eatery
About a mile away is Snooze Eatery, which is definitely one of the best places for brunch! It's hoppin' on weekend mornings so people can get their fix of mimosas and pancakes! Located on S Lamar Blvd., grab a table inside (it's a fun retro atmosphere), or out on their outdoor patio. (You may just want to opt for the first-available seating because this place is going to be busy!)
If you want a classic breakfast, order The Snooze Classic. And if you are eying up something a bit more trendy, go with the Burrata & Prosciutto Toast—the bread it comes on is divine. And make sure at least one person at the table gets a pancake so you're able to try it!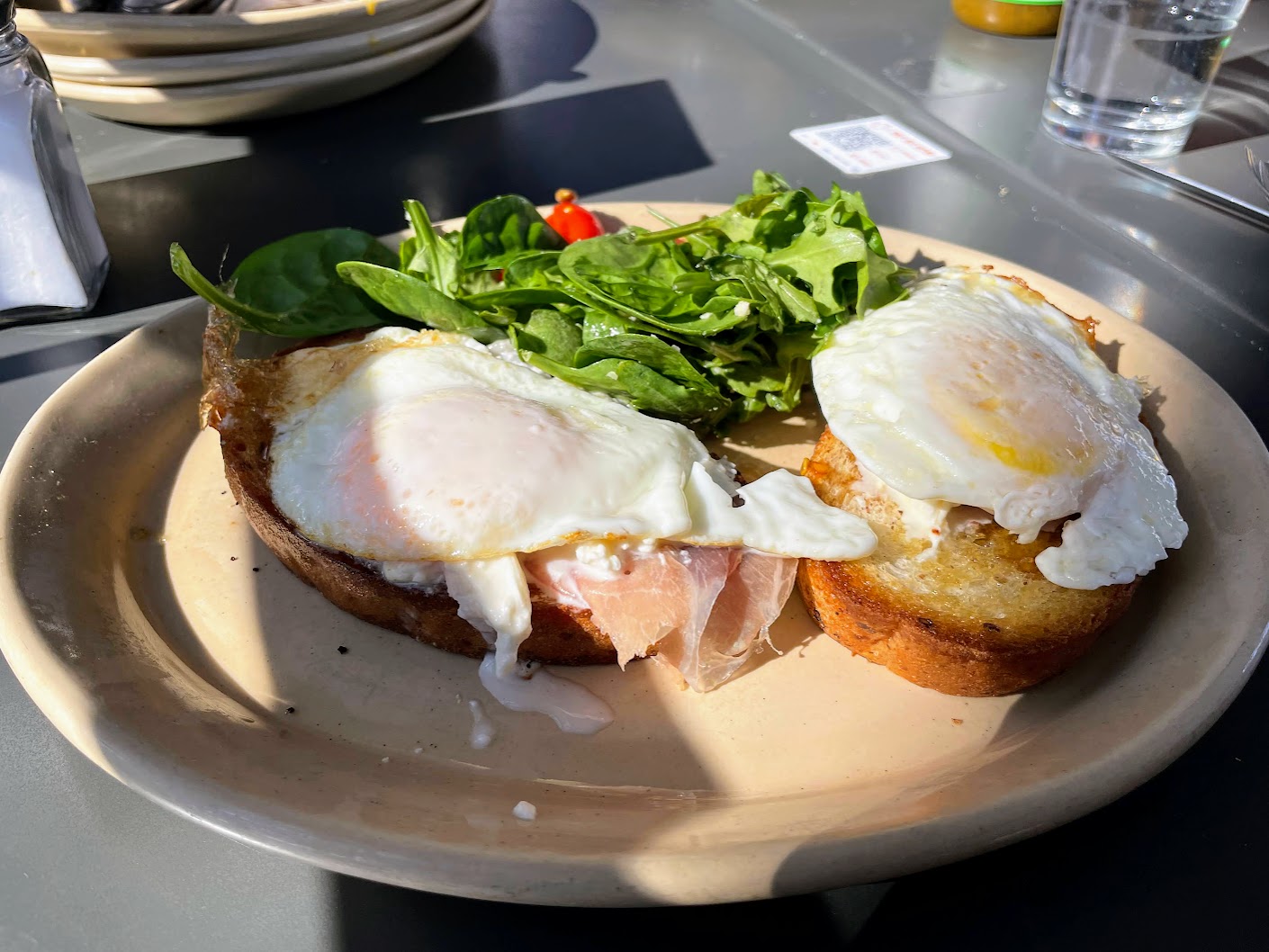 Shopping in South Congress, Austin
It's not a full day in South Congress without taking advantage of one of Austin's biggest shopping areas. There are SO MANY cute and fun shops to explore so after you get your morning cup of coffee and some breakfast, let the shopping begin. Here is where to go:
Allen's Boots
A South Congress must stop. Locate the big red boot sign outside the store and make your way to Allens Boots. Multiple rooms are full of leather cowboy boots, belts, and Western apparel. You've never seen this many boots in all colors, designs, and sizes.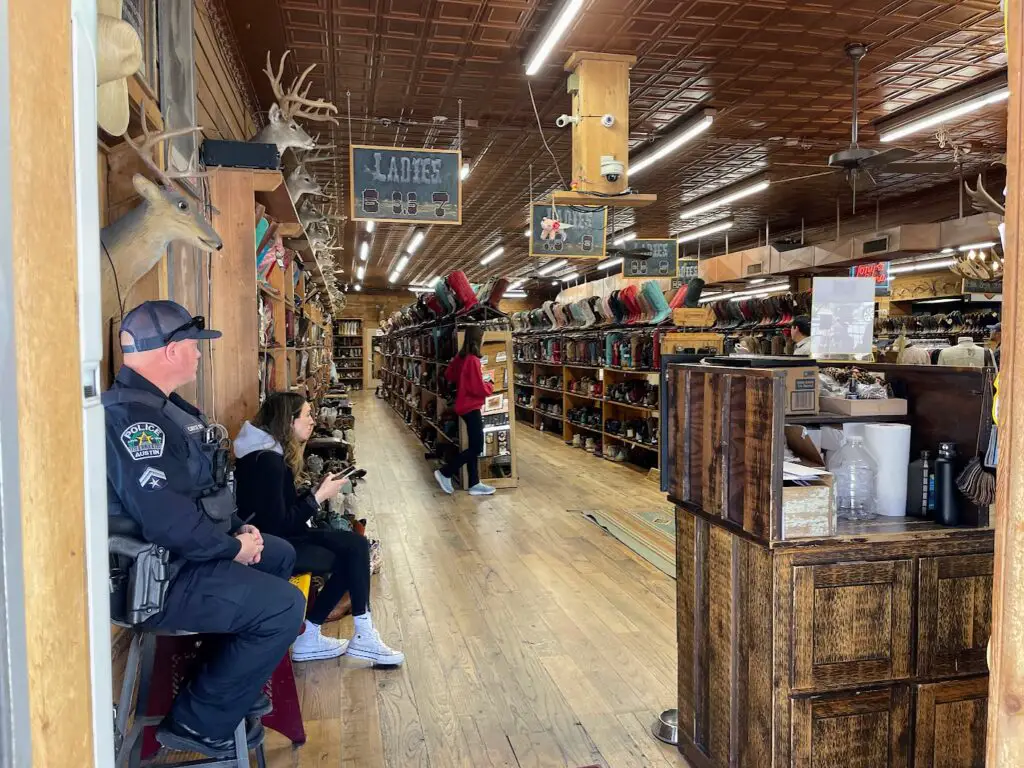 Kendra Scott
True story, I had no idea who this was before a few months ago when a friend mentioned her name and my response was "who is that?" But apparently, I'm not in the know because she is a very well-known jewelry designer from Texas.
Stop in Kendra Scott to admire (or buy a piece of) her jewelry. You can also grab a drink from the coffee bar and enjoy a very trendy, aesthetically-pleasing, Instagrammable shop.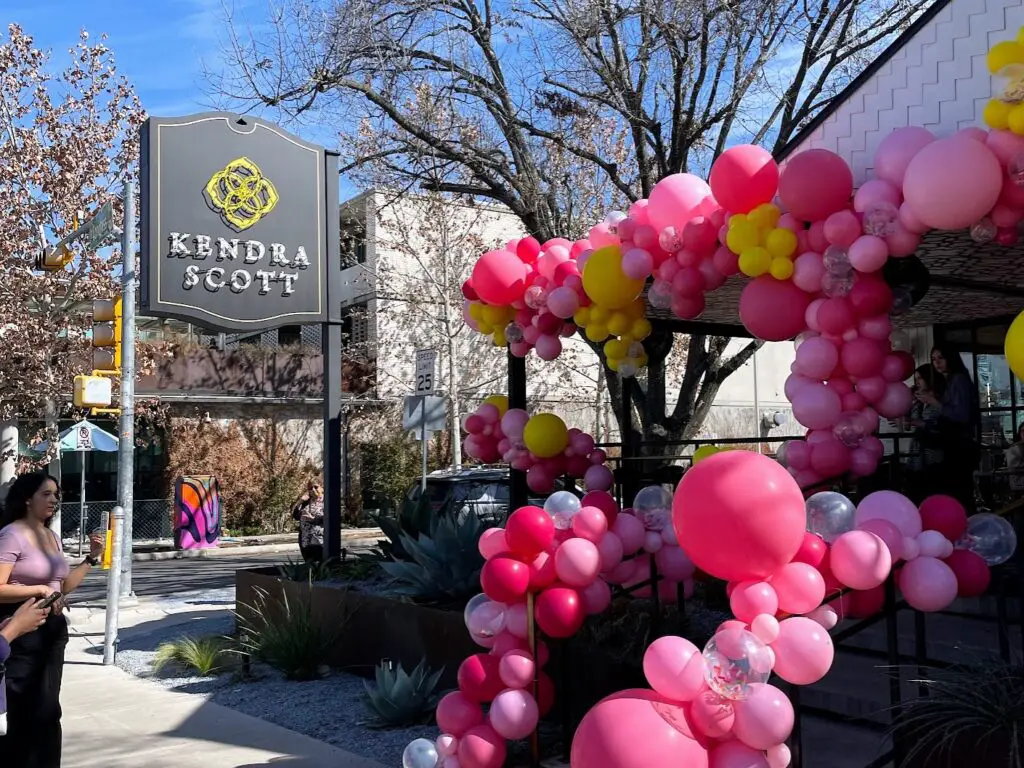 Limbo Jewelry SoCo
If you love a modern, chic boutique, Limbo Jewelry SoCo is your spot. There is a variety of jewelry and it reminded me a lot of H&M with clothes as well as a variety of fun stuff like candles, journals, quirky books, and kitchen items. This is a great place to peruse and see what speaks to you—you'll likely find something unexpected!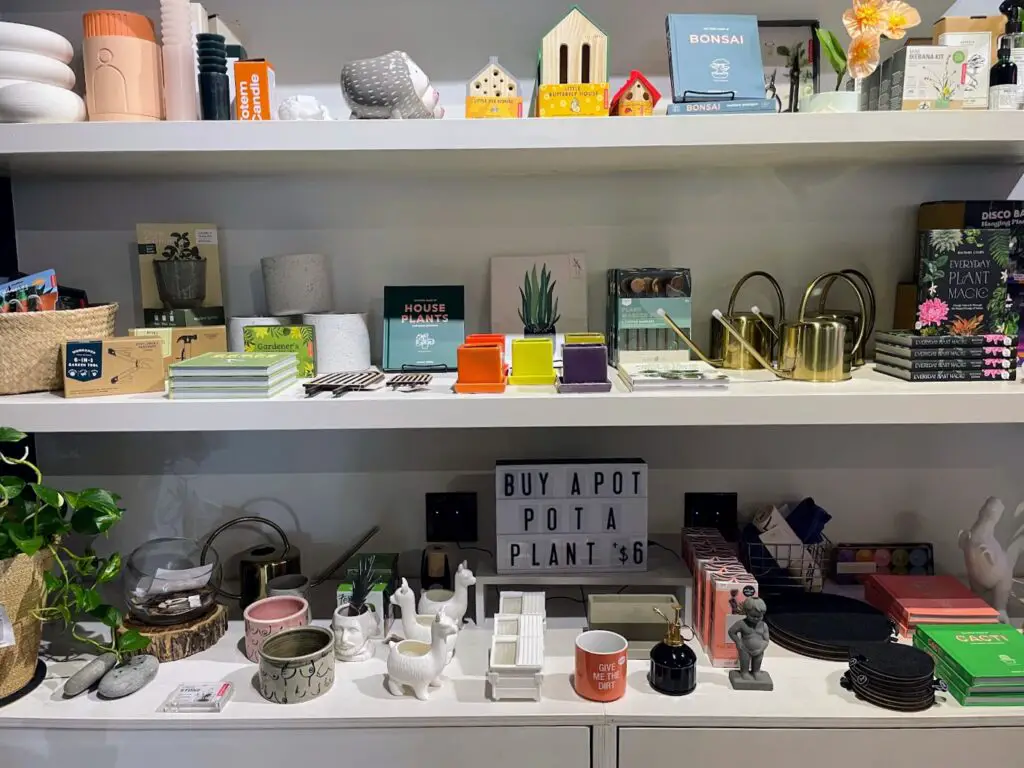 Paper Work Art & Gifts
Paper Work features a ton of local artists and makers and it's the perfect place to take a little bit of Austin home with you (and some loved ones!) It's another fun shop where you can find a bunch of different things from t-shirts, hats, jewelry, and sunglasses to homemade cards, prints, and posters—their back room is the best!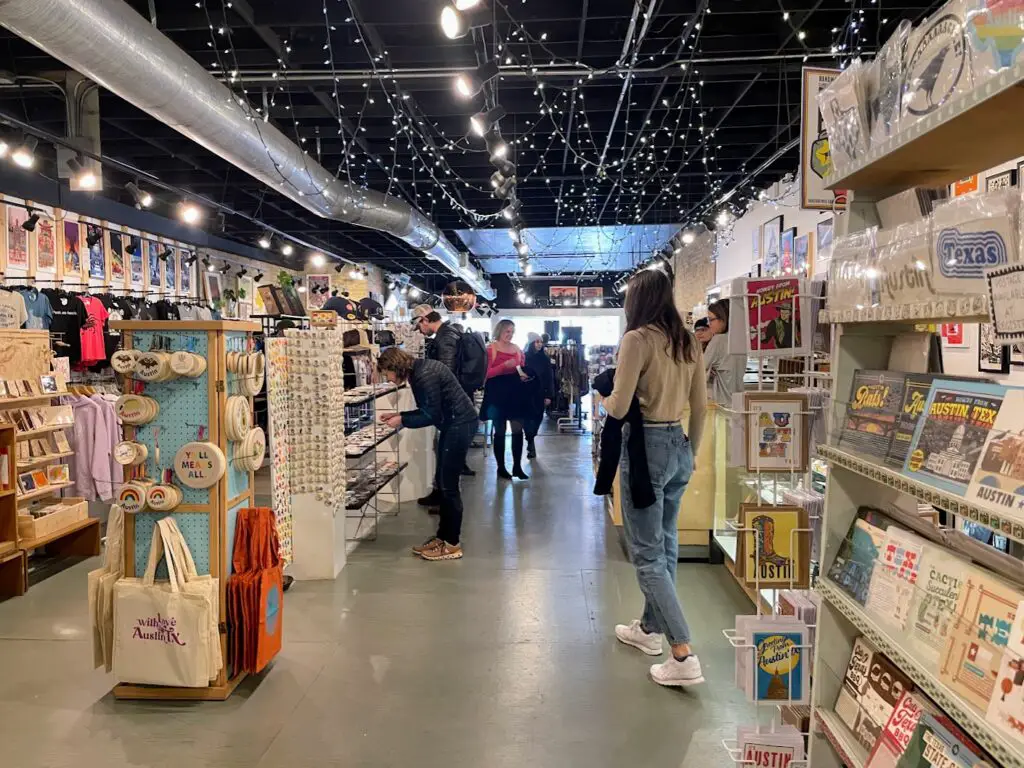 Mi Casa Gallery
Mi Casa Gallery, a Latin American boutique, is a really cool shop with hand-crafted art and pottery, Texas-inspired trinkets, and beautiful home decor. It is a great place to find a fun and unique souvenir; I'm still kicking myself for not buying the cute tequila shot set that came with a hand-painted little plate, two shot glasses, and a saltshaker. Next time! Anyways, make sure to stop in—you'll love perusing.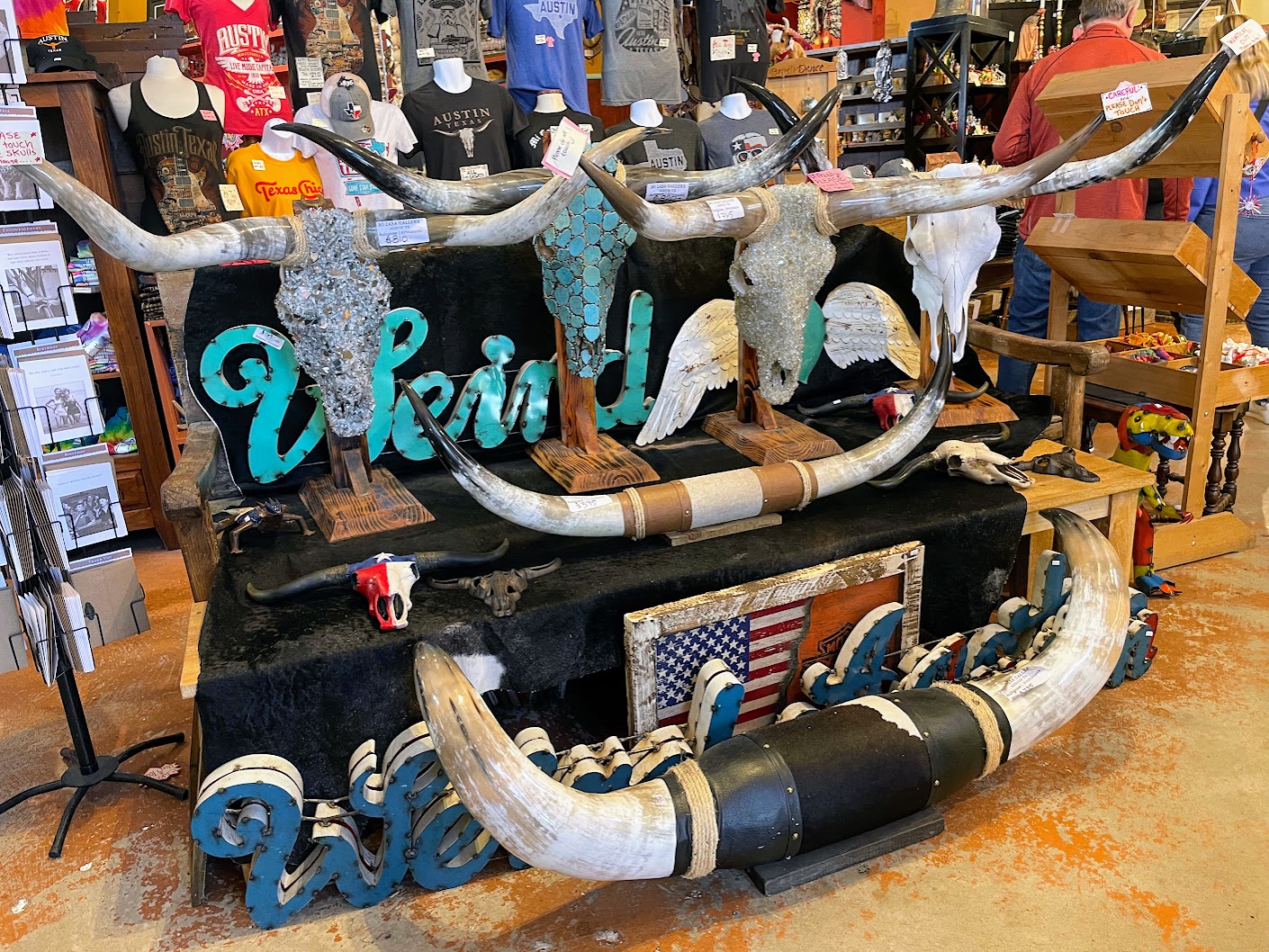 Maufrais
This is a BEAUTIFUL place. And though there wasn't much in here I can afford ha, it was one of my favorite shops to walk through! Maufrais sells the finest hats and home goods in an aesthetically-pleasing space. It was fun to try on $350-600 Stetson hats (they were SO cute, soft, and well-made—obviously), as well as dream about the home décor. The other best part? THE SMELL. I really didn't want to leave ha.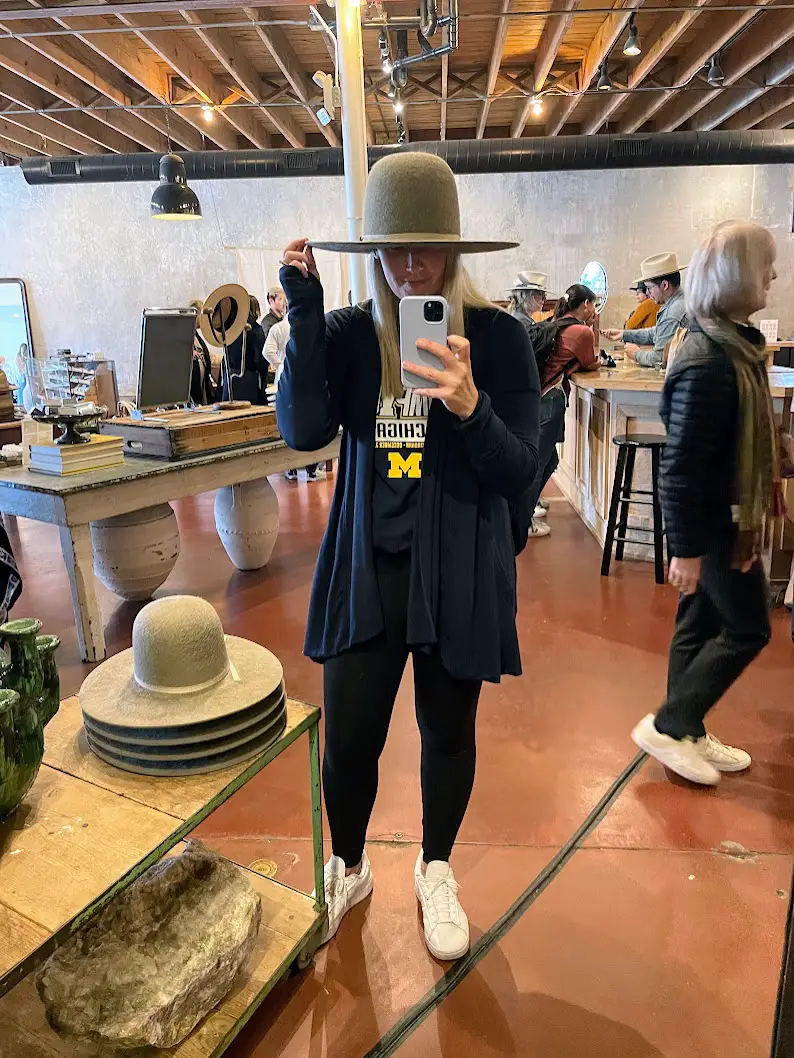 Goorin Bros. Hat Shop – South Congress
Speaking of hats, make sure you stop in Goorin Bros. too! They have every type of hat under the sun—fedoras, truckers, beanies, buckets, straws, and more. You'll have a blast seeing which ones you and your friends like—maybe you will surprise yourself and find a new style!
Uncommon Objects
Keep Austin Weird is the slogan around these parts and this store does just that! Uncommon Objects has multiple rooms that will all have you questioning "wtf is this?" Lol. Find old antiques, quirky gadgets, eclectic oddities, and just weird things you never thought you'd see for sale!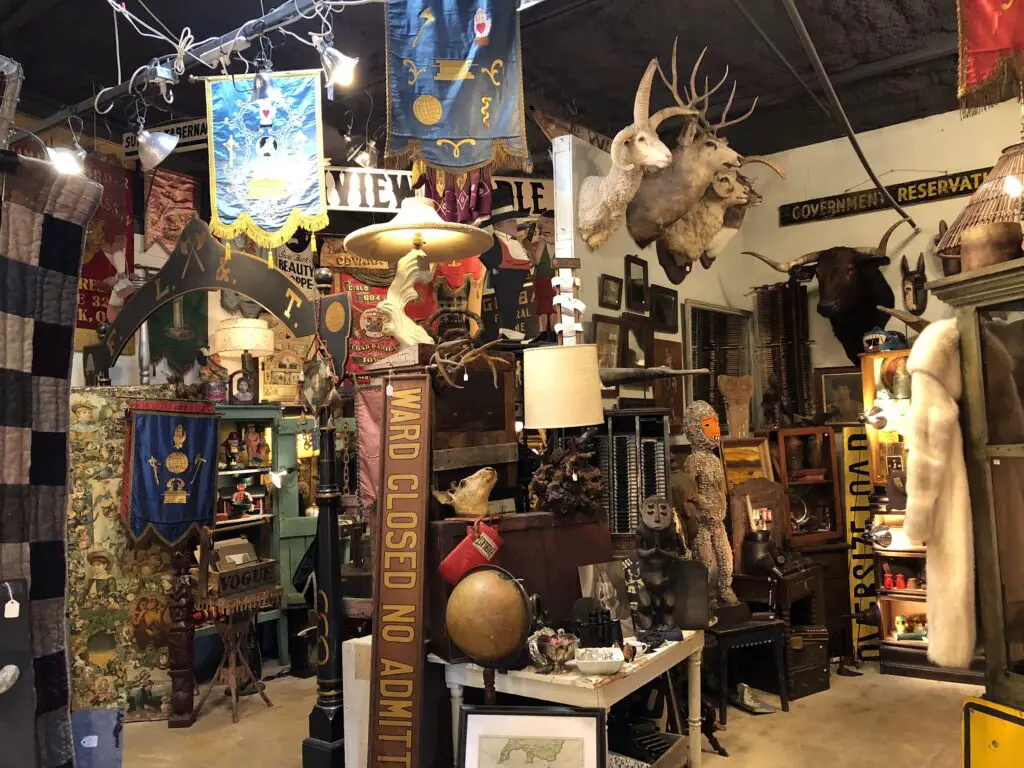 Lunch in South Congress, Austin
Time for another meal in Autin—lucky you. Here is where to grab your next delicious plate of food.
The Meteor
This is an awesome pick any time of day! A coffee shop, wine bar, and restaurant all collide to create this fun and happening spot in South Congress (Oh, and it's also a bike shop lol.) Stop in to work, meet up with friends, or enjoy a date night.
I stopped into The Meteor unexpectedly for lunch and once I saw they had sourdough crusts, I had to opt for the Mediterranean pizza—and I wasn't disappointed! The puffy crust makes the whole pie. Plus, the atmosphere was top-notch.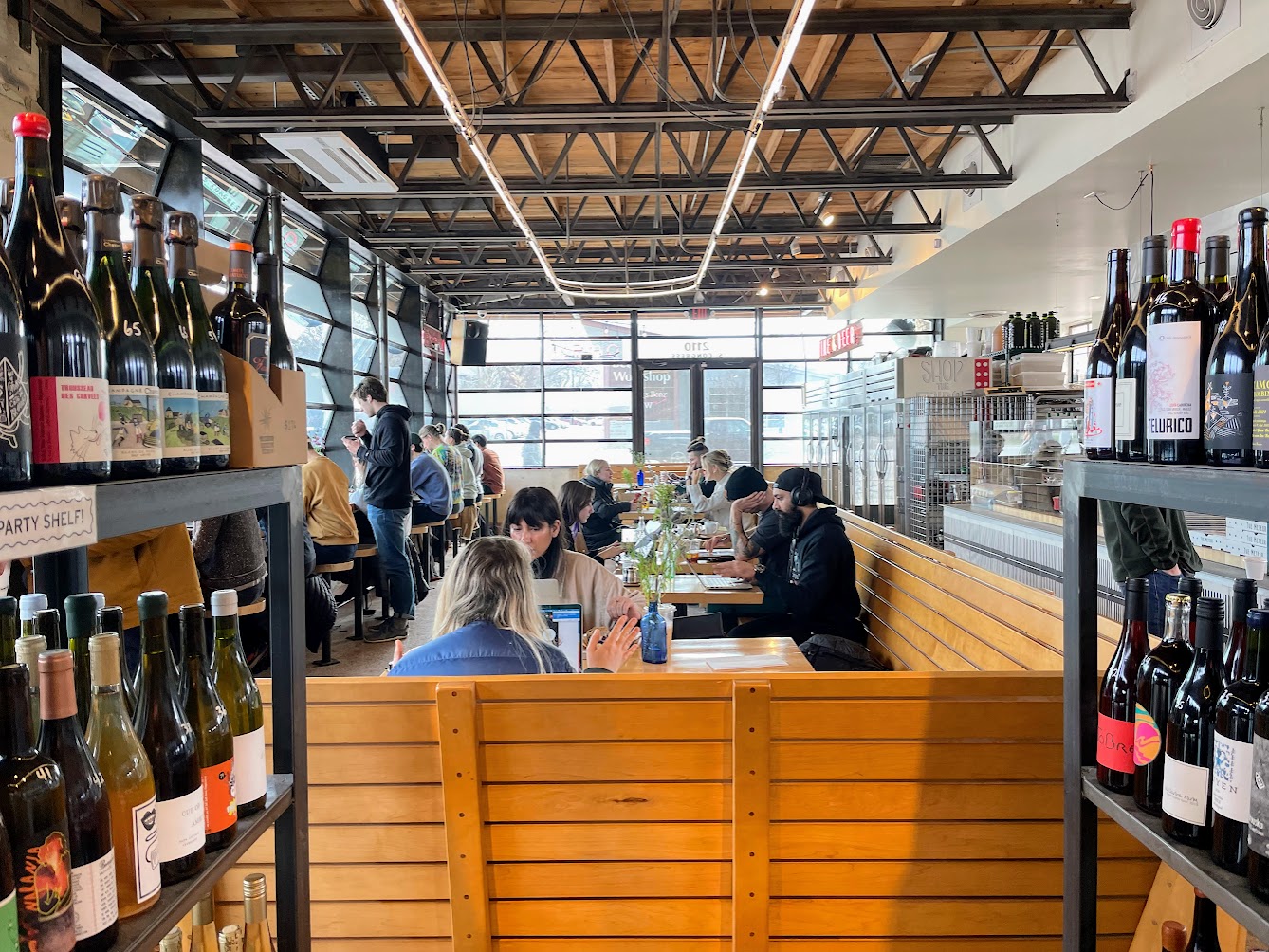 Lucy's Fried Chicken
If you are looking for a fun day-drinking bar, head over to Lucy's Fried Chicken for some beer and wings. It's an old, almost dingy atmosphere that makes it super cool with their random stickers and decor lining the walls. We saw multiple people stopping in for take-out letting us know it's a neighborhood favorite for the locals. And for good reason, because this chicken—WOW. Talk about comfort food. We loved the wings!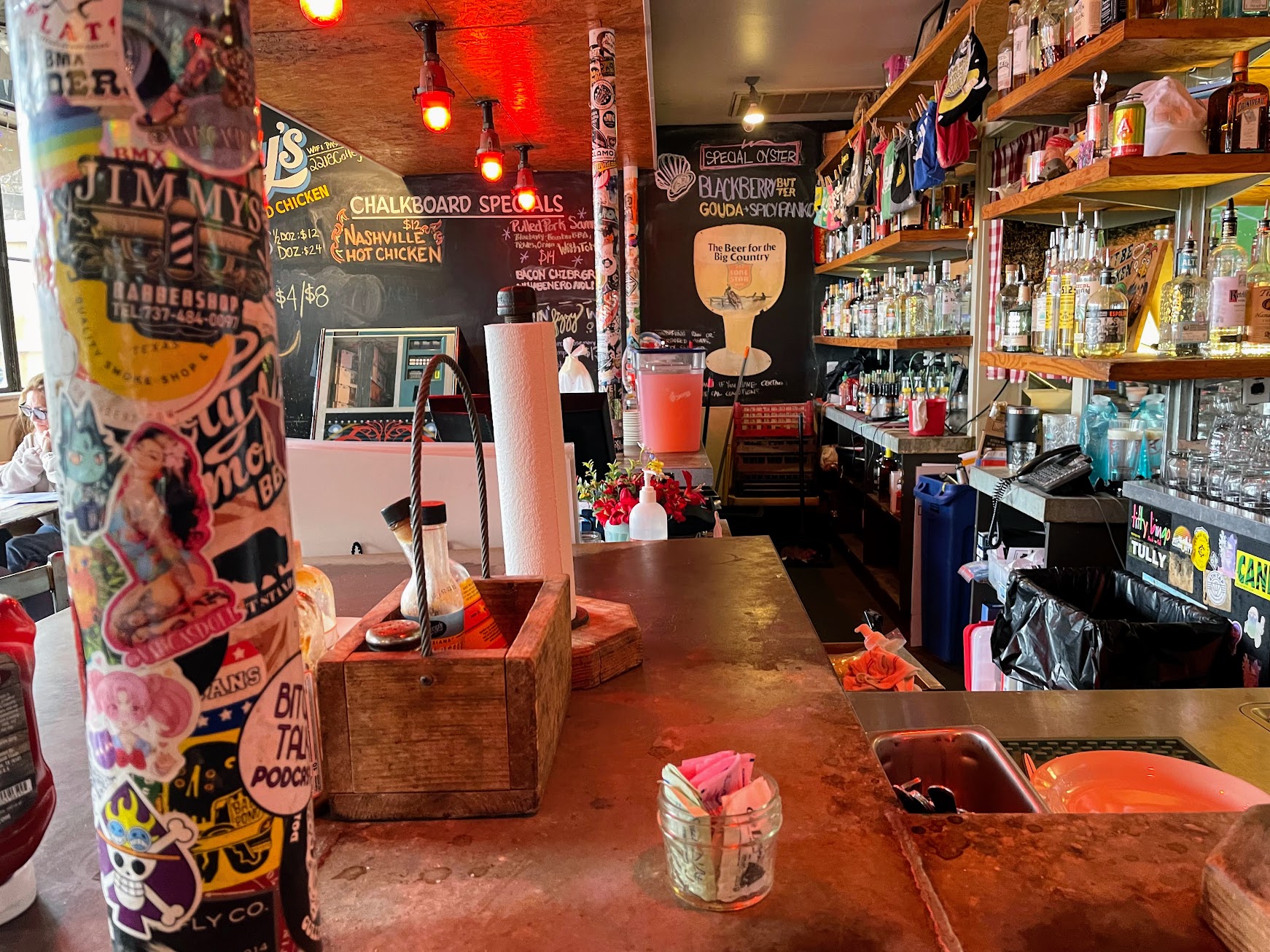 Aba
If Mediterranean classics like kebabs, falafel, or hummus are on your mind, look no further! Aba has a super trendy vibe with green plants and beautiful modern decor and light fixtures. They have a gorgeous bar and aesthetically pleasing outdoor patio that will make you love the experience. This place is #1 on my list when I go back to Austin!
Hopdoddy Burger Bar
Feeling a burger? This joint serves up quality gourmet burgers and fries in a bar setting with plenty of beer, wine, and cocktail options. It's a bit confusing when you walk in, but you'll head past the bar and into the back to order, get your number, and be assigned a table.
While I much prefer traditional-style restaurants with your own waitress and menus, the parmesan fries at Hopdoddy Burger Bar were fabulous! (We stopped in quick for a beer and fries, no burger.)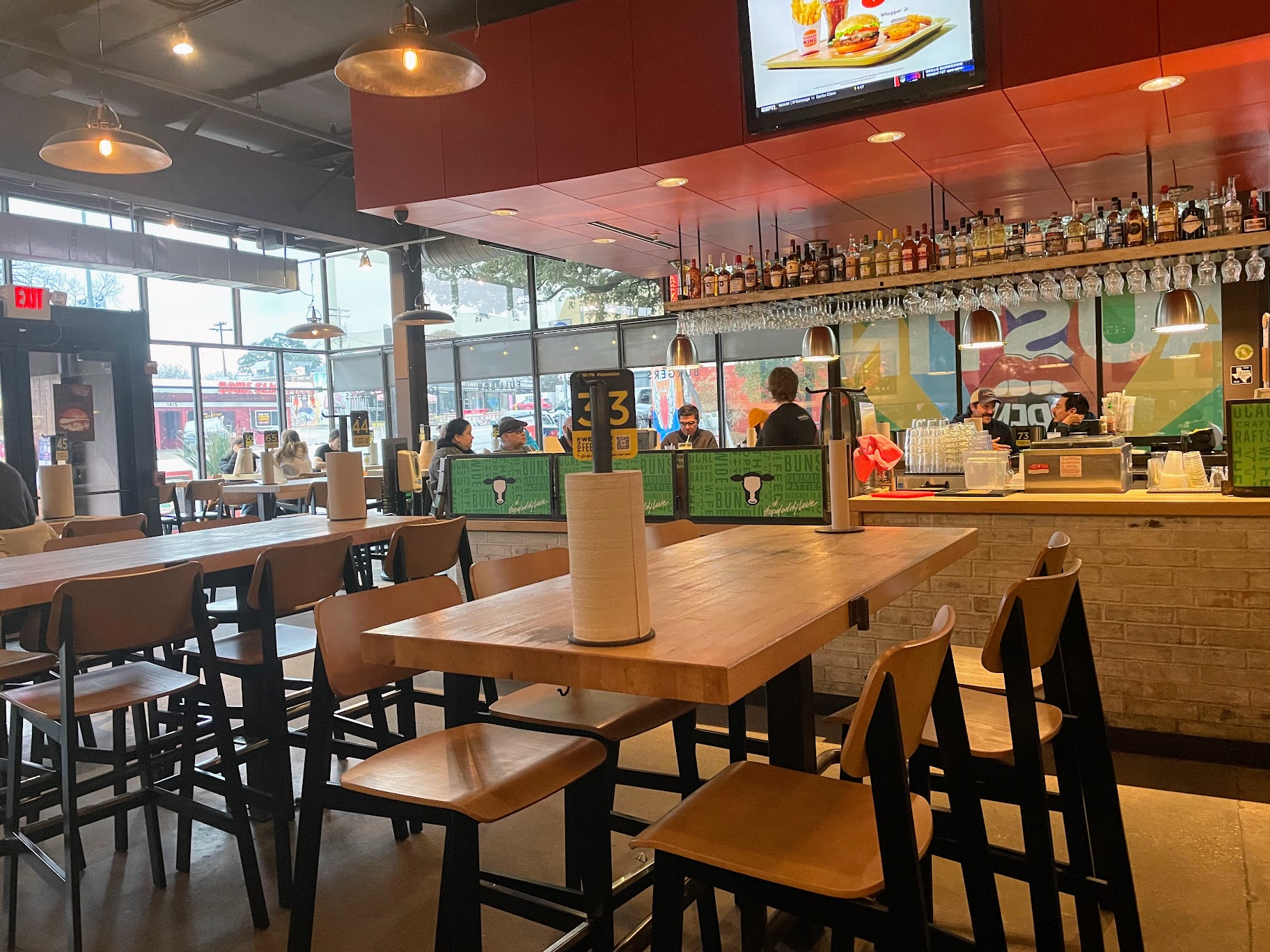 Exploring in South Congress, Austin
While shopping and eating can easily take up most of your day in South Congress, there are other ways to explore the area.
A Neighborhood of Murals
The Austin area is full of amazing artwork and South Congress has no shortage. Make sure to keep your eyes peeled while exploring—they make for great photos!
I Love You So Much mural (Jo's Coffee)
Willie for President (Home Slice Pizza)
Anything is Possible is ATX (Kendra Scott)
Legendary Memories SoCo sign (near Torchy's Tacos)
Love from Austin (between Bird's Barbershop and Prima Donna)
Heart Wall (TOMs)
And there are plenty of others!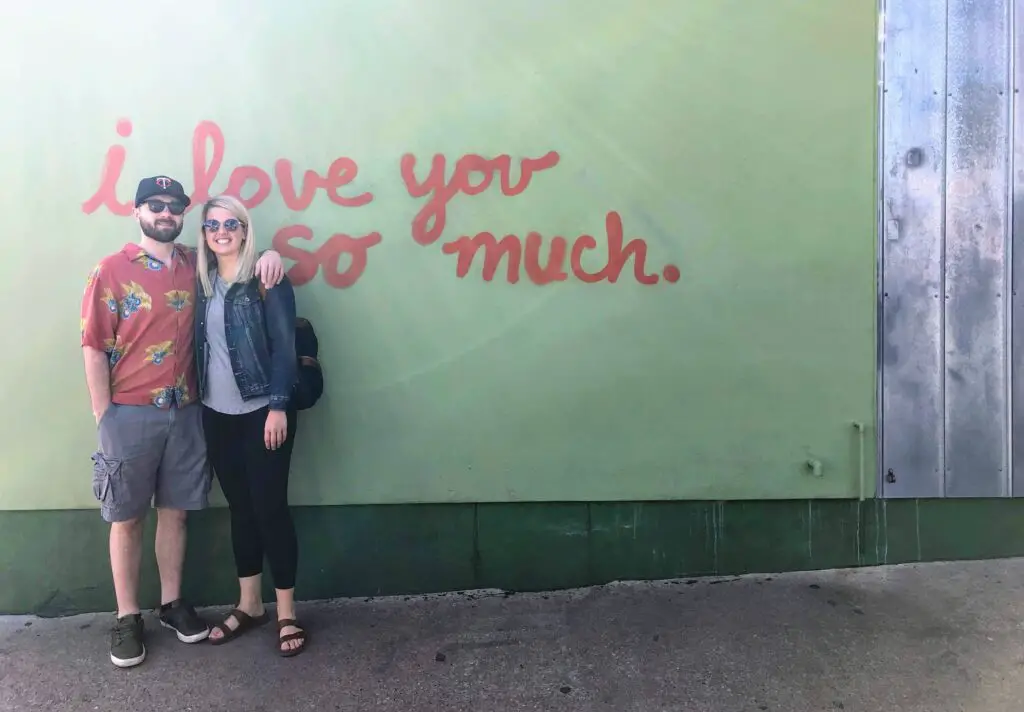 Get Out Into Nature
Austin may be a big city, but there are still places to enjoy the outdoors. While these are not directly in South Congress, they are not far. Visit Lady Bird Lake (east of South Congress Ave.) within the Colorado River. You can kayak, row, and enjoy the trails. In addition, check out Zilker Park. 350+ acres of green space complete with botanical gardens and a spring-fed pool. Lastly, Barton Springs Pool, one of the most popular Austin destinations, is a fun place to hang out on a warm, sunny day.
Dinner in South Congress, Austin
Let's get back to the food! If something from above didn't speak to you, here are a few more options for your dinner in South Congress!
Toss Pizzeria and Pub
Pizza, beer, and sports? Toss Pizzeria and Pub is the perfect place to go and catch the game. It's a spacious bar with plenty of TVs. Their outdoor patio is a super chill place complete with fun lawn games. And the pizza and wings are just the comfort foods you're looking for. We had a super long day and decided to order for delivery. I loved the pizza and would like to go back for the atmosphere.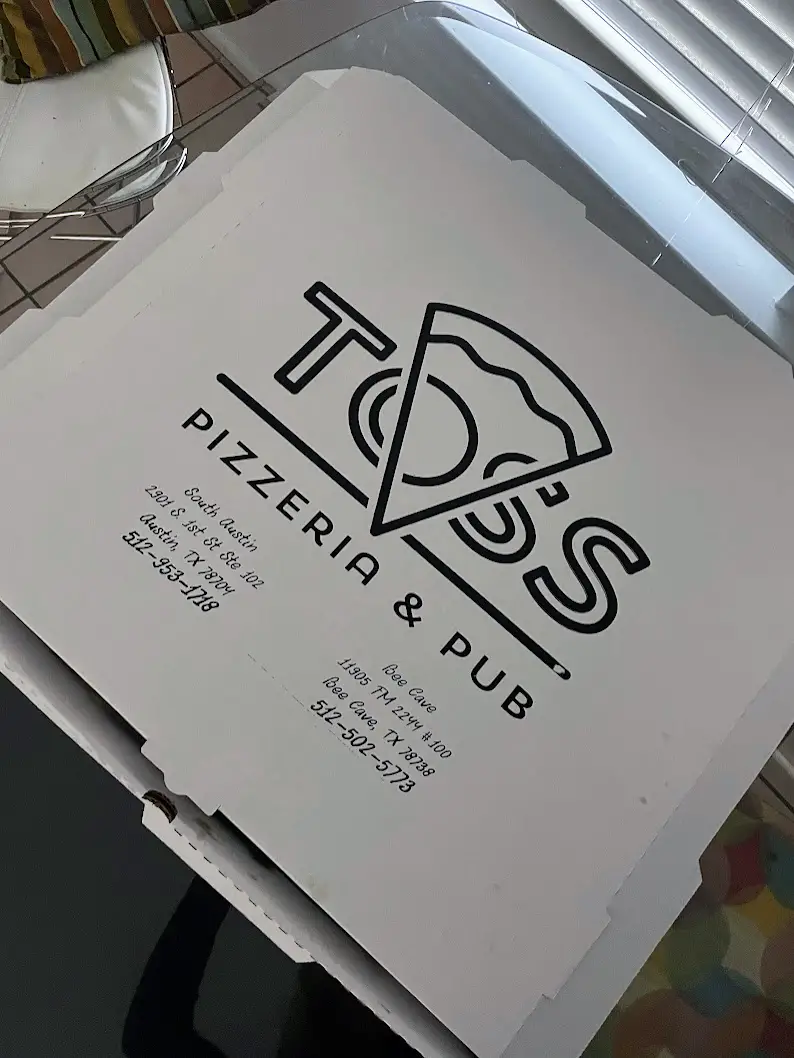 Vespaio Restaurant
If you want Italian food, but in a fancier setting, opt for Vespaio Restaurant where you can order homemade pasta and meats. Perfect for a date night out, Vespaio offers a dark ambiance with wines on display and pretty chandeliers. Everything is made from scratch using the best quality ingredients from local farms so you literally can't go wrong. And don't forget to order desserts!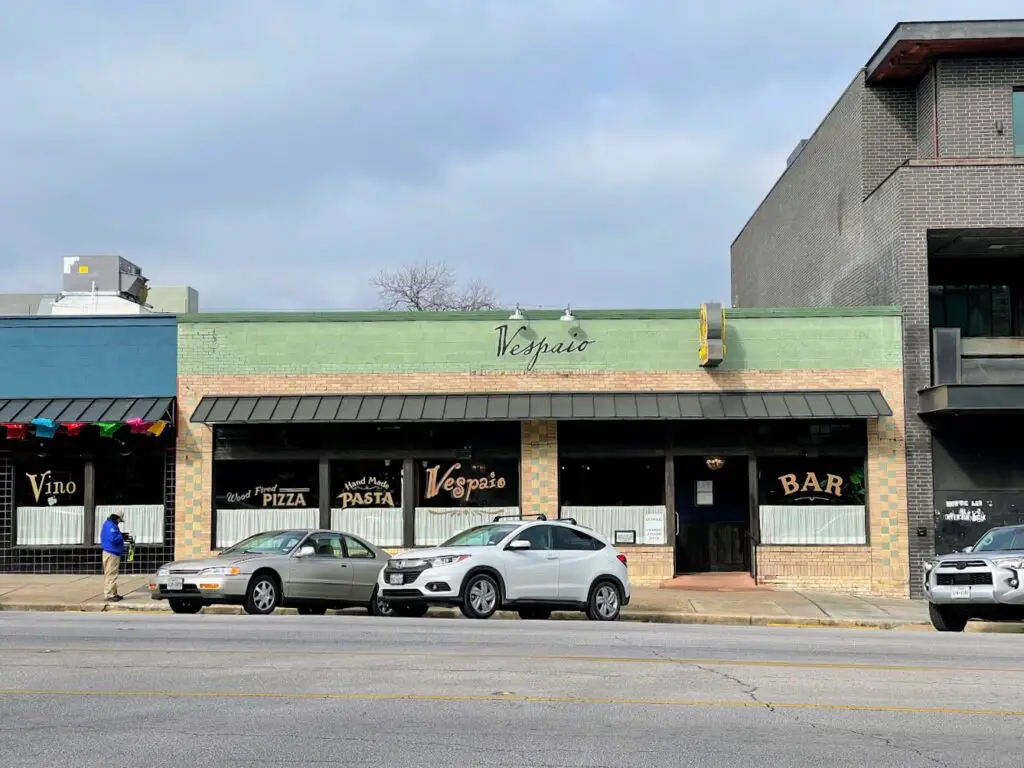 Lucky Robot
Sushi anyone? Lucky Robot is a trendy spot for Japanese-inspired street fare. You can find everything from Asian tacos to high-quality, sustainable sushi and dumplings—plus, don't forget the sake! The inside is super colorful and fun which makes it an entire experience! There is also a cool outdoor patio.
Home Slice Pizza
Craving a big slice of New York-style pizza? Look no further than Home Slice Pizza, another fan favorite in the area. Dine in, carry out, or stop in late at night over the weekend. Choose from a (big) single slice or a full pizza— the stone-baked Neapolitan crust is topped with classic, quality ingredients. Or, if you're not feeling pizza, order a salad, or cold or hot sub.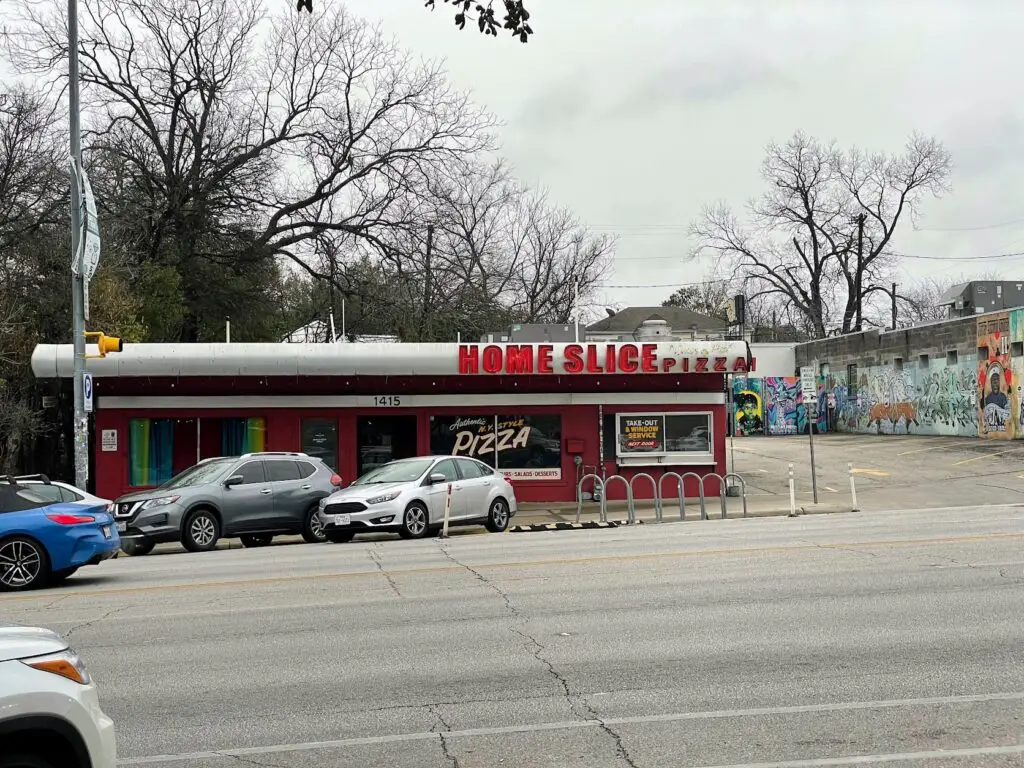 Perla's Seafood & Oyster Bar
This spot was HOPPIN' on a Saturday afternoon and my assumption is it continued well into the evening! Perla's Seafood & Oyster Bar is a laid-back spot with an awesome patio surrounded by trees and string lights. The inside is light, airy, and colorful, and no matter which area you choose to sit in, you'll love the atmosphere. Order oysters, fresh fish, and/or surf & turf and I don't think you'll regret the decision.
Chapulín Cantina
This is a creative Oaxacan restaurant with a dark ambiance, colorful decor, and a fun vibe. Pre-dinner chips (large crispy corn tortillas) and homemade salsa are served first and you can order tacos, moles, and a variety of other dishes for your entree. While I did love the atmosphere of Chapulín Cantina (and the darker salsa!), our tacos were very average with too well-done and almost burnt meat. Austin does tacos RIGHT so I'm not sure I would choose to come back.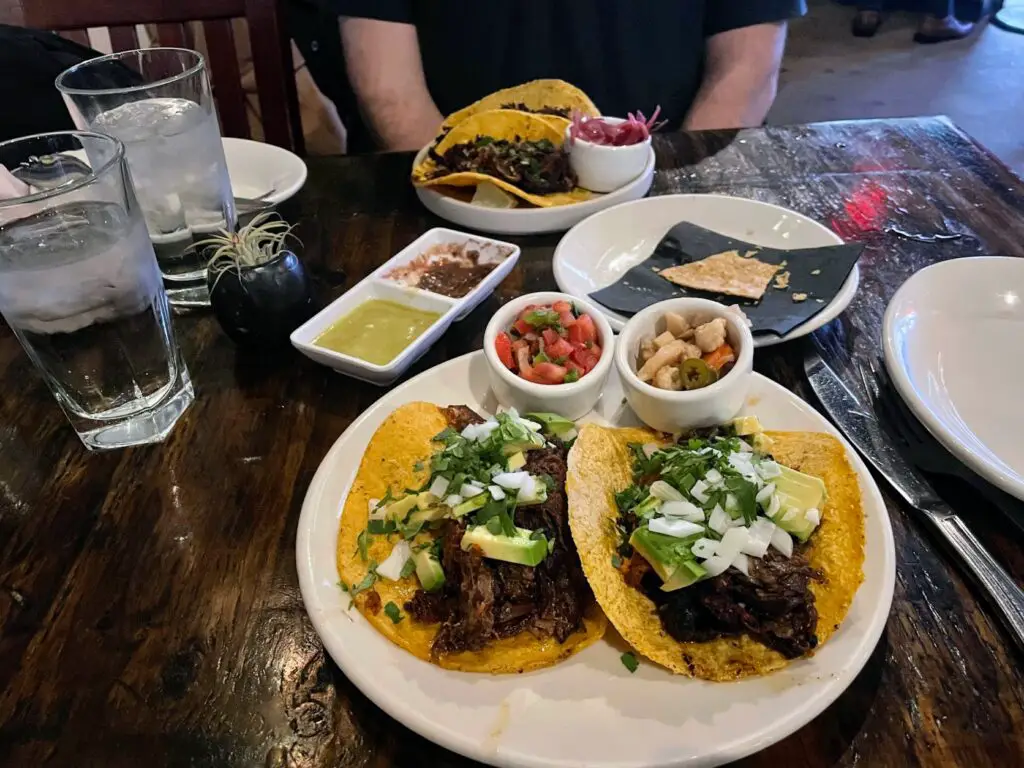 Torchy's Tacos is a Texas staple, and even though it's a chain, may be better if you're looking for a taco fix in this area. Guero's Taco Bar is another option!
Desserts in South Congress, Austin
If you have a sweet tooth, you have a couple of pretty great options in South Congress.
Big Top Candy Shop
One of the fun shops along South Congress is this circus-themed candy shop. Find all the old-school candies, sodas, ice cream, and shakes at Big Top. Stop in here and you are bound to be hit with nostalgia—as well as a sweet treat you NEED to buy.
Amy's Ice Creams
My number one recommendation. This ice cream is so thick and creamy and feels like it doesn't even want to come apart when you grab a spoonful. I honestly haven't tried ice cream with the same texture, and I thought it was incredible! I ordered the Oreo flavor from the window counter which had big, delicious cookie chunks. Go with a small or tiny size (I did the latter.) It's filling, and you won't be able to stop until it's gone!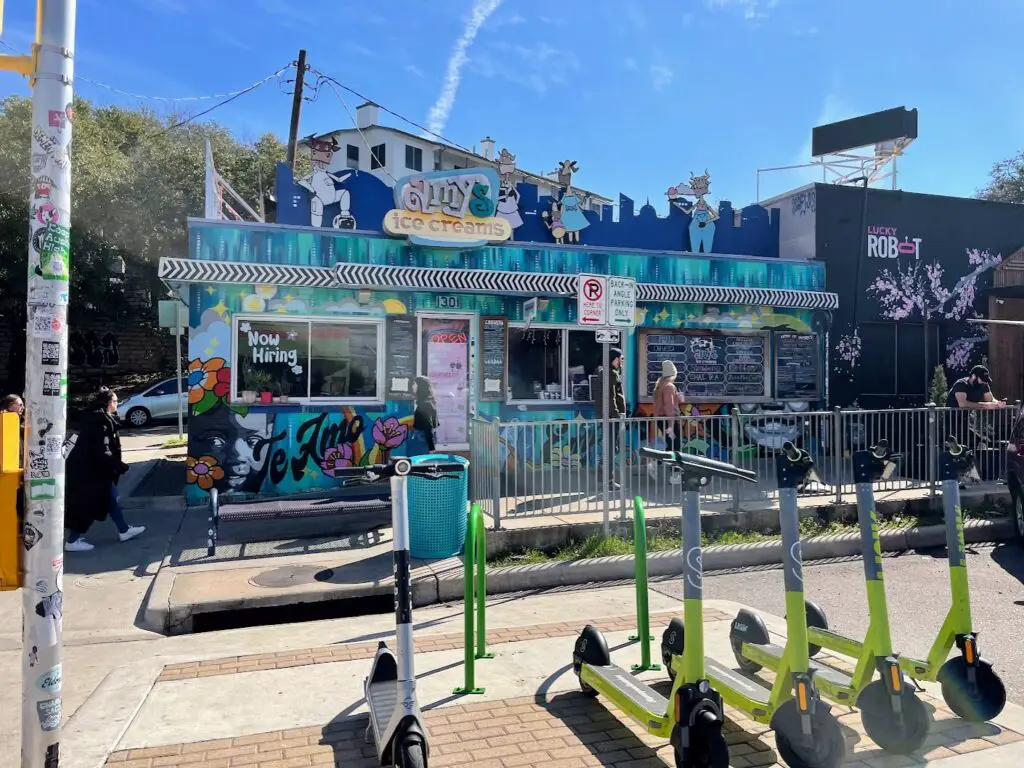 Bars & Live Music in South Congress, Austin
Did you save some energy for a good time at a couple of live music venues?
Continental Club
One of the most popular places for live music in South Congress is the Continental Club. A dark, funky club with a variety of music, you will want to check this one off the list—they have been rockin' out here since 1955! Check out the Continental Club Gallery too; you'll find more music, art, and drinks in a chill spot.
Guero's Oak Garden
Stop at Guero's Oak Garden for another fun, casual music environment! A big, illuminated oak tree is surrounded by an outdoor bar and stage that makes it a chill spot to take in the tunes. Add some cocktails and your night can't go wrong!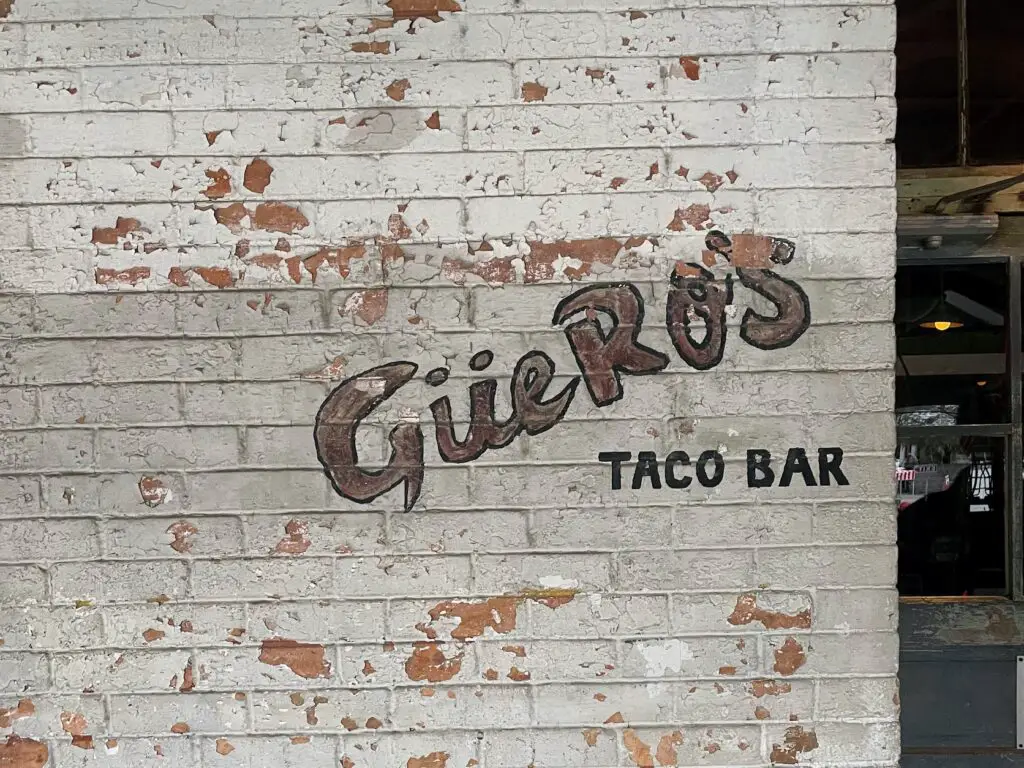 Where to Stay in South Congress
Your Ultimate Guide to Things to Do in South Congress, Austin
Talk about plenty of things to do, huh!? The South Congress neighborhood is a hoppin' area in the Texas State Capitol where you're going to find art from local artists, delicious food from restaurants and food trucks, live music, and so many places to shop. I hope this gave you a little direction on where to head during your stay and you enjoy it as much as I did!