The Austin food scene is next level. It's certainly a top-rated city in the country when it comes to its food options. From BBQ to tacos to pizza, there is plenty to choose from with a very slim chance of ordering an average meal. Whether you're in the mood to stop at a food truck, a restaurant with live music, or just need coffee, I've got something for ya in Where to Eat in Austin Texas.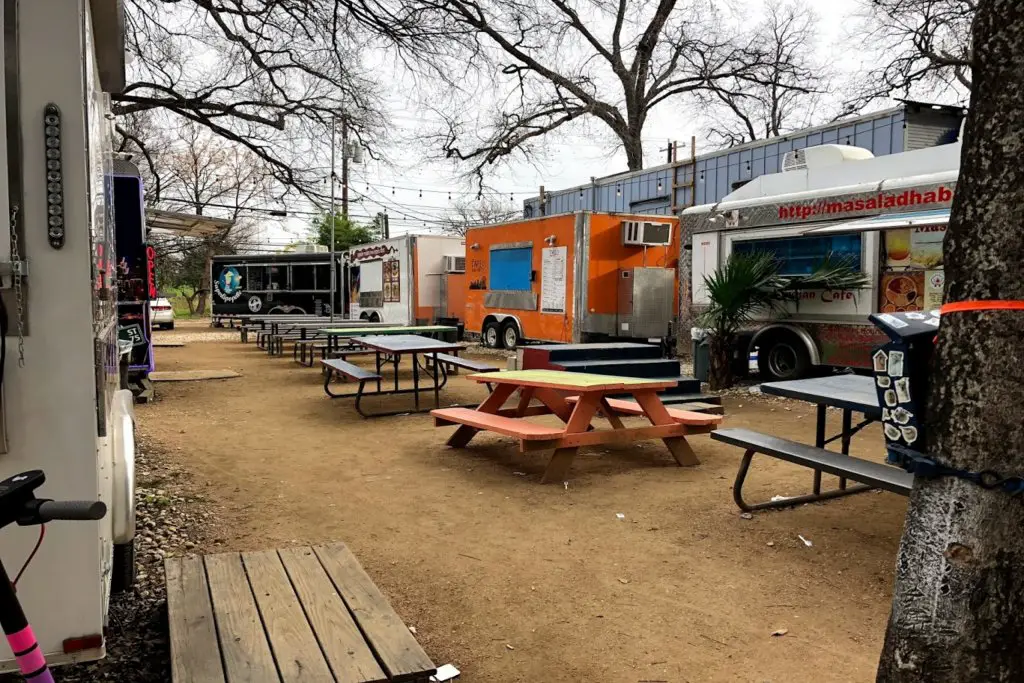 BBQ
If you're standing anywhere in Austin, throw a rock and you will probably hit a BBQ spot! Known for its finger-looking good brisket, sausages, and ribs, Austin is sure to make you a BBQ fan. Thick cuts of juicy meat paired with classic sides of coleslaw, beans, and mac & cheese? Can't go wrong. My favorite…
South Austin
This food truck set my BBQ-bar a few notches higher. Build your own plate with a selection of smoked meats (1 or 2) including beef cheeks— considered a must, pulled hog, sausage, barbacoa, or brisket. You'll then get to choose two sides along with the potato bread and pickles that come with it. I highly recommend the barbacoa taco (seriously, a taco as a side? Brilliant.)
If creating your own plate is too stressful, you will not be disappointed with the L&L Burger which is a brisket burger with all of the fixings. Mouth. Watering. And it's huge. It's also worth noting that there are a few other food trucks in the small area but everyone was at Leroy and Lewis…locals don't lie.
TACOS
Another staple. It's like the battle of who can produce the best-tasting taco in Austin. Food trucks turned full-blown restaurants and others who prefer to keep their food truck character alive and well. Get trendy, new-age tacos with unexpected ingredients and flavors. Or stick with true and authentic. Whichever path you choose (choose both), you'll be screaming for Taco Tuuuuesday every day of the week. Where to eat the best in Austin?
North Austin (5 total locations)
Party late on 6th Street last night? Find yourself one of the five Veracruz All Natural locations and order up a bunch of breakfast tacos. They don't go light on the avocado and even add crushed tortillas chips for an extra bonus. Make sure you go with the in-house homemade corn tortillas. This taco has won awards and it will come to no surprise. Salute to the two girl boss sisters who run this place!
East Austin – Food Truck
Traditional. Authentic. Bonafide Mexican food. The marinated meats are flavorful and juicy. The tortillas are hand-crafted to perfection. Each bite tastes like a delicacy. And there is nothing fancy about it. A food truck located in a random East Austin parking lot without much to show on the outside, but full of spice and zest on the inside. The Al Pastor taco gives the place its name (and is highly recommended), but make sure you throw a Carne Asada in there as well!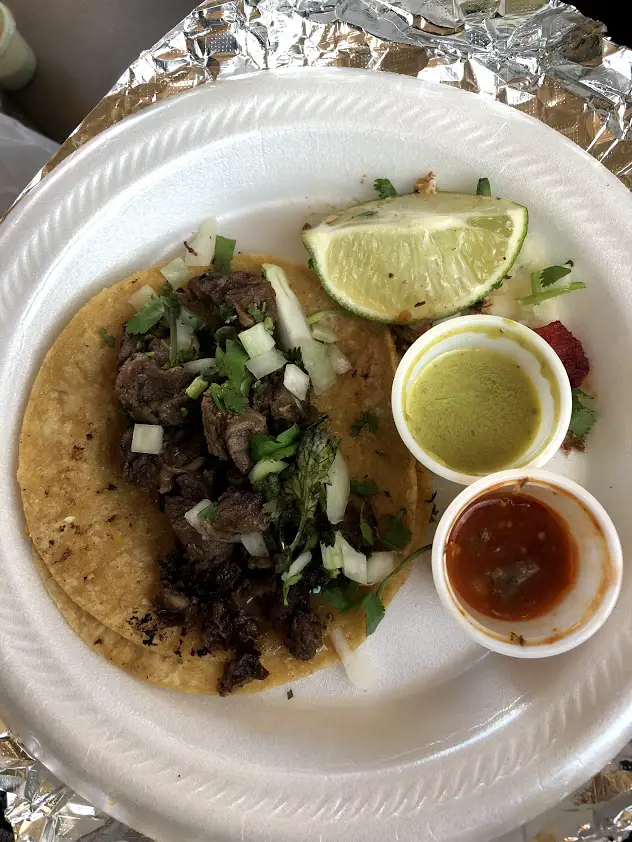 PIZZA
While Austin, Texas prides itself on BBQ and tacos, we can't leave off the pie. And I'm not talking about apple. You won't want to miss this one.
Rainey Street – Food Truck (5 total locations)
Here is where to eat in Austin. Bite into Detroit-style pizza with a delicate crunch of the crust as you get to the soft, chewy dough, about an inch or so thick. You will savor every flavor from the greasy pepperoni to the signature red sauce. If someone tells me they are going to Austin, I immediately recommend Via 313.
Note: one of their food trucks is in the backyard of Craft Pride. Great place to have a few beers. Be careful though. Eat too much Via 313 and there will be no beer going down afterward.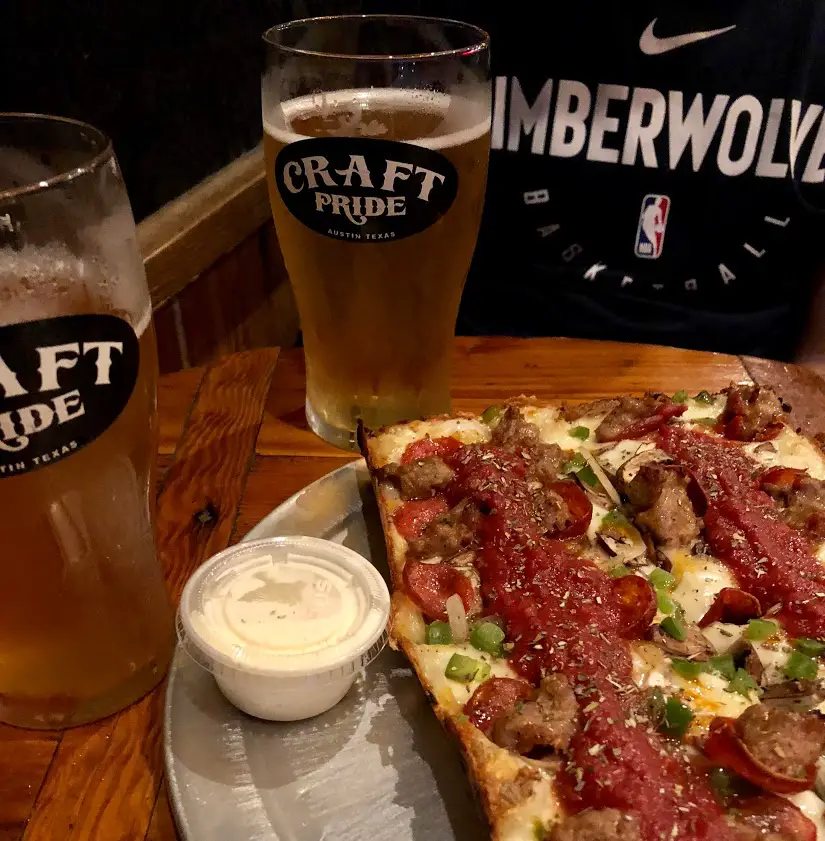 BRUNCH
South Congress
Who doesn't love a good brunch? And an award-winning Bloody Mary? To go with it, you can order classic American breakfasts like omelets and eggs benedict, or something with a little more flare such as a short rib hash and carrot cake french toast. The location is in the great area of South Congress that's surrounded by fun shops and boutiques to explore after your meal.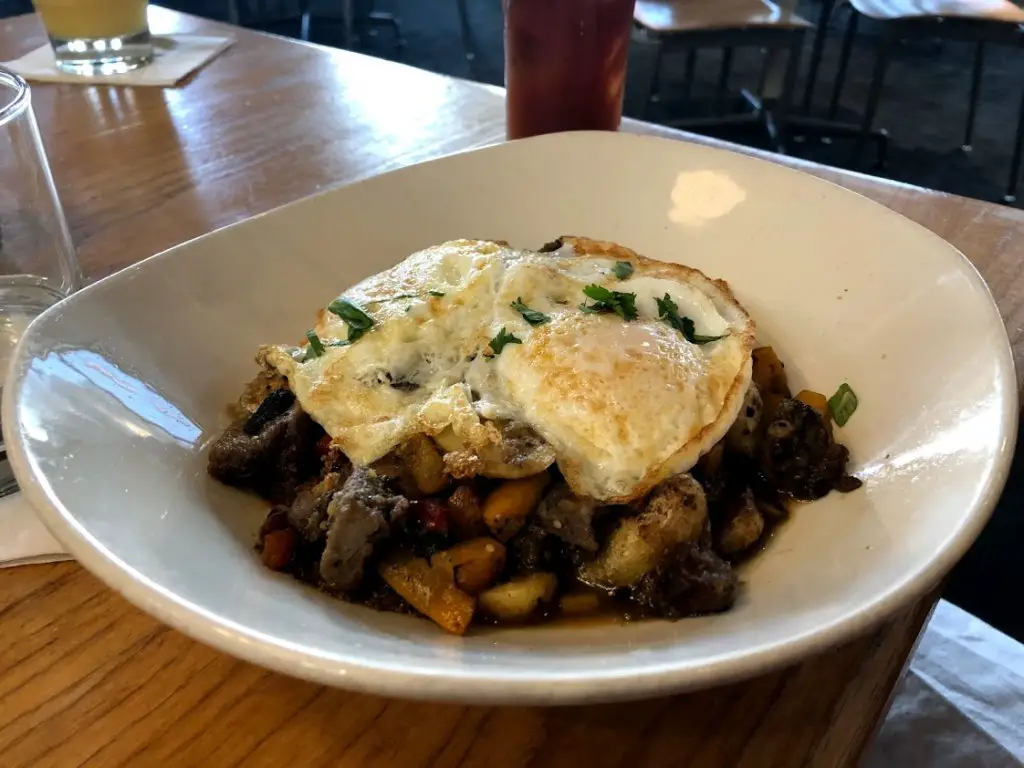 SPORTS BAR
If there are recommendations you can trust me on, it's sports bars. I won't steer you wrong. Wings, TVs, bloody mary's, and draft beer options are always tested and reviewed before any calls are made.
North Austin
A great spot for beer and sports. The vibe is awesome, you can tell it's new, and there are a variety of great apps and taps. It's a Pittsburgh Steelers bar that has an obvious heavy-focus on providing a great game-day experience on both Saturdays and Sundays. The food is nothing to rave forever about (I will say the guac was delicious) but it was good enough to come back.
Tip: If you're traveling north from Austin to Waco or Dallas, it's the perfect stop north of the busy downtown area as you make your way out.
COFFEE
South Congress
Can you really be disappointed by going to an outdoor coffee shop in a trendy neighborhood where you order their famous iced-coffee at a window and enjoy it in the Austin sunshine? The answer is no. This coffee shop has everything you want. It's worth the stop if you are in the area, and quite frankly, worth a trip over just to stop by!
Where to Eat in Austin Texas
Now you know where to eat in Austin, Texas. And once you are full there is plenty more to do in the area. Check out Party Guide: Austin, Texas for more on the live music and bar scene. Plus Backpack Goes South: Austin, Texas for more ideas and tips for your next trip!