Your Trip to Austin Texas
As one of America's fastest-growing cities, Austin continues to thrive and establish itself as the live music, artsy, tech-focused capital city of the Lone Star State. Surround yourself with hippies, cowboys, self-proclaimed weirdos, and creatives, visit funky shops, and indulge in Texas tacos for breakfast, lunch, and dinner. A trip to Austin Texas is one you won't regret–or forget!
The beauty of Austin doesn't come in the form of nature. There aren't many big green trees or well-kept city flowers. Beauty lies in the form of hand-painted murals, vibrant, colorful homes, one-of-a-kind storefronts, and radiant, unique humans.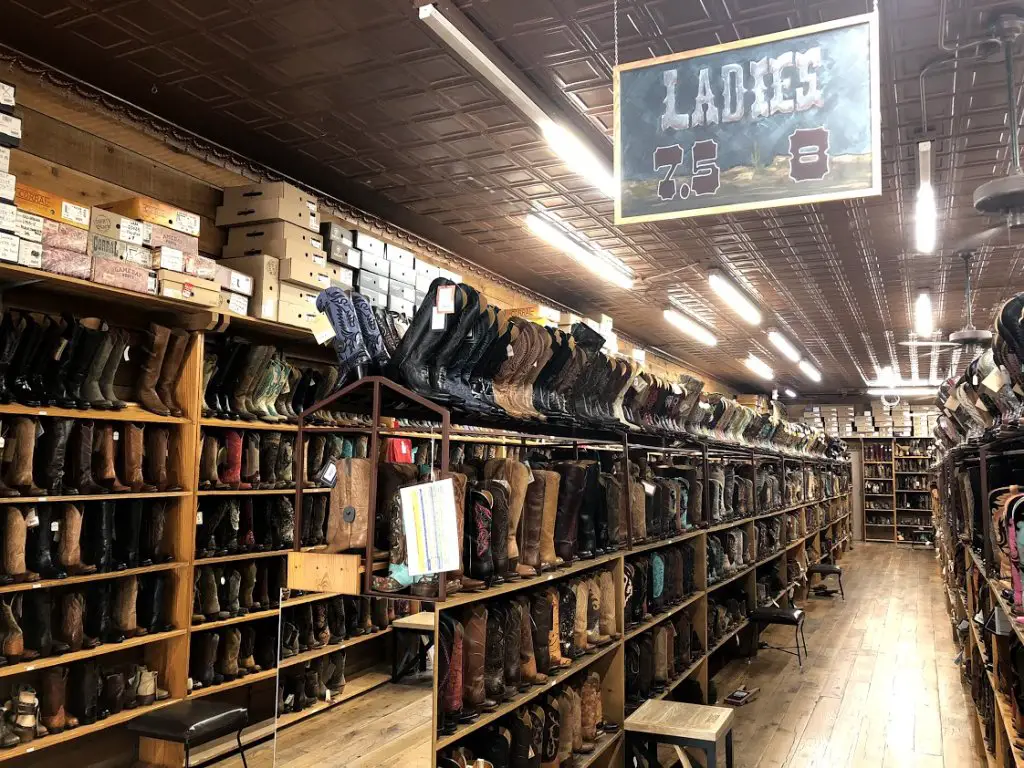 Things to Do in Austin
Party on Rainey Street
A block party if I've ever seen one. Rainey Street is a stretch of bungalow-style homes turned colorful taverns including string lit patios, bar games, and unique art. It's five blocks capable of sending you to multiple worlds in a few hours' time with a different theme and atmosphere at each bar. Rainey Street is perfect for both day-drinking and partying your way into the night. Check out Austin Texas Bars: Find the Best Parties for more details!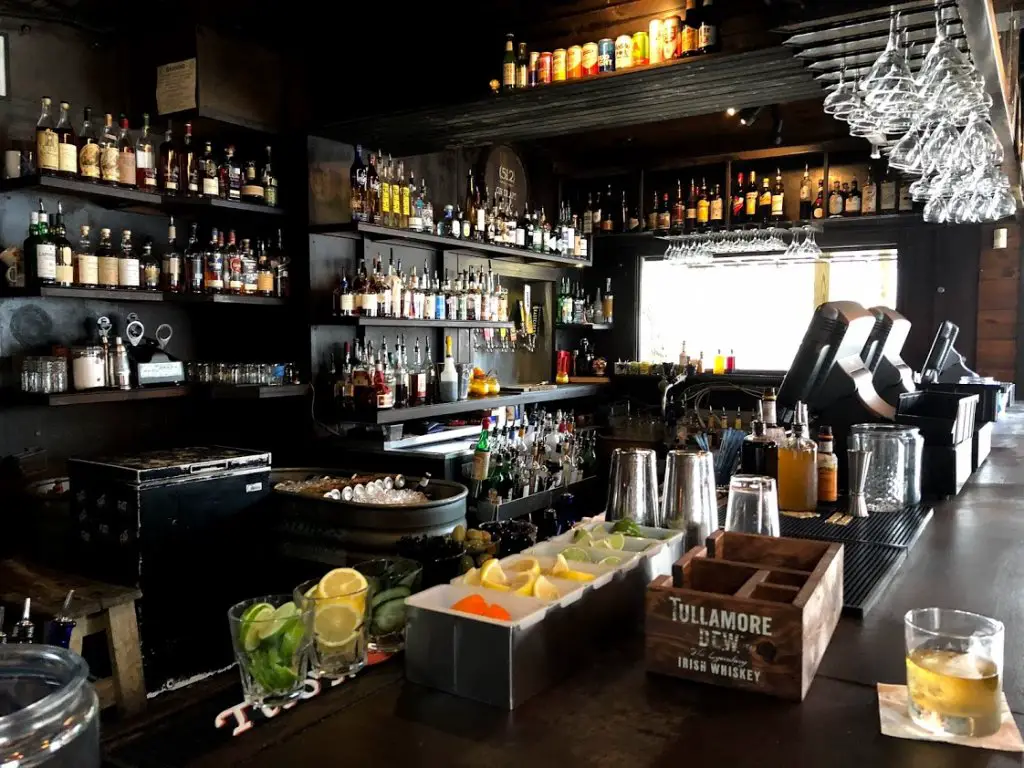 Party on 6th Street
Rainey Street is the pop-collared polo with perfect hair and Dirty 6th is the T-shirt and backwards hat. Dive bars and live music. Cheap beer flows and bar hoppers avoid looking for cars as the street shuts down during weekend nights. Patrons are free to roam the street, hit up a food vendor for late-night eats (gyro recommended), watch street performers, and let the music of each bar lure them in. A trip to Austin Texas is not complete without a 6th Street experience.
More details on 6th Street in Austin Texas Bars: Find the Best Parties, too!
Explore South Congress (SoCo)
The SoCo neighborhood is full of eclectic boutiques, art, and a welcoming vibe. Definitely make some time to explore the area.
A must-see. Walk into the smell of sweet, fresh leather and be amazed by embroidered, tasseled, alligator-skinned, all size, handcrafted boots as comfortable as freshly washed sheets – don't miss the $12,800 pair! Warning: trying a pair on will cause a deep, internal battle with yourself concerning the purchase of $200+ boots. (I'm going back for them…)
Creativity runs wild here and you can find the perfect hat to send your outfit from good to great; or at least pretend you're a famous guitar player with a new cowboy hat, a poet with a new beret, or rich housewife ready to spend a day shopping (it was fun while it lasted). 
A secondhand bookstore that's full of character, old stories, and collectibles that I would recommend to any reader. 
The perfect brunch spot with a modest outside and quaint, rustic yet modern, brick interior. Here you can enjoy an award-winning Bloody Mary, paired with a spicy breakfast hash.
An order-at-the-window kiosk with an outdoor wood-built patio perfect for recharging and having their famous Turbo Iced Coffee (or Belgium Bomber if you prefer it to be less sweet). As many buildings are, Jo's is complete with photo-worthy graffiti and art.
Shop at Uncommon Objects
There aren't too many shops you're going to find a Bible from 1836, those creepy dolls you only see in the movies, an oversized stuffed dog, and a human skull in the same store. Visit Uncommon Objects where you'll walk into the smell of your grandma's bedroom and be surrounded by beautiful antiques (or useless junk depending on how you look at it).
Visit Barton Springs
A 3-acre public pool right in the city. Timing and weather both played in role in not being able to check out Barton Springs during my trip, but we heard about it more than once and saw it referenced all over the place.
Murals on murals on murals
As I mentioned, Austin is the most creative place I've ever been. It seems as if every building is complete with beautiful words or people of Austin. They are great for photos and to get the full experience on your trip to Austin Texas.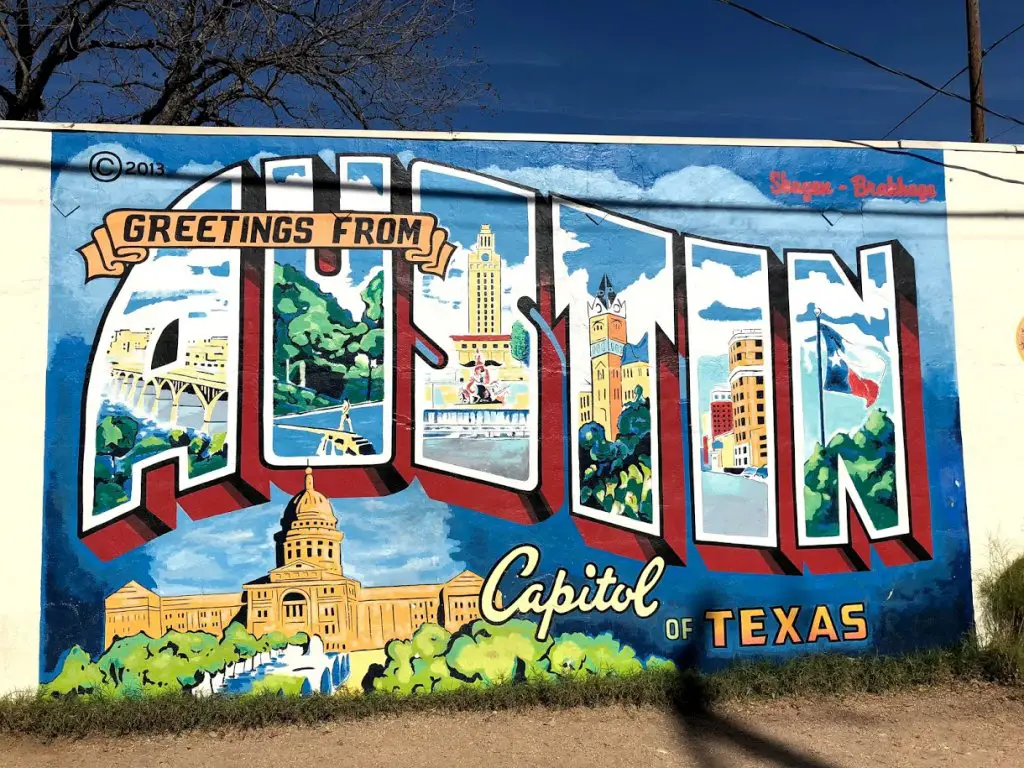 Eat (a lot) in Austin
There's zero shortage of mouth-watering food in Austin. And it doesn't take a 5-star restaurant kitchen to make it happen but the likes of a 16-foot kitchen on wheels. Food trucks are aplenty and you would be remiss to not try at least one–if not two or three.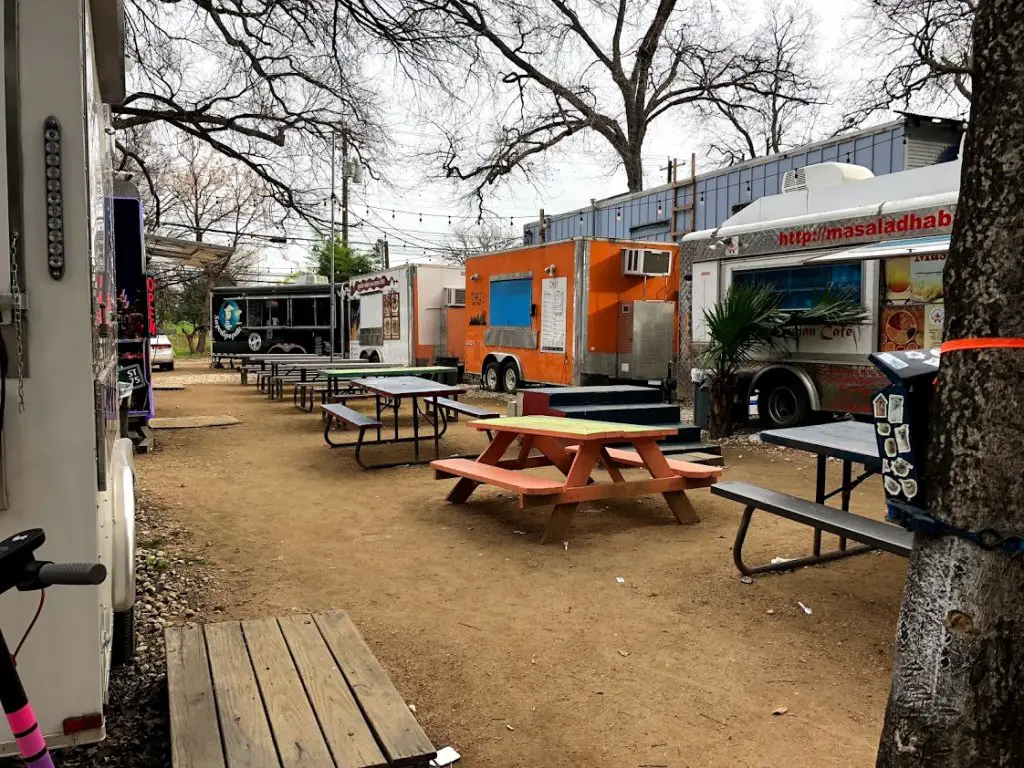 The Omnivore from Via 313, complete with pepperoni, sausage, mushroom, onion, and green pepper, (Detroit-style with sauce on top and cut into squares) will leave you speechless and anticipating your next piece – even when it's gone. Bite into a delicate crunch of the crust as you get to the soft, chewy, dough, about an inch or so thick, and savor every flavor from the greasy pepperoni to the signature red sauce. Pizza perfection.
TEXAS TACOS
Every day is Taco Tuesday in Austin, therefore I would be doing a disservice to leave them out. Another must-try meal comes from a once food truck turned franchised restaurant, Veracruz All Natural, owned by two sisters – get it, girls! They offer the best breakfast taco money can buy – the award-winning Migas Originales. One bite and you're plotting a way to hijack a Veracruz food truck…
Get a lot more recommendations on Where to Eat in Austin Texas.
Austin Tips:
Rent a car and plan for traffic; Austin isn't what one would call a walkable city unless you plan to stay right in the heart of downtown. Attractions and places to see are a bit spaced out and renting a car will save you a lot of time and allow you to explore the city in greater depth. That said, prepare for traffic. It's no joke.
Experience the food trucks; I think I've hammered this one home. But trust me. It is a must.
Keep Austin Weird; it's their motto. In other words, come to this city with an open mind and expect to see things you have never seen before. They are home to the Museum of Weird, you'll find "Keep Austin Weird" t-shirts all over, and meet free spirits everywhere you go.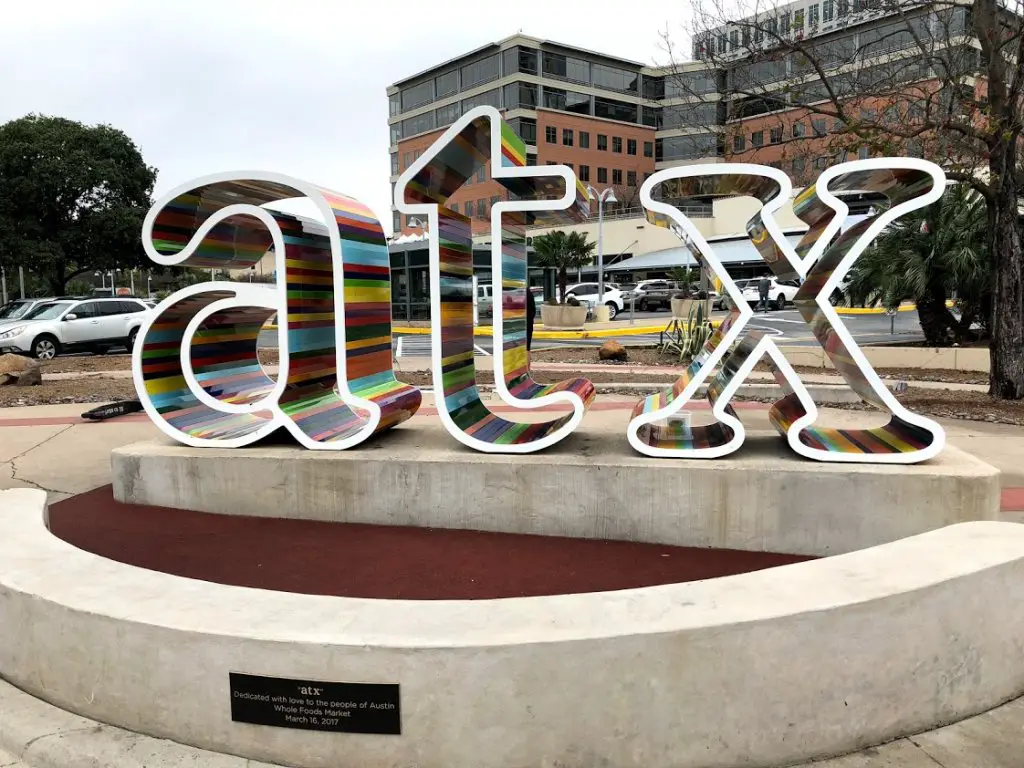 Your Trip to Austin Texas
Did you add more to-do's to your list? It's touch to go wrong in Austin, but these are some of your very best options!