Get ready to party in Austin Texas bars. Live music. Dive bars. Upscale taverns. Entire streets dedicated to patios, taprooms, and breweries? Austin can party as well as a frat boy on Spring Break. It can be easy to get yourself stuck in one place, but hopping around to different places and checking out a number of different vibes is the way to go. Austin Texas bars are one-of-a-kind. The "Live Music Capital of the World" will keep your party going from morning until…well, the wee hours of the morning.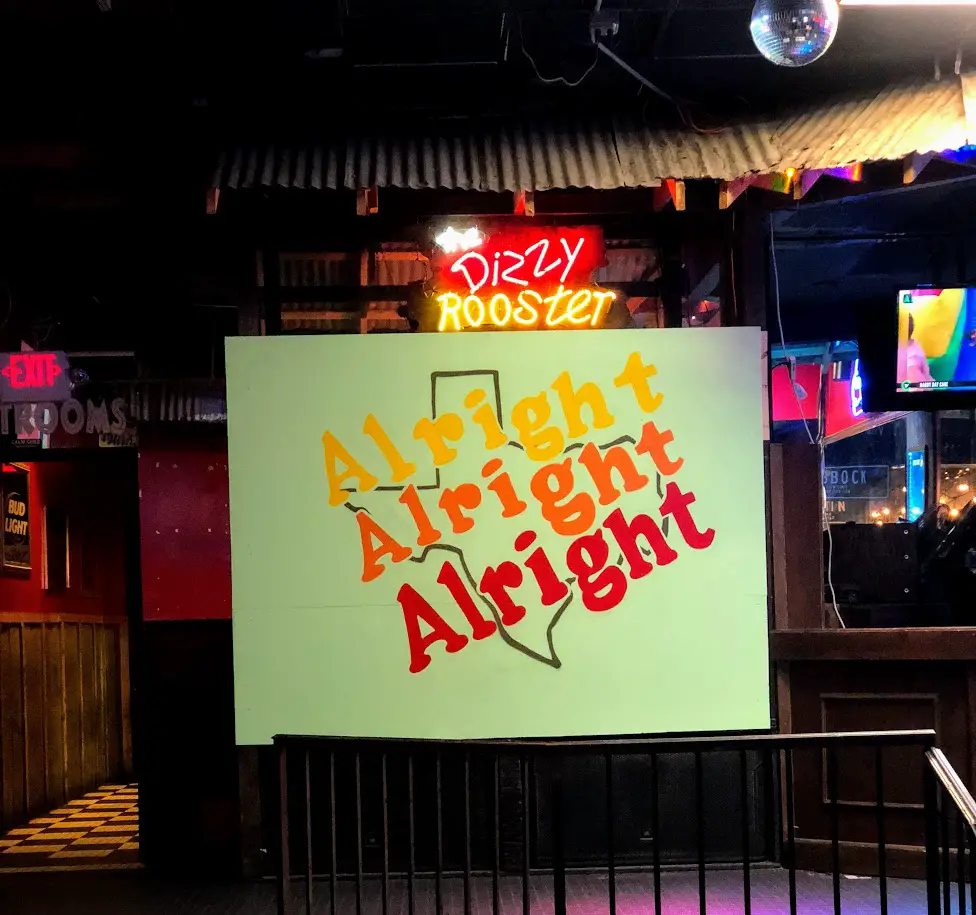 Rainey Street
From what used to be a stretch of houses once built prior to 1934 on a sleepy and residential block, Rainey Street has recently become a fun, rowdy stretch of bars. Find elegant and upscale all the way to circus-themed and rambunctious with everything in between. Rainey Street is the perfect place for day drinking your way into the night. Or staying up much past your bedtime.
The area will run you $10-12 for a handcrafted cocktail or $6-7 for a craft beer. (We'll get to the cheap ones later.) Amongst you are the older 20's into 30's crowd with a few groups 40+ who by no stretch seem out of place. This is where recent college graduate meets the middle-aged teacher letting loose.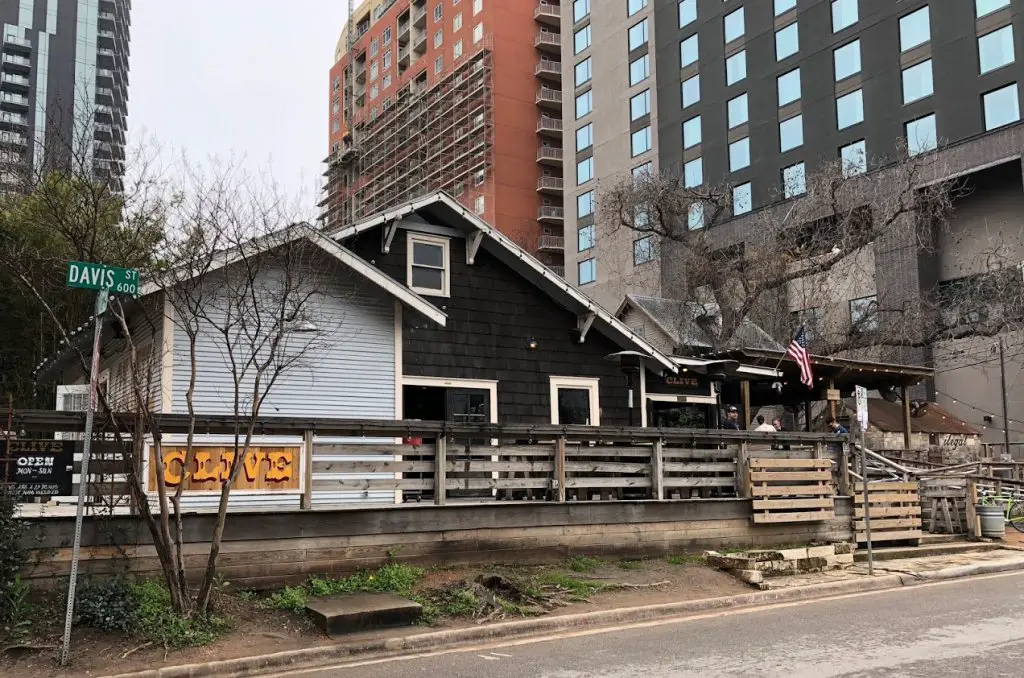 Located on the east end, Clive Bar is a great starting point. They open at 2:00 pm (some don't open until later in the evening), lean on the side of upscale, and includes great TVs with a patio large enough to host any sized party.
Walk into a dark, rustic tavern decorated with massive mounted animal heads and old photographs hung sporadically. Take a seat at a bar that is sure to grab your attention as striking and beautifully built, or opt for the wrap-around patio. I ordered a Rainey Street Mule to start the day and though it was admittedly average, a game of free, old school, score-it-yourself darts rounded out the experience as a great one – even if I lost.
Trendy. Stylish. Swanky. Parlor Room is full of elaborate wallpaper, beautifully painted art and an outdoor area that includes giant Jenga and cornhole. Head straight to the back where you are welcomed by a large DRINK UP sign hanging above a turf patio where you'll sit down at a white plastic table.
Parlor Room has a good selection of craft beer and I went with Texas' own Live Oak HefeWeizen, a classic wheat beer, enjoyable even for those who prefer a light domestic. This time it was the beverage that improved the atmosphere. We were the only ones there at 3:00 pm on a Friday (not to mention I lost in Giant Jenga.) According to the bartender, it really comes alive later at night when bands and DJs perform, and (I assume) the hipsters roll in.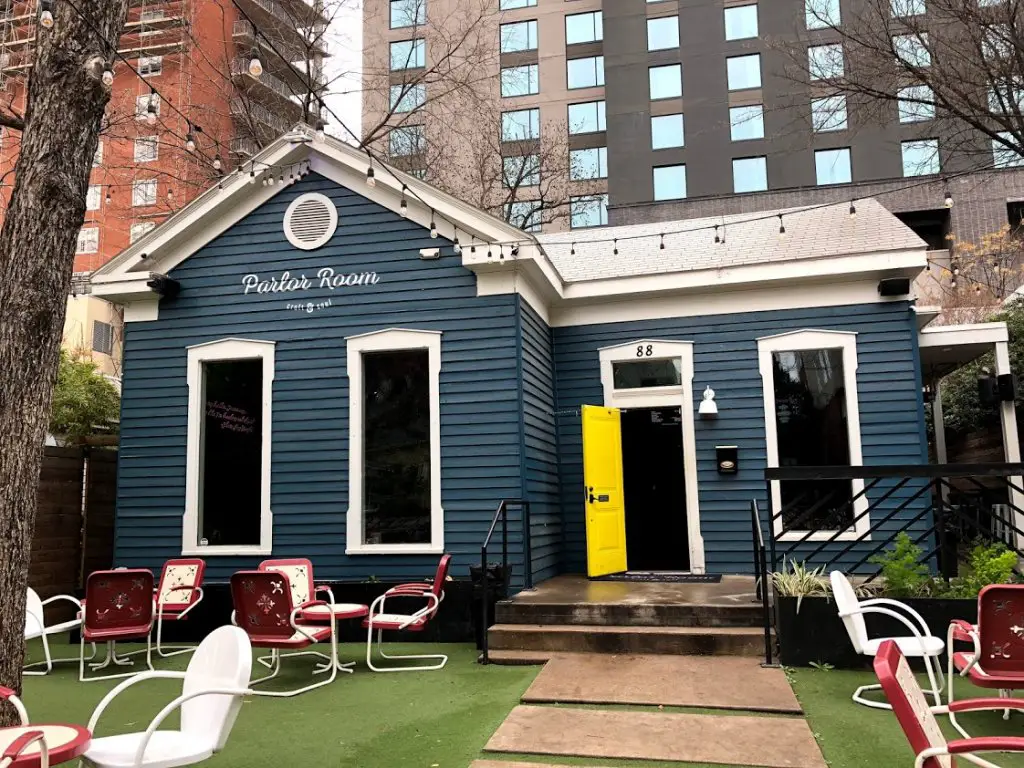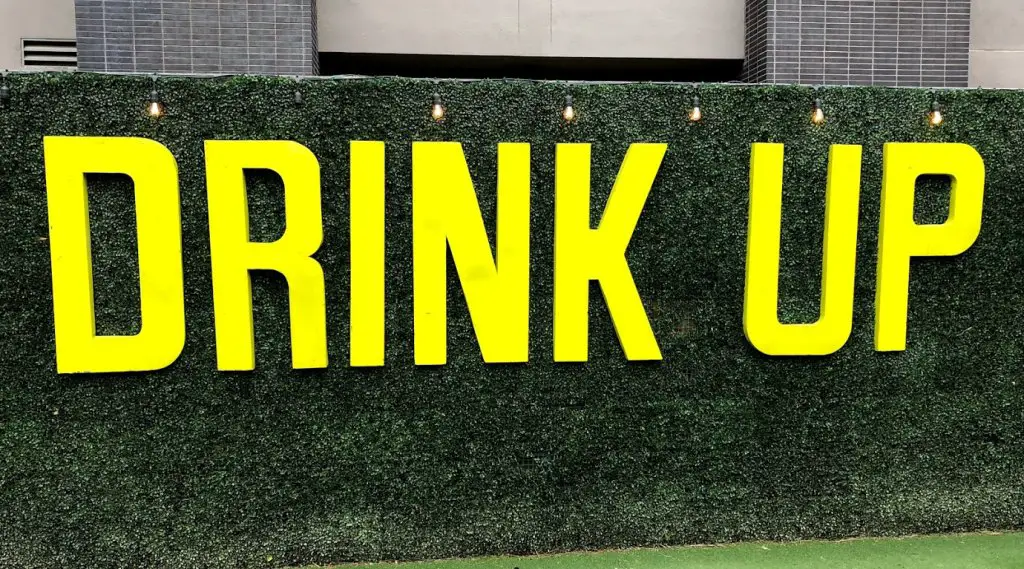 Now we're getting crazy. An actual circus for adults. It is its name. Just replace the blue Icee with a spicy margarita (highly recommended) and stuffed animals for sex toys in the claw machine – I can't make this stuff up. The walls are painted to represent a circus tent, you can go down an actual slide, go for the high score on pop-a-shot (I finally won a competition, though was defeated in the next round…this is why I don't drink and game), greet a full-size giraffe at the front door, and listen to live music in the backyard.
This place was the rowdiest on Rainey Street and it screams bachelorette party. This spot will not be your favorite if you often find yourself saying that bar was too loud. The theme and atmosphere make it worth stopping for at least one drink. Skip the food – just get your buzz on.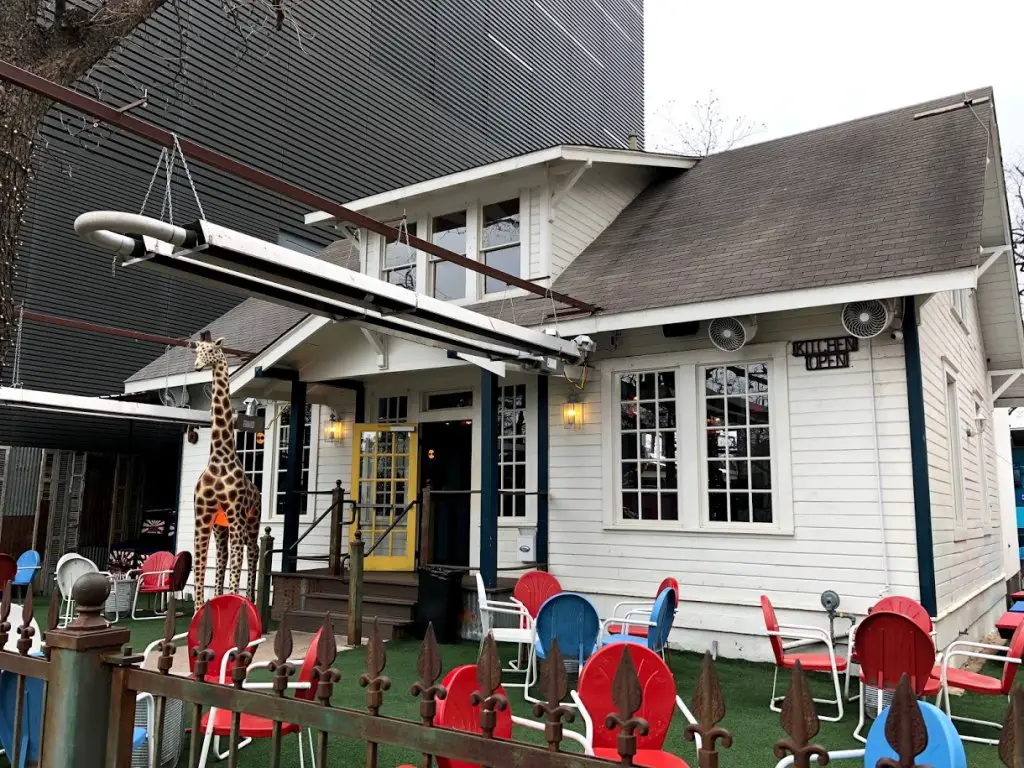 A Texas-only craft beer joint and the perfect place to get a taste of Texas – 54 different ways. If you are a brewery troll, don't leave without a stop at Craft Pride. I tried their River Beer – an American Light Lager which was light, crisp, and refreshing enough to get a few.
While the beer is good, the reason you want to come here is for Via 313, a food truck in the backyard where a $10-15 Detroit-style pizza completes the vibe. I don't hold back when I say this is the best food truck in Austin. I will return to Austin for this pizza.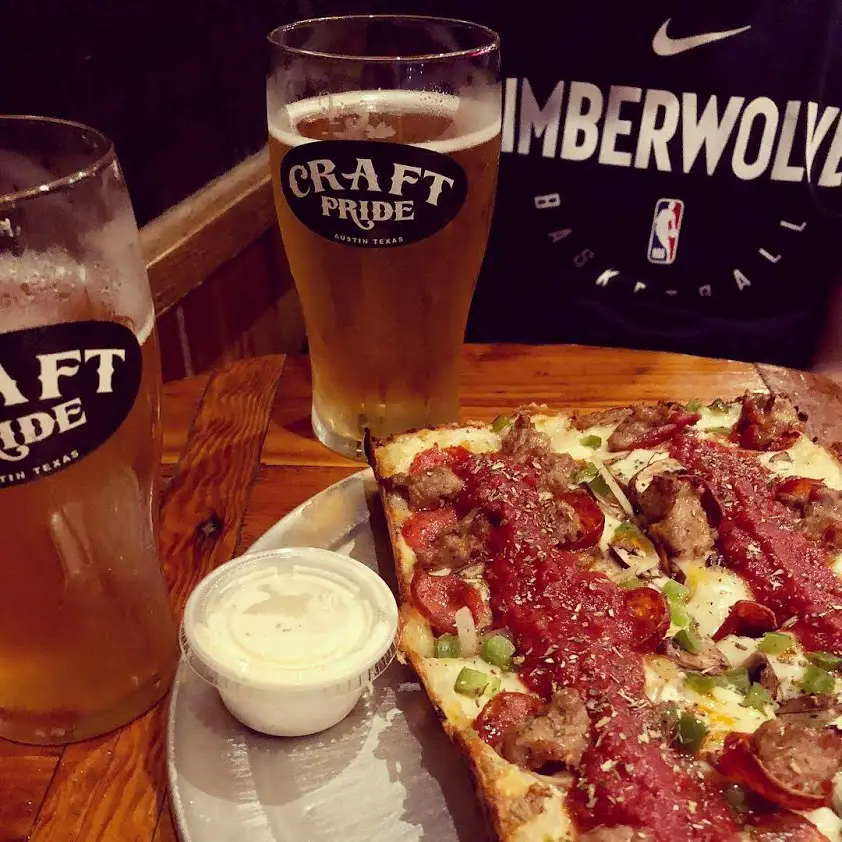 Labeled by their owners as Hill Country Soul, this Autin Texas bar has a touch of everything. Beer joint, Texas ranch home, dance hall, patio. We were here early enough in the day for it to be its laid-back bar scene. The front patio is the perfect place to people-watch (mainly the crazy scene at Unbarleivable), smoke a cigar and enjoy a beverage.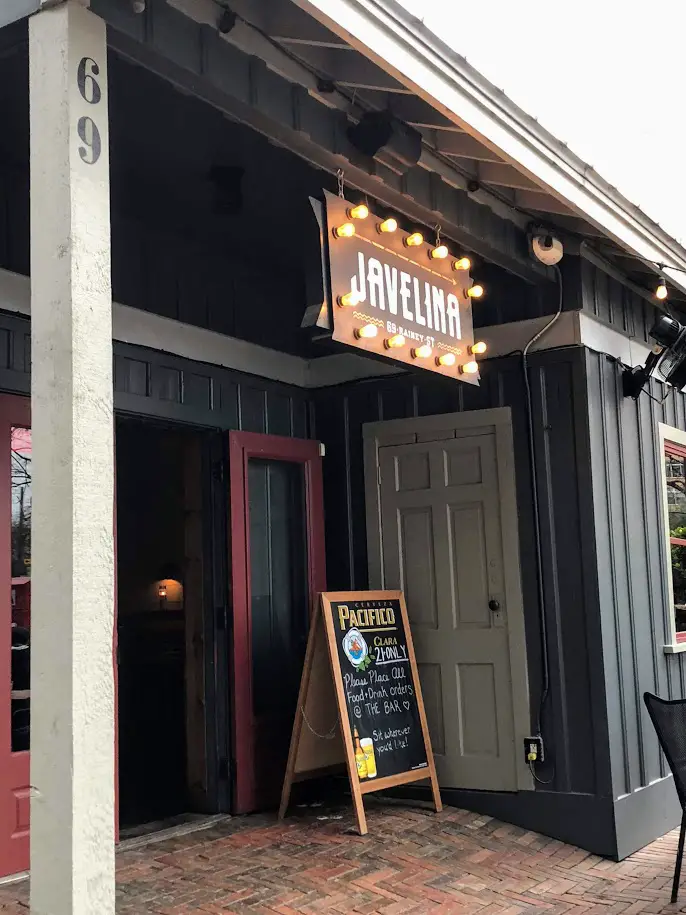 This is an awesome place to party, especially in their outdoor space with live music. The beer garden is huge with picnic tables and string lights. They have a ton of beers on tap–104! And endless (unique) sausages. Come to this casual spot for a a few of the best hours you will have at an Austin Texas bar!
You can definitely break up Rainey Street and the next set of Austin Texas bars into two different days – easily. But if you're only in town for a short period of time, or are full of energy, make your way to…
6th Street
Ohhhhh, Dirty 6th. Get ready to be back in college. Packed houses, cheap drinks, bro's chugging beer and girls who are either dancing on the bar or crying in the bathroom. Is 6th Street something you want to do every weekend? Probably not. Is it somewhere to experience once or have a good time every so often? Absolutely.
There are an endless amount of Austin Texas bars on 6th Street; dives, dance clubs, rooftops, speakeasy's, pubs, piano bars – if you are looking for it, you can probably find it. But do expect your shoes to stick to the floor. And your drink to be mediocre (I would stick to beer, and don't get talked into $1 shots.)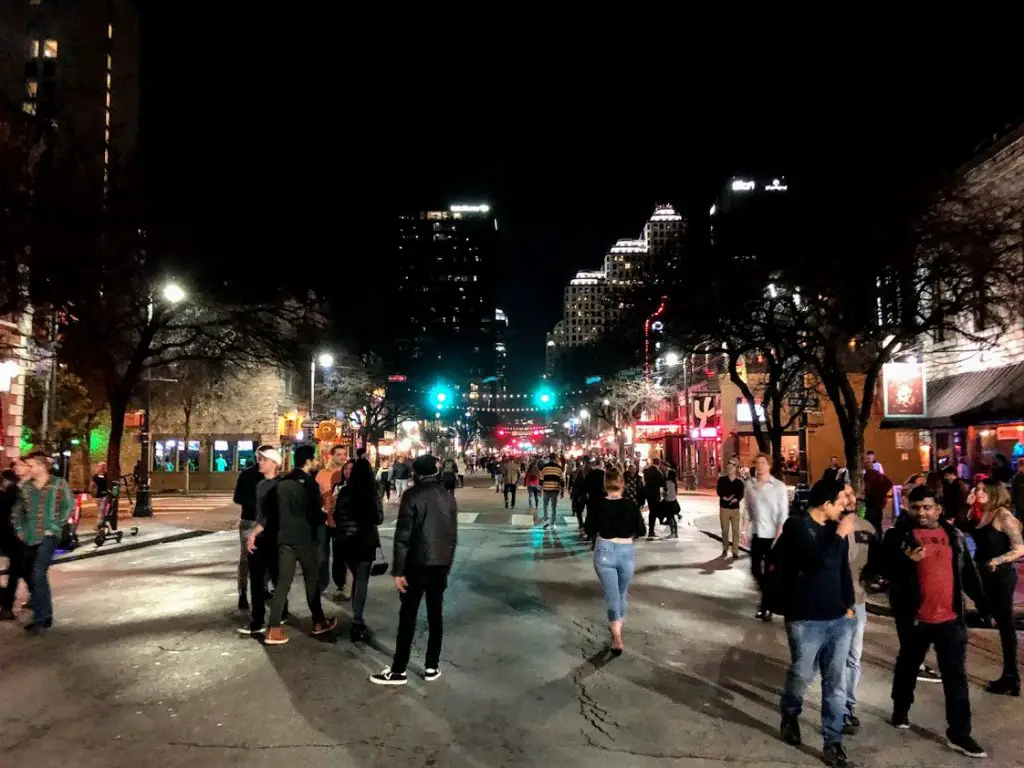 we walked in after our walk from Rainey Street to a heavy metal band singing who knows what. My eyes were wide and my lips pursed together as the band screamed out lyrics and smashed the drums. Maybe good if you love heavy metal (I'm not the one to ask), but we were gone in the time it takes to drink a Bud Light.
Drink light beer and play beer pong inside a laid back environment with a beautiful wood/brick interior. Sparkling chandeliers gave light to this dark, moody bar. Beer prices were great and this was one of my favorite, most memorable spots on 6th Street.
An inexpensive dive bar with a rustic feel and fantastic live music. Hear a blues-rock band jammin' away from the sidewalk and walk in next to a stage 3 feet off the ground. Grab a seat on the one-sided booth against the wall or find a spot at the bar. You're sure to meet tourists, as well as locals, and enjoy a drink or two together; it is Friends Bar after all.
The bouncer standing outside yelling out drink deals to persuade those on the closed-off street to pick this bar was our excuse for walking into this one. A long, though skinny, bar featured a band upfront and a room full of partyers. Beer signs covered the walls, string lights and disco balls hung from the ceiling and it was certainly worth a stop.
More great music with live bands 7 days a week. This spot has a number of vibes as you can choose between 7 different bars, multiple levels, and a rooftop. This spot was the choice of many on a Friday night.
Have a few drinks and find yourself on top of a massive Jackalope sculpture for a picture. What's a Jackalope? A mythical animal, described as a jackrabbit with antelope horns #KeepAustinWeird. Some (including the Food Network) will award this spot with the Best Burger Ever.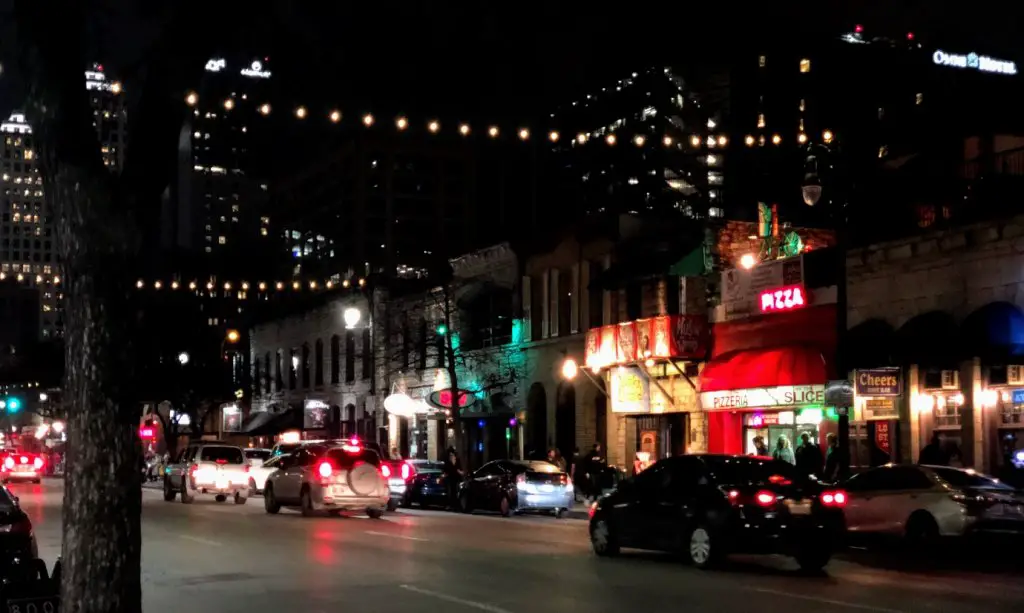 Hungry?
Of course, you are. Easy Tiger; enjoy house-made sausage, pretzels, and/or a cookie at this hoppin' German beer garden. Iron Cactus; Grab yourself a fresh, homemade margarita and tacos. Street Food; Make a quick stop as you walk from one bar to the next – the gyro was great! Voodoo Donuts; try to deny a donut after a day at the bars. Get adventurous. Donuts with cereal on top, maple cream in the middle, the classic Homer (Simpson), and more.
Read Where to Eat in Austin Texas for more options.
Austin Texas Bars
There is no time for boring in Austin. Simple as that. The options are limitless and the city is always having a good time. The best part? No one pretends to be something they're not. Pull up a chair, say hello, be yourself and enjoy the south!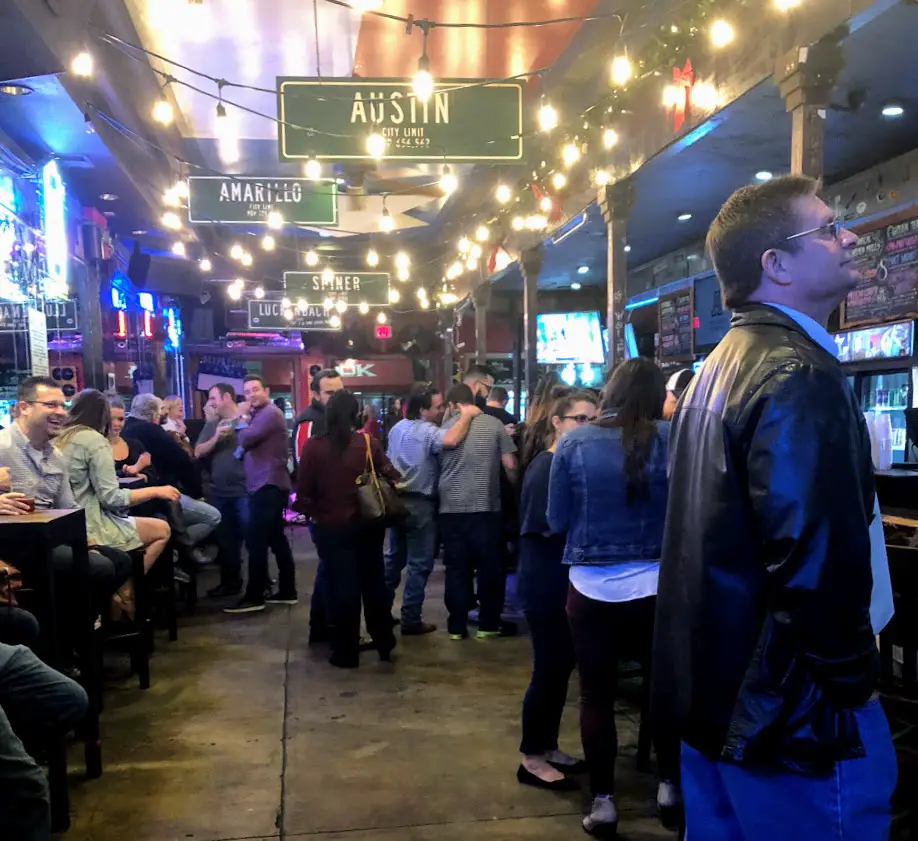 Let's Connect
You can find Little Blue Backpack on Facebook and Instagram.