Bishop Arts District in Dallas, Texas is hip, trendy and full of colorful boutiques, restaurants, and bars. Located in the North Oak Cliff neighborhood, it's one of Dallas' hidden gems with a small-town feel. Only 5-10 minutes southwest of downtown Dallas, a day in Bishop Arts District is a great place to add to your list.
And while Dallas is a bit spread out and lacks walkability, this area is the opposite. Come ready to get around on your feet and run into plenty of places you'll want to check out–there are plenty of things to do in Bishop Arts District. To get the day started…
COFFEE
This spot is in an unassuming place and belongs on your Instagram feed. It's not located right on Bishop Ave. (the "main drag") but it's definitely worth a visit. The shop is tiny (only two, two-person tables so don't expect to sit down and stay awhile) but has a great vibe. I came in early on a Sunday morning as the two young baristas were brewing coffee, smiling, and playing Christian music in Spanish.
It may not be the most popular or the first shop to show up on Google, but the iced lavender latte, cappuccino, and drip coffee were all excellent. In addition to common coffee drinks, they offer juice, pastries, and breakfast tacos on Saturdays and Sundays. And did I mention they were so nice?
BRUNCH
As one of the more popular restaurants in Bishop Arts District, the hip and cool Oddfellows will not disappoint. It has a great brunch menu with a fun vibe. And do not (I repeat do not) skip eating one of their biscuits!
They offer both indoor and outdoor seating and due to its popularity, you can expect a wait, especially for weekend brunch. The nice part is their location is right off Bishop Ave. so you are able to put your name in, shop around on a block full of boutiques, and come back when you receive the text that your table is ready.
The smoked salmon toast was healthy, flavorful, and a great way to start the day. Of course, it paired well with a mimosa. And make sure to get an egg on top!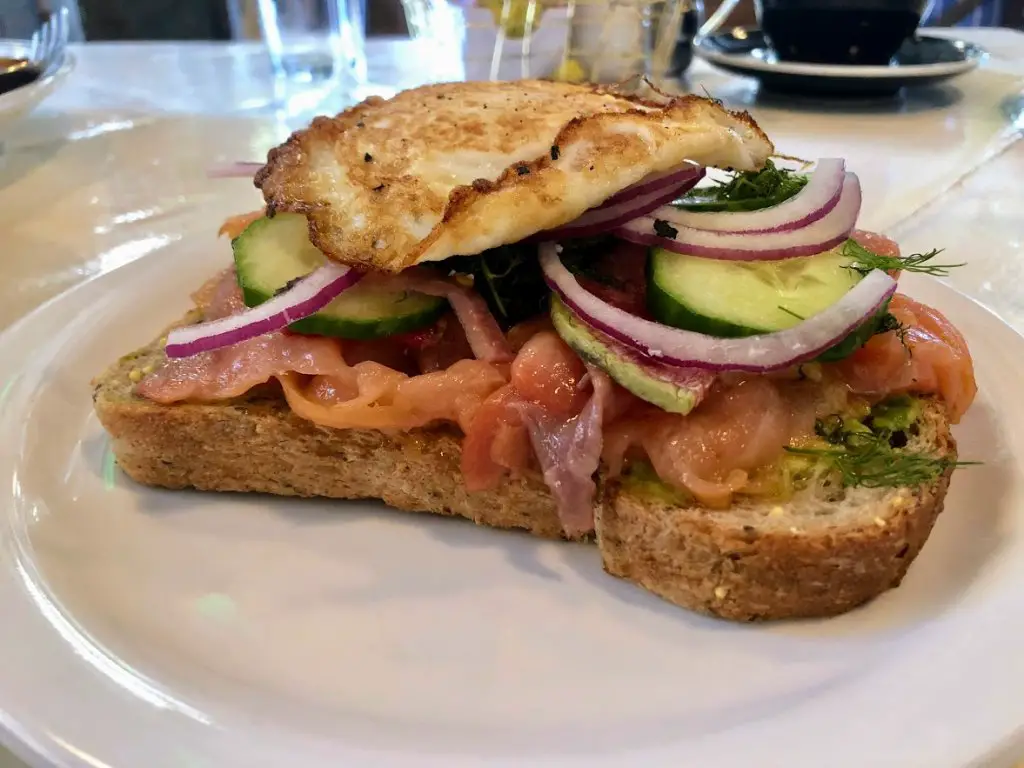 Another option while you wait for your table? Head down to the end of the block and sit at an open-air, neighborhood bar for $3 mimosas! One of the most perfect things to do in Bishop Arts District!
If you're looking to go back in time for more of an inexpensive diner experience, you can't miss Norma's Cafe. This place was busy on a late Monday morning which tells you how delicious their food is. Since 1956, they've offered classic breakfasts, scrambles, and Mexican-based dishes. They also serve award-winning pie.
Located a little off the beaten path, Norma's Cafe is about a mile walk to the "downtown" shopping area. Though after the "Migas," scrambled eggs with tortilla chips, jalapeño peppers, tomato and onions, jack and cheddar cheese, plus salsa and sides, you might be ready for a walk. Or a nap.
SHOPPING
A day in Bishop Arts District is not complete without a little shopping. Bishop Ave. and beyond is full of fun shops that are all independently owned and made for poppin' in, finding unique gifts, and grabbing a few souvenirs.
A quirky shop where you can find anything from sarcastic coffee mugs to fun greeting cards, and other funky gifts. It's vibrant and colorful and a place that's easy to lose track of time in. Tip: very close to Oddfellows!
Definition of aesthetically pleasing, this home furniture store has all your home design needs (or maybe wants!) Modern furniture, gallery wall art, candles, bowls, and small homemade goods. They continuously showcase different artists so you can always stop in and see what's new!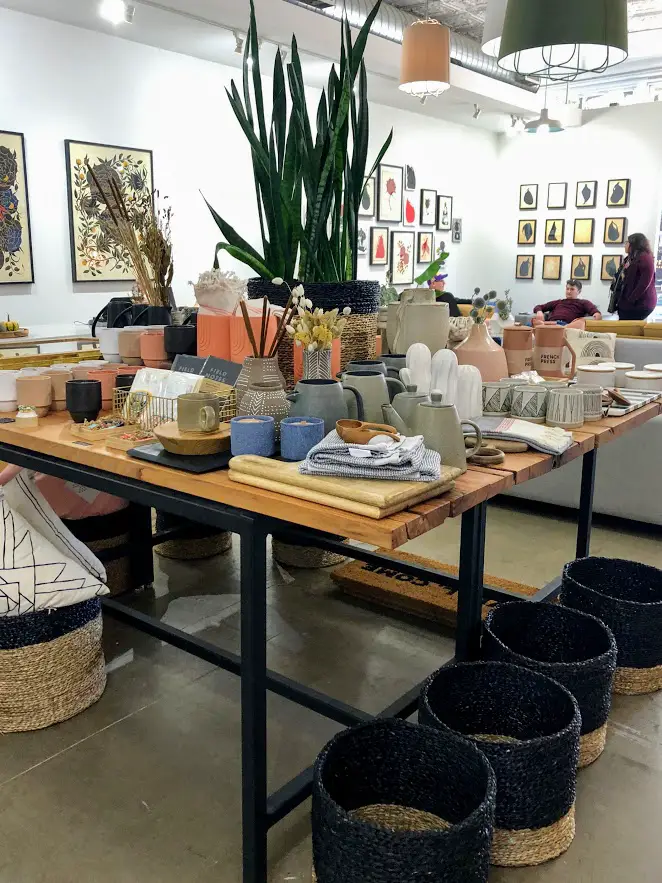 This was my favorite store that I visited in the Bishop Arts District. Society sells high-quality candles with a variety of fragrances. Find lavender, basil, wood-fire, and cherry blossom. Each candle has a glass bell cover you are able to remove to help you smell only that candle's scent—smart. It's small, welcoming, peaceful, and most certainly worth a stop.
Another fun gift shop to peruse. You can find art, jewelry, greeting cards, handbags and much more.
DESSERT
You got your coffee, ate your brunch, and shopped around. And now it's time for a sweet treat. And you're in luck because Bishop Arts District has one of the best places for just that.
Enter a little cottage to a world of home-cooked pies. I'm not a pie person. But wow. These pies are delicious. I tried the "Lord of the Pies," a deep dish apple with cinnamon streusel, a la mode of course! The top layer was from heaven above and it had sweet, gooey apples. And the other one I tried? Nutty Honey with peanut buttercream and honey bits. Unforgettable for a peanut butter nut like myself. You can't go wrong here and don't skip it because you're saying "I'm not a pie person." This is one of those things to do in Bishop Arts District that is a must.
Bishop Arts District
I really liked Bishop Arts District. We stayed at a cute Airbnb and I was pleasantly surprised by the location. A couple of tips:
If you do stay in Bishop Arts District while visiting Dallas, get as close to Bishop Ave. as you can—within three-quarters of a mile or so. It's a fantastic area but does get a little sketchy once you get outside of it.
You'll walk, but it won't be miles. It's a small, cute area that's perfect for strolling through in the afternoon.
I didn't get a chance to try it but did walk by Eno's Pizza Tavern and it looked drool-worthy. And it gets great reviews!
A day in Bishop Arts District is enjoyable and fun with enough options to make it the perfect afternoon for you and your friends. Have drinks, shop around, enjoy the weather, and hit up a place you probably didn't have in mind! And for some more Texas love, check out Backpack Goes South: Austin, Texas. Yeehaw.