Let me tell ya, it is NOT hard to find great coffee and delicious treats in South Austin! If that's what you're looking for, this part of town is the right place to be. The best coffee shops in South Congress include those that are aesthetically-pleasing and luxirous, to simple, rustic, and casual. You'll find indoor spaces that are the perfect work enviornment, as well as large outdoor patios that are great for meeting up with friends.
If you prefer local coffee shops to Starbucks, you're in luck.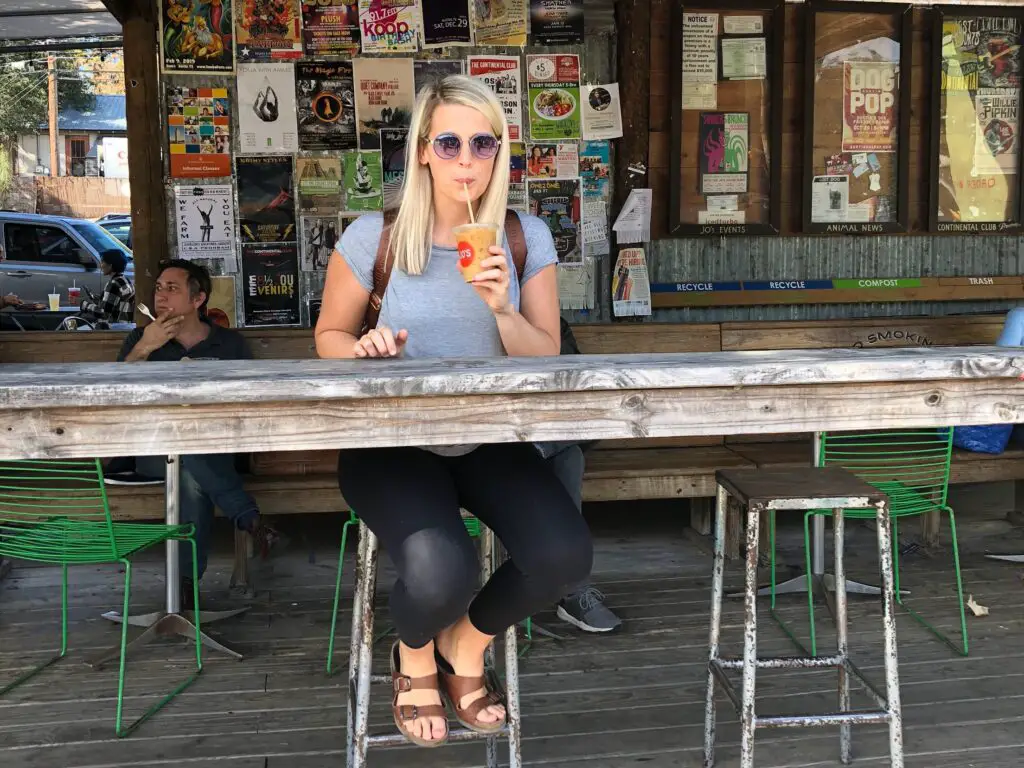 I work a full-time remote job so when I visit different cities, I love to hop around to different coffee shops and figure out which ones I like best—while working! And here's what I got for South Congress coffee shops after a super fun, quick weekend trip to Austin, Texas:
Summer Moon Coffee
For the perfect latte and a breakfast taco
This is my favorite coffee shop in South Congress! First off, Summer Moon Coffee has SUCH friendly baristas who seem so happy to be there and put a smile on your face. Secondly, this was the best vanilla latte (my go-to) of the bunch. And lastly, breakfast tacos. Need I say more?
Find a spot inside where things are simple and rustic with a variety of table options for working by yourself or visiting with friends. You can also enjoy outdoor seating with fresh air and green trees along 1st St.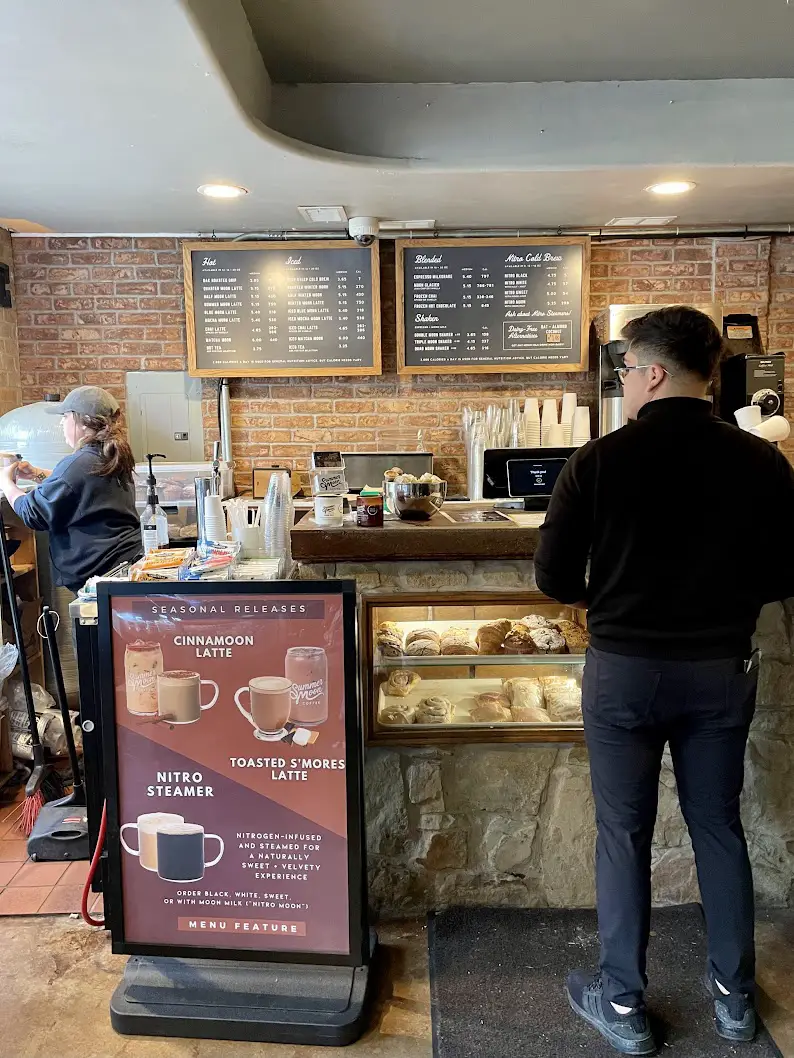 Jo's Coffee
For Weekend Vibes
Start your day on South Congress Ave with an Austin CLASSIC! Visit this great place and you will quickly understand why it's so popuar—and another one of my favorite coffee shops. Jo's Coffee is super casual and fun, right in the heart of all the South Congress action, and even becomes a live music venue most Sundays.
An open-air coffee shop with a walk-up window for ordering, Jo's is the place to be on a sunny Saturday morning. Their iced coffee is THE BEST, and you can choose to enjoy it out on the patio or take it with you to all of the funky shops in the area. Don't forget to snap a picture at the I love you so much mural!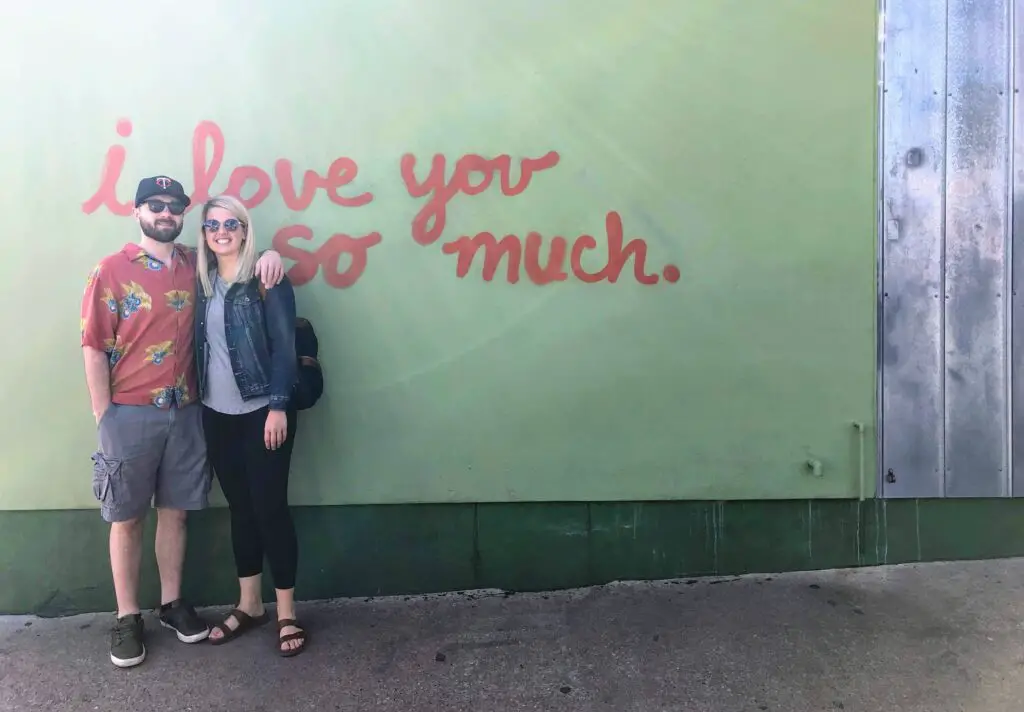 Once Over Coffee Bar
For a Peaceful Patio
Okay, this one came out of no where for me! I stumbled upon Once Over Coffee Bar one Saturday morning, ordered a Ginger tea (which was so good and comes in your own cute mini kettle), and noticed they had an outdoor seating area complete with string lights, artwork, overhanging trees, and a little stream. Easily one of the best patios when it comes to coffee shops!
The shop is unassuming with a cozy, punk-rock vibe inside with plenty of seating and a menu full of coffees, teas, sweet pastries, and bagels. Grab your go-to breakfast, bring a book, and enjoy your peaceful morning. (P.S. you can also get craft beers here!)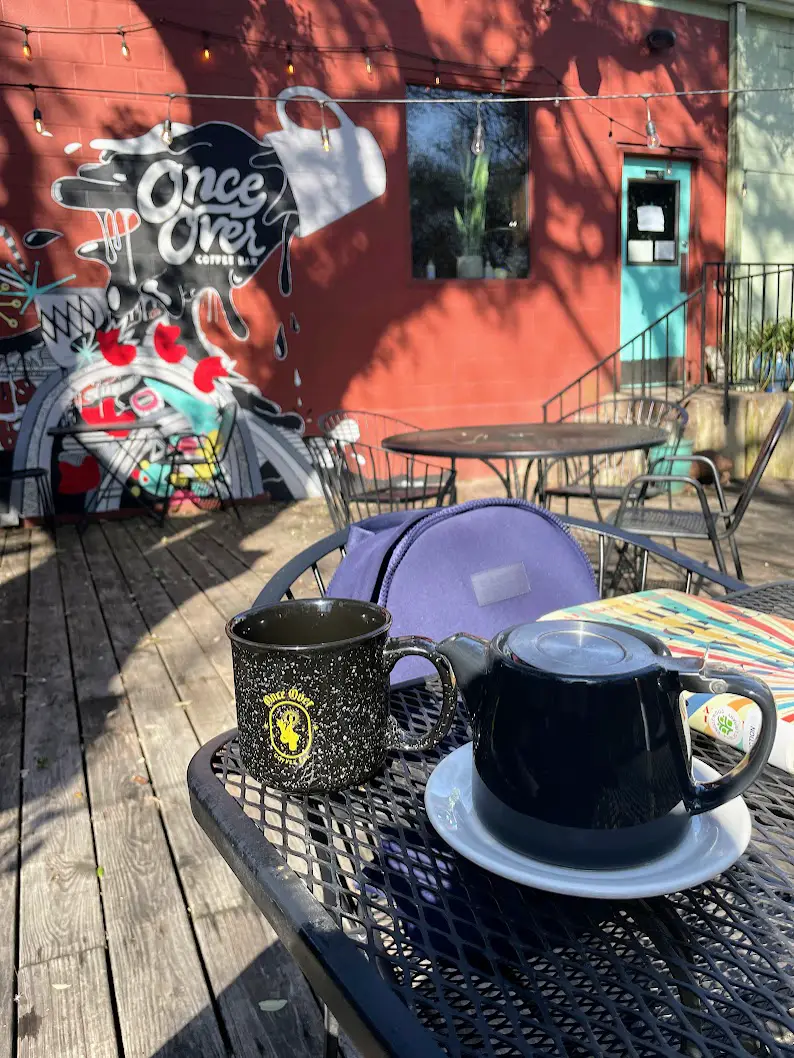 The Salty Donut
For a Great Place to Work
Good coffee. Better donuts. Best vibe. The Salty Donut is the perfect place to come and get work done on South Congress Avenue. The atmosphere is open and spacious with a comfy couch area, personal tables (with outlets), and a large community table to work together or meet new people. It's the perfect Friday morning office!
I went simple with the glazed donut holes (you get 6) which were delicious. If you feel like something from the wilder side, choose Strawberry Shortcake, Brown Butter and Salt, or Almond Mocha Fudge.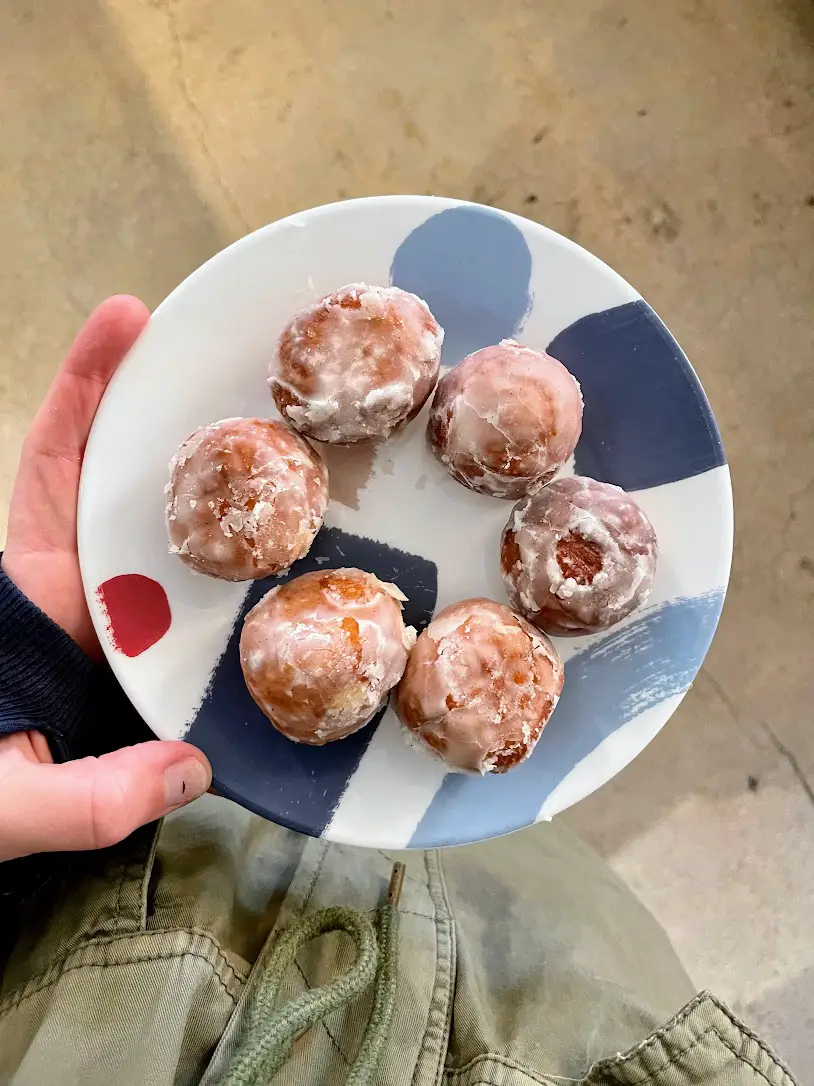 The Meteor
For Coffee followed by a glass of Wine
This is an awesome pick any time of day! A coffee shop, wine bar, and restaurant collide to create this fun and happening spot in South Congress. (Oh, and it's also a bike shop lol.) Stop in to work and enjoy avocado toast, meet up with friends over coffee, or enjoy a date night complete with great food.
I stopped into The Meteor unexpectedly for lunch and once I saw they had sourdough crusts, I had to opt for the Mediterranean pizza—and I wasn't disappointed! The puffy crust makes the whole pie.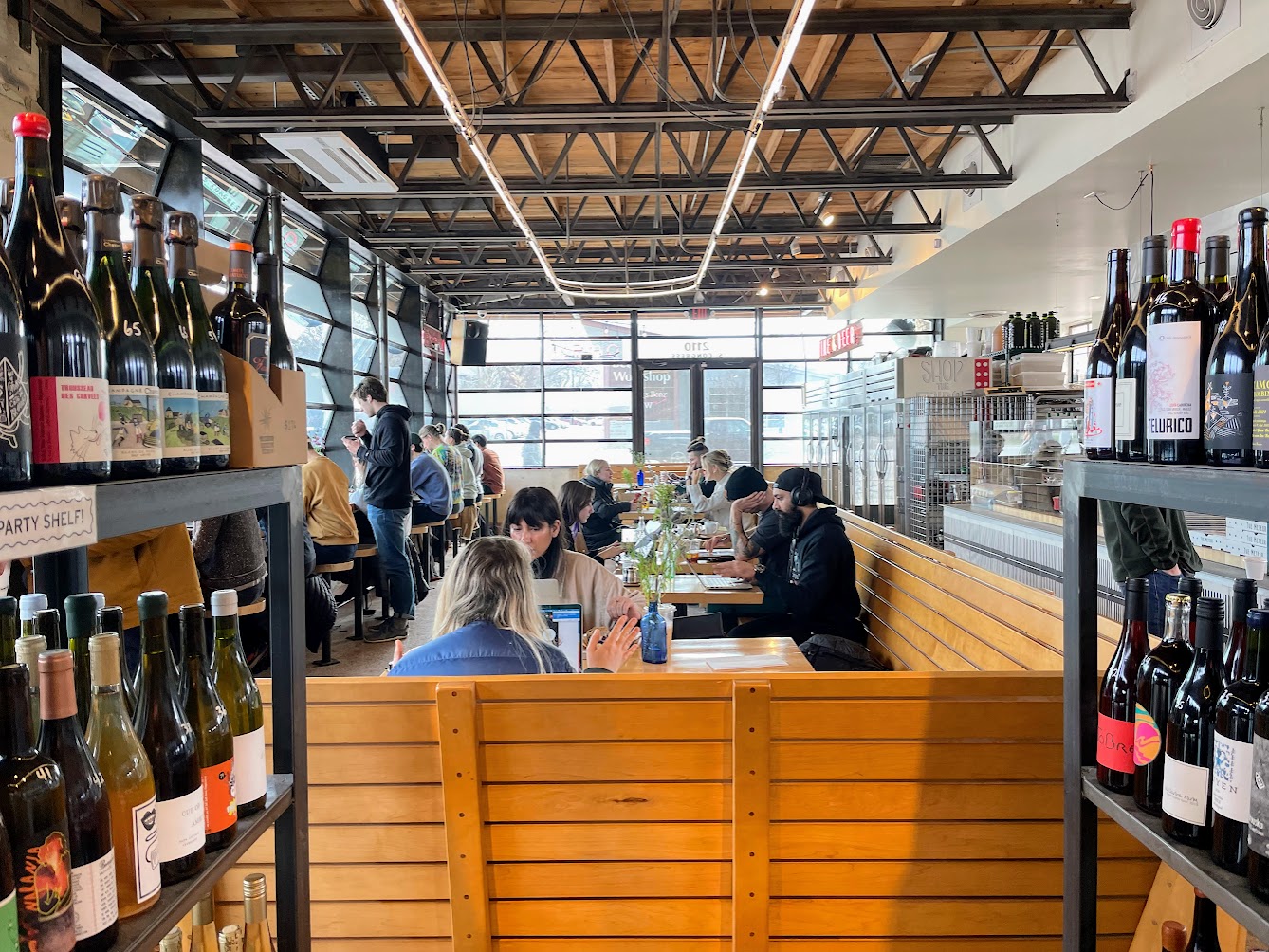 Teal House Coffee & Bakery
For a Sweet Treat with Your Hot Coffee
When they say the best cinnamon roll in Austin, THEY ARE NOT LYING! I said "wow" at least three times while eating mine so if you're looking for a quick, sweet breakfast in a super cute space, head over to Teal House Coffee & Bakery. This is a great spot with a light, airy, teal atmosphere and top-notch customer service. They were so, so nice. I cannot wait to come back to this place!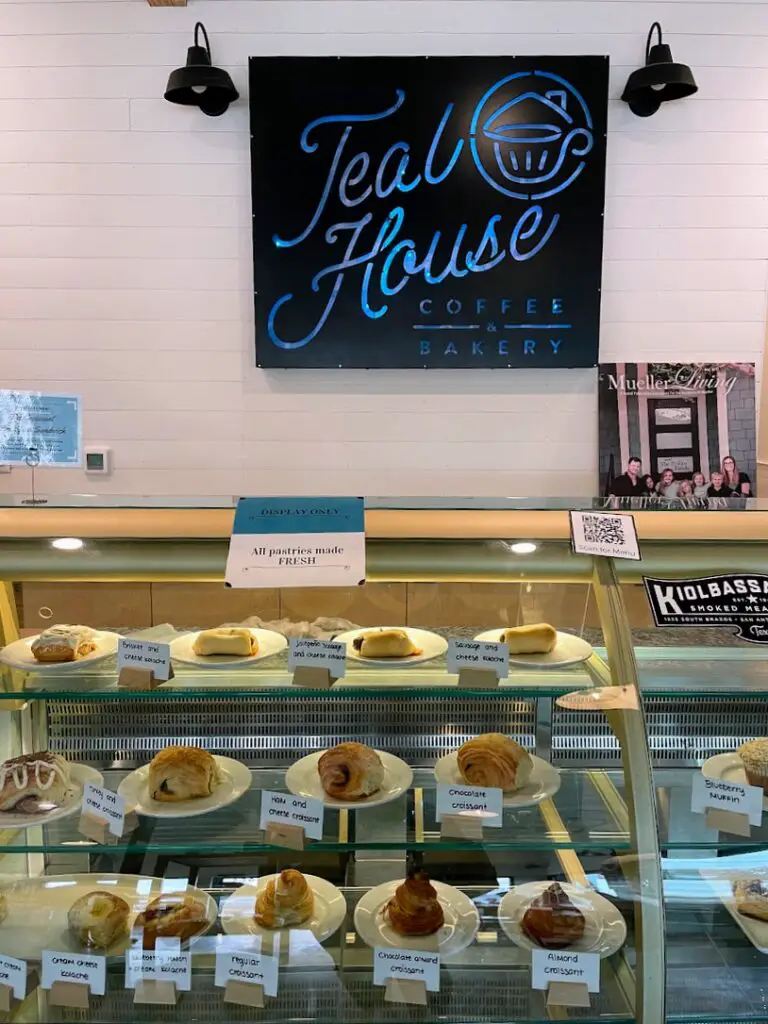 Freddo ATX
For the Lively Outdoor Space
A cozy, old Victorian-style house turned coffee shop! Freddo ATX has a very cute inside with two stories including separate rooms, as well as a very fun outdoor space that includes a porch. Not only can you grab a cup of coffee and breakfast here, but also beer, wine, and cocktails along with a full Greek-inspired plate of food. This place was packed on evening weekends.
Mañana Coffee & Juice
For the Aesthetics 
Where the cool kids go fo their specialty coffee. Mañana Coffee & Juice is new-age and trendy with green plants, chill music, patterned blue tile, and plenty of workspaces. It's located in the South Congress Hotel courtyard and was poppin' on a Friday morning.
I really enjoyed the space, but do think you can find a better cup of coffee elsewhere. (They do make in-house pastries which I was eyeing up but didn't try…)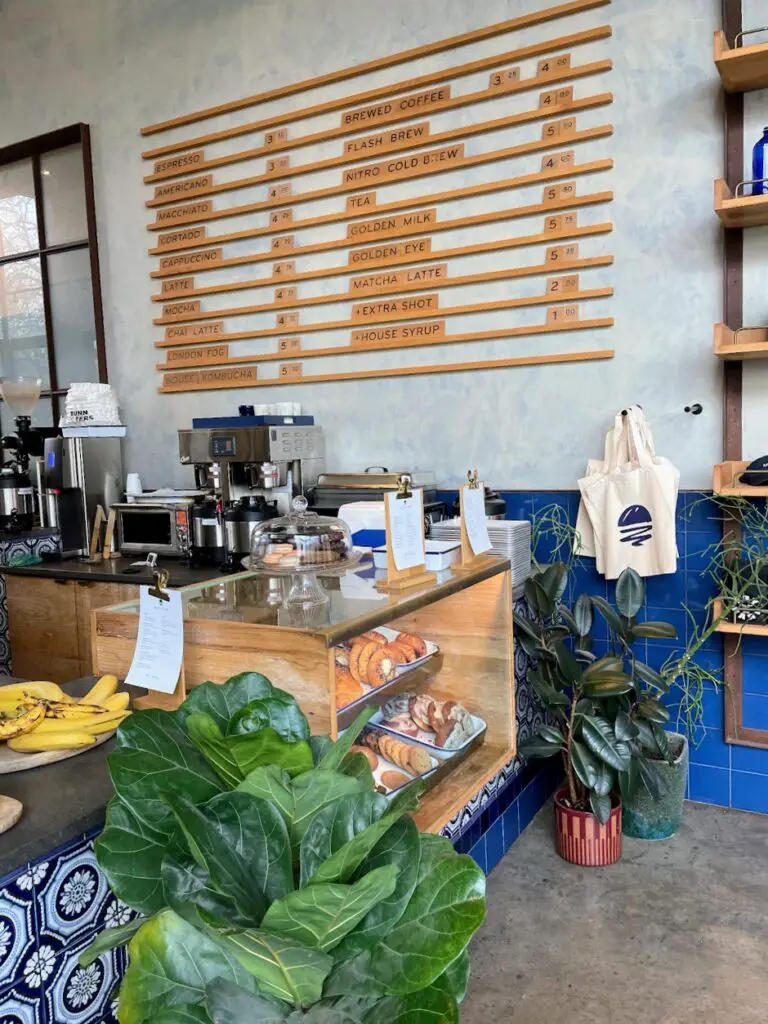 More of the Best Coffee Shops in South Congress
I didn't hit EVERY spot that serves a great cup of coffee, of course! Luckily, my brother-in-law lives in Austin so I'll be back for more. Here are the others on the top of my list:
Cosmic Coffee + Beer Garden: I'm SO mad I didn't make it here! For coffee or happy hour. Double-dipping in coffee and alcohol, their garden oasis is the place to be for all drinks.
Plaza Colombian Coffee: This spot looks FUN—tiki hut bar and the corn hole game in a super colorful enviornment. They serve 100% Columbian Coffee beans and tapas-style food.
Bennu Coffee: High-quality, fair trade coffee, and locally sourced food. Speaking my language! A dark atmosphere that looks like a perfect place to get work done late night. It's open 24 hours!
Radio Coffee: A large outdoor space with some of the best food trucks that Austin has to offer—including Veracruz All Natural.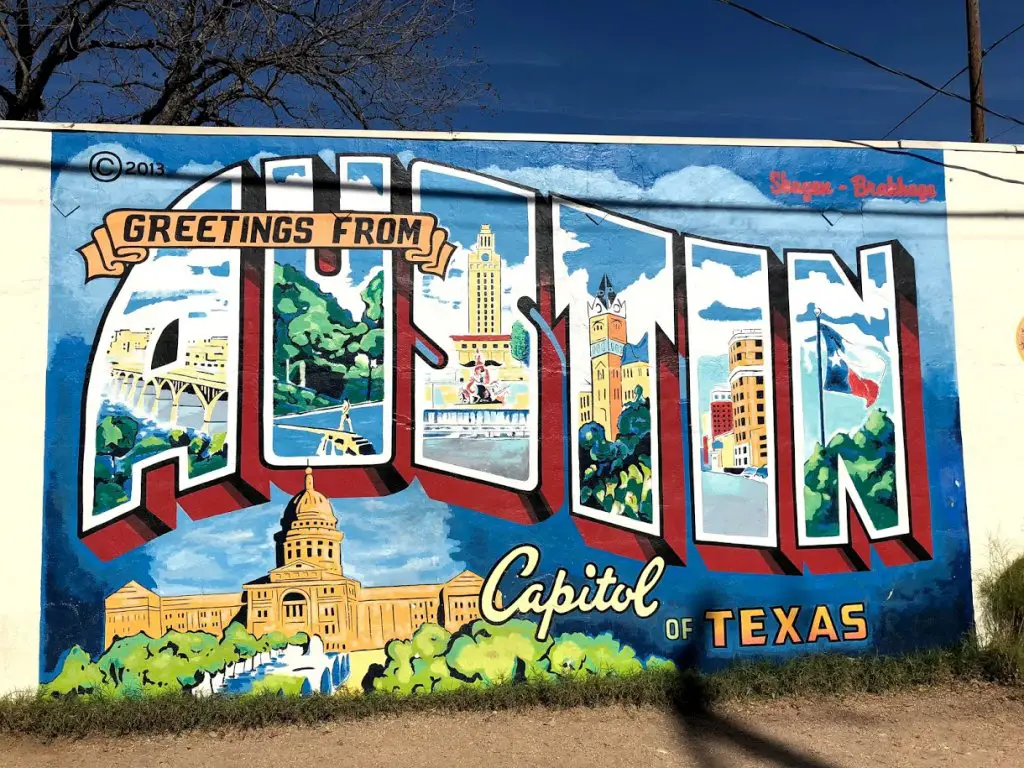 The Best Coffee Shops in South Congress – Austin, Texas
From S Congress Ave and beyond, you are going to find some delicious coffee, tasty pastries, fun atmospheres, and new friends in the South Congress neighborhood. And having so many options is a good thing. New places to try all of the time, while of course working in your favorites in between!
What did I miss? What's your favorite coffee shop in South Congress?
More from Austin? Check out Austin Texas Bars, The Best Austin Restaurants, and What Not to Miss in Austin.