Are you looking to celebrate the holiday season in the Windy City? If you are, get excited because you will LOVE it. And if you're still thinking about it, decide now that the answer is YES because Chicago in December is so worth it!
There are so many Chicago experiences that are best enjoyed during the month of December when the city is all lit up and full of excitement.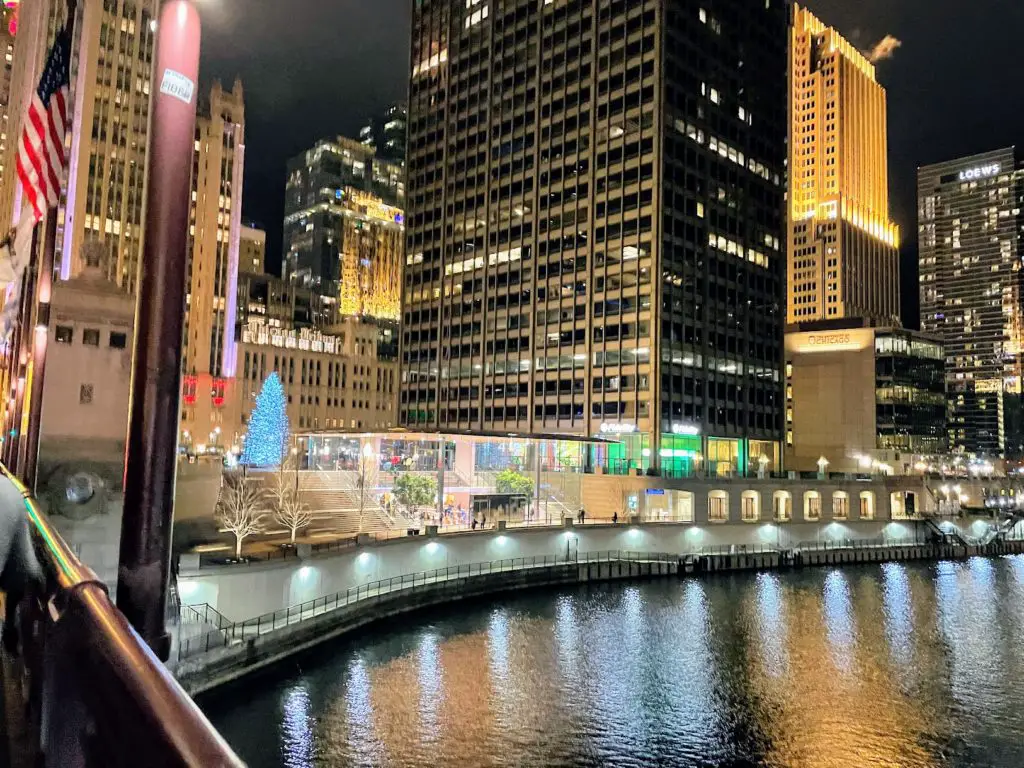 Chicago in December: The Best Things to Do
From downtown Chicago, up to Wrigleyville, and down to Soldier Field, there are endless ways to enjoy the season. And I promise you'll be full of holiday cheer during and after your trip. Here's where to go:
Millennium Park (The Bean!)
This is the perfect first stop, whether you have been to Millennium Park before or not. Make sure it's on your Chicago in December list because it really gets you into the holiday spirit.
The Bean reflects the lit-up city skyline—don't forget a selfie or two! A huge Christmas tree with endless lights. And the ice rink full of bundled-up, smiley people. It's one of the best spots in the city—tourist trap or not!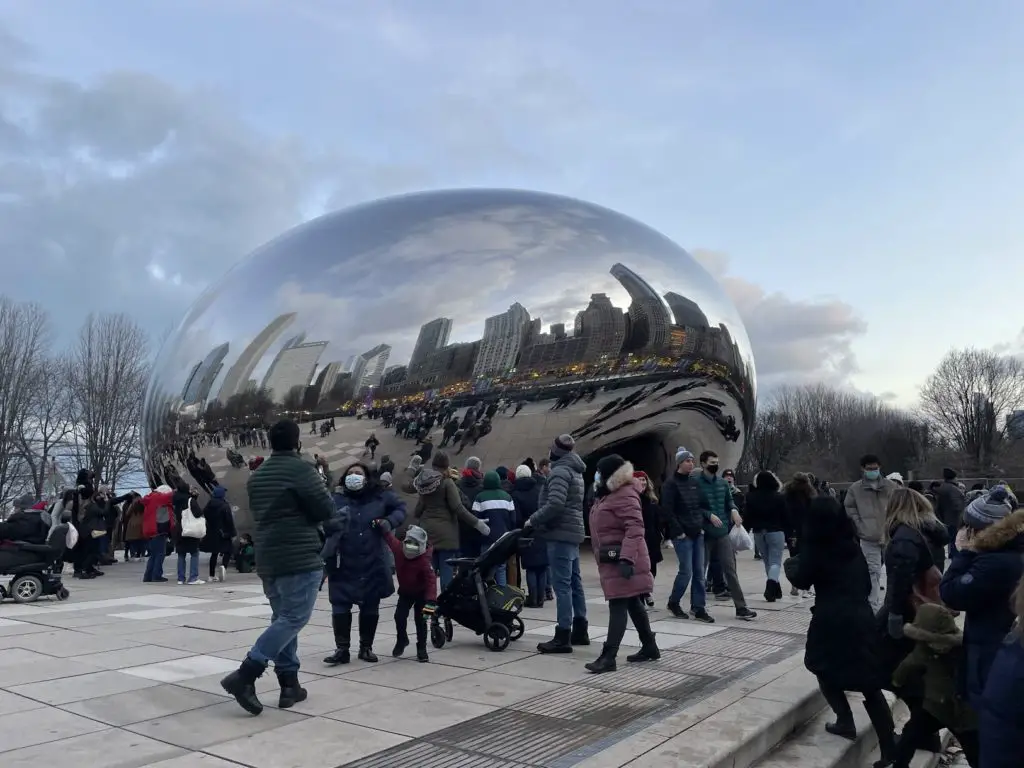 Ice Rink
Classic and fun! Enjoy city views and one of winter's top outdoor activities on the skating rink at Millennium Park. Ice skate, take incredible photos, and warm up with a little hot chocolate—or something spiked!
Admission is free, but online reservations are required. You can bring your own skates or rent them for a fee. Keep in mind that this is a busy place! Find skate rentals and sharpening costs.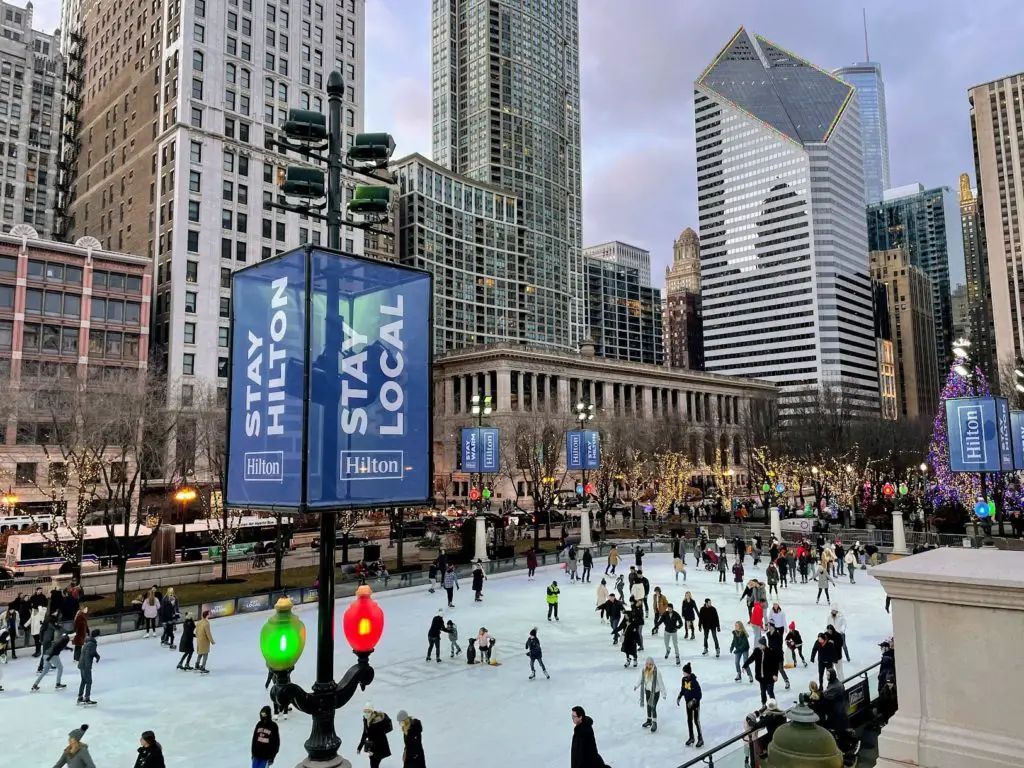 TIP: Maggie Daley Park offers an ice skating ribbon with incredible city views and stunning lights if you're looking for another option. Rent skates (for a fee) or bring your own.
Visit the Christkindlmarket
The Annual Christmas Market, Christkindlmarket, is a traditional Chicago event that is sure to be a great memory! Little shops line the plaza where you can find all sorts of ornaments and gifts. There's plenty of German food to enjoy like delicious brats and big pretzels. Plus, you can sip hot mulled wine (in the cutest keepable mugs) while enjoying the themed music in a cozy setting.
Sounds nice, huh!? There are two locations in the Chicago area—the Daley Plaza downtown and in Wrigleyville.
Admission is free, but be prepared to stand in line to get in. This is one of the holiday markets that everyone in the city wants to enjoy—because it's worth it! (Of course, you'll pay for your food, drinks, and shopping.)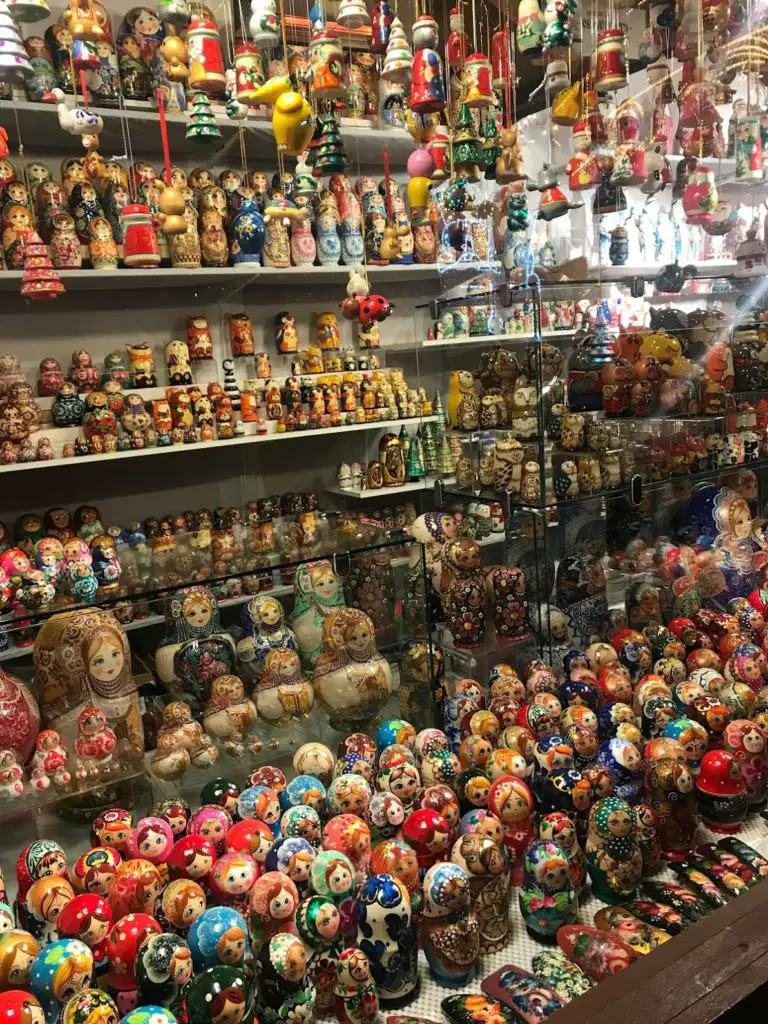 Lincoln Park Zoo Lights
Bundle up and walk around the Lincoln Park Zoo Lights for endless Christmas trees and light shows. There are hundreds of LED displays and experiences under the glow of millions of lights and city views. It is very, very well done and a fun way to spend the evening.
There is warm spiced wine, frosty beers, festive cocktails, and snacks for purchase, as well as a gift shop.
Most nights are $5—you can purchase online. Mondays and Tuesdays are free.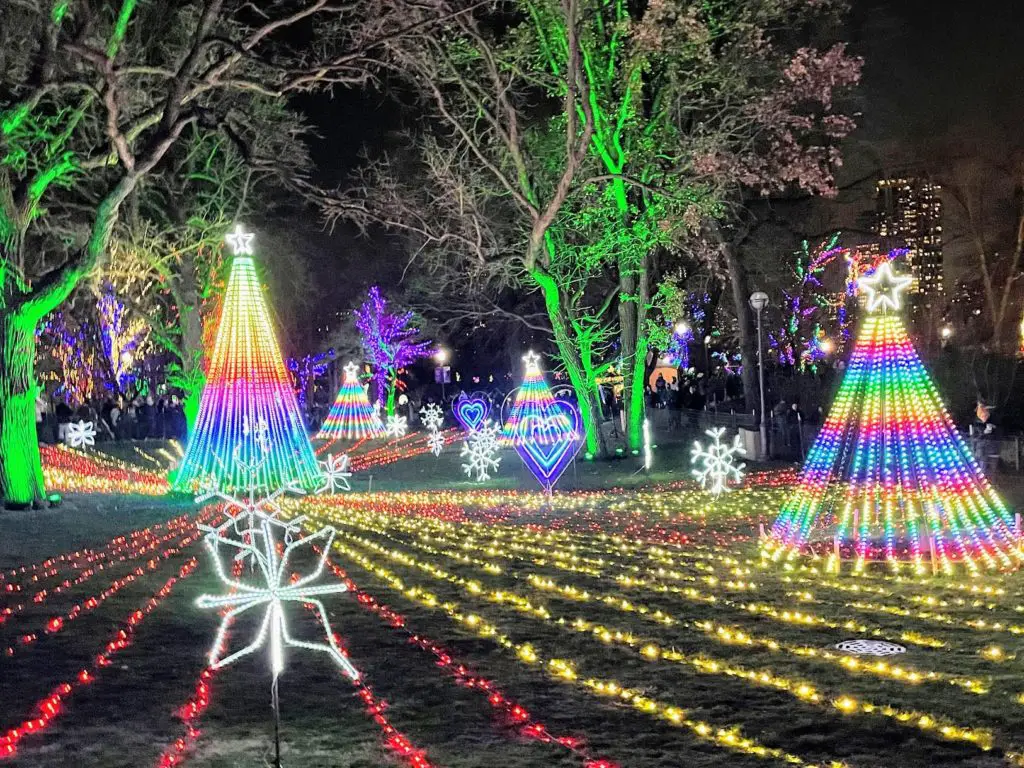 Shopping on the Magnificent Mile
While you're going to find plenty of tourists, you have to walk Michigan Avenue (aka The Magnificent Mile) while visiting Downtown Chicago in December. Holiday decorations line the streets where you'll find different Christmas events, all your favorite stores, bars and restaurants, and maybe even Santa Claus!
If you haven't finished your Christmas shopping, you'll have no problem doing so here with the 450 stores that include popular department stores, jewelry, toys, clothing, and more. And don't forget to cross the bridge over the Chicago River for the most beautiful photo.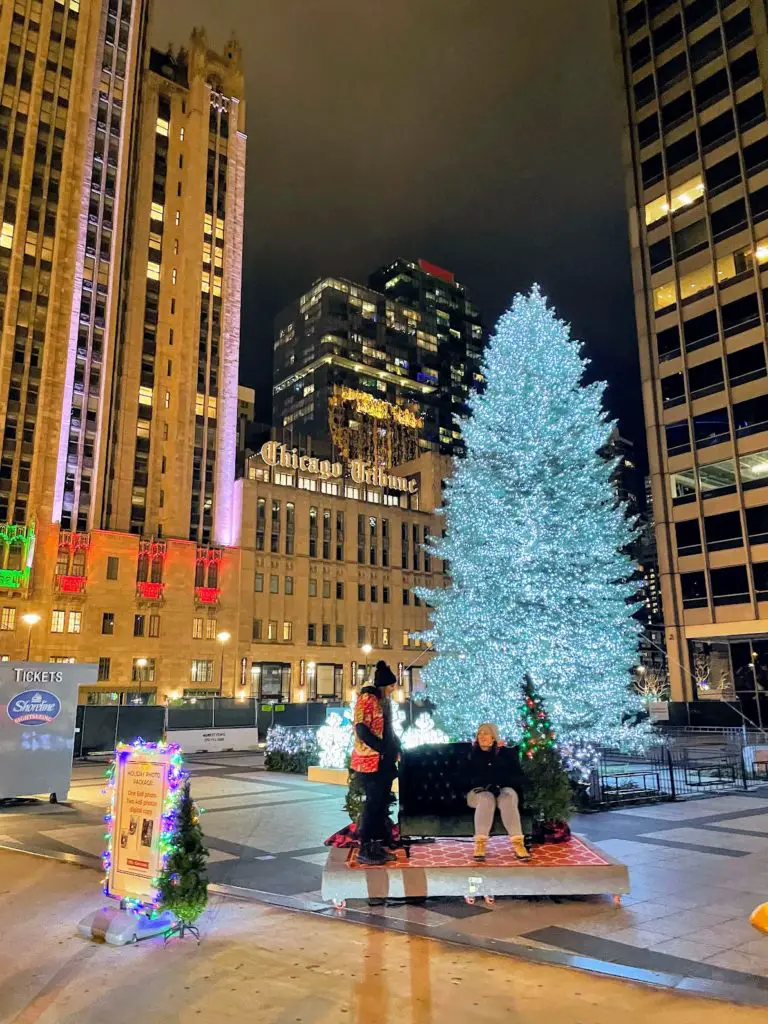 TIP: State Street is another great option for your Christmas shopping.
Navy Pier—Light Up the Lake
Navy Pier becomes even cooler than it already is when it transforms into Light Up The Lake! Endless lights in their indoor garden with fun sculptures and displays, a holiday beer garden, gift market, ice rink (in a beautiful setting!), and plenty of options for the kids—including a visit with Santa!
Tickets are $21 for adults and $19 for kids—3 and under are free. Ice skates are included if you choose to do so.
TIP: Don't miss the New Year's Eve Fireworks show at Navy Pier!. They do a remarkable job!
Wrigleyville Holiday Pop-Up Bars
Looking for holiday fun in the form of cocktails? This is where you need to be! For the month of December (and some into January), Wrigleyville bars transform into Christmas and holiday-themed pop-ups—and they get rowdy!
Based on movies or Christmas songs, each bar has its own themed drinks, characters, and endless decor. It's impossible to not get into the Christmas spirit.
A few you don't want to miss: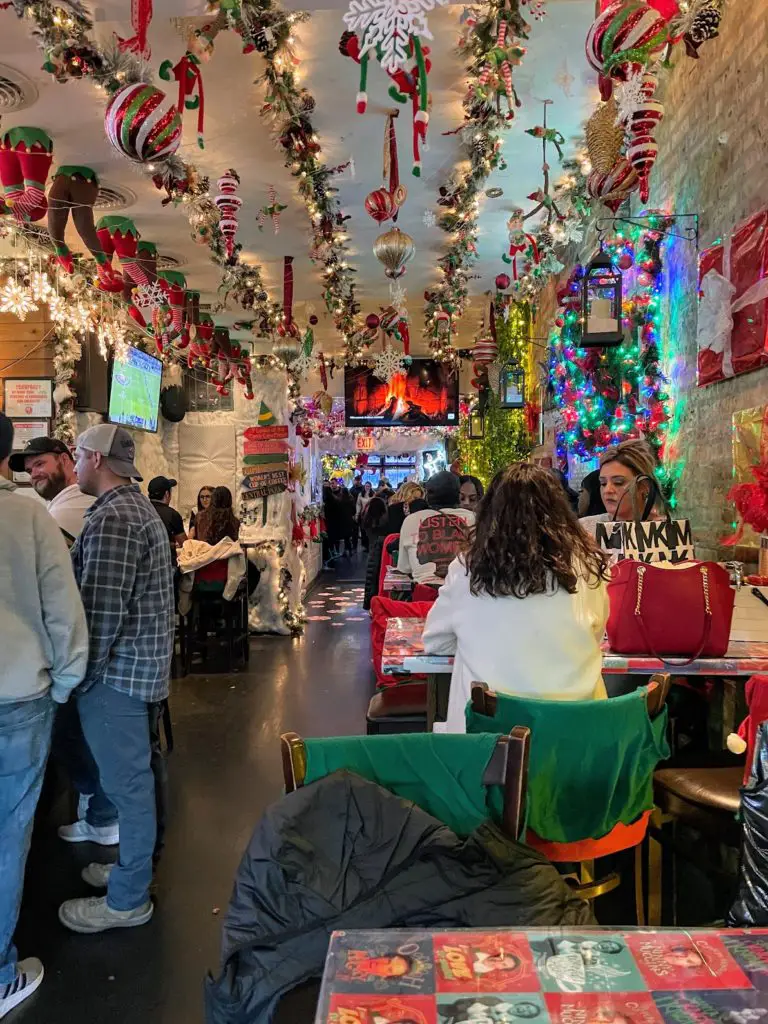 Polar Express
Love the popular Christmas movie, The Polar Express? Well, you're in luck because Chicago in December brings it to life! Take off from Union Station where your golden ticket will be punched and the train ride begins. Enjoy hot chocolate and cookies, caroling, a reading of The Polar Express, and a visit from Santa Claus.
Ticket prices range (make sure you're ready to purchase around August!) from $45-78 for adults and $37-70 for children.
TIP: Speaking of trains, keep your eyes out for the fully-decorated holiday express blue line train that runs on the "L" tracks! The Chicago Transit Authority (CTA) has kept the tradition alive for years and even delivers food and donations during this time of year. Maybe you'll be lucky enough to hop on!
Chicago Sports in December
Chicago is a sports town through and through and it's not a trip there without a sporting event! Catch the Chicago Bulls at the United Center or (if you can brave the cold) the Chicago Bears at Soldier Field! Hopefully, a few inches of snow is coming down to make the experience even more magical.
And if you're lucky, your team might just be there at the time you are looking to go…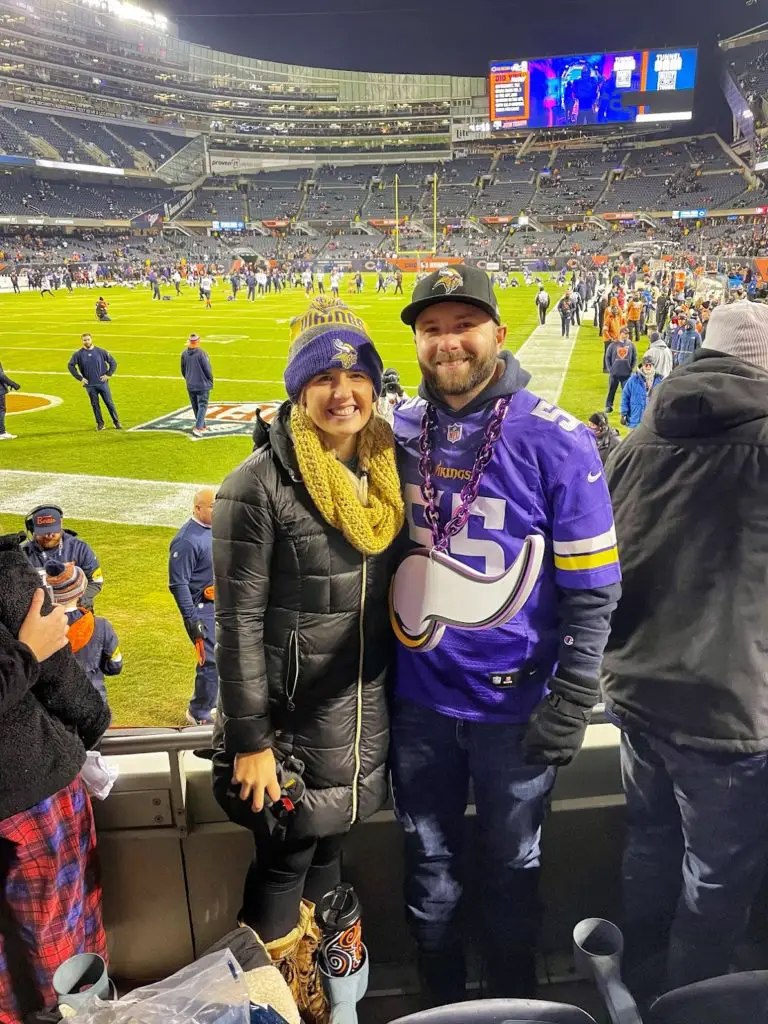 Chicago in December—More Things to Do
A long weekend in Chicago won't allow you to experience everything the city offers. Here are some more ideas to mix-and-match and choose your favorites: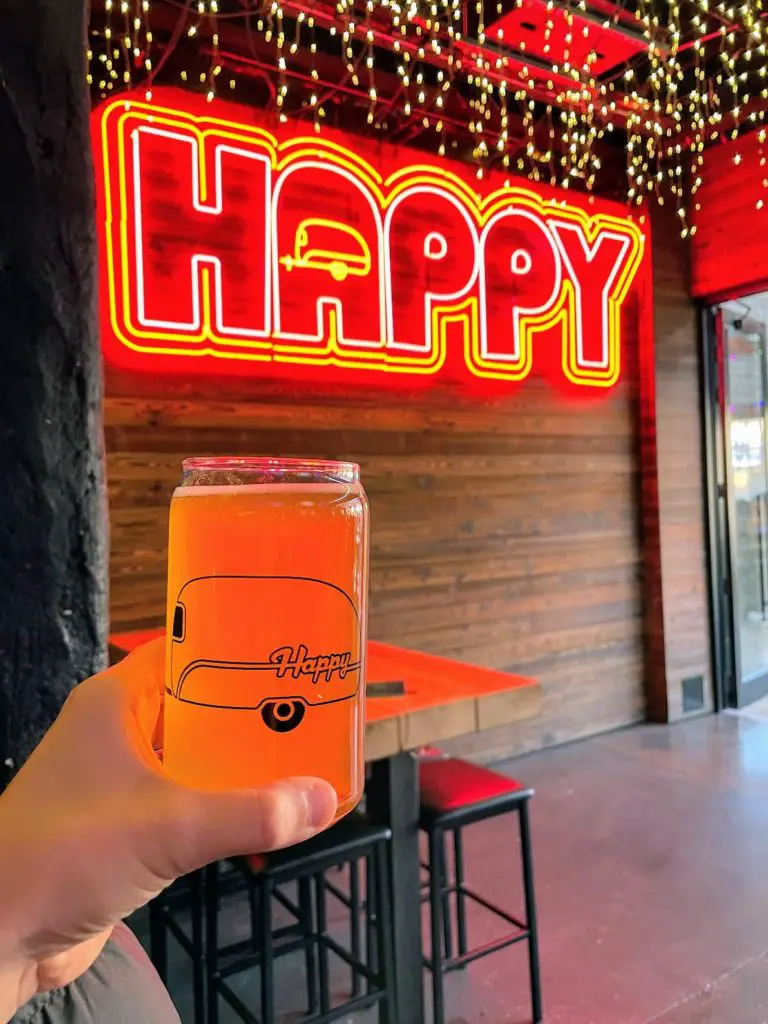 There's Snow Place Like Chicago!
Whether you are a winter lover or not, you are going to love all of the holiday activities Chicago offers during this festive time! End your year on a high note and take part in some (or all!) of these popular things to do in Chicago in December. You won't regret experiencing all of the holiday magic.
Did this post help you out? Support the work and pass along $5 for a Coors Light 😉 VENMO: @Amber-LBB or PAYPAL: amber@littlebluebackpack.com. THANK YOU.
Looking for more? Minnesota is another fun city to visit during the holidays! Read Winter Activities in Minneapolis-St. Paul. And visit before those brutal January and February days…