While there are countless reasons to love Chicago—skyline views, sports, museums, pubs, the energy—there is one thing that stands out to me: GREAT FOOD. There are endless places to eat in Chicago and it can be tough to know which spots to choose.
No matter where you are in the city, you are right next to a memorable meal—or 10.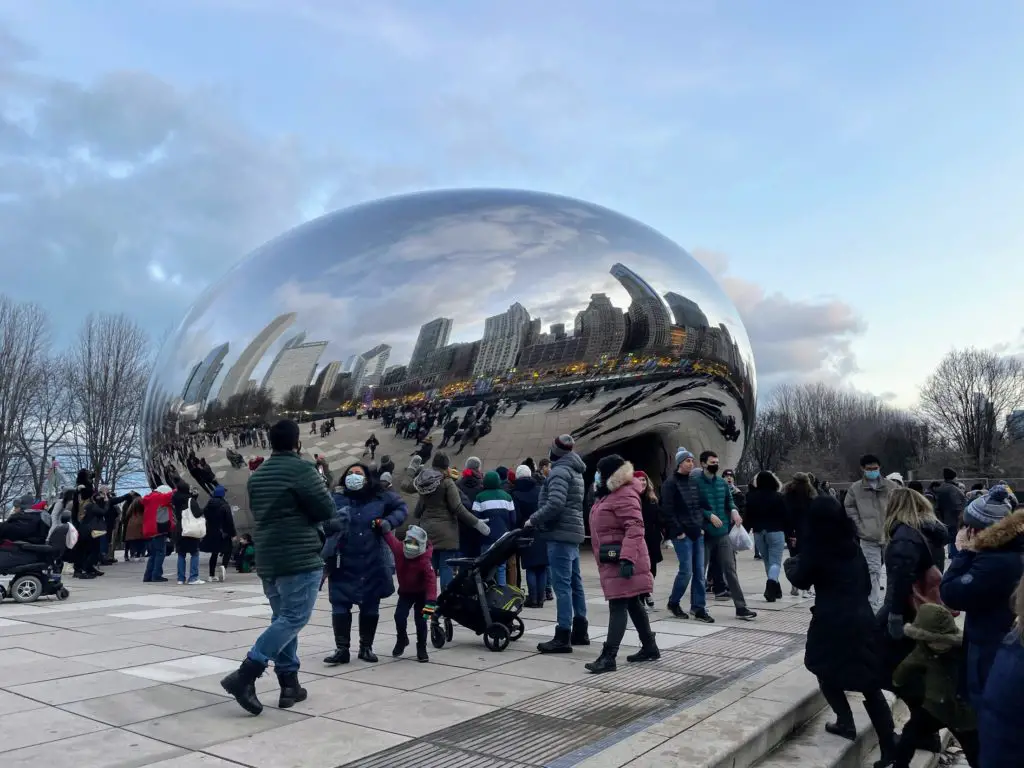 After living in Chicago for 7 years, the delicious food is honestly what I miss most. You simply never have a mediocre meal at Chicago restaurants.
The restaurant scene is full of authentic, family-owned, one-off restaurants and eateries that serve you good food and meals that the chefs have perfected themselves. From deep dish pizza to hot dogs, and everything in between, here are the best places to eat in Chicago:
Deep-Dish Pizza: Lou Malnati's
Let's start it off with a highly controversial topic: PIZZA. We all know the Windy City is known for its deep-dish style, cheesy, delicious pies with the sauce on top. But, which one is the best?
Lou Malnati's wins the award. The tomato sauce is perfection; a balance of salty and sweet with fresh tomatoes. The crunchy butter crust (order this) basically melts in your mouth. And watching the cheese string upwards when grabbing the next slice will have you salivating. My go-to order: Malnati Chicago Classic.
There are 57 locations around the city and surrounding Chicago area so wherever you are, you should be able to find one of the most popular restaurants!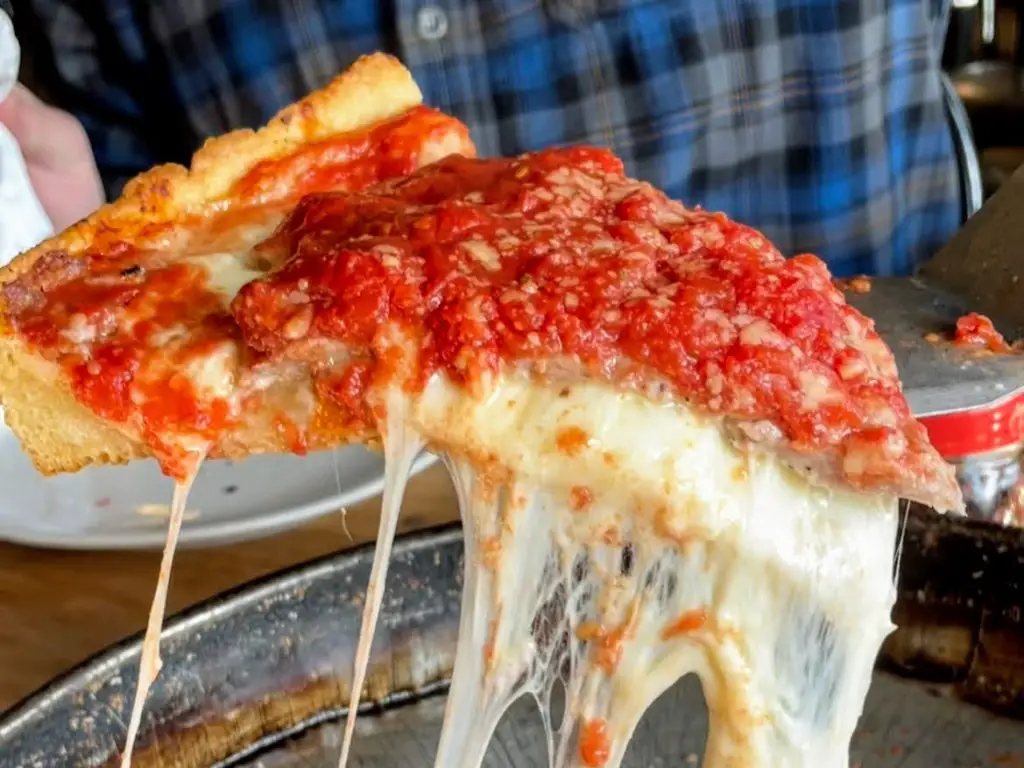 Runner Up: Pequods
This pizza joint literally opened a bar to serve as a waiting room two doors down—that's how good Pequod's Pizza is. You won't only find tourists here; the locals are right there with you! Their pizzas are divine and don't be turned away by the description of "burnt crust". It's just the appearance and it gives it so much flavor. Sink your teeth into the cheesy goodness and enjoy the dark and fun atmosphere.
Pequod's is located in Lincoln Park on N Clybourn Ave. You will also find one in Morton Grove, Illionis.
Burgers: DMK Burger Bar
I am not joking when I say it makes me legitimately sad that I don't live close to this great place. I rarely order a burger when I'm out to eat; it's just not what sticks out. But these changed the game. And no burger has come close since.
DMK Burger Bar patties are thin (you can get multiple) and incorporate creative toppings to make them next-level delicious. And the bun—so soft and fluffy. My go-to order: #4. Grass-fed beef, smoked bacon, Sonoma jack cheese, a fried egg, and roasted hatch green chile. Don't skip hand-cut fries. And if you're feeling it, they have delicious ice cream milkshakes.
DMK is located in Lakeview (this is the one you want to go to) on N Sheffield Ave, as well as Oakbrook, Illinois and inside Soldier Field.
No runner Up—It's the Best 🙂
Tacos: Big Star
Inspired by authentic Mexican cuisine street food, Big Star slings tacos in a fun, hipster environment with both indoor seating and an outdoor patio. String lights, colorful tables, and a food truck out front round out an awesome (and sought-out!) experience. Inside, you'll find a fun center bar, tables, and big booths that are perfect for a celebration. It's one of my favorite places.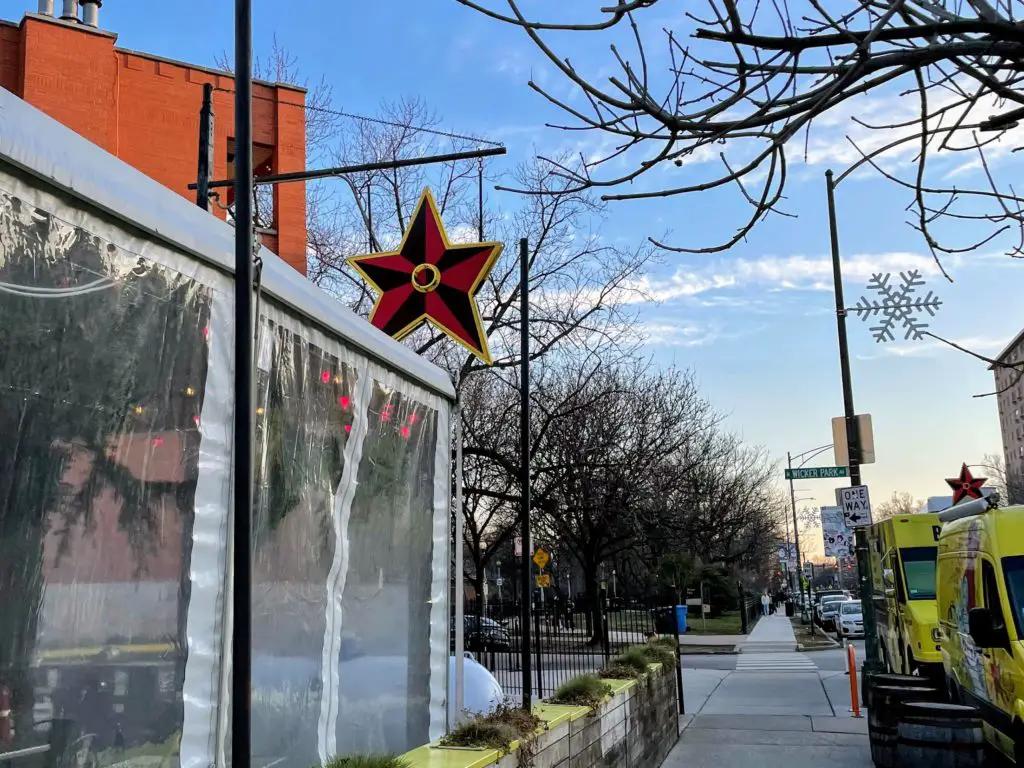 The Big Star menu is simple (always a good sign), with tacos to order by the one, as well as sides like chips & salsa and nachos. My go-to order: Pescado taco, barbacoa taco, chips & guac, and, of course, a margarita. (Hot tip: the margaritas are truly what get me in here lol. If you have a group of 4+, get a pitcher.)
Note: Big Star is pretty expensive, but I think you get what you pay for—the margaritas do not skimp on tequila. And the tacos are stuffed (stuffed!) with meat and ingredients. Bonus: they do have happy hour.
Big Star's first restaurant is located in Wicker Park on N Damen Ave and Wrigleyville on N Clark St.
RUNNER UP: Del Seoul
Del Seoul is an unassuming delicacy. I had a difficult time deciding which one to list first. (I used to live 2 blocks away from here and I had to make a rule for myself to only come in on Sundays LOL.)
Located in Lincoln Park on N Clark St, this small, counter-service eatery serves the best Korean BBQ tacos, banh mi sandwiches, and other great dishes. It's an amazing meal and one of the best fish tacos I have ever had. Get this place on your list—there won't be many tourists in here!
Pasta: Volare Ristorante Italiano
Pasta and wine in an authentic Italian restaurant that's upscale yet casual? Sign me up. This restaurant isn't going to be on every Chicago food list you find. It's more of a hidden gem with its unassuming outside. But don't let it fool you…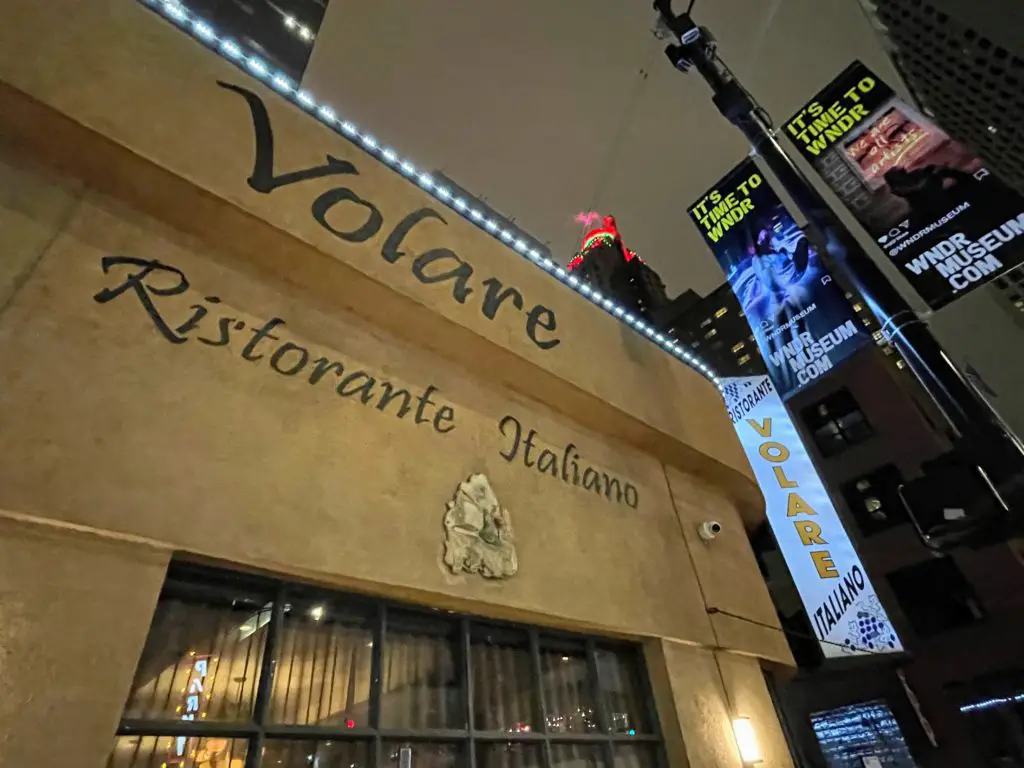 It's one of the best restaurants in the city. The inside of Volare is a classic, fine dining, white-tablecloth Italian restaurant with dim lighting (don't feel the need to look fancy, though) with a few different seating areas. There's a short hallway to watch the cooks work their magic while you wait. And as you look around you feel like you might see Tony Soprano lol.
My go-to order: Linguine Arselle e Bottarga: linguine sautéed with clams, garlic, lemon zest, tossed in olive oil, topped with bottarga. If that's not up your alley, get Ravioli di Ricotta or Lasagna al Forno. And a cabernet from the wine list 🙂
Volare is located downtown Chicago on E Grand Ave, not far off the Magnificent Mile.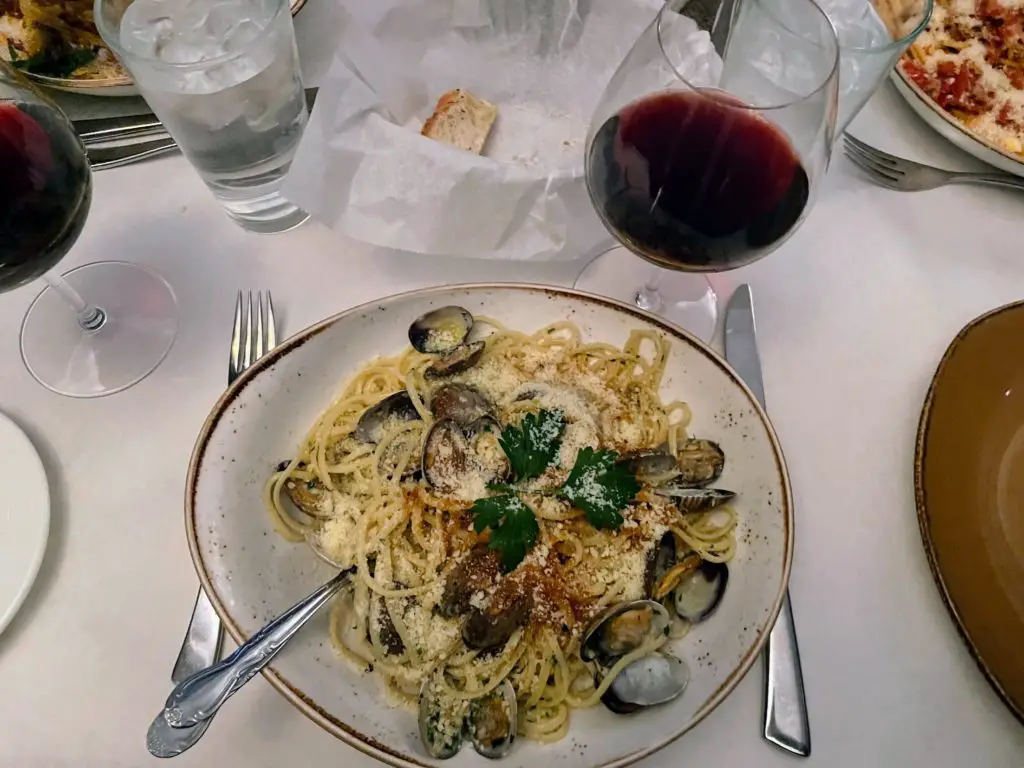 No Runner Up—t's the Best 🙂
Sandwiches: Lucky's Sandwich Company
Want a sandwich that is bigger than your head? How about three of them to win the challenge!? Featured on Man vs. Food, Lucky's Sandwich Company is a simple restaurant where memorabilia lines the walls and people stop in for a (big) sandwich and beers.
What makes Lucky's an iconic spot and different than the rest? In addition to size, the fries go IN your sandwich! Other than that, it's a simple menu with a few appetizers, (great) wings, and a handful of sandwiches to choose from. My go-to order: Fredo: ham, salami, capicola, and Swiss.
Lucky's is located in Wrigleyville on N Clark St. Stop in to eat, drink, and, hopefully, watch someone complete the challenge!
RUNNER UP: CHEESIE'S Pub & Grub
Craving a classic grilled cheese instead? Well, you will certainly get a grilled cheese at Cheesie's, but it won't be classic! The fun and creative menu offers toppings like macaroni and cheese, fries, bacon, jalapenos, pulled pork, and more delicious (unexpected) foods—so get ready to step outside the box! My go-to order: The Caprese: Mozzarella cheese, tomatoes, extra virgin olive oil, cracked black pepper, and fresh basil on sourdough.
Cheesie's took off in Lakeview on W Belmont Ave and is now also available in Wicker Park on N Milwaukee Ave. In addition, there are express locations and a food truck.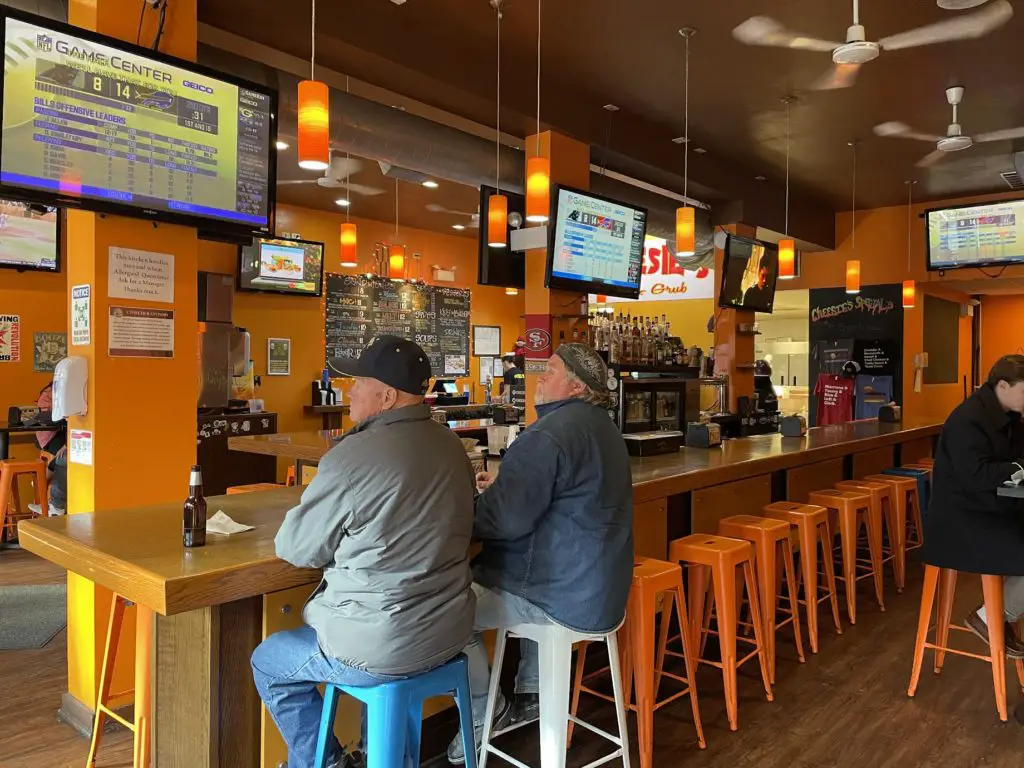 Italian Beef: Al's #1 Italian Beef
Chicago does Italian Beef right. But who does it best? Gotta be Al's #1 Italian Beef—handing out sandwiches since 1938 with enough awards to fill a library. (Including the Best Sandwich in America! PHEW.) This place is no-frills and simple with counter service because all the focus is put into the food…
(Very) thinly sliced beef soaked in cooking juices and placed on fresh, warm french bread that gets topped with spicy giardiniera and sweet peppers. Are you salivating? You should be because it's easily one of the best places to eat in Chicago. Go-to order: Regular Al's Italnian Beef.
The original Al's Italian Beef is in Little Italy on W Taylor Street. There are now locations in Wrigleyville, Downtown, and Niles, Illinois. They deserve to live in Italian Beef glory, but I'll give you one more:
Runner Up—Buonas
Everything Chicago at Buonas—pizza, hot dogs, Italian Beef. Somewhat of a chain (there are 25+ locations in Chicago and the surrounding area), you can get a taste of Chicago no matter where you are. Also, you'll find them all over Soldier Field and my food of choice while catching a Bears game.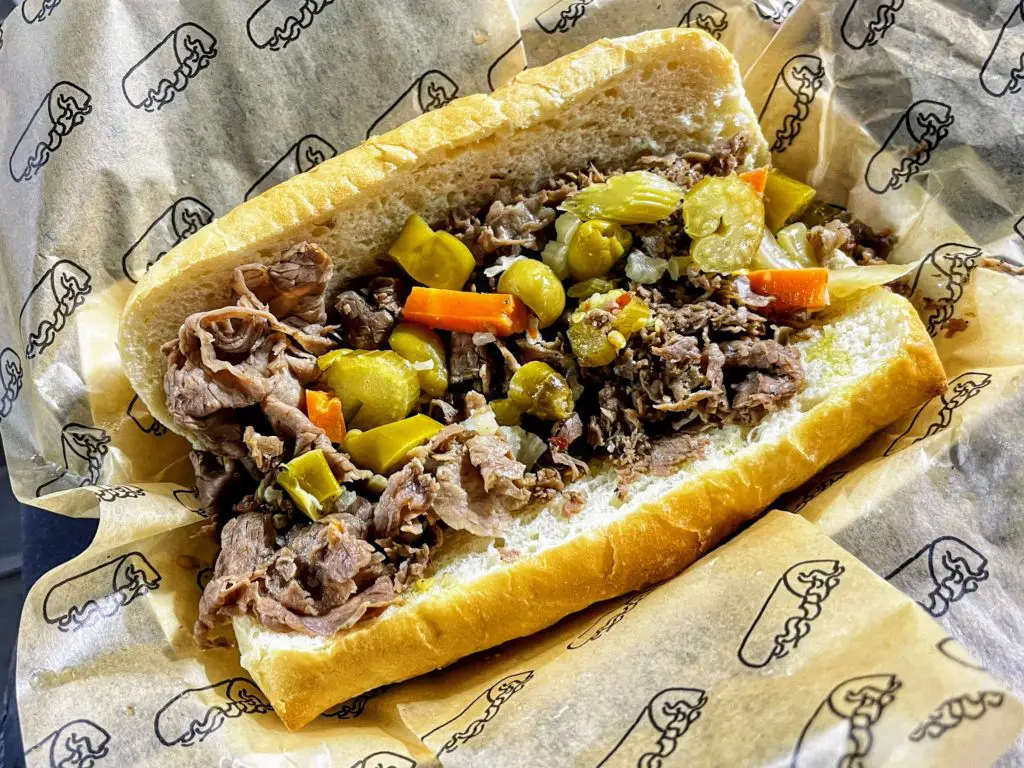 Hot Dogs: Superdawg Drive In
We've been talking sandwiches. So, the great debate: Is a hot dog a sandwich? I say no…but let's move on.
A Chicago Dog is a must on any visit. Your typical dog is loaded with mustard, a pickle (the best part), tomatoes, onions, hot peppers, and finished with celery salt on a poppyseed bun. DON'T add ketchup; it's very frowned upon! You're going to find these ALL over the city and most you find will be delicious.
But there's no Chicago Dog like a Superdawg Chicago Dog. This classic drive-in (since 1948!) provides a fun experience and place you can grab a hot dog, fries, and milkshake. Your hot dog comes in a cute little box and you'll love all the fun branding and happy hotdog cartoons. You guessed my go-to order: A Superdawg. Lol.
Superdawg's is located in northern Chicago on N Milwaukee Ave, as well as in Wheeling, Illinois.
RUNNER UPS
If the Superdawg locations don't work well for your trip, don't worry. There's more where that came from!
The Weiner's Circle: Order at the window of this tiny location that's actually been expanded out back post-2020 with a full bar. Foul-mouthed employees serve what's known as "chardogs" as late as 4AM on Saturdays! (It's the perfect place for a late night snack.) P.S. Don't forget cheese fries.
Portillo's: A casual restaurant chain that specializes in everything Chicago Food. Get a Chicago Dog and do not, I repeat do not, skip the Chopped Salad—and a chocolate shake!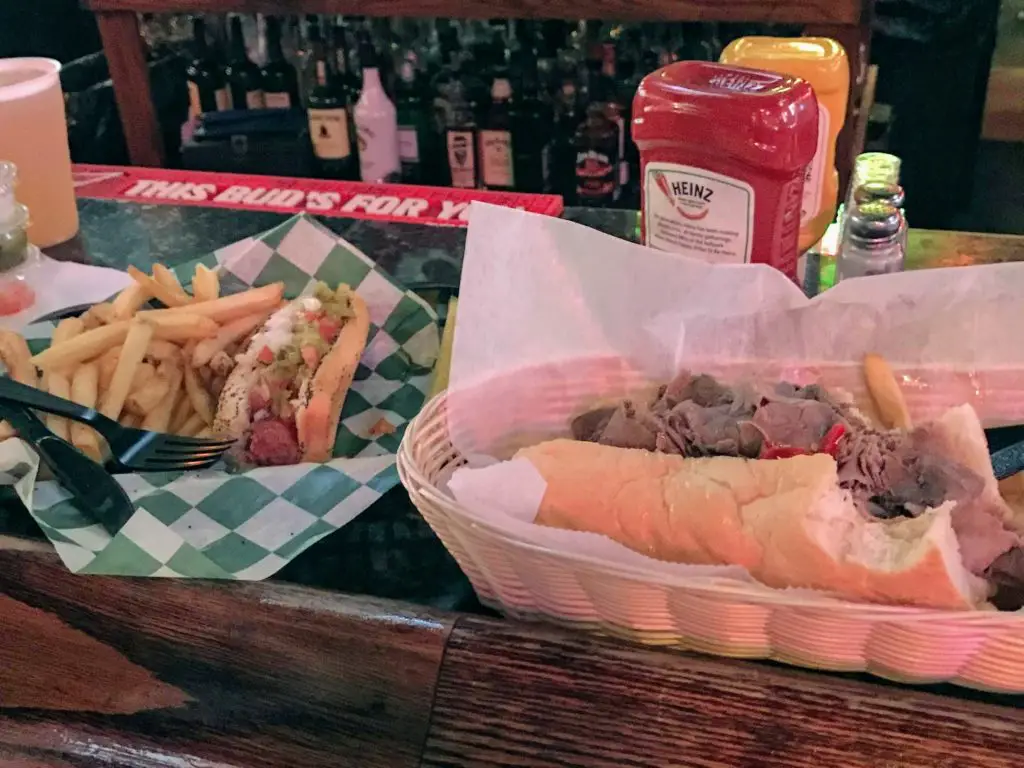 Gyros: Athenian Room
If you're craving a Gyro, I know just the place! The Athenian Room is the true Greek experience with friendly staff. It has been around for more than 40 years and there's often a wait. But it's well worth it and as soon as you receive your food in the dining room, you'll understand why.
It gets an A+ in the "Authentic" category and you are sure to love whatever you choose. My go-to order: Either the large salad with Gyros (there is so much fresh feta on this omg) or the Greek Feta Charburger on Pita Bread. Tip: you MUST try the Greek fries.
The Athenian Room is a Lincoln Park staple on W Webster Ave! Not to be duplicated.
Bagels: Chicago Bagel Authority (CBA)
All right, so you partied in Chicago and woke up with a headache while simultaneously ready to eat an elephant. I've got the cure for both: CBA—the best bagels in the city.
CBA offers a large, unique menu (in a quirky setting) of steam-pressed bagel sandwiches and classic bagels with cream cheese. Grab a breakfast egg sandwich in the morning or a delicious steamwich with premium meats, cheeses, and vegetables. My go-to order: Mikey's Munch: roast beef, pepper jack, lettuce, tomato, avocado & parmesan peppercorn dressing on an everything bagel.
Honestly, you can't go wrong at this place. CBA is located in Lincoln Park on W Armitage Ave. and Lakeview on W Belmont Ave.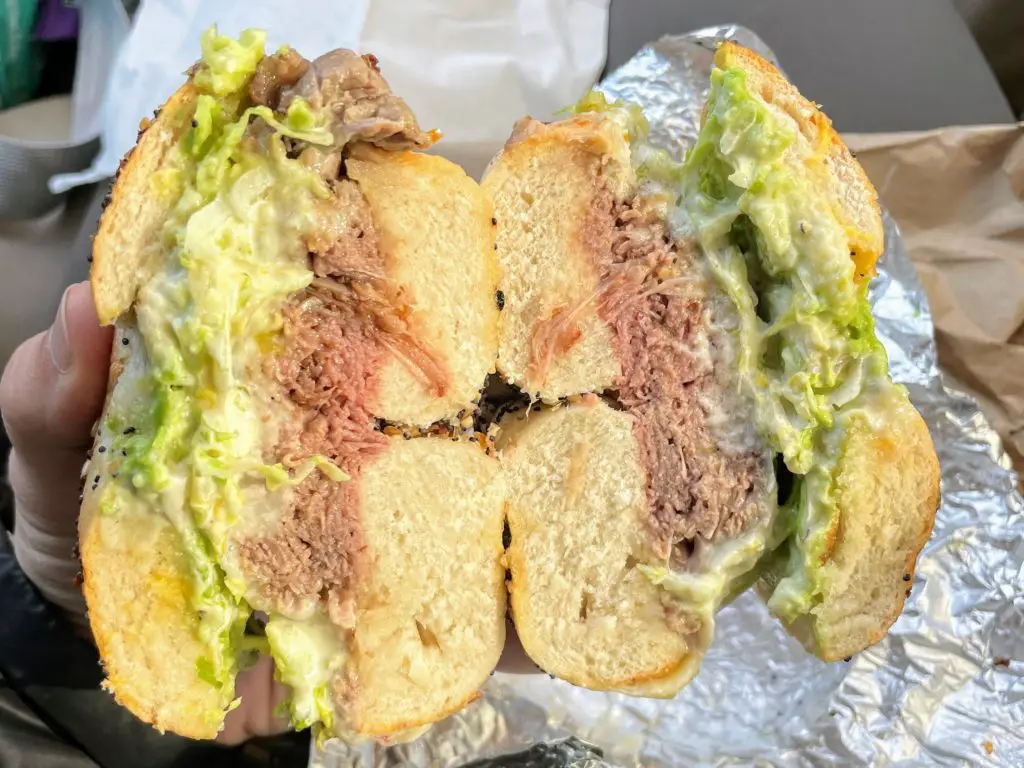 Desserts: Sweet Mandy B's
Sweet tooth? It's got to be Sweet Mandy B's—one of the best places to eat in Chicago when it comes to desserts. Another place I had to limit my intake while living above the bakery!
Walk into the sweetest of smells with old-fashioned treats filling the glass case. It's a cute shop painted in pastels and I can guarantee you will have a hard time choosing your dessert. My go-to order: vanilla cupcake with buttercream frosting—and I can't leave without a chocolate chip cookie. They're perfect.
Sweet Mandy B's in located in Lincoln Park (one of the neighborhood favorites) on W Webster Ave and Streeterville.
Tip: Their cakes are worth every penny if you're in the market for one!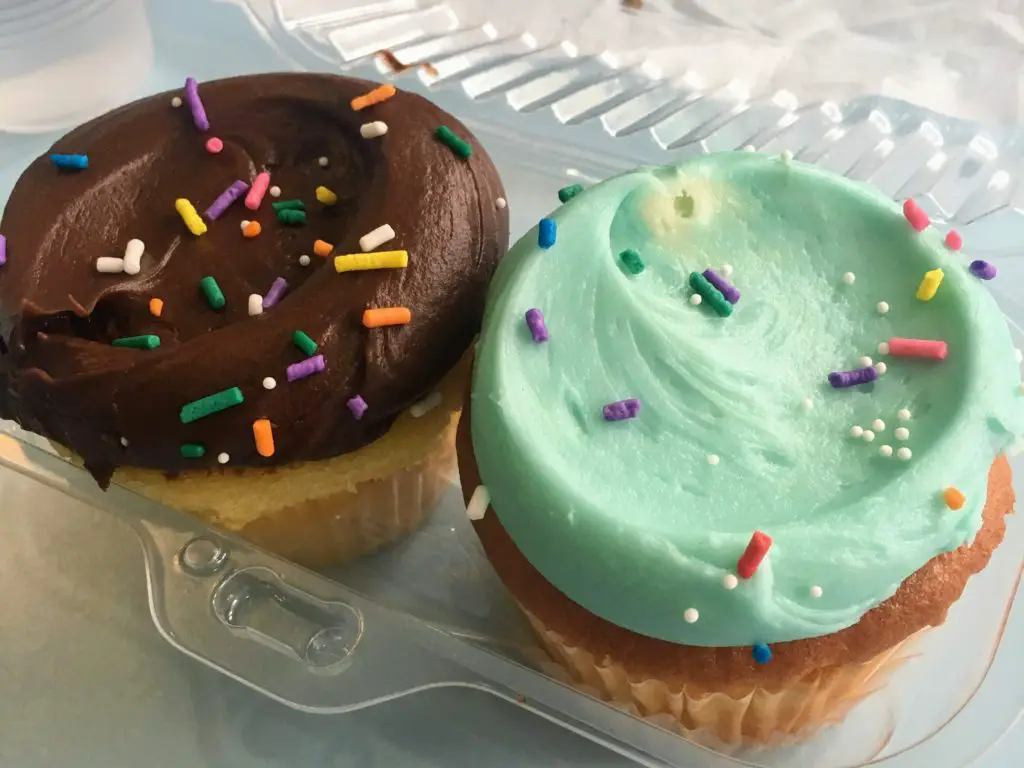 Don't Forget Food Trucks!
If you see food trucks throughout the city, definitely give them a try! They are some of the best places to eat in Chicago and the small restaurants on wheels rarely disappoint.
My recommendation if you see it: Sausagefest—pick your meat (polish sausage, Italian, etc.) and all of the toppings! Enjoy the grub with some great views of the city.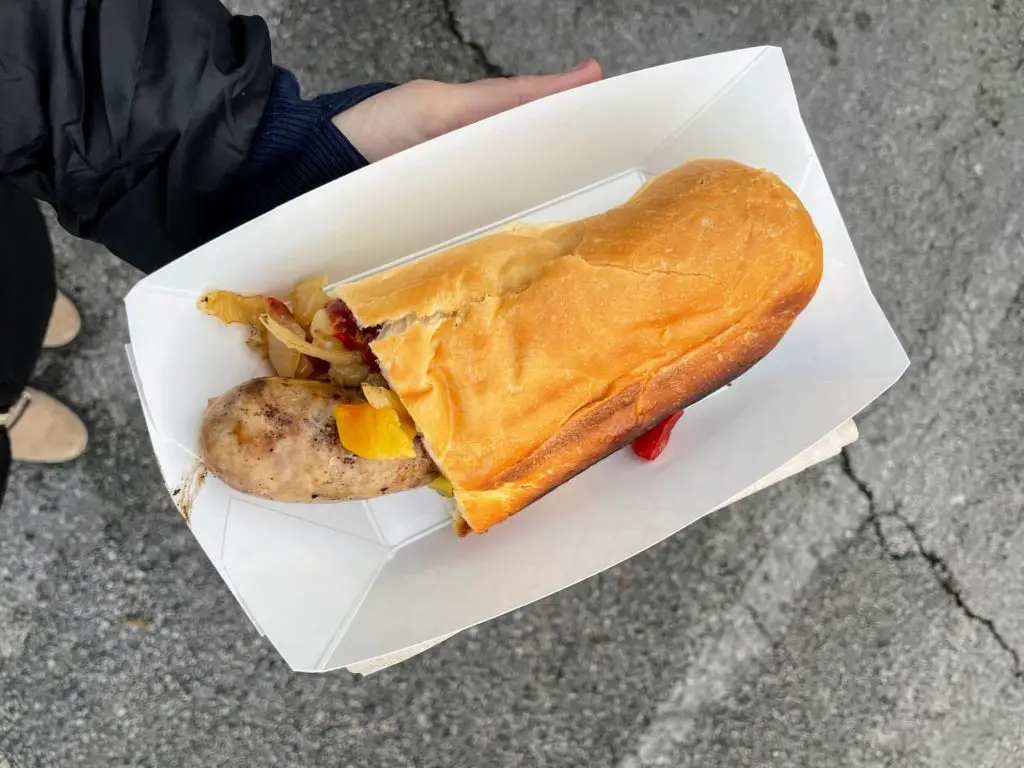 The Best Places to Eat in Chicago
If you made it this far and your taste buds aren't salivating, I failed you. Lol. Seriously though, there are countless places to eat in Chicago and it's actually sad to think that I'll never hit them all. That said, those listed in this post won't let you down and Chicago's food scene should be sought after.
If you visit one of these locations, be sure to let me know in the comments! And I welcome any suggestions that I may have missed—I will hit them next time!
Did this post help you out? Support the work and pass along $5 for a Coors Light 😉 VENMO: @Amber-LBB or PAYPAL: amber@littlebluebackpack.com. THANK YOU.