Have you heard of the Great River Road National Scenic Byway? Because if there was one word to describe the Wisconsin stretch, it would be UNDERRATED! A Great River Road Wisconsin Day Trip should be a part of everyone's summer or fall. It is truly one of the best day trips in the Midwest.
We chose a summer Saturday and decided to cruise from Prescott, Wisconsin down to Nelson, Wisconsin. But that's surely not the Great River Road in its entirety! Find out more about how long this road trip could really be. Hint: It takes DAYS.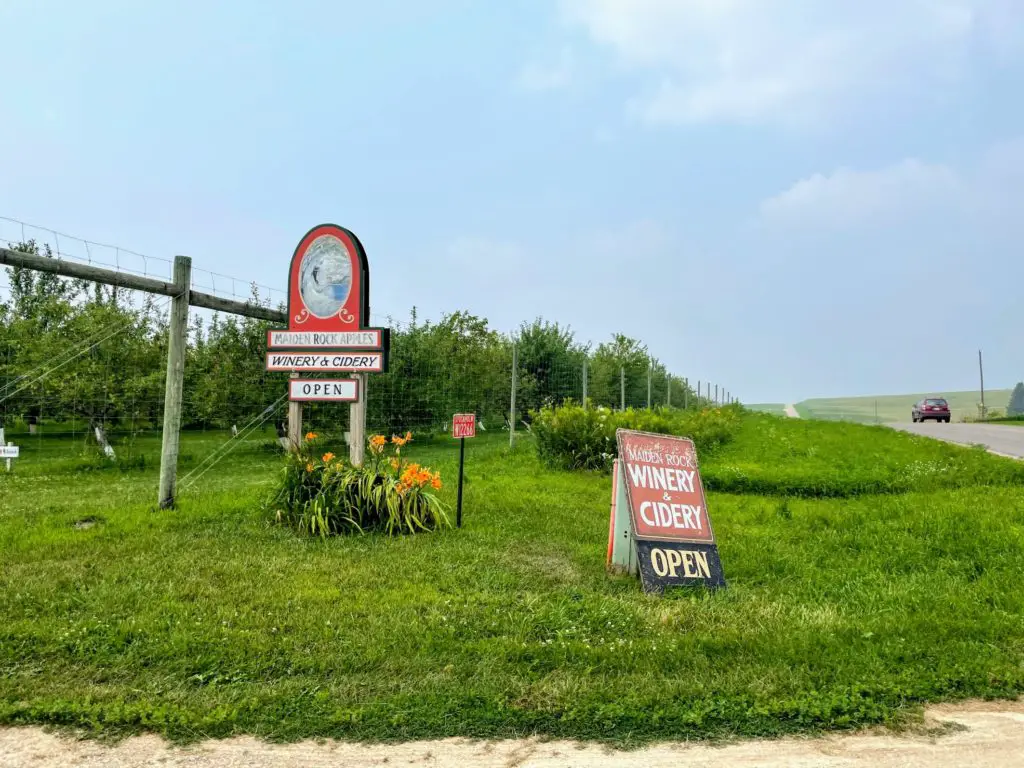 Where does the Great River Road begin and end?
The Great River Road is 3,000 miles long and through 10 states! It starts in northern Minnesota up from Lake Itasca State Park at the upper Mississippi River. Then it's through St. Louis and all the way down to Louisiana and into the Gulf of Mexico. Crazy!
The entire stretch has hundreds of river towns and makes for numerous fun day trips across the Midwest and Southern United States. It is about 36 hours of straight driving!
Where does the Great River Road Wisconsin start?
The Wisconsin section is part of Highway 35 (right along the Minnesota border) and meanders down the Mississippi River for 250 miles from Prescott to Potosi. The scenic drive makes for a perfect day or weekend trip that includes 33 unique towns as potential stops!
From wineries and breweries to small-town bars and decks overlooking the patio, you will find so many places to eat and drink. Plus, hiking trails, historic sites, one-of-a-kind shops, and fantastic river views from start to finish.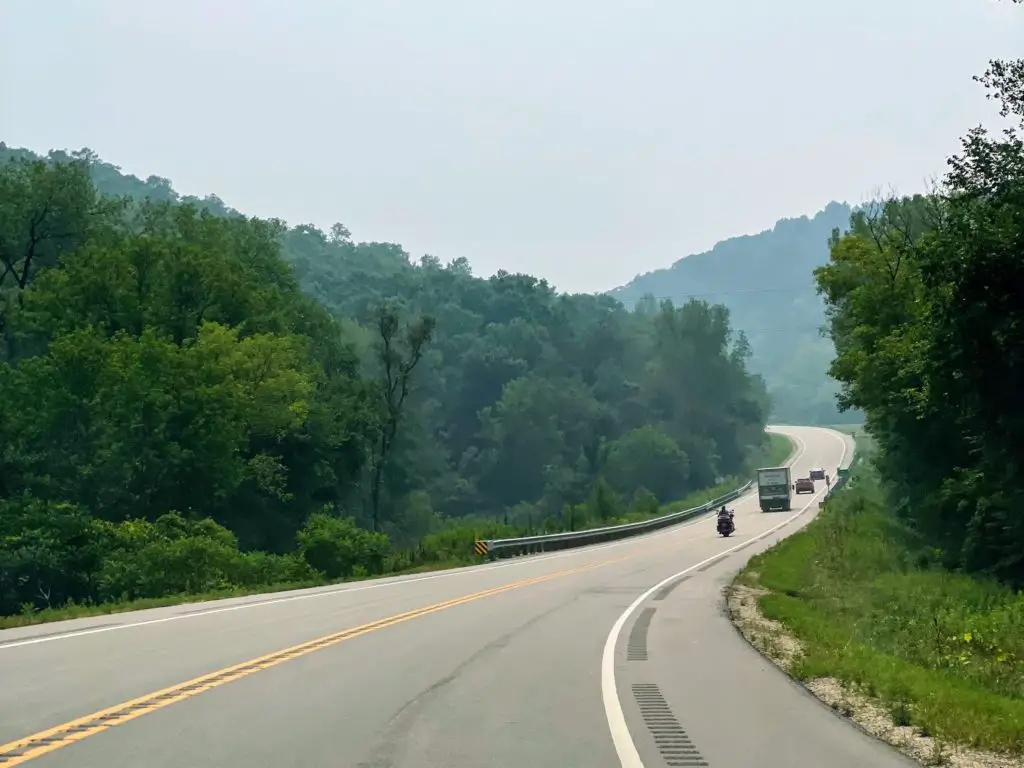 The Great River Road Wisconsin Day Trip Scenic Stops
For the purpose of this blog post, I'll take you through a full-day trip along (some of) the Wisconsin section of the Great River Road. I highly recommend doing this trip and following these places of interest! First things first…
Start in the morning!
From St. Paul or Minneapolis, it's only about half an hour to Prescott, Wisconsin, where you will start the day. There are a lot of stops so make sure to get going as early as you can! We left at 10:00 AM in order to make it to the first stop by about 10:45 AM.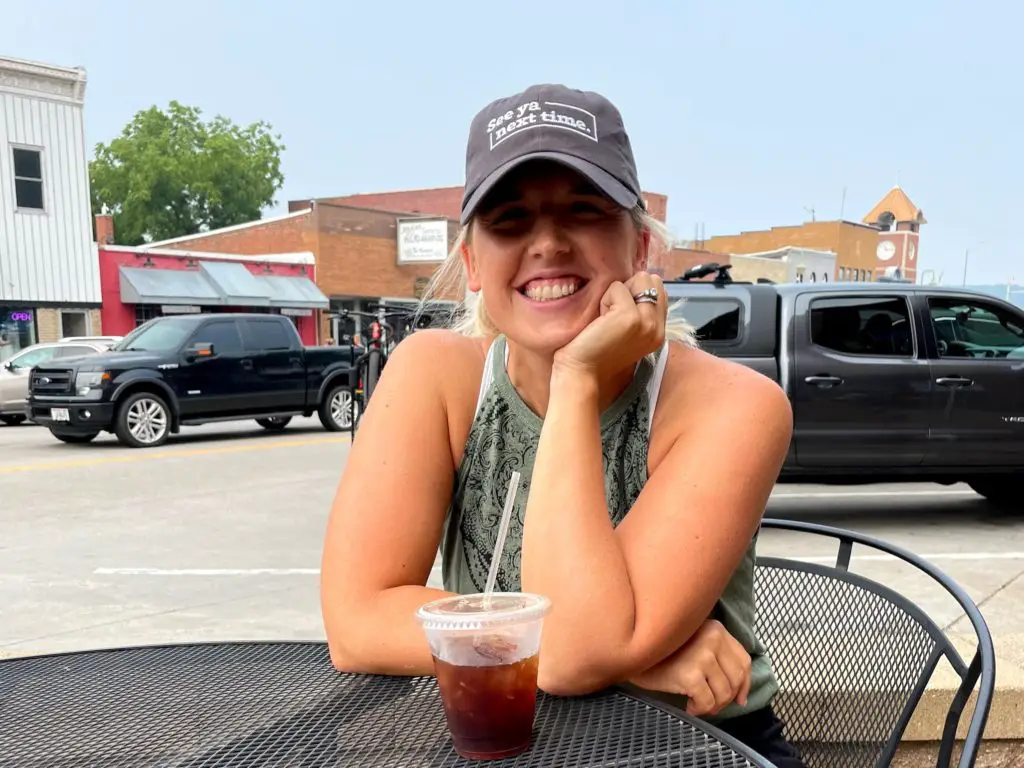 Prescott, Wisconsin
Stop #1 along Wisconsin's Great River Road is Prescott, a town of 4,200, and the largest town (still small!) that you'll see all day. As soon as you enter, you can check out all of the boats on both the mighty Mississippi River and St. Croix River (this is where they merge) with a few local parks with people enjoying the sunshine.
Head right into the downtown area where you could easily spend a full day! All of the restaurants, bars, and shops can keep you busy for hours.
Great River Road Information Center
If you're looking for more information on your upcoming adventure, stop in the Visitor and Learning Center, located in Prescott. Don't feel like you have to do it—we didn't, but if you have an interest in the full Great River Road and its history, check it out!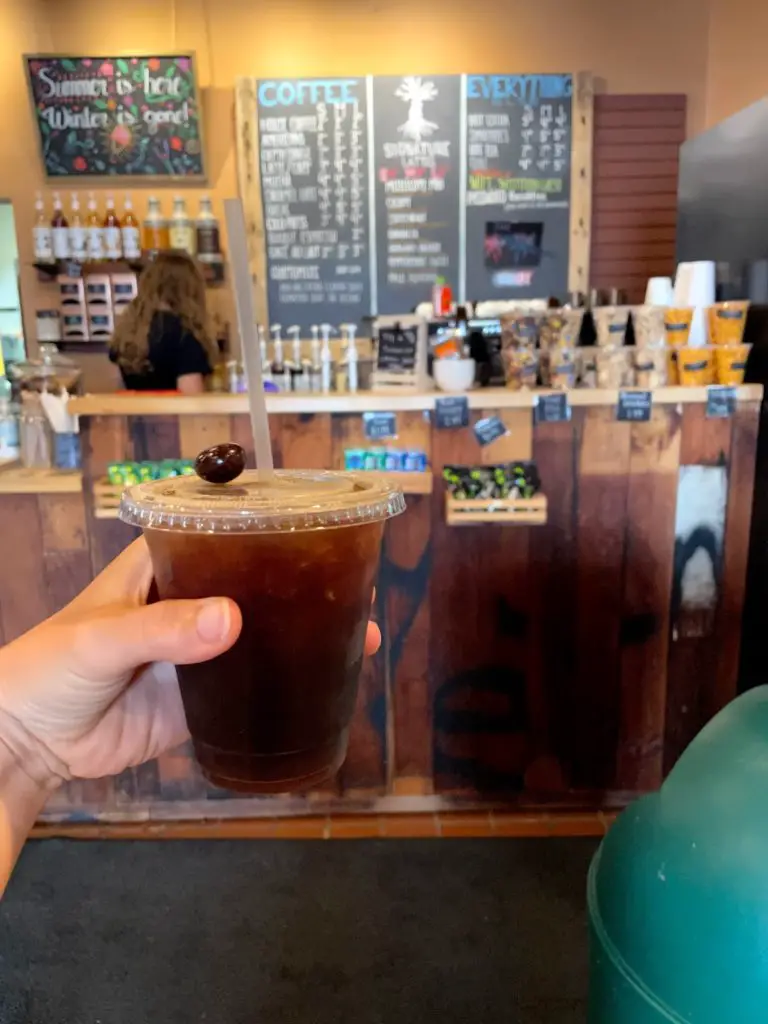 Twisted Oak Coffee House
Time to (officially) get the day started at this great coffee shop, Twisted Oak Coffee House. It's an adorable coffee shop right off Broad St. downtown and has both comfy indoor seating and a few tables out front if it's a good day to enjoy the weather. Grab your coffee (Americanos are great), pick a place to chill, and slowly settle into your day. Bonus: a chocolate-covered coffee bean on top! 🙂
Downtown Shops
After your coffee (or while you sip it), mosey around downtown Prescott. There are a bunch of cute shops that line Broad St. including antique stores and gift shops.
Muddy Waters Bar & Grill
My FAVORITE part about Prescott is Muddy Waters Bar & Grill. You have to stop here for lunch! Also located right on the main street, they have an inside bar where I love the vibe, as well as a multi-level outdoor deck space with views of the river. It's the perfect atmosphere!
DO NOT miss the Leon's House Smoked Salmon appetizer. It's our fav and we've literally driven 40 minutes just to get it! Fresh fish with small pieces of French bread and dill cream cheese. Omg. Keep them coming…
It's tough to go wrong with the food in general, but definitely put this order in along with your drinks!
TIP: For today's purposes, I recommend just grabbing a drink and the salmon appetizer since more stops to come include delicious food! Think of today as an "order a small amount to test as many foods as possible day!" Next up:
Hager City, Wisconsin
Leaving Prescott, you'll hop right onto 35 (aka the Great River Road Scenic Byway!) and start following the course of the Mississippi River. And your next point of interest is about 23 minutes away in Hager City, Wisconsin. Simply look for the ginormous chicken!
Hager Heights Drive-In
A famous stop indeed! Broasted Chicken served up at Hager Heights Drive-In. We pulled in here around 12:45 and the tables were consistently full, along with a 5+ cars drive-through line. We chose to order at the window and find a picnic table to give this broasted chicken a go!
This was my first time trying broasted chicken which, much like fried, is battered, seasoned, and quickly fried. BUT it's then cooked in a high-pressure cooker, keeping it nice and juicy.
We just wanted to try it and got a 2-piece chicken to share for about $5. While I wasn't absolutely blown away and won't tell you to run here, it was definitely juicy and crispy. Of course, anything fried is good! It's worth it if you're hungry, have time, and want to check it off your bucket list.
Note: People are surprised by my review. So, give it a try yourself!
PRO TIP: CASH ONLY! There is an ATM on-site if needed. On that note, let's keep it moving…
Bay City, Wisconsin
After a short 6-minute drive from Hager City, you'll roll into Bay City, Wisconsin. Home of Lake Pepin and also a great place to shop for antiques. Stop at Old Stuff right off the side of the road and see what gems you can find.
The owners are an older couple and we were able to have a quick conversation with him about his pretty incredible woodworking! Stop in to check it out.
Sidenote: be on the lookout for bald eagles!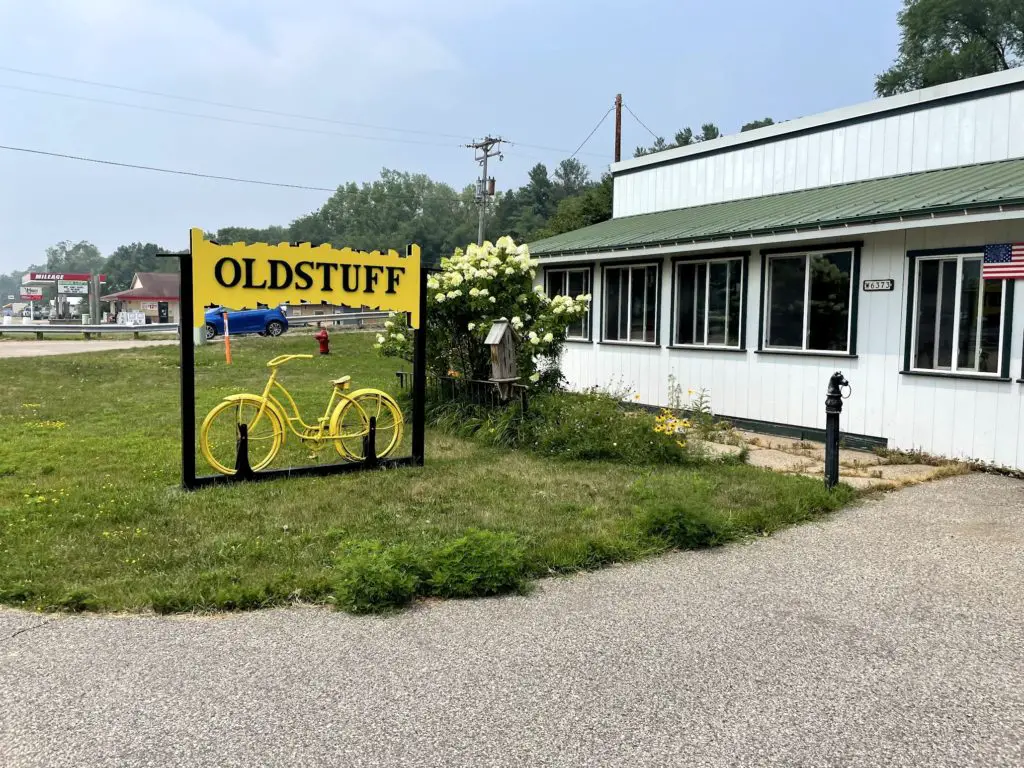 Maiden Rock, Wisconsin
Next on the Great River Road adventure is the fun little town of Maiden Rock, Wisconsin. And in true Wisconsin fashion, the bar is a really fun place to be haha. They also have a few shops, plus a winery and cidery a few miles out. Here are your stops:
The Six String Saloon
A great bar full of locals and motorcyclists looking for a Saturday beverage—or six. The Six String Saloon has a wood interior with high ceilings, a jukebox, slot machines, and bartenders ready to get to know you a little bit. There's also an outdoor deck overlooking the Mississippi River. I loved the vibe of the friendly and welcoming inside so we bellied up.
And drank our calories at this stop and were not disappointed. This was probably our longest stop of the day and just 16 minutes from Bay City.
Cultural Cloth
One other place to stop in the downtown area of Maiden Rock is Cultural Cloth, just a short walk from the bar. Featuring women artisans who weave, quilt, bead, print, etc., you'll enter the shop and be blown away by the talent! All sorts of decor line the shop and its walls. Take a peek and maybe even find a hand-crafted pillow or quilt.
Maiden Rock Winery & Cidery
About 8 minutes, and 4.5 miles in the right direction, you'll find Maiden Rock Winery & Cidery. A cute and casual winery, this is a quiet place to enjoy some hard cider or wine outside. They have a great range of options and we tried the Honeycrisp Cider (obviously the best apple!) which was sweet and delicious, as well as a light Pinot Grigio. Find a table outside amongst the grapes and enjoy!
And don't miss perusing through the little shop right inside! They have homemade jams, honey, clothing, and obviously wine and cider! We opted for their Fire Stix Asparagus which was pickled and so tasty—and perfectly spicy.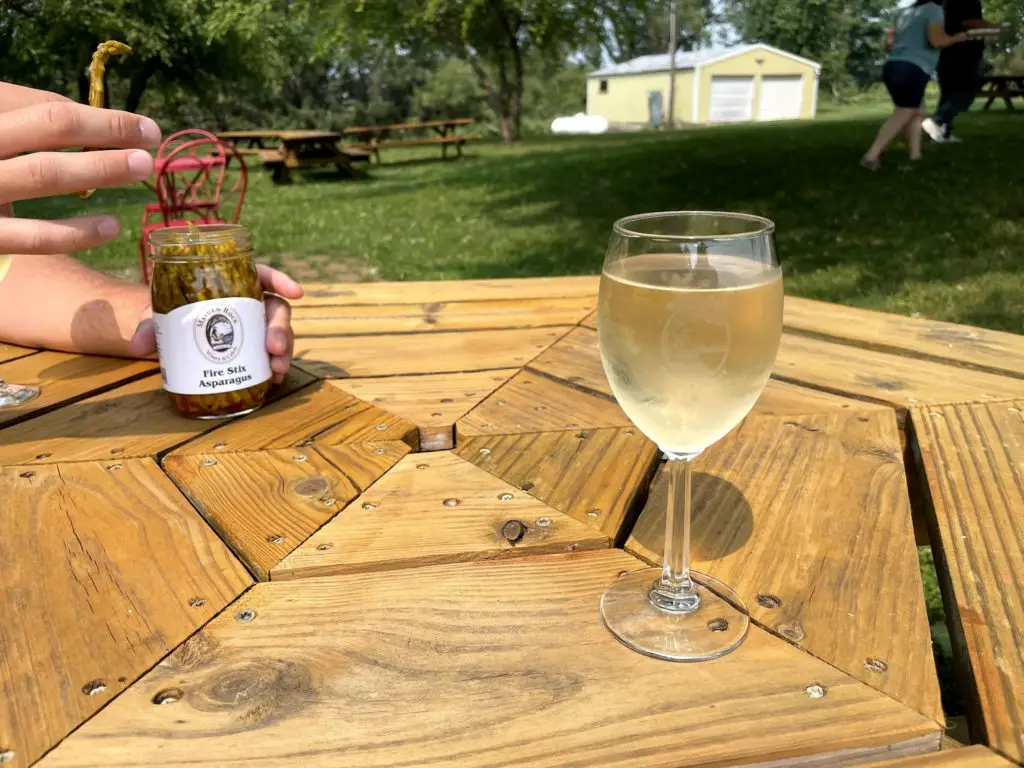 Stockholm, Wisconsin
Omg, Stockholm. This is a must-stop! One of the historic river towns and of Swedish descent, there are a few places to go that you will love.
Stockholm Pie & General Store
For starters, make sure you enter Stockholm Pie & General Store. They have been named Best Cafe, Best Pie, AND Best Dessert on the Mississippi River by River Travel Magazine. True confession: we did not eat any pie. You know how it goes when you're a few white claws and a glass of wine in…
But don't let not eating pie stop you from checking things out! The General Store is full of local specialties and foods like maple syrup, eggs, chocolates, and also toys and gifts.
Humble Moon Folkstead & Saloon
Right across the street from the pie is Humble Moon Folkstead and Saloon. You should definitely stop in for a drink and admire the old, Swedish vibes. You can also get in a game of checkers with your beer! Ha.
They have a very cozy inside as well as an outdoor space if you feel like catching some rays! And the bartender was so kind and helpful.
Wellness Shop
I loved this beautiful store! And I am having trouble finding the name on Google Maps!? But, it's only a few steps from the General Store on Spring St. and you can't miss it. You'll find home decor, candles, journals, and books in the beautiful space.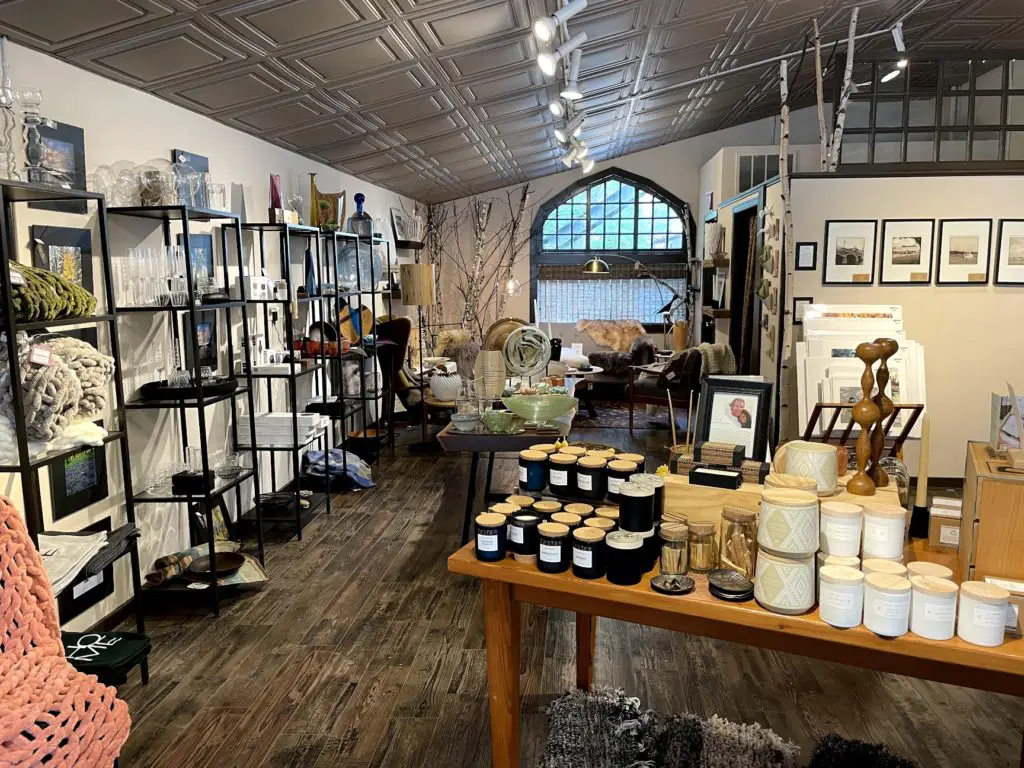 Pepin, Wisconsin
Once you take in everything Swedish, you only have about 8 minutes until your next destination which is the lively Pepin, Wisconsin. We didn't even have this on our original list, but I'm so glad we stopped!
Garden Pub & Grill
We noticed this fun bar right off Great River Road; Garden Pub & Grill, an outdoor pub, and a lively summer stop! I loved the colorful atmosphere and range of outdoor seating. And it's where I had to grab a Spotted Cow on tap, of course. You'll probably be here a little too early for live music but stop on your way back if you feel like a few more beers and your favorite songs. And though we didn't eat, the food looked good—especially the fish.
They also have a cute little gift shop we perused through and even got some homemade fudge which, omg, was delightful. Make sure to sample a few before you pick your favorite!
And finally, it's time to eat again…
Nelson, Wisconsin
After your stop in Pepin, next on your travels is Nelson, Wisconsin, which is only about 10 minutes away.
Nelson Cheese Factory
We didn't make it here and I'm so bummed. But if you have time, definitely go to the downtown Nelson area and stop for cheese curds and ice cream—all the CREAM!
That said, we did make it to one Nelson, Wisconsin stop which was our ultimate destination on our Wisconsin Great River Road Day Trip:
The Stone Barn: Pizza Farm
We LOVE pizza farms! And 15 minutes outside of Nelson is one of the best places for homemade, wood-fired pizza with the freshest farm ingredients. And the pizza isn't the only great reason to visit The Stone Barn—the grounds and ambiance are perfect!
It was pretty busy here just before 6:00 PM on a Saturday. That said, it wasn't overwhelming and there really is plenty of seating. You'll get a number and after ordering at the counter, wait about 45 minutes before your pizza arrives. And it's well worth the wait.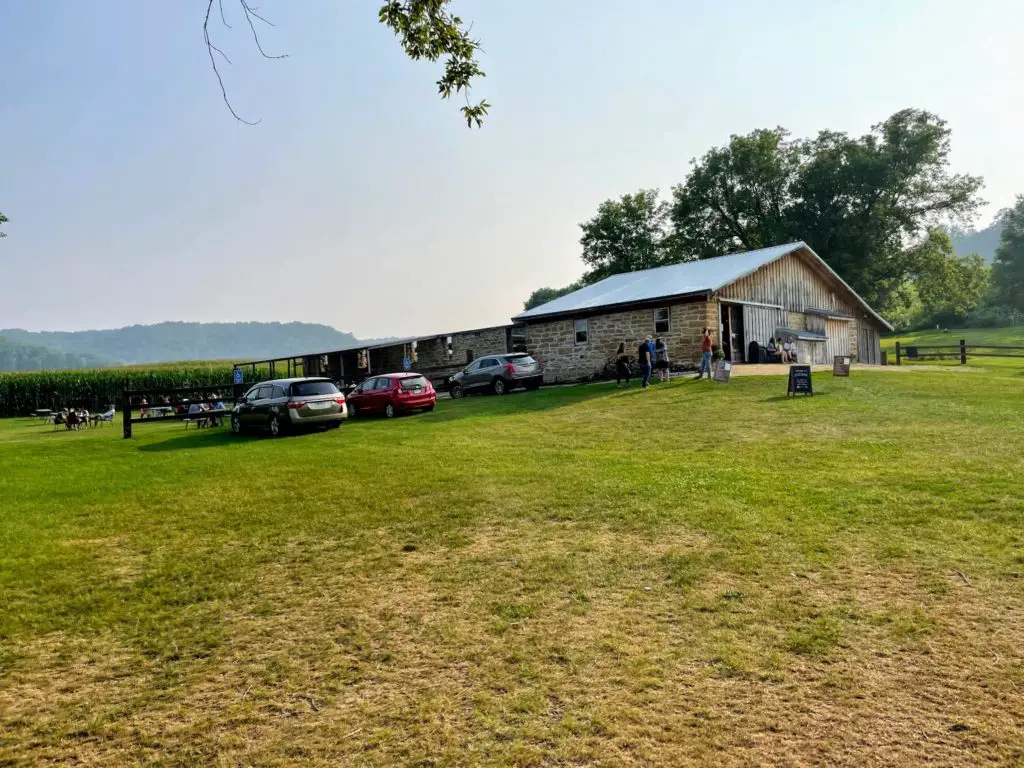 We ordered the Greek Pizza (no olives) and I'd definitely get it again. Red sauce-less, it was very light with flaky crust and delicious lamb, artichokes, and feta cheese on top. YUM. We just got the one pizza and, though we finished it, it was plenty!
Make sure to also grab some ice cream and check out the gift shop! This stop is literally for everyone in the whole family with the pretty farm, plenty of space for kids to play, and alcoholic beverages for adult groups.
There really isn't a better way to grab a pizza!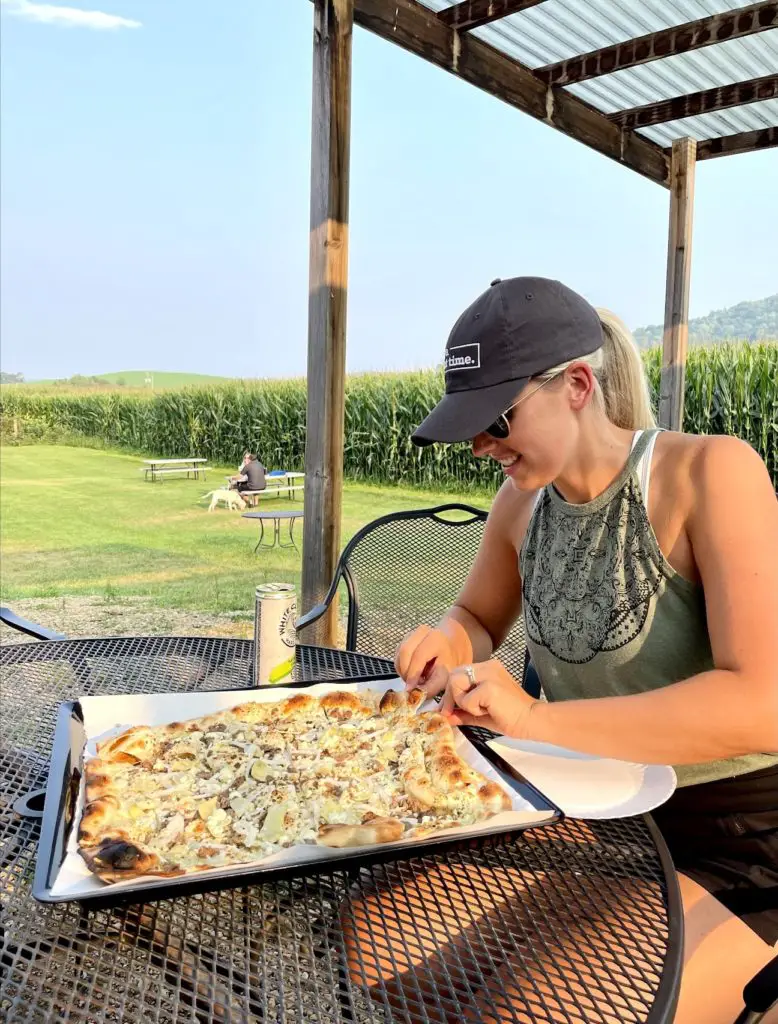 For another great pizza farm, read What to Do for a Night in Northfield, Minnesota.
Keep Heading South along Great River Road Wisconsin
Wisconsin's Great River Road doesn't stop in Nelson! If you are going to attempt to do the entire route, here are a few other points of interest to add in:
Alma, Wisconsin: Hit the Buena Vista Lookout for some great views. Then go to another winery—Danzinger Vineyards.
La Crosse, Wisconsin: The biggest town you've seen in a while! You'll have plenty of restuarants, parks, and hikes to choose from.
Prairie du Chien, Wisconsin: Shopping, dining, and history!
Upper Mississippi River National Wildlife and Fish Refuge: Check it out if you are interested and you make your way towards northern Iowa.
Potosi, Wisconsin: Stop at the Potosi brewery and the Whispering Bluffs Winery.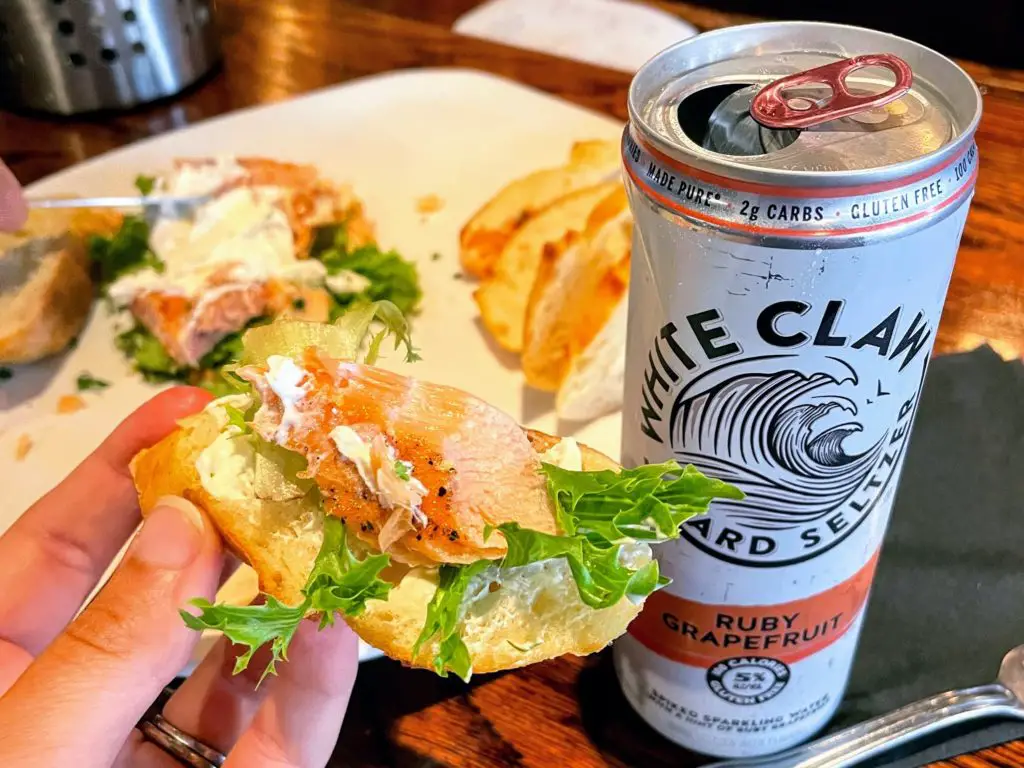 The Great River Road Wisconsin Day Trip
That's (part of) the American road! The Great River Road Wisconsin section is a great day trip from the Twin Cities area with so many beautiful natural areas and places to explore. You'll immerse yourself into different cultures all in one day's time! And of course, fill your belly with delicious eats and drinks. Travel Wisconsin has great guides as well as you plan out your trip.
Make a plan to get this into your summer or fall weekend and enjoy a day full of fun small towns! 🙂