Disclaimer: My trip to Hastings, Minnesota was Saturday, May 16, and places were closed or had reduced hours due to COVID-19. Make sure you check on any recent updates if you plan to visit!
Ready to experience a fun, small-town day trip just 34 minutes from Minneapolis? Head to Hastings, Minnesota, located close to Wisconsin where the Mississippi and St. Croix River meet. The area has a cute downtown with shops to explore and places to grab a beer. Plus, there's a scenic walking path along the river, parks, a waterfall, and outdoor areas that make for both a chill and adventurous day.
How far is Hastings MN from Minneapolis?
Hastings Minnesota is only 30 miles from Minneapolis! You can be there after a quick, 34-minute drive, which makes it a perfect day trip.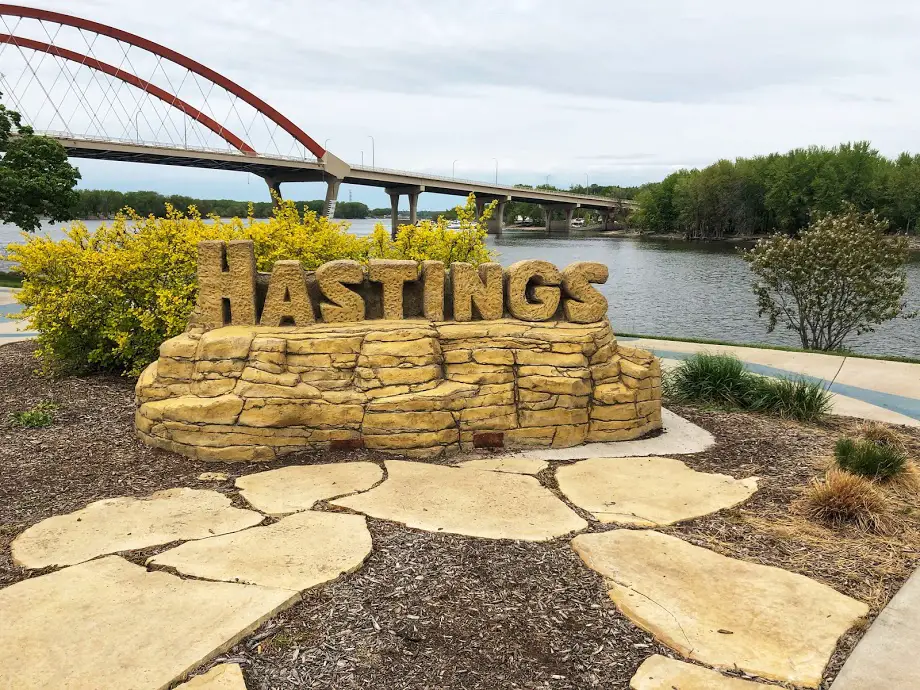 What to Do in Hastings Minnesota
Froth and Cork
Make your first stop at this independently owned and operated coffee and wine shop close to the downtown block. Froth and Cork (what a great name, huh?) is a really welcoming, warm, and homey spot with cute décor and comfy couches. And get this: they opened for business two days before being forced to shut down due to the coronavirus. Talk about bad luck. But their love for the community is apparent and will get them through! It's worth a stop and the perfect place to #SupportLocal.
Their menu offers a variety of hot & cold coffee drinks, teas, baked breakfast goods, and toasties, which are tasty little panini-type sandwiches. I recommend the Mississippi Fog to drink—Earl Gray Tea, Vanilla, and Milk. And if it's later in the day, obviously opt for wine!
Vermillion Falls Park
Walk off the Breakfast Toastie on the trails of Vermillion Falls Park, located just outside downtown. Near where you park (turn onto 21st St. E), you'll find a short path straight ahead that leads to a waterfall, one of the highlights of the park. Check it out from the observation area but also make sure to go down the path leading right up next to the waterfall for a pretty view!
Head down the path in the opposite direction and you'll find the gorge bridge with a beautiful view of the Vermillion River—I thought this was the coolest part. And a little further downstream is the ruins of the Ramsey Mill where old pillars (built in 1856) still stand.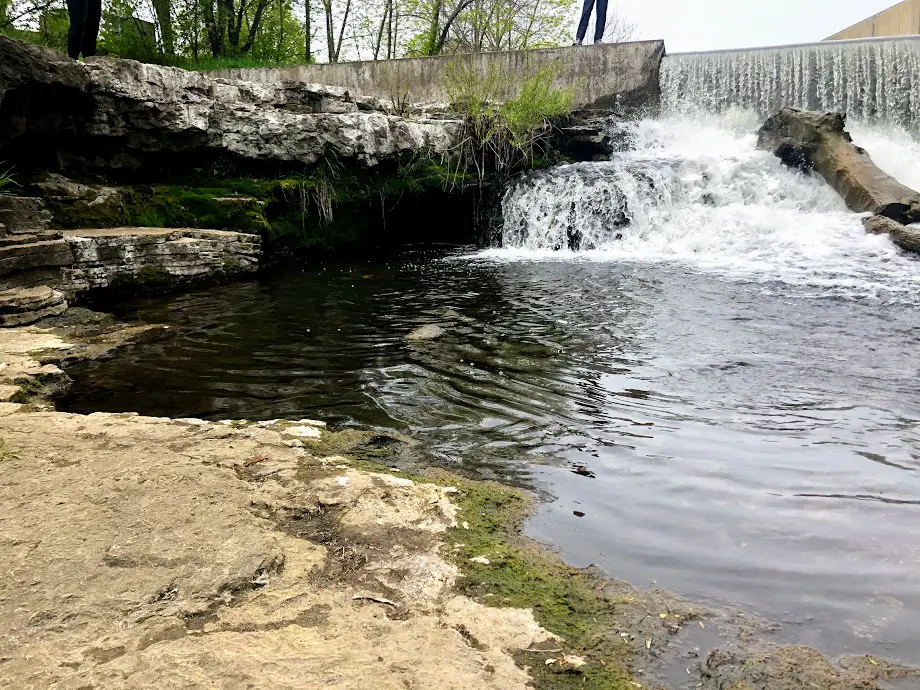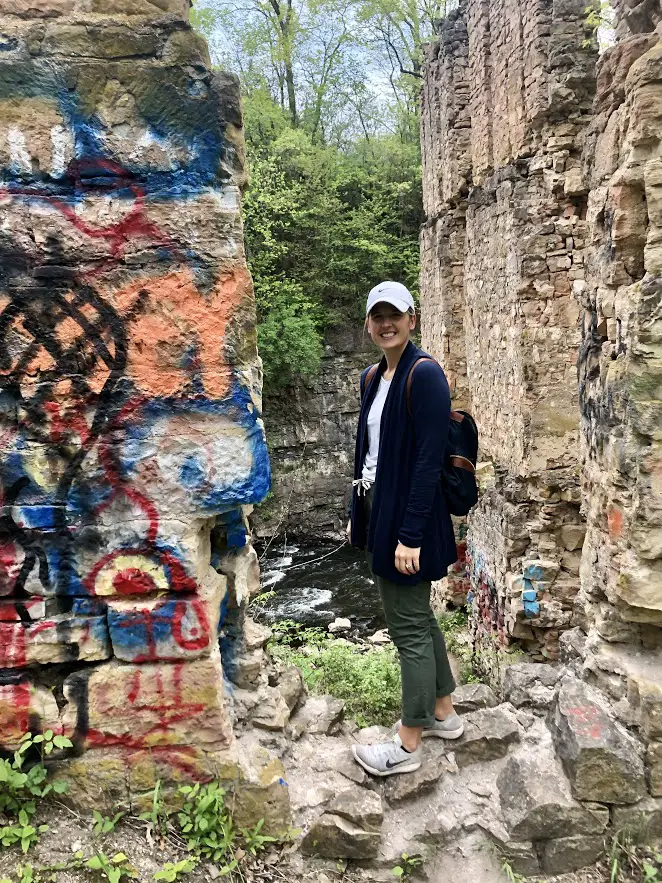 Levee Park
Head back downtown to the historic city center, about a 4-minute drive from Vermillion Falls Park, where you will find free 2-hour street parking in an area full of shops and restaurants. Walk towards the river and you'll run right into Levee Park. The area is a pretty spot with the Hastings Bridge over the Mississippi River. The path is perfect for walking and bike riding. Or just get a picnic table and enjoy the scenery after you grab take-out food and a couple of beers!
The Onion Grille
2021 Update: they currently run their pop up market, take and bake, and Friday Fish Fry carry out. They will reopen fully in April.
We tried a hometown Hastings, Minnesota favorite in The Onion Grille. A classic American menu complete with pizzas, sandwiches, and burgers. The food won't blow you away but this spot is in a perfect location on the river that does offer a patio when it's fully open. An easy meal with no complaints! I'd recommend the flatbread pizza and some local beer…
Spiral Brewing
Another get this: this town hasn't seen a brewery since prohibition! Until now, of course. And these 5 friends who own and run the place do it right. The "Townie" was right up my alley—light, yet cold and flavorful. And a beer in the park hit the spot. (Don't blame me if you get caught…I was here when there were no rules lol.)
Unfortunately, the brewery was closed but we were able to get their beer through The Onion Grille.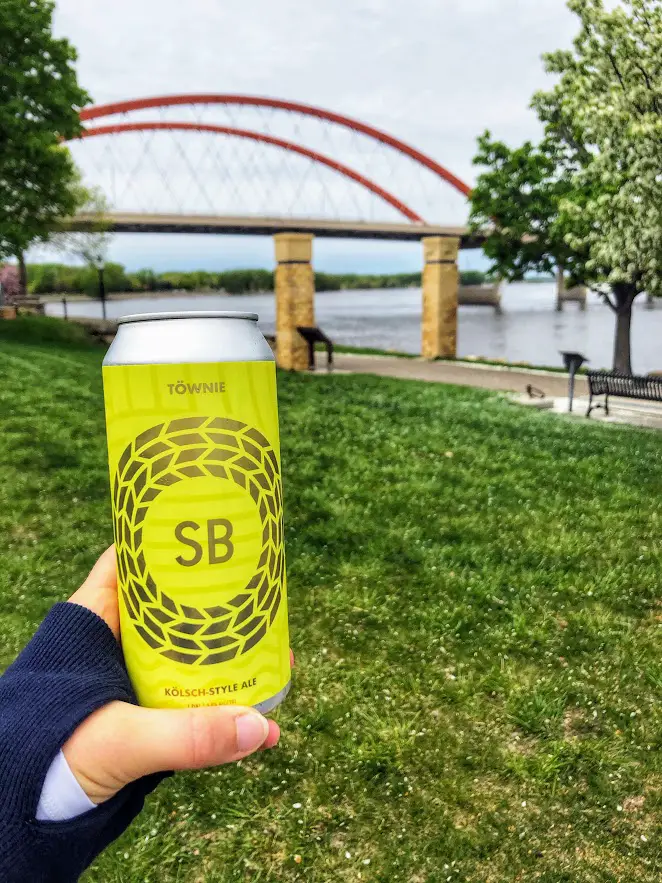 Explore Downtown Hastings MN
The Heart of Hastings is lined with old, historic buildings with beautiful architecture. Find art galleries, antiques, clothing stores, home goods, and tons of other shops, plus a variety of restaurants, bars, and a brewery. Read more about it here.
Hastings, Minnesota
She makes for a great Minneapolis Day Trip from the cities into a small-town. A chance to unwind, enjoy the views, take part in some local fun, and get to know a different Minnesota vibe.
You could even make it a dual-day trip with a visit to Willow River State Park, which is 33 minutes from downtown Hastings but makes for a perfect loop in Minnesota's Southeast.
Been to Hastings Minnesota? Drop your favorite restaurant, shop, or place to explore in the comments!