Are you getting ready for a trip to one of the most beautiful places in the United States? Sedona, Arizona, with its gorgeous scenery, calm energy, and delicious food, is the perfect vacation. And these 15 Sedona Travel Tips will make it even more memorable.
Avoid these mistakes and you'll be planning your next trip to Sedona before you even leave.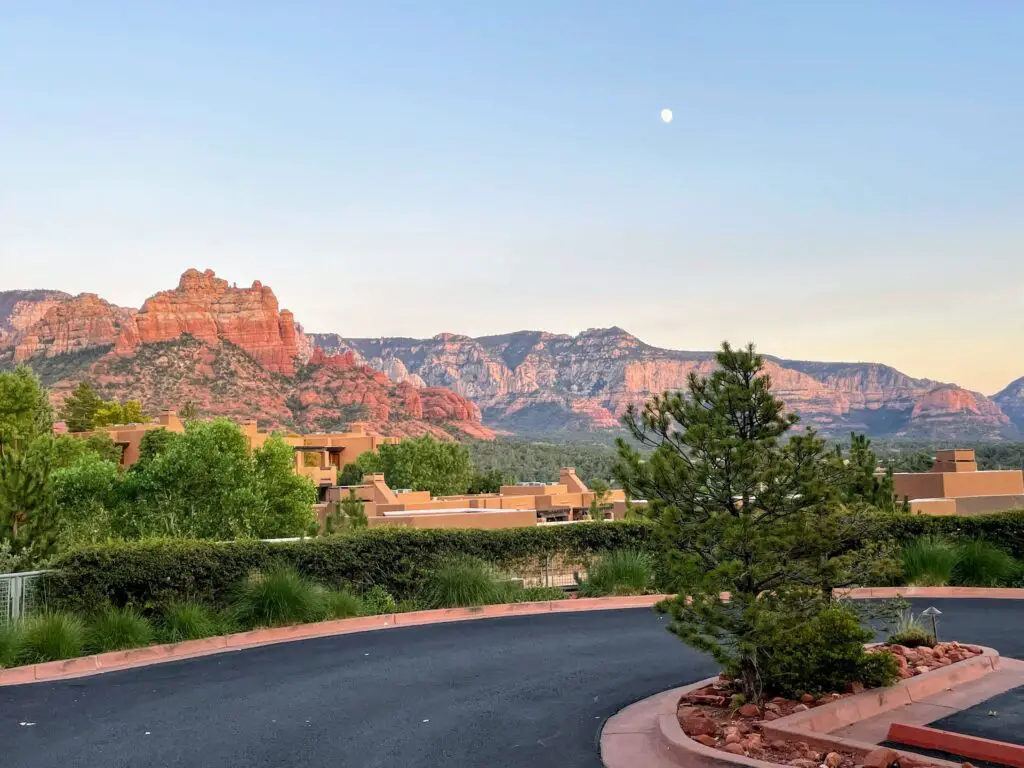 Whether it's a day trip during an Arizona road trip or you're spending an entire weekend there, use these Sedona tips and you'll avoid hassle, frustration, and headaches.
Sedona Travel Tips: 15 Mistakes to Avoid on Your Vacation
Disclosure: This post contains affiliate links that earn a small commission at no extra cost to you.
1. You Forget a Water Bottle
A Sedona MUST! Make sure everyone in your group has a reusable water bottle—especially during the warmer months. A hot day in Sedona is no joke and you're going to want water on command as you're on the hiking trails, exploring, and taking in all of the beautiful rock formations in Northern Arizona.
Not to mention, Sedona sits at 4,350′—a big jump for those who live at sea level. Extra water is needed! Go with this water bottle and you will NOT be disappointed.
2. You Don't Pack the Right Gear
Let's talk clothes and packing for Sedona. While hiking through Coconino National Forest, it will depend on the time of year. Summer months? Lots of cool, breathable clothing that can absorb sweat. Winter months? Make sure you have layers. Plus, don't forget…
Hiking Shoes: If you don't have any, invest in a pair. Trust me, you don't want to be here without them. These Merrells are perfect (and affordable!)
Hiking Clothes: Mentioned above. Layers are key.
Hiking Backpack: You'll want a small, comfortable bag to take with you throughout your trip. You don't need anything heavy-duty—this is the perfect, affordable, lightweight backpack. TIP: Use it as your personal item on the flight.
Sunglasses: Self-explanatory!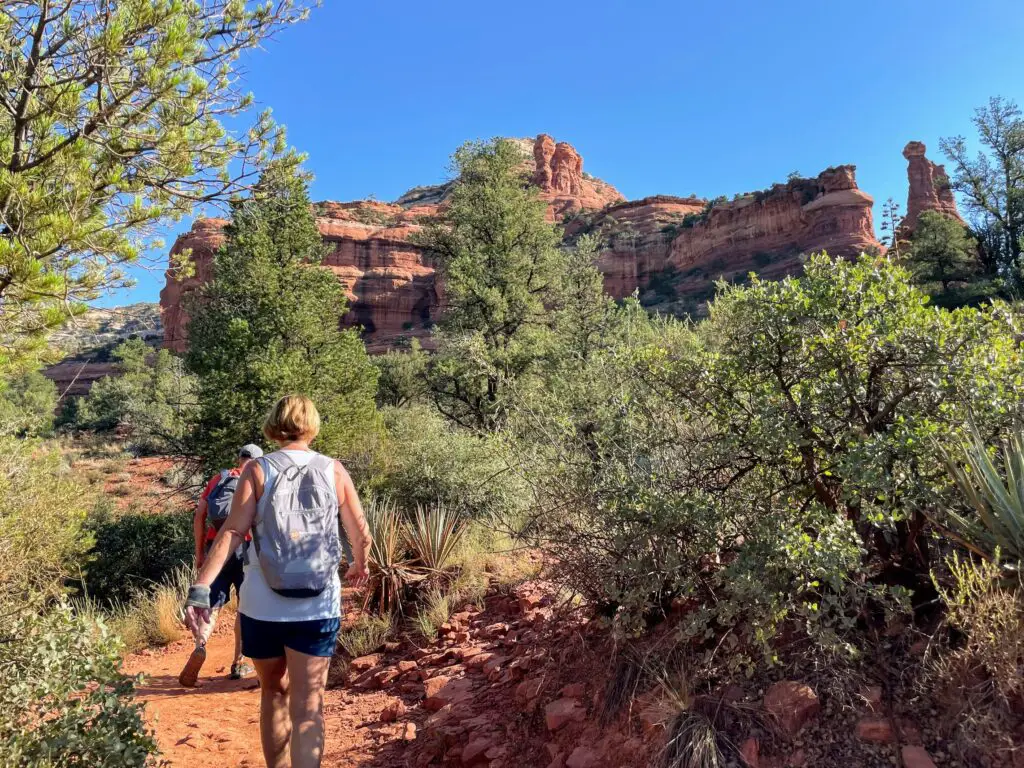 3. You Pack Too Many Fancy Outfits
Don't stress about looking 110%. Sedona, Arizona is very casual. There is no pressure to fill your suitcase with fancy dresses or suits and ties. Even higher-end restaurants don't require fancy apparel and you'll likely stick out more given the nature of Sedona and its outdoor vibe. You'll find most people dressed in hiking attire or outfits that are comfortable for walking and heat.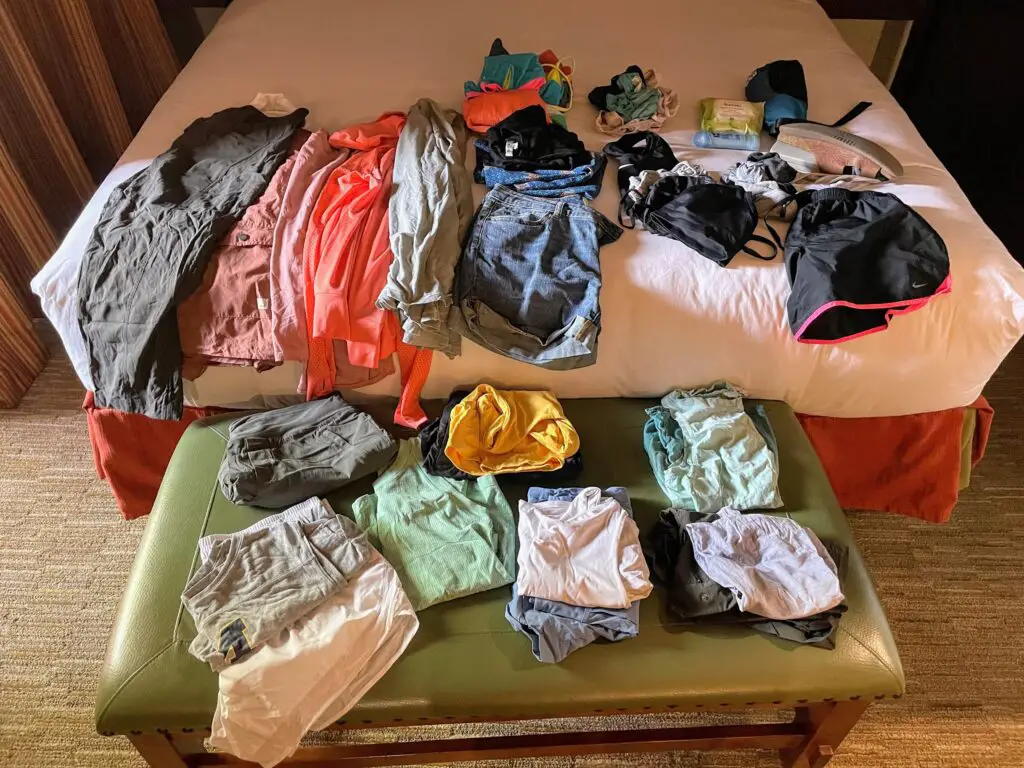 4. You Forget a Portable Charger
Not only do you want to bring a standard charging cord (obviously), but it is smart to have a portable charging block while you're in Sedona. Hiking throughout the area will put you in a lot of dead zones where you will lose battery quicker. You will want your phone for any maps and/or photos, so make sure you are prepared with an extra charge while you are out. This portable charger is compatible with both iPhones and Androids.
TIP: Put your phone in airplane mode while you are hiking. You'll save battery, but will still be able to take pics!
5. You Don't Rent a Car
Most visitors fly into the Phoenix airport and make the two-hour drive north to Sedona. While there are shuttles from the airport, I would strongly suggest renting a car. This gives you easy access to transportation throughout your trip and is one of the best ways to get around (vs. Ubers/taxis/buses.) Plus, you get to admire all of the scenic drives in the area!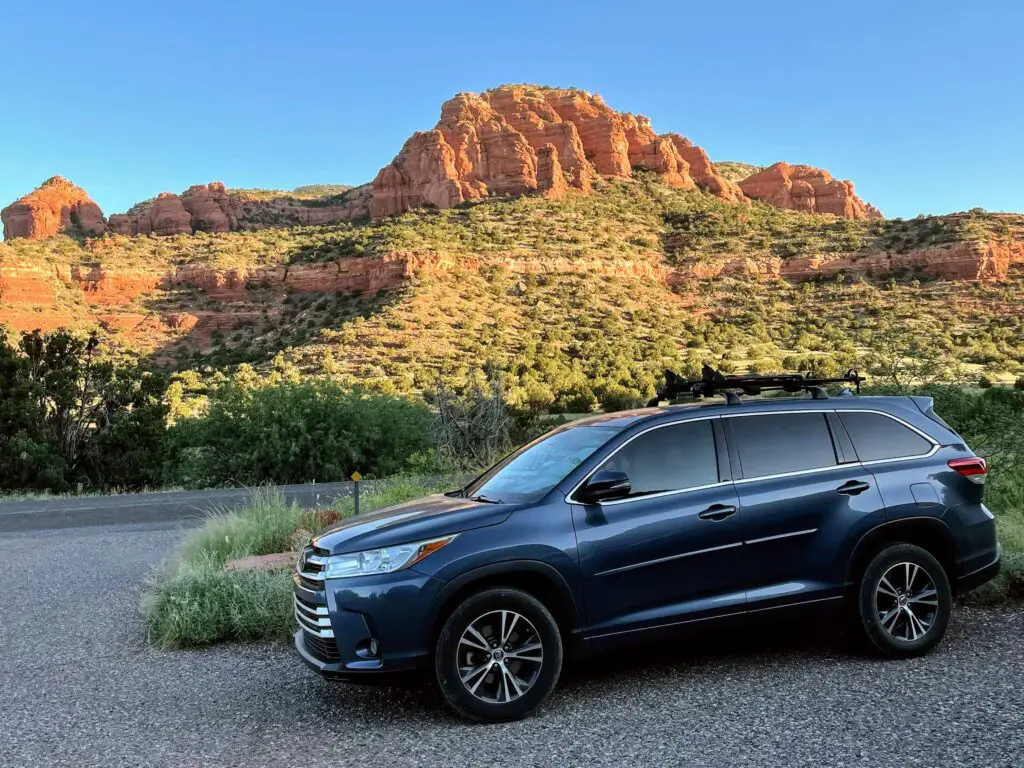 6. You Don't Hike in the Early Morning
Pull into a parking lot at most Sedona hikes after 8 AM and you are likely going to have a tough time finding a spot. Don't let that surprise you if it's your first time visiting. One of the best Sedona tips is to plan all of your hikes for the early morning and arrive no later than 7 AM.
The early bird gets the worm in Sedona!
Not only does parking factor in here, but HEAT. If you want to hike without the sun threatening to ruin your experience, hike EARLY or you are going to be way too hot.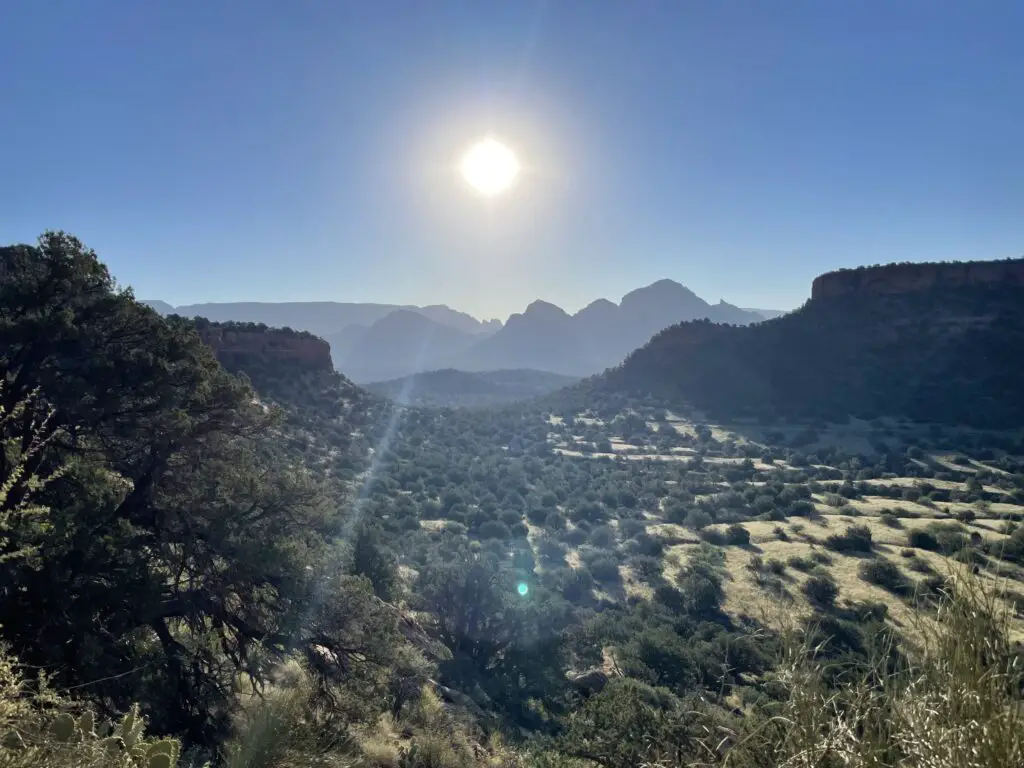 7. You Only Go to Well-Known Hikes (and Don't Expect Crowds)
One of my biggest pieces of advice for traveling to Sedona, Arizona: get off the beaten path when it comes to hikes! Mix it up. Experience a few of the popular ones, while also incorporating a few lesser-known adventures that will surround you with fewer people—and are still great hikes!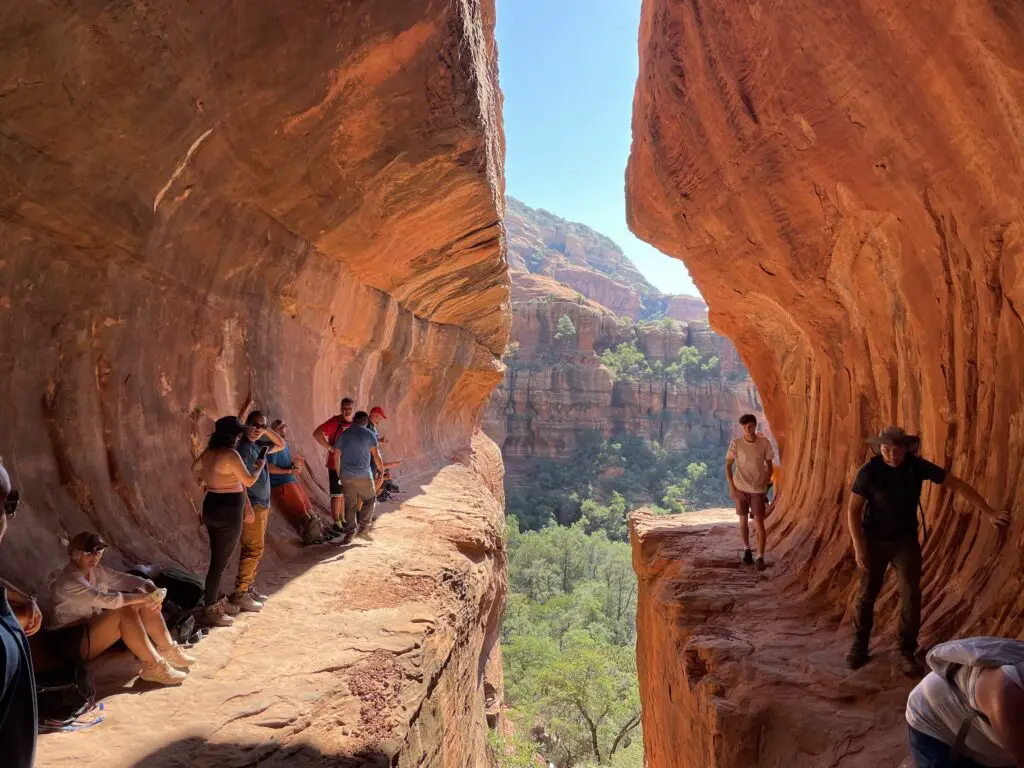 Popular, crowded trails:
Devil's Bridge: I experienced this a few years ago but it has BLOWN UP since. You will wait 2+ hours to get your picture on the bridge. Up to you, but I would do something else.
Airport Mesa: Come for sunset, but know you will be surrounded by a LOT of people.
Cathedral Rock Trail: Probably the most popular trail. I would still recommend it, but do it EARLY.
Boynton Canyon Trail: Another I would still recommend.
Less crowded trails:
Bear Mountain: Why is this a less popular hike? Because it's HARD. But you can do it 🙂
Brins Mesa: Beautiful trail and incredible scenery—plus, only moderate! This is one of the best hikes.
Mescal Mountain Trail: Another goodie near Boynton Canyon.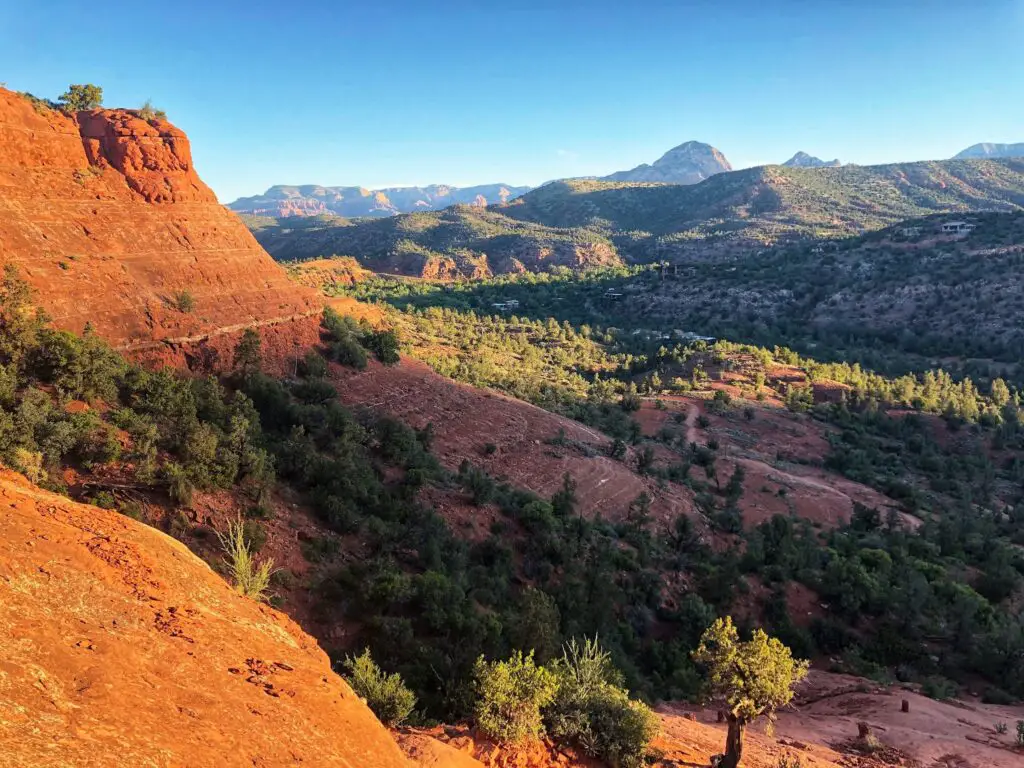 Don't forget your Red Rock Pass for hiking in Sedona.
8. You Don't Experience a Vortex
What the heck is a Vortex, you ask? They are intersections of electromagnetic fields that radiate energy from the earth's surface and can help one feel recharged and uplifted. These energy vortexes are said to be healing and helpful to self-exploration, and it's scientifically proven that feelings are magnified within a vortex. Sounds crazy, right?
Well, save your skepticism until you visit. Because I can confirm! It is close to guaranteed that you will feel happier and lighter upon leaving both an intense vortex site and Sedona in general.
So, where do you find a Vortex site in Sedona? You can find them on an easy hike such as Bell Rock, a moderate hike such as Boynton Canyon, and/or on the ever-popular Pink Jeep Tours that include Cathedral Rock. Here is the list of them all.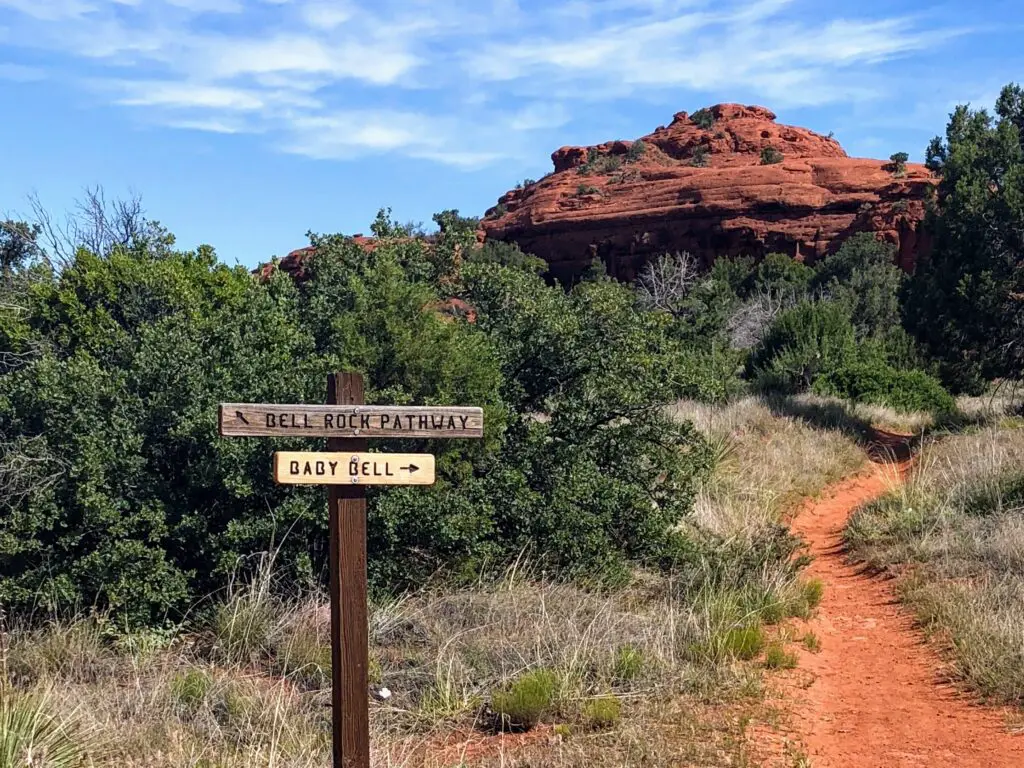 9. You Don't Make Restaurant Reservations
Sedona is a foodie scene, for sure! And many of their top-notch restaurants are booked out far in advance—sometimes months, especially those with spectacular views. If you want to eat at places like Mariposa Latin-Inspired Grill, Elote Cafe, or The Hudson, plan ahead and make reservations.
TIP #1: Don't forget to leave room for spontaneity as well. Not ALL of the best restaurants in Sedona require reservations and you will find great options without them. You never know some of the best places you might find on a whim! (A few of my favorites: Hideaway House, The Vault, and 89Agave Cantina.)
TIP #2: Check restaurant websites; some have an online waitlist you can get on before you arrive.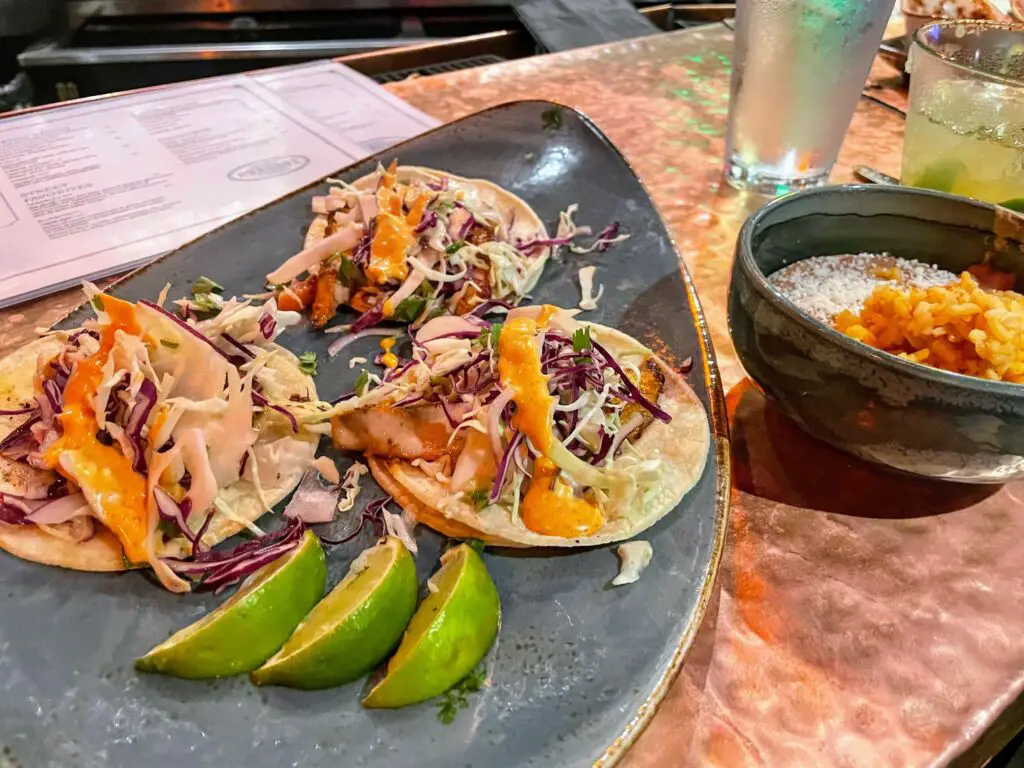 READ: The Best Restaurants in Sedona (Where to Eat—and Skip)
10. You Eat Dinner Too Late
The best thing about Sedona restaurants? INCREDIBLE VIEWS. And if you eat too late (past dark), you are going to miss them all! The best time to have dinner in Sedona is on the earlier side. Plus, you can go to a great spot and reduce your wait time.
NOTE: Keep in mind that there isn't much nightlife in Sedona. You get up earlier, eat earlier, and go to sleep earlier so this tip will fit right into your schedule 🙂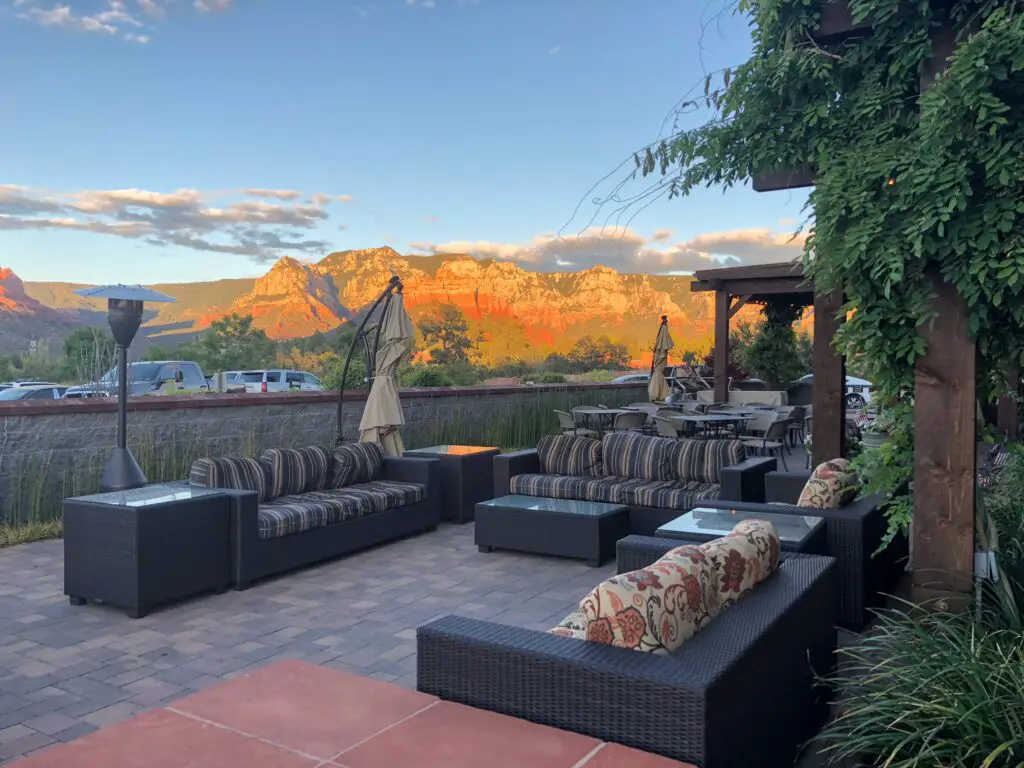 11. You Don't Try a Prickly Pear Margarita
One of the most important Sedona tips: Prickly Pear Margaritas are a Sedona MUST—grab one on your very first day! This cocktail combines tequila and syrup derived from the prickly pear cactus. Cool, delicious, and a beautiful pink color for your photos 😉
One of my favorite places to grab them is the Cowboy Club which is right in Uptown and the perfect addition to your Sedona shopping adventures.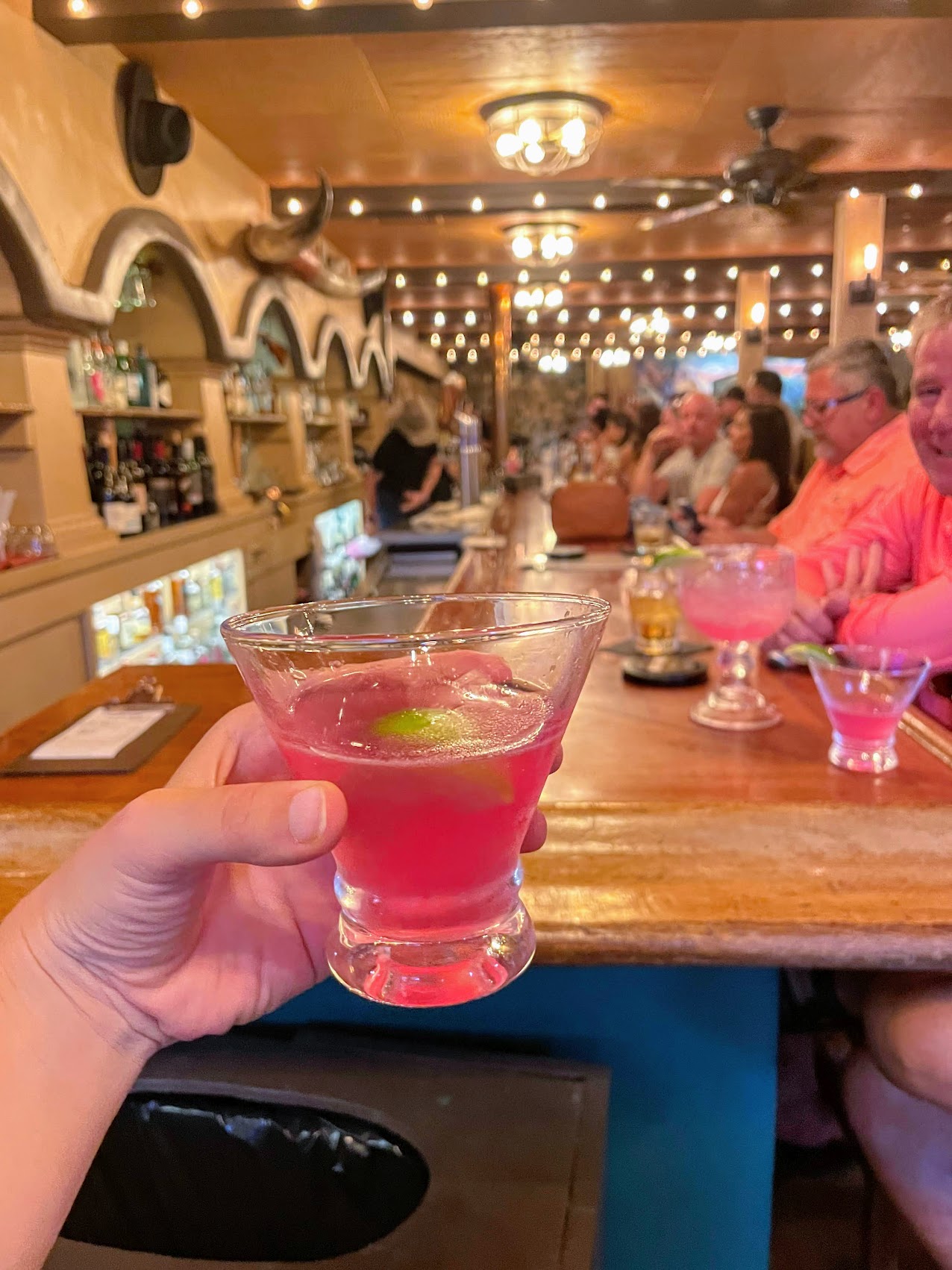 12. You Don't Explore Uptown
Uptown Sedona is a fun and lively part of town where you will find shops, restaurants, and bars. Not only will you experience good food and fun souvenirs, but great views as well with Uptown's red rock backdrop. It's a great place post-hike.
TIP: It can be tough to find parking. You may need to go up onto side streets and walk into this part of town.
Love shopping? Don't miss Tlaquepaque Arts And Crafts Village! Another shopping area that also includes restaurants and bars.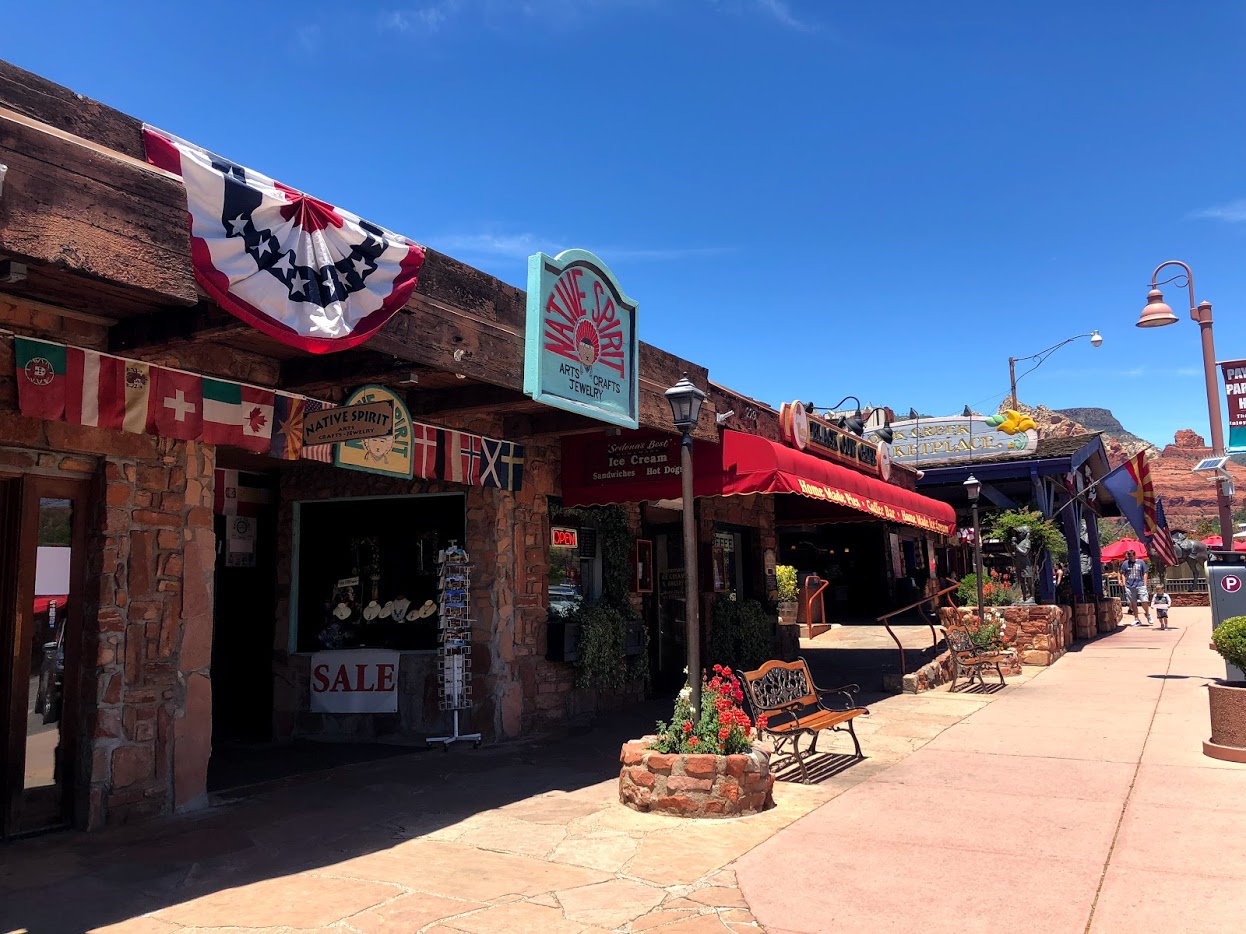 13. You Don't Expect Traffic
Even a short drive can become a LONG one in Sedona. Unfortunately, this is a popular destination and there are no secret roads or shortcuts. It is a good idea to plan ahead and park your car (early) where you know you can walk to multiple places. Come late afternoon, Sedona can be backed up pretty much everywhere!
NOTE: Expect roundabouts too that become even more frustrating in traffic! Have patience and enjoy the views 🙂
14. You Don't Go to a Watering Hole
No Sedona trip is complete without a watering hole—it's one of the best things to do (and way to cool off)! Plus, you have many to choose from. A great place is the natural water slides inside Slide Rock State Park which I cannot recommend enough. Even if I only had one day in Sedona, I would visit this park.
Check out these 10 Sedona Swimming Holes for more options in Sedona and the surrounding area for a great time!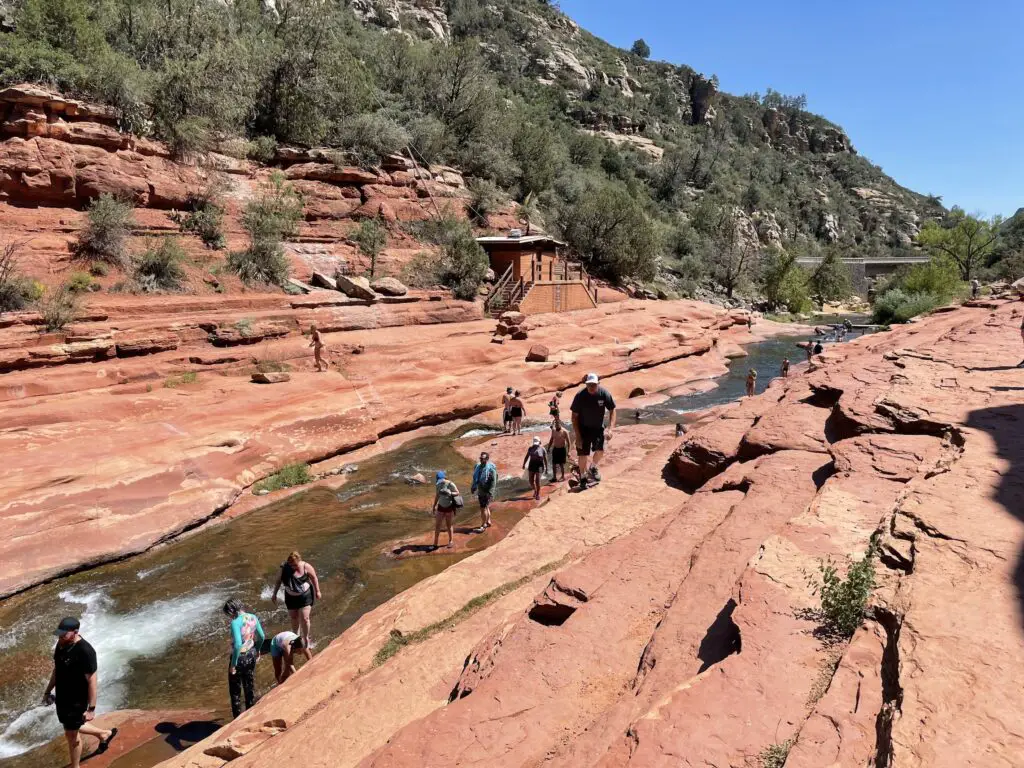 15. You Don't Find Time to RELAX
Sedona is full of adventure. But one of the best Sedona tips is that it is also the perfect place to relax. Get a massage, go for a wine tasting, do yoga on the red rocks, hang out at the pool or find a meditation center. Remember, you're on vacation and don't want all day, every day to be taken up by hikes. (You'll go home more tired than you came!)
Check out Enchantment Resort for an all-around well-being-focused stay! It looks magical. And pictured below is the amazing pool located at The Hyatt—a fantastic hotel that I highly recommend.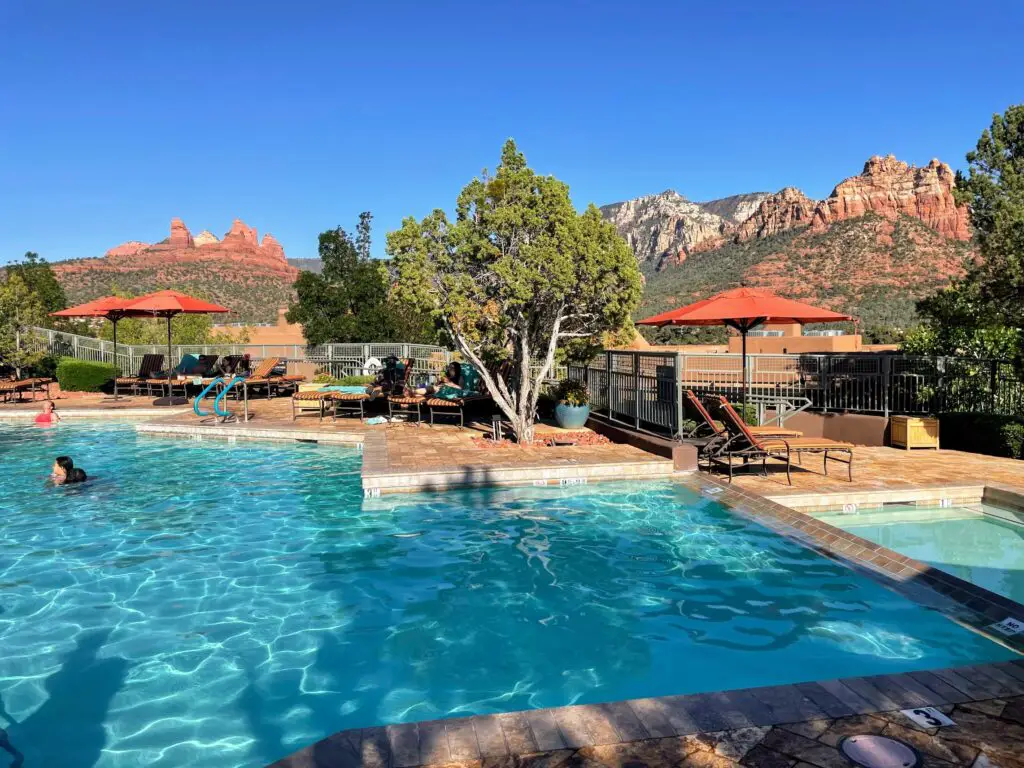 Sedona Travel Tips: 15 Mistakes to Avoid on Your Vacation
That's that—the 15 Sedona Tips that will ensure your vacation is fun and memorable without the headaches! Enjoy this beautiful little town with so much to offer. And let me know, your Sedona Travel Guide, if you have ANY questions about the area. HAVE FUN!
Stay tuned for both a weekend Sedona Itinerary. As well as one for One Day in Sedona.
Wonderful Arizona Destinations to Include in Your Trip:
The Grand Canyon
Horseshoe Bend
Antelope Canyon