There's Caribou Coffee and Dunn Brothers. There's the almighty Starbucks. And then, there are the small, up-coffee shops scattered throughout the city that really bring the best beans, vibes, and the community together.
I spent some time trying to find the best Minneapolis coffee shops. And it was a successful mission!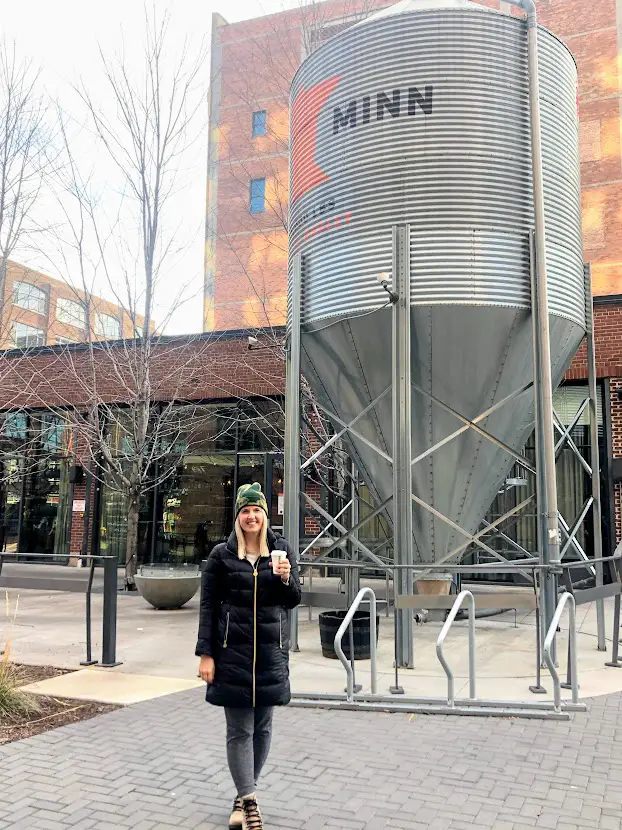 I did not go anywhere that has less than a 4.5-star rating on Google. Meaning every place on this list is going to give you a good cup of coffee. But, we all know coffee shops are about a lot more than just a drink these days.
Keep scrolling for 10 Coffee Shops in Minneapolis that you should definitely know about—you have a ton of great options!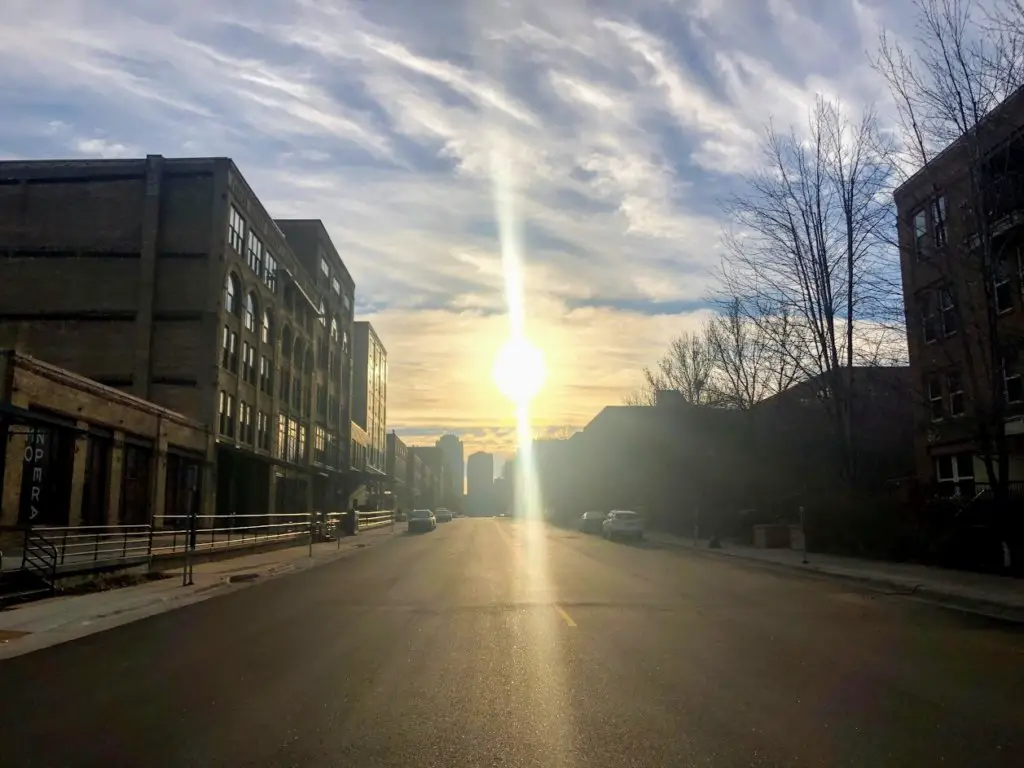 11 Best Coffee Shops in Minneapolis, Minnesota
Wesley Andrews Coffee & Tea
WHITTIER
Cool vibe. Artsy aesthetic. Adorable cups. Columbian coffee beans. What more can you ask for? Wesley Andrews is minimalist heaven with plants and exposed brick and makes for a warm and welcoming shop.
I went with an Americano with cinnamon and a GF Spice Donut. Though you could tell the donut was "healthy" (hey, sometimes that's what you're looking for!), I really enjoyed the coffee. Put this great spot at the top of your coffee list!
Located on E. 26th St, three blocks from Nicollet Ave, it's easiest to park on Stevens Ave. You can order online for easy pick-up.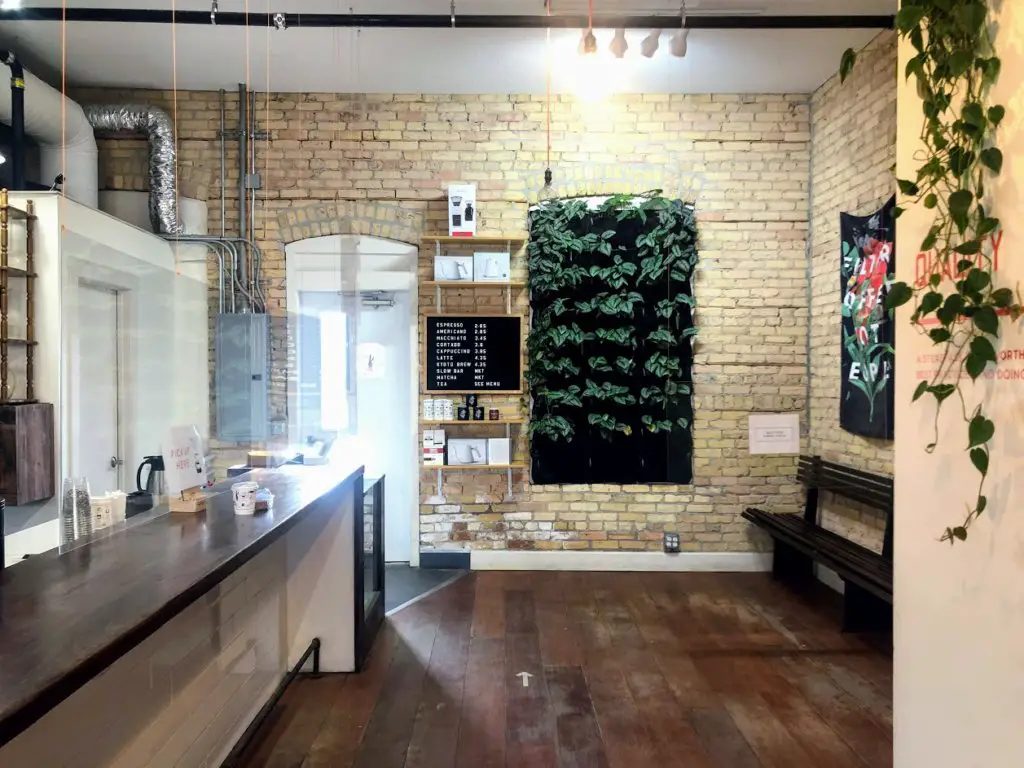 Sift Gluten Free
This is the perfect coffee shop and bakery for those who are gluten-free—and just as good for those who aren't! Everything Sift Gluten-Free serves is gluten-free and peanut-free with dairy-free, soy-free, and vegan menu options as well.
Stop in for an Americano (it's delish), Cappuccino, or Matcha Latte and pair it with a delightful gluten-free donut, scone, cupcake, or other bakery items. I'm not GF myself but wanted to check the place out anyway.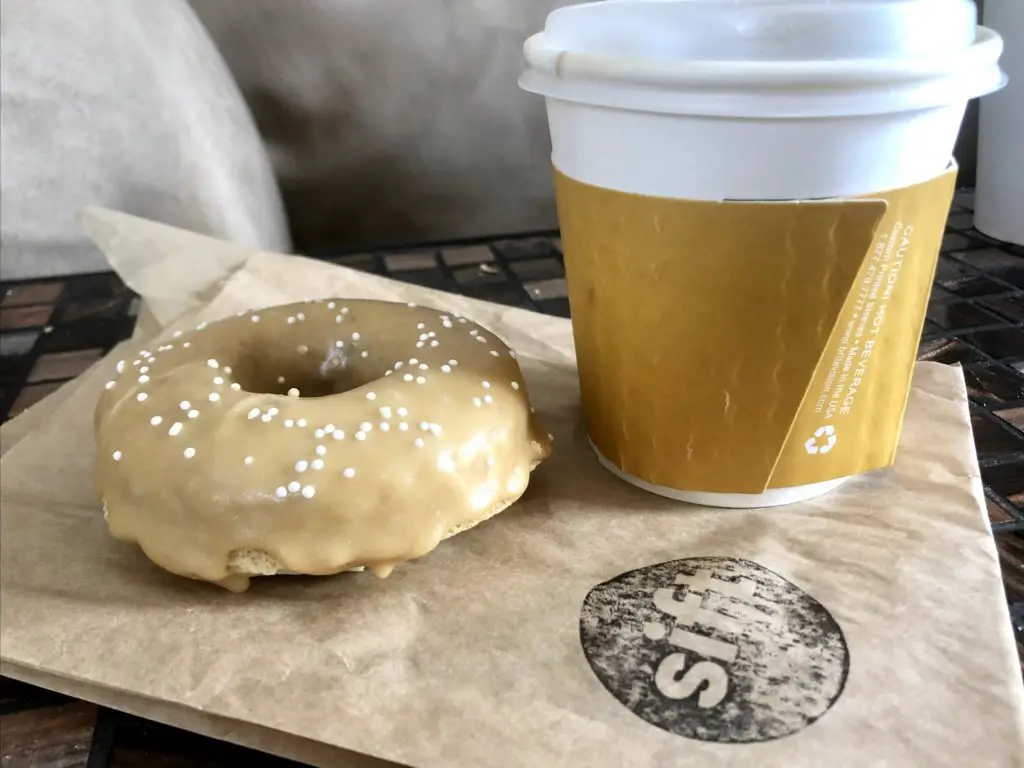 The Maple Donut was SO dang soft and flavorful and I even got a frozen pack of waffles to bring home which we LOVED. Won't be my last time here!
I mean…look at that donut…*mouth hangs open*
7 Corners Coffee
Bohemian Flats
And the kindness award goes to…7 Corners Coffee. This perfect spot almost didn't make my list and WOW am I glad it snuck in there! They have a cute little walk-up window, super friendly staff, and I loved my Oat Milk Latte with Honey. I also got to try their seasonal drink—Eggnog from Minnesota's Autumnwood Farm which was so, so tasty.
If you haven't been here yet, do it ASAP—it's one of the best places for coffee in the cities. They have a rotating (quarterly) roaster from around the world as well as a resident roaster to keep everything fresh, new, and always delicious. For a final touch, don't skip the Spinach, Feta & Walnut Croissant. So savory and delicious.
7 Corners Coffee is located near the University of Minnesota West Bank Campus and there is meter parking. Go in, use their walk-up window to order when you get there, or do it in advance online.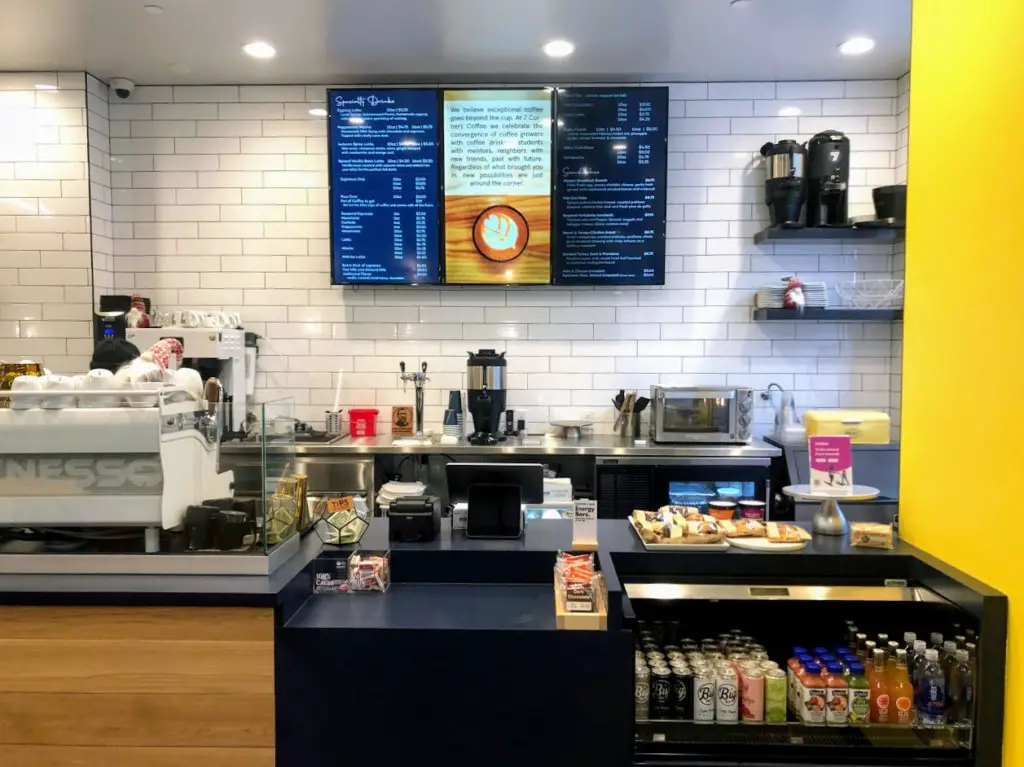 Northern Coffeeworks
DOWNTOWN EAST
If I was going to send someone from out of town to a coffee shop, it would be to Northern Coffeeworks. Light, exposed brick, and tiled floor make for a simple yet creative space that reflects Minnesota vibes. And the coffee is the bomb.
Make sure to get the North Woods which includes Cold Brew, Oat Milk, and Maple Syrup. It doesn't get any trendier than that. Plus, don't forget to pick up a homemade pop tart which is a major bonus from one of my favorite coffee shops! Blueberry pear is fantastic.
It's located on Washington Ave. right near U.S. Bank Stadium with meter parking. Order online for a quick pick-up.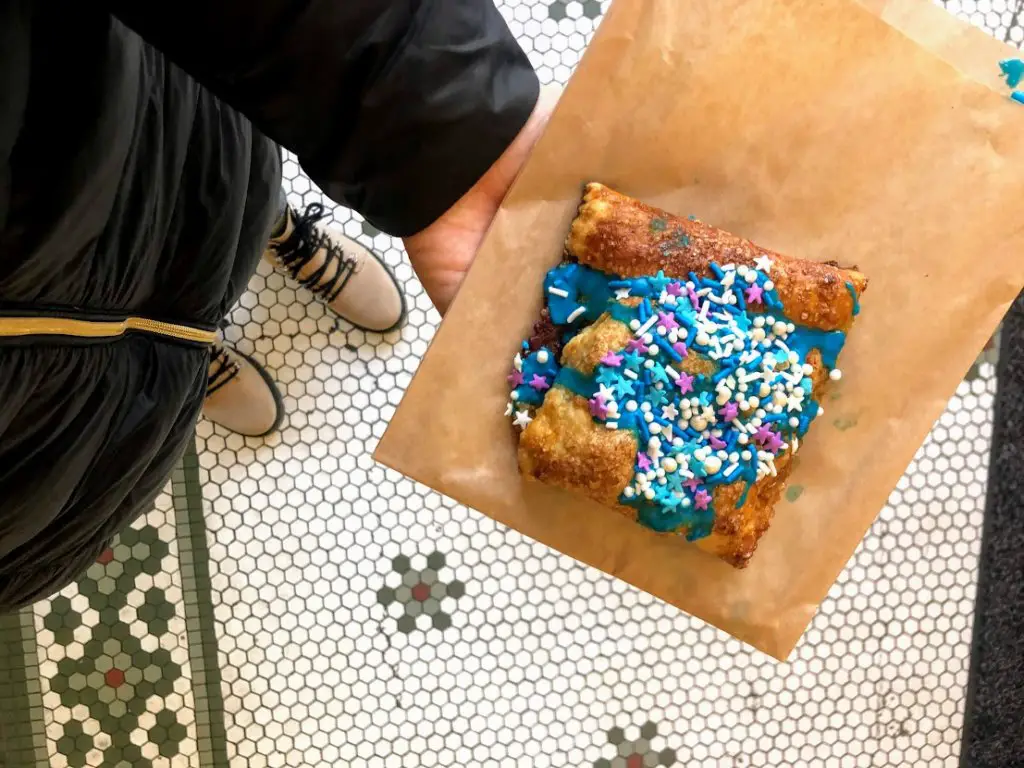 Grab your favorite cup of coffee and head outside! Read Where to Hike During Minnesota Winter.
Penny's Coffee
two LOCATIONS—Minneapolis and Wayzata
One of the best-tasting coffees on the list. Penny's Coffee downtown location has a very chic and modern inside with big windows and natural light, dark green marble, and high airy ceilings with pretty circle lights. And the outdoor space is elegant and well-designed which makes it a perfect summer stroll stop.
Bonus? Spend your day being productive and you don't even have to move for happy hour! Beer and wine is available for when you are done drinking Americanos for the day. This place is definitely a local favorite.
The location downtown (Washington Ave.) has meter parking. You can order online for easy pickup.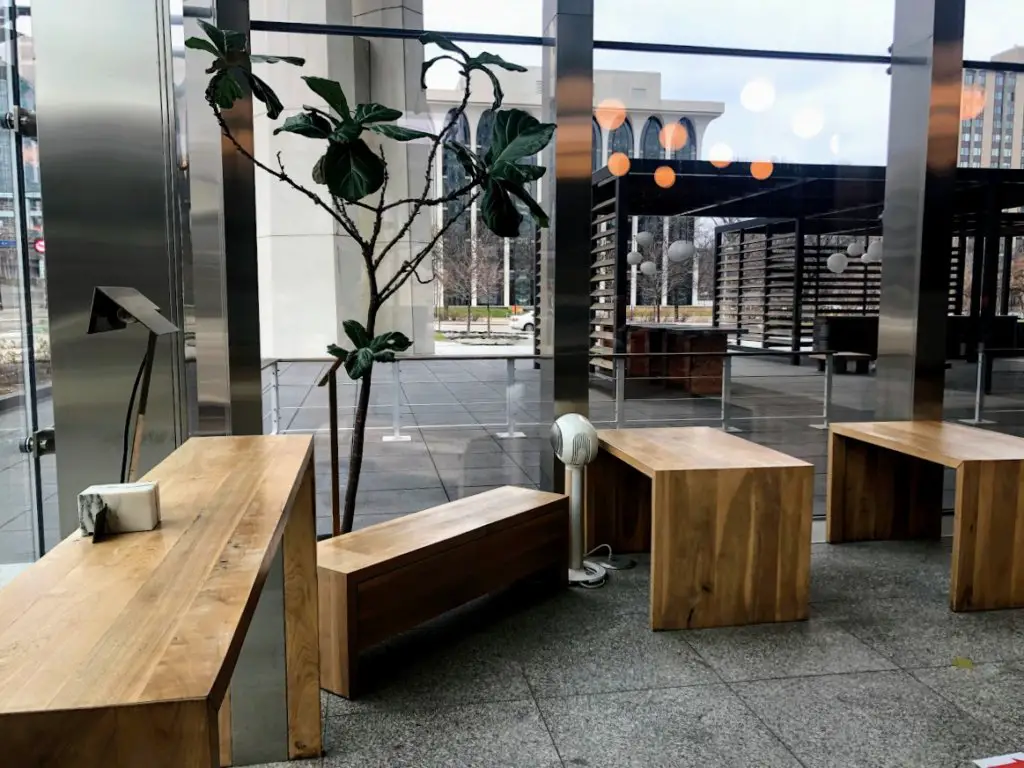 Fairgrounds Craft Coffee & Tea
Minneapolis (North Loop) + Chicago + L.A. + Milwaukee
You know the heart eyes emoji? That's Fairgrounds! All around beautiful space and whoever designed it deserves a raise. Migrating up from Chicago, it can wholeheartedly stick around Minneapolis—and beyond! Their website describes it as good for the mind, body, and soul and I do not disagree!
Light-up wall hangings, swings, and other touches from the fair bring the welcoming atmosphere to life. Their extensive full food menu includes picks like breakfast tacos (authentic and delicious), Acai Bowls, Funnel Cake Fries plus espresso drinks, matcha, and elixirs.
Fairgrounds is located on N. 3rd Ave. and 2nd with meter street parking. You can order online through Messanger or the Website for both delivery and pickup.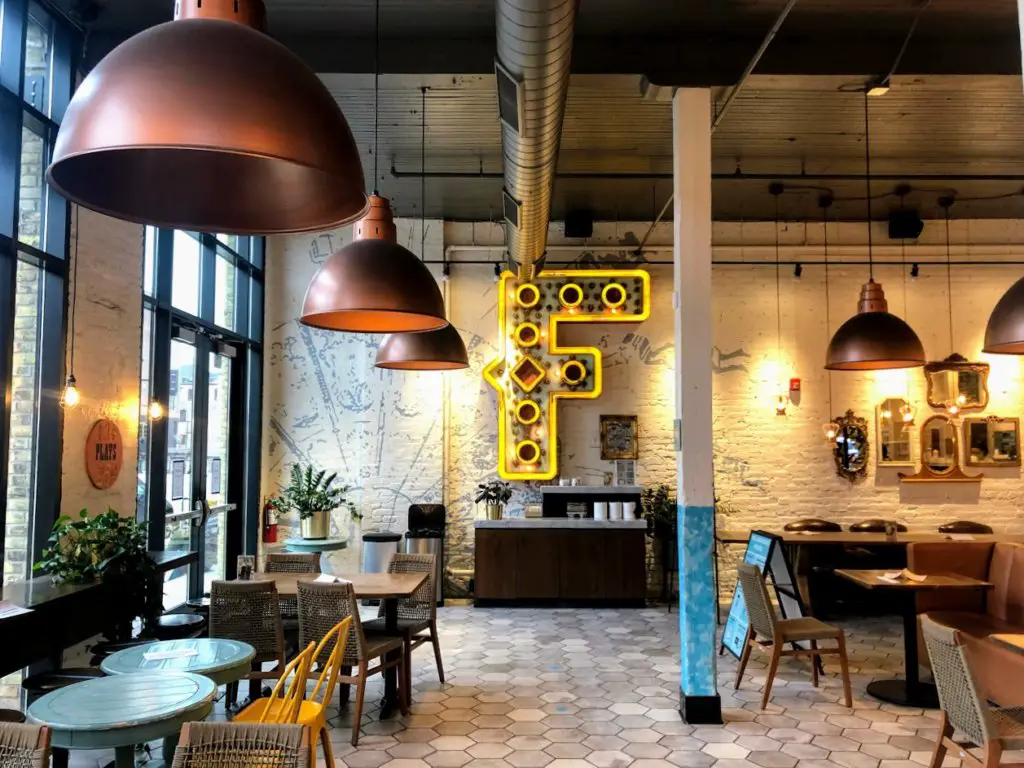 FRGMNT
North Loop
Walked in for my first visit and literally said "wow…beautiful…" under my breath. A decorator's dream and an aesthetic and vibe one would kill for. FRGMNT immediately had me thinking I need to come in and work here one day.
Simple and artsy with everything in its place. I ordered a small Americano which was extremely strong—I should have maybe ordered a bigger size or put a little milk in there! But I will surely return to find my perfect FRGMNT coffee drink because the vibe lured me in and made me want to stay a while.
FRGMNT is located on Washington Ave. (right next to Freehouse) and has an awesome outdoor space to enjoy (though you might be drawn to stick inside!) Meter parking is available. And you can order online.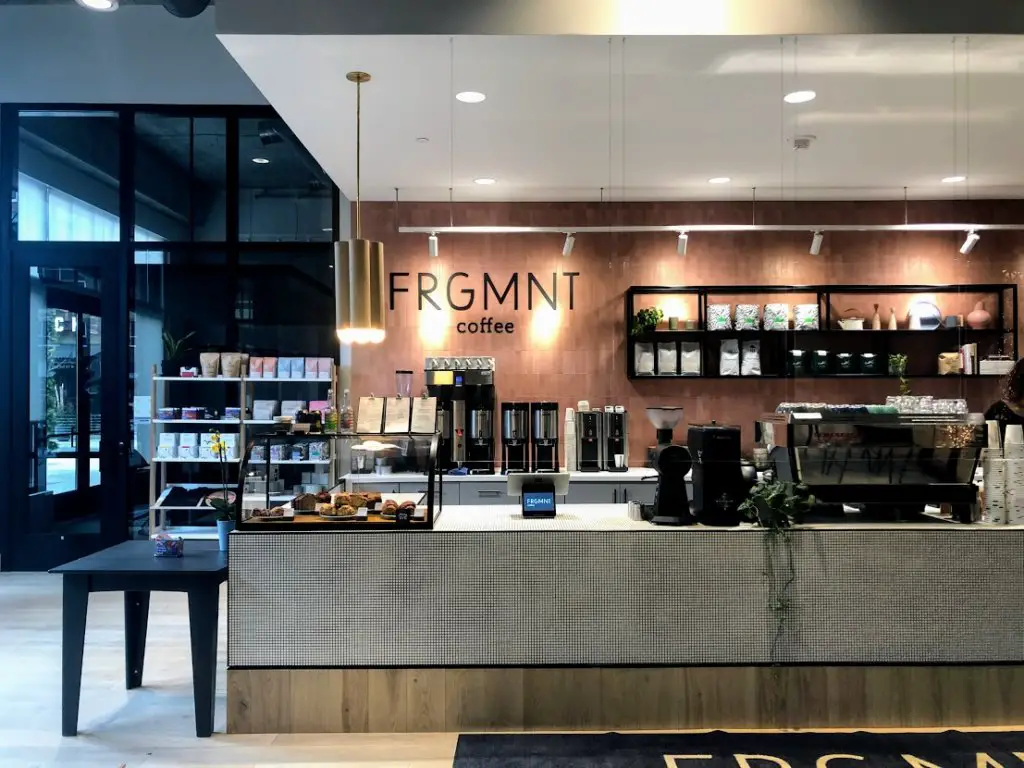 In The Loop
NORTH LOOP
A no-frills coffee joint. In The Loop retained a great aesthetic without going over the top or trying to be too Instrammable. If you want something casual and traditional with great service, here is your spot. Another reason to come here is if you have a dog. They have been voted the best dog-friendly coffee shop so bring ya furry friends.
I had a Cafe Miel which was good and a sausage, egg, and cheese that I loved! Their entire breakfast menu looked yummy and so did the lunch items!
In The Loop is located on N. 1st Street with plenty of meter parking and you can order online for a quick and easy pick-up.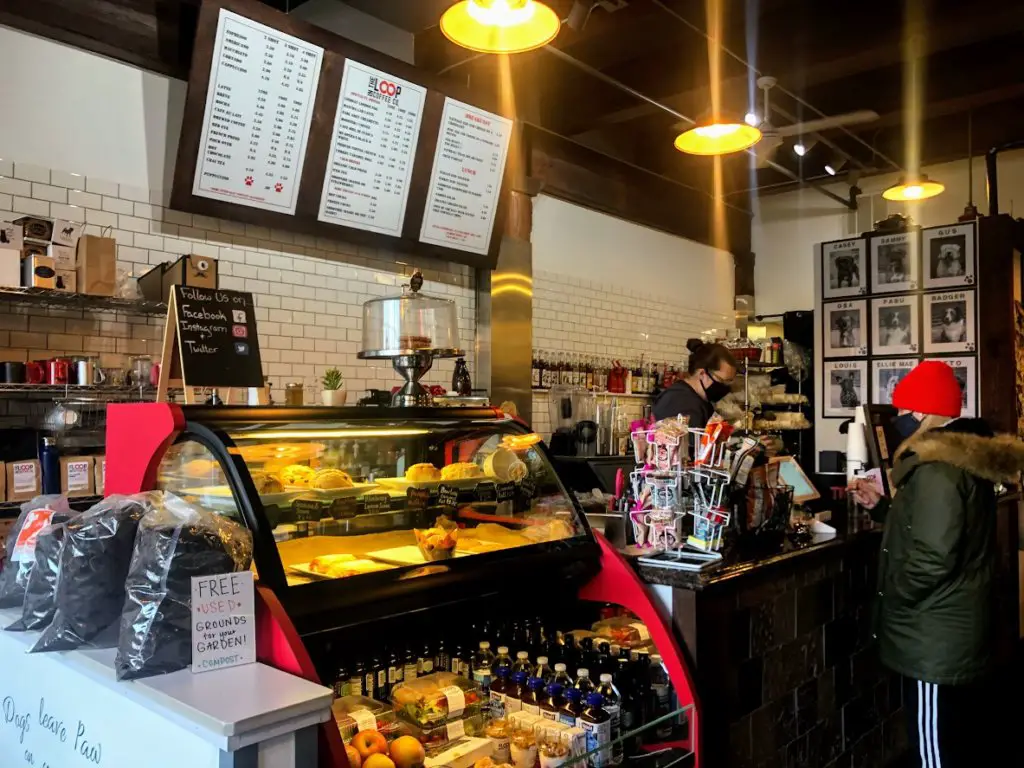 Code Blu Coffee
SEWARD
A (very) small space that makes the most of every inch! They do their roasting in-house, and though small, it has a very cool (yet not trying to be) vibe. Code Blu Coffee feels like a hidden gem. The hole in the wall of Minneapolis coffee shops. The excellent coffee was bold yet easy to drink and fresh.
My Honey Latte with Oat Milk—with a blueberry muffin sidekick was *chefs kiss.* Easily one of my favorite drinks on the list. Grab a coffee and tell your friends!
It's located in Minneapolis right off 94 just before crossing the river on E Franklin Ave. Parking is easy-peasy. There is no online ordering.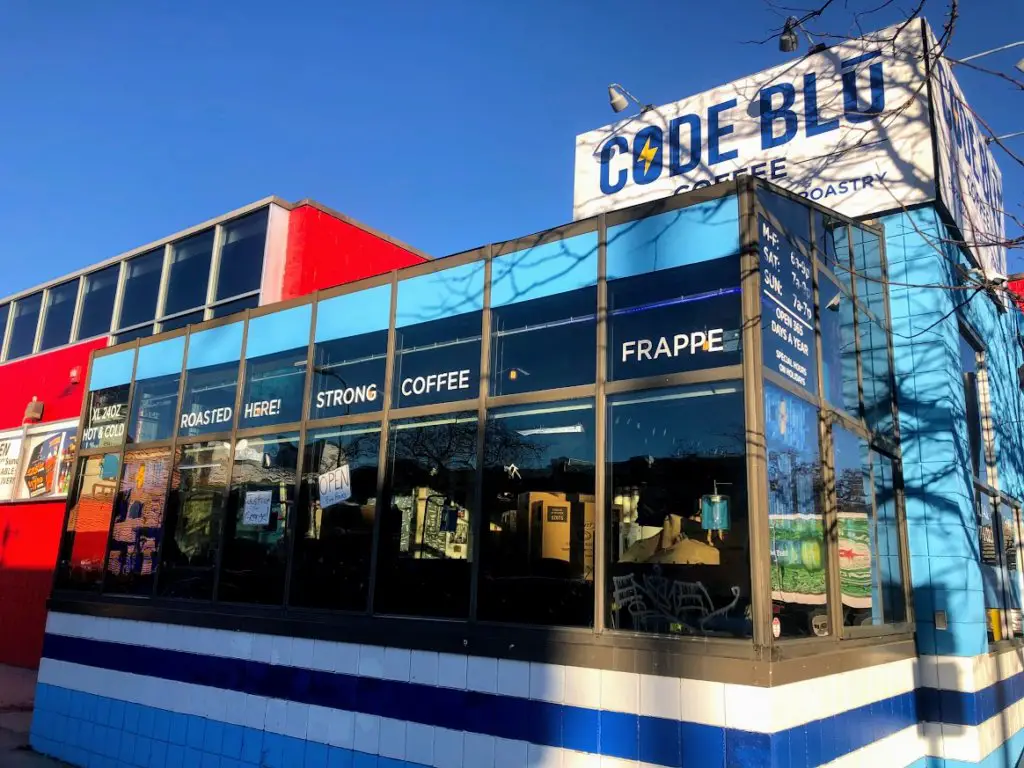 Dogwood Coffee
THREE TWIN CITIES LOCATIONS—East Lake, Northeast, and Saint Paul
The ever-popular bright orange Dogwood Coffee Co. is always worth a stop and you can make that in three different locations. Their place in East Lake Minneapolis is spacious with an industrial vibe and plenty of spots to work—including cute little booths.
Dogwood Coffee Co. serves a fantastic Americano and the croissant was flaky and buttery. Classic. I'm also told by a 10-year old that the hot chocolate is an 8.5/10 😉
The East Lake location has plenty of parking on 41st Ave. You can preorder online.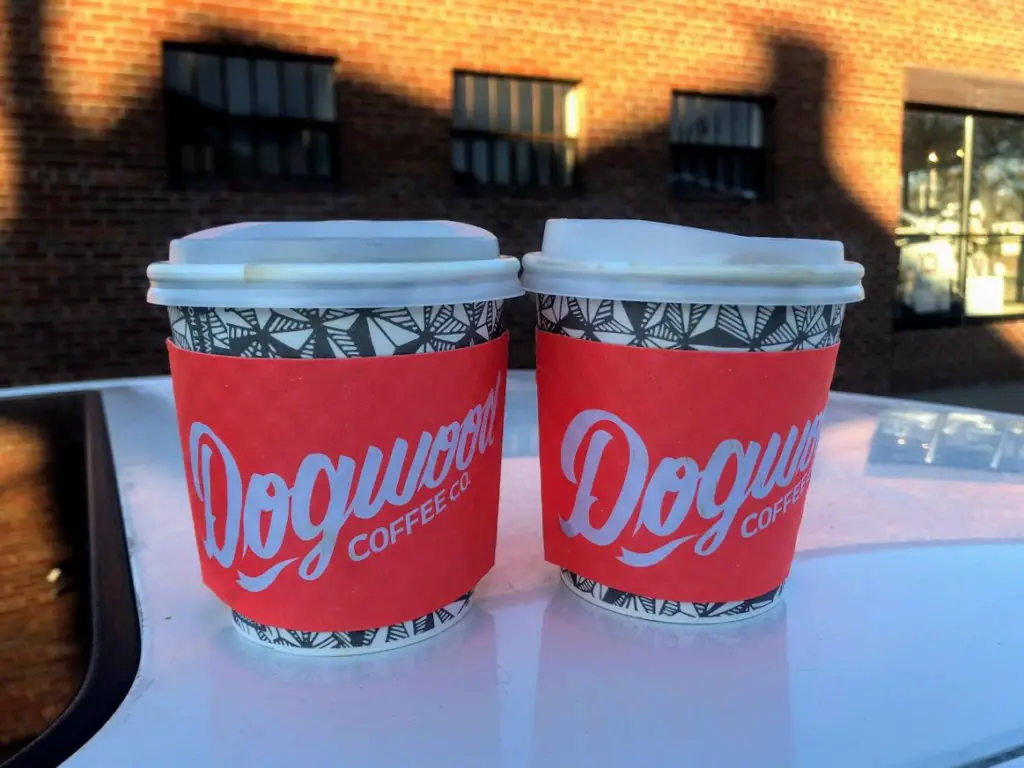 Corner Coffee
THREE MINNEAPOLIS LOCATIONS—Uptown, the North Loop, and Camden
I like this spot. It's not over the top. They serve good coffee. Their baristas are friendly. And they highlight local artists by hanging artwork and having live music. I ordered the Nordic Latte which included cardamom, cinnamon, and homemade vanilla syrup which was unique and tasty.
Corner Coffee also has a great selection of year-round seasonal specials like an Eggnog Chai and Cranberry Ginger Latte so take advantage.
The Uptown location is surrounded by construction but you can still easily park on Grand Ave. And it's a great places for grabbing coffee before a walk around the Chain on Lakes. Order online to make everything quick and efficient!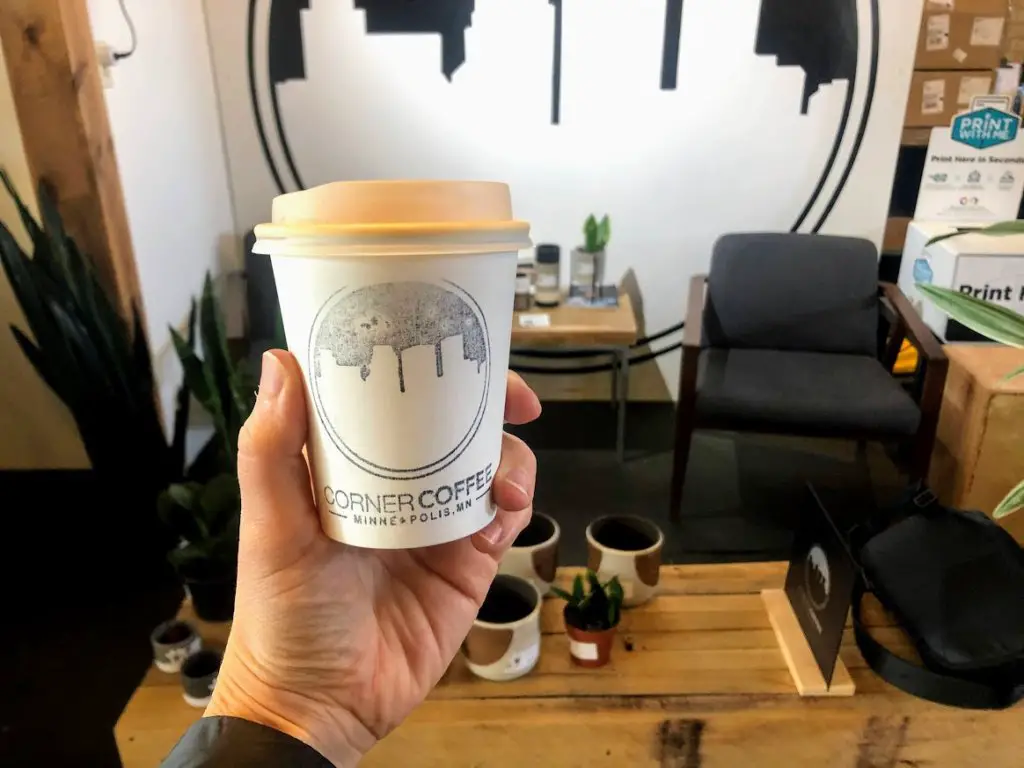 More Minneapolis Coffee Shops
Spyhouse Coffee Roasters: One of the most popular coffee shops in Minnesota. Honestly, it's not my favorite coffee to drink (*ducks*) but I am likely in the minority here! Try for yourself at one of the 4 locations.
Peace Coffee: Another solid option with organic coffees. And I LOVE all of their design.
Gray Fox: I like to come here for their happy hour—great wine bar + prices in a homey enviornment! But I'm told they have delicious coffee as well.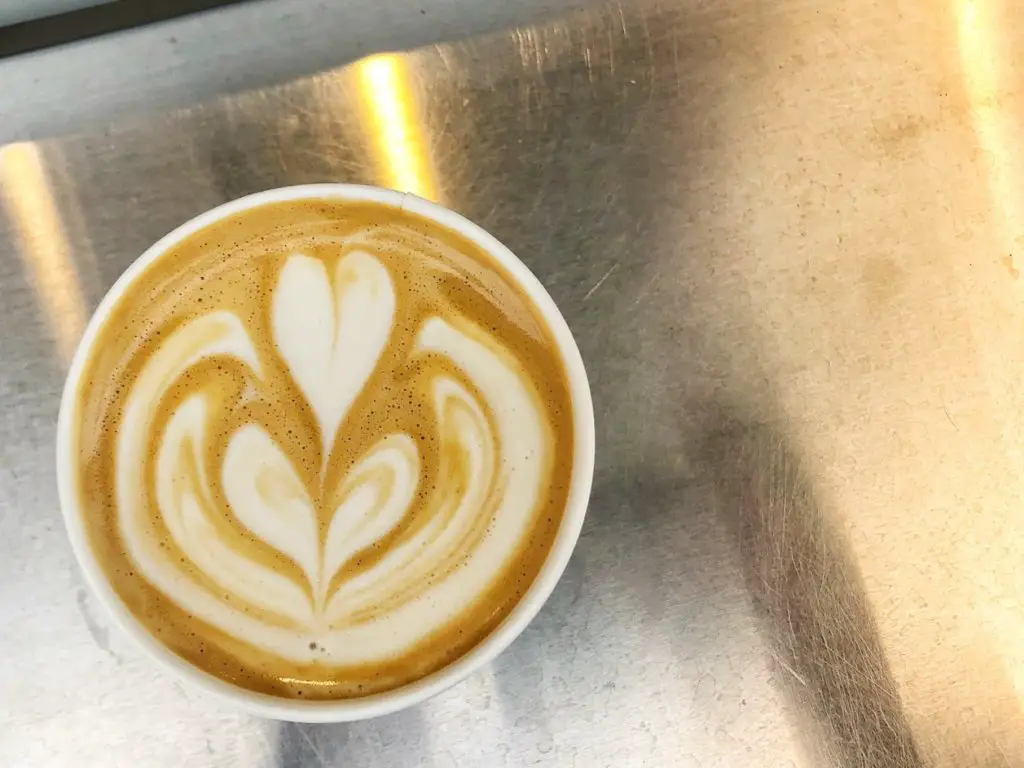 Coffee Lovers! Did Your Favorite Minneapolis Coffee Shop Not Make the List?
Let me know in the comments! Of course, I didn't go everywhere in Minneapolis so I want to know where to go Sunday mornings for coffee dates with good friends to help support these great local businesses.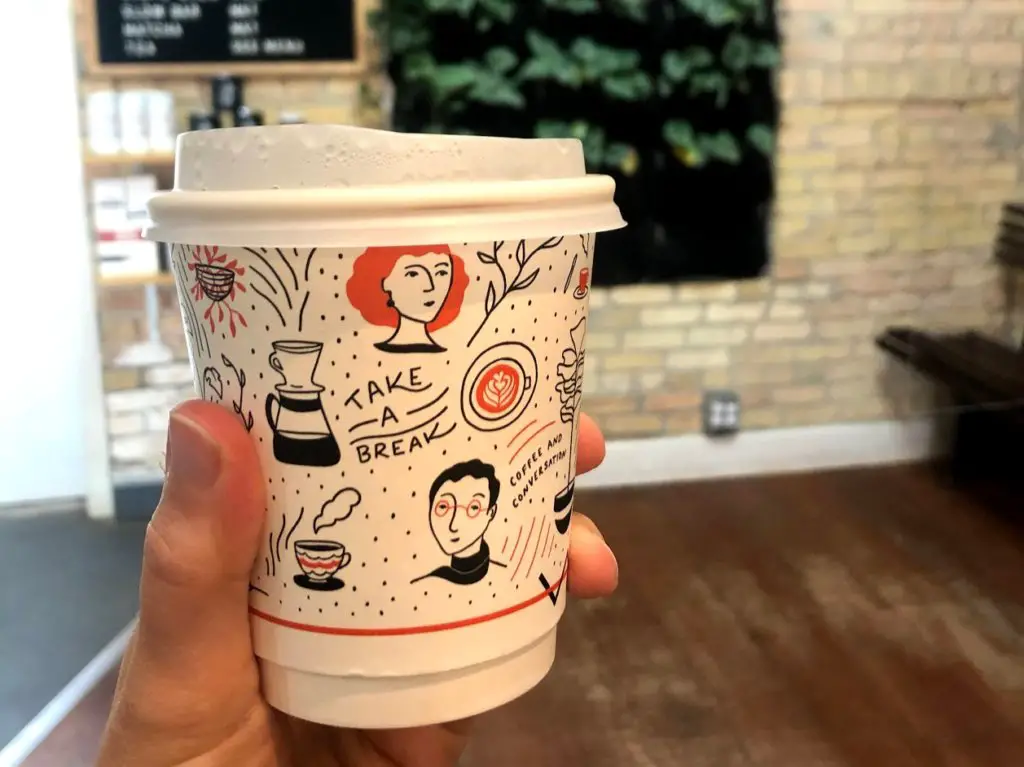 Looking for St. Paul?
Read 10 Coffee Shops in St. Paul You Should Know, which, of course, includes Cafe Astoria and Nina's Coffee Cafe, but does not stop there!