10 TIPS FOR LONG FLIGHTS
You finally booked your flight and are ready for your next adventure across the ocean. But then a few days away from take-off, it starts to sink in. Wow, this is a long flight. I'm going to be on an airplane for 8. straight. hours. What in the world am I going to do? I hope I don't get sick. My back is going to be so stiff. And my skin…ugh.
Are long flights enjoyable? Not really. Can they take a toll on your body? Yes. Do you face boredom, lack of comfort, and hunger? Potentially. But there are some tricks to make your journey bearable. Follow these 10 Tips to Survive. And remember, long flights are the price we pay to get out and explore.
WATER
PSA: DRINK A TON. 8 oz. per hour while in the air. Are you going to pee every hour? Probably. But you want to stand up often anyway. Avoid dehydration and the nausea, headaches, fatigue, and worsened jetlag that comes with it. Start a day or two before your long flight and get in the habit of downing even more than you are used to drinking.
Tips:
Make sure you take an empty water bottle (to get through security).
Ask flight attendants for a "can of water." If you ask for just water, you get a tiny cup that's big enough for a toddler.
I won't tell you not to order alcohol because I practice what I preach but make sure to order your cocktail and water.
You don't have to wait for flight attendants to come around. Walk to the back and ask for more any time you need it.
VITAMINS & SUPPLEMENTS:
Staying healthy on an airplane is not exactly easy. There is always the person we glare at in our head for hacking up a storm and creating an airhorn into a Kleenex. To avoid getting sick, I take 3 precautions:
Elderberry: Known for boosting the immune system with its antioxidants and vitamins, it helps prevent and ease cold and flu symptoms. I take 2 per day during travel. Get the pills vs gummies.
Probiotic: The "good" bacteria we need to keep our digestive systems healthy and regular. We typically eat/drink a variety of things our bodies aren't used to while traveling. This supplement will help us adapt and "feel normal." Start taking 1/day a week or two before traveling and continue throughout your trip.
Emergen-c: Not just for sick people! Extra Vitamin C! And adds to our water intake. I take one of these every morning I travel. And a few days throughout my trip as well.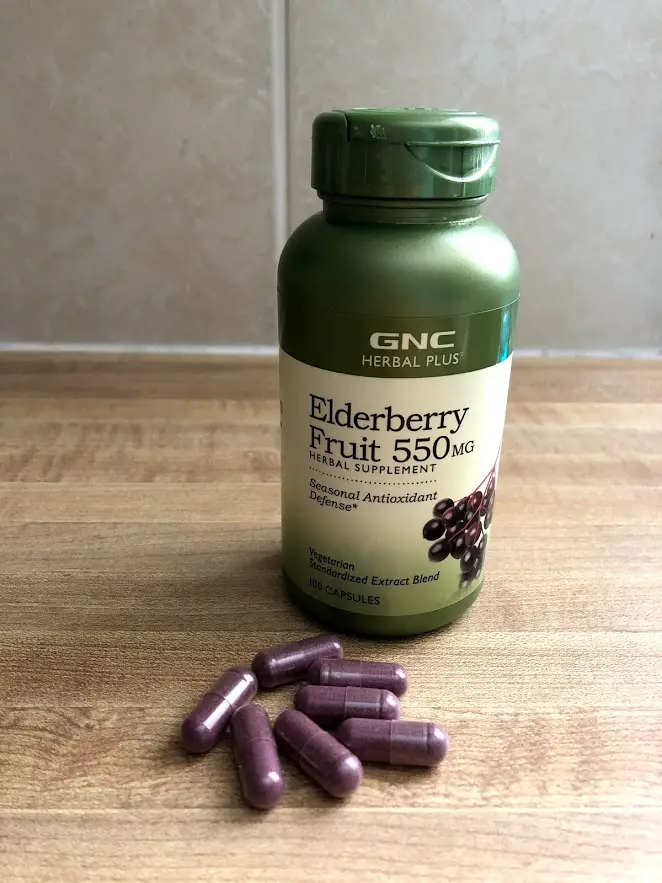 MOISTURIZER
Long flights start to feel like the desert with dry cabin air. And your skin is going to notice. In addition to drinking water at all times, make sure to pack a small travel kit with lotion and chapstick. Nothing feels better mid-flight.
TIPS:
Make sure it's 3.4oz or less or security police will make you throw it in the trash. Which is heart-breaking.
Take it easy on the fragrance. Your seatmates probably won't appreciate your cucumber watermelon Bath & Body Works.
SMALL TRAVEL KIT
Don't stop there. Though I think moisturizer is most important, there are plenty of other essentials to add to your travel kit!
Lotion; unless you want to feel like an iguana.
Chapstick; unless you want to feel like a dry sponge.
Eye Mask; if it's your thing. They make me feel less aware of my surroundings and like someone is going to steal my iPhone. But if it helps you sleep, more power to you.
Earplugs + Headphones; babies. And toddlers. (Who are actually worse than babies.)
Gum and breath mints; plane food…plus it makes you feel clean.
Face/hand wipes; people. Hundreds of people.
Kleenex; one of those things that are just nice to have on you. Airhorn-guy might need them.
Pen; for those international cards you have to fill out. Which they give you and then the flight attendant says sorry, I don't have a pen. Okkk?
SNACKS
They hold you over and, better yet, pass the time! Long flights still serve in-flight meals and snacks. But what happens when their options aren't the best? Chicken salad sandwich from an airline…ew. 4 packs of pretzels…I'll pass. Or you might hit that I'm bored and need to eat stage? Be prepared.
Tips:
Do high-protein snacks that keep you full vs. processed sugary goodies. Sugary snacks increase your chances of over-eating and are more likely to hurt your stomach.
Perfect Bars, Beef Jerky, and Nuts are my go-to's. Just be careful of salt intake!
Buy them at the grocery store vs in the airport to save a lot of money. $12 beers > $12 beef jerky.
Yes, they get through security. Put them all in one big baggie so you can easily transfer them to a security bin.
WORKOUT
Get your body moving before you even step foot on the plane. Exercising releases chemicals in your brain to reduce stress, and it will tire you out. My routine is to make sure I get a good strength-based workout in the day before travel so my body is ready for rest the following day. On the day of travel, I like to sneak in a 15-20 minute cardio session, if possible.
Tips:
Push yourself for a good workout, but don't do anything out of the ordinary. The last thing you want to be is sore.
And don't spend your time sitting in the gate area pre-boarding. Walk around. Or at least stand-up.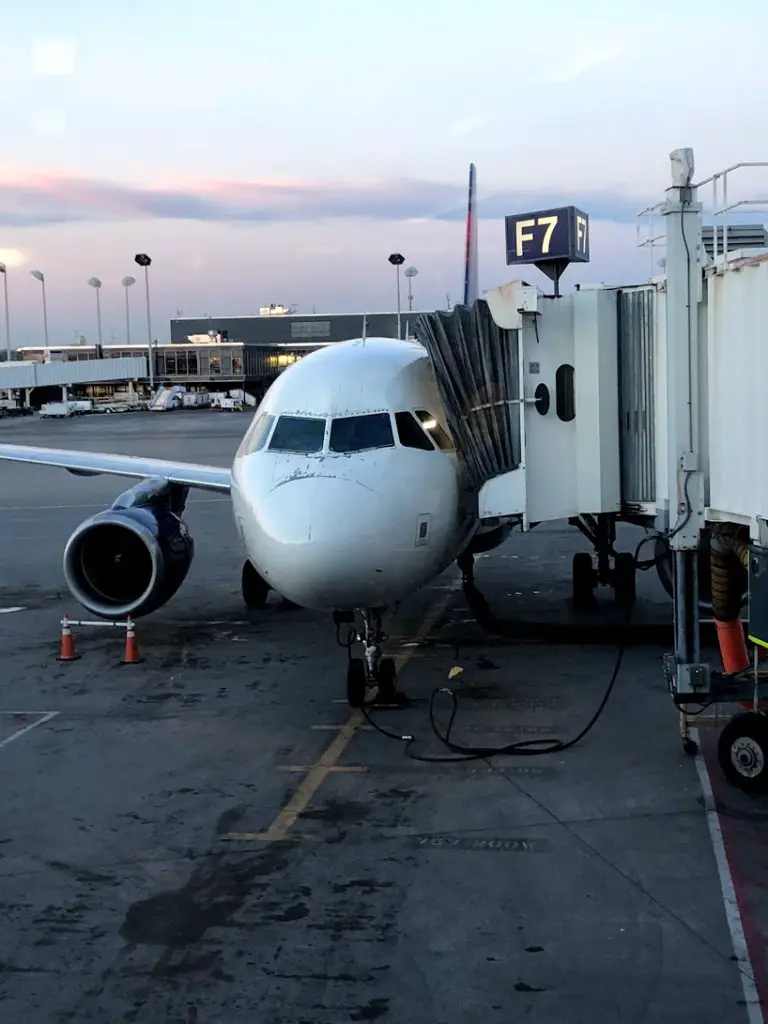 GET UP TO MOVE/STRETCH
Very important. Get up every 1-2 hours to stand and walk down the aisle, go to the bathroom, and stretch out to avoid stiff and tense muscles. Most planes traveling for an extended period of time will have open spaces near the bathrooms for people to stand and stretch out. Even when you're sitting, incorporate neck and shoulder rolls, and ankle and wrist circles to keep your blood flowing. Which brings me to…
PAY THE EXTRA CASH
I'm not one to pay extra for much on a flight—besides booze! But when it comes to 5+ hours in the air, I'm all for paying a little extra for a seat that's more comfortable. My trick is to check in right away—24 hours in advance, wait until my seat is assigned, and if it's a middle seat, I go ahead and spend $10-30 on either an aisle or a window seat. I prefer aisle seats for long flights for the convenience of standing up without bothering others and being able to extend your legs when need be.
TIPS:
Stuck in the dreaded middle seat? Go to the bathroom right before takeoff. Snag both armrests immediately. Don't feel bad for reclining your seat back. Have a neck pillow. Glance around after take-off to see if there are any available seats. And remember, you are building character.
Take a small carry-on. This goes under your seat and you will want the maximum amount of space there as possible.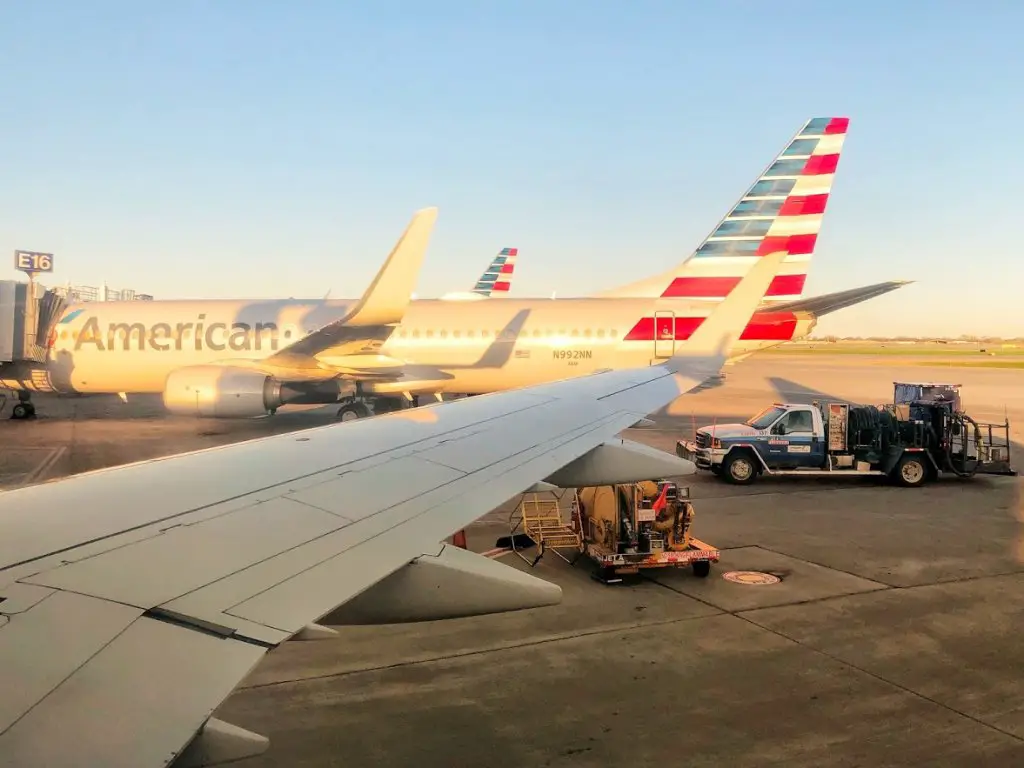 DRESS COMFORTABLY & IN LAYERS
You might feel like looking your best in the morning but come hour 8 you will be thanking yourself for the cozy, loose-fitting layers. Seems obvious but I am always thrown off by people who are dressed in uncomfortable clothes. My go-to:
These Athleta pants: not only are they cute but they have a loose fit.
This Athleta cardigan: long, soft, and warm, with a heaviness feel to it that feels like a constant hug. Big enough for a comfy t-shirt or tank underneath.
Tennis shoes:  Planes tend to be on the chillier side so I always stick with full shoes. Not only that, tennis shoes compress your feet and lower the risk of swelling.
Bonus! Scarf: Aka accessory, aka pillow, aka warmth on a chilly plane. Triple threat.
ENTERTAINMENT
You have hours to kill so make sure you are prepared. Believe it or not, these long hours in the sky can actually be enjoyable—especially now that more flights offer free movies, live TV, and games.
Work: it's not very often you have hours on end without disruption. Use the time to write, get emails out of the way, plan for next week, etc.
Movies: check your airline's website beforehand to see what movies they currently offer. Pick one you have been wanting to see and you'll be even more excited as you anticipate watching it.
Books/eReader: I actually love being on flights for the sole purpose of reading time.
Podcasts/Music: Make sure you download your favorites beforehand (so they play in airplane mode.)
Long flights can be tough but are necessary when you want to explore the world. Now that you are prepped to endure the long hours, check out 24 Airport Tips That Will Make You a Travel Pro to make your full experience easy as can be.