Fresh from the ocean. Right off the tree. Authentic and flavorful. You are going to love to eat in Maui. From the fresh fruits and nuts to the wild-caught Mahi Mahi, to the warm banana bread and colorful açaí bowls, there are plenty of "must try's" on the island. And the Maui restaurant scene is not just your average restaurant. There are small cafes and huts, as well as food trucks and coffee shops. Here is where to go:
Maui Restaurant Options
Monkeypod Kitchen
Monkeypod was my favorite place to eat on Maui. It's in Kaanapali just off the beach walking path with three different restaurants in close proximity. Great service, live music, and outdoor seating with a unique and creative menu. The soft, yet crunchy, Mushroom Potstickers burst with flavor. Best ever. Their Oven-Roasted Brussels Sprouts are crave-worthy and the wood-fired Margherita flatbread pizza was fresh with quality ingredients.
Fun fact: Monkeypod trees thrive in the Hawaiian Islands. And the grass is literally always greener under the tree from its leaves releasing nitrogen which naturally fertilizes the soil beneath it. Who knew!?
COST: $40 for potstickers and Brussel sprouts split between two + 2 beers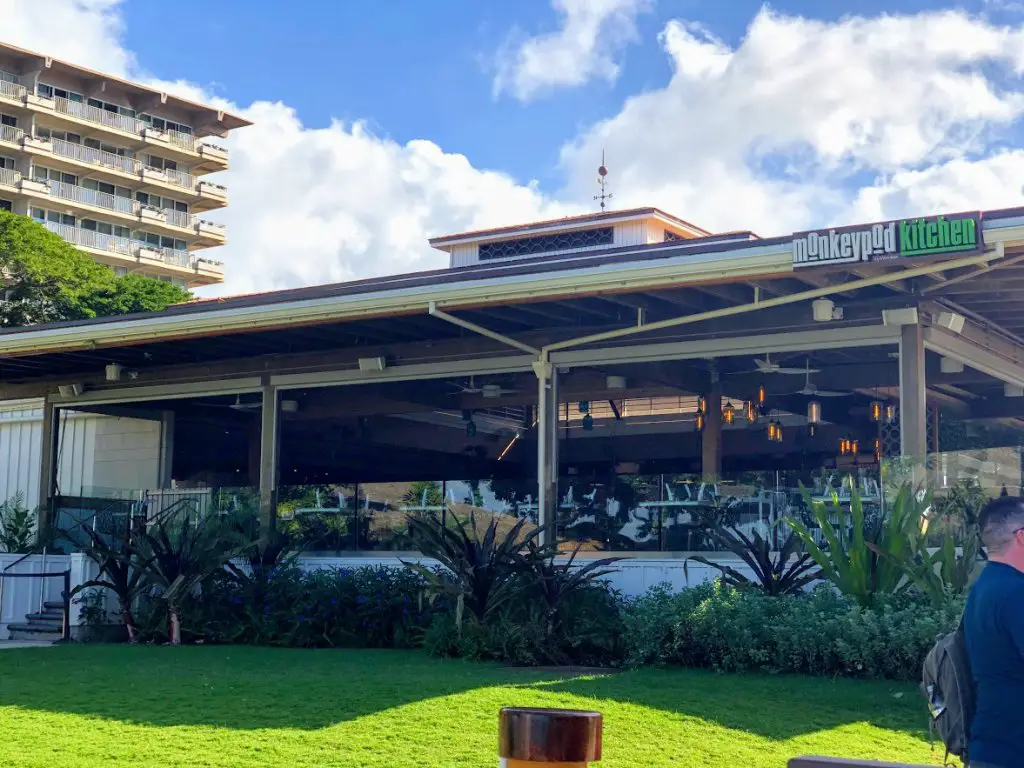 Fleetwoods on Front St.
Drummer Mick Fleetwood's restaurant in Lahaina is somewhat of a tourist trap, but it's worth it. You don't necessarily need reservations, but we made them to be safe and to guarantee a spot on the rooftop patio where they have live music and an ocean view. It's upscale, offering steaks and seafood, and I had the Ahi Poke which I enjoyed. Though the waiter told me it was the best one on the island and I think he got my hopes up a little too high.
Eat the bread and butter—I know, who wouldn't? It was seriously the best butter ever (weird). Why? Added sea salt. Brilliant.
Take a peek around the store after dinner. It's pretty cool and sells a collection of photos, albums, and memorabilia.
And lastly, if I went again, this is the perfect place for happy hour.
COST: $32 for Ahi Poke and a Coors Light (plus bread and butter)
Aloha Mixed Plate
Ocean-side patio seating. Rare affordable prices vs. others in the Maui restaurant scene. Traditional Hawaiian plates. Aloha Mixed Plate is a decent place to come if you're looking for a low-key meal. I wanted to try a variety of options and ordered the Aloha Mixed Plate with shoyu chicken, imu braised teriyaki beef & catch of the day (Mahi Mahi). The real highlight? Flourless Pineapple Upside-Down Cake. Holy moly. De-licious.
COST: $35 for the Aloha Mixed Plate (came with white rice and mac salad), and a Moscow Mule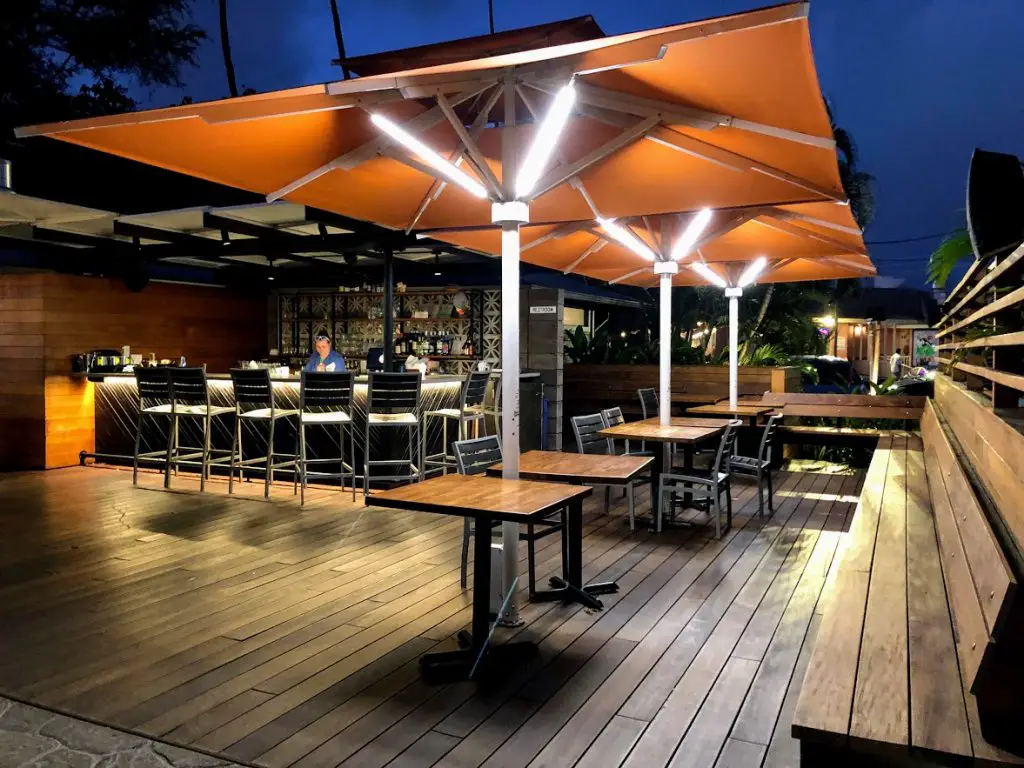 Ka'anapali Grille and Tap Room
Need an open-air bar on the beach to watch the game? Ka'anapali Grille is your answer! The Grille opens at 8:00AM (perfect for 12:00PM start times.) Bloody Mary's are strong. And the mimosas mix it up with a variety of fresh island juices. They serve generic American food that at least fills your belly. And the bartenders are ready to have fun, serve drinks, and watch the game with you!
Get here a few minutes before 8:00AM for a seat at the bar. We went for NFL Playoff Football and there were already others waiting.
Breakfast Special option for only $8; two eggs served with hash browns, rice, or grilled tomatoes and your choice of toast, includes coffee (great deal considering coffee by itself is $4!)
COST: $35 for two Bloody Mary's, two draft beers, and a fruit bowl (served in half a pineapple!)
Miso Phat
One of my goals was to eat sushi in Maui. And we found the perfect, happy little sushi bar! Miso Phat is an intimate space (5 or so tables plus the sushi bar) in Kahana that serves high-quality fish, hand-picked daily. The waitstaff was nice, prompt, and you could tell they were having fun.
I had the Caterpillar Roll and if you are a fan of unagi, you have to try it. I also tried the 007 Roll (Spicy Tuna roll wrapped with unagi) and the Spicy Salmon Roll. Sushi so good I didn't even take a good picture!
Plan an earlier dinner. We arrived at 6:00PM and only waited a few minutes but by 6:45PM, it was packed.
COST: $30 for two specialty rolls and one sushi roll split two ways
The Mill House
If you are looking for somewhere to splurge on food and cocktails with beautiful aesthetics and gorgeous views of Waikapu Valley, head over to The Mill House. Located on Maui Tropical Plantation, you can hit their coffee shop, enjoy the gorgeous property before or after your meal, and walk through a few cute gift shops.
The food comes in small portions, though it's all farm-to-table with a ton of unique flavors. I thought it was a bit overpriced, but when you're in such a beautiful space, you usually pay for it! Plus, the waitstaff was attentive and knowledgeable about the menu and surroundings. It's definitely an upscale option when it comes to the Maui restaurant scene.
Go for lunch or you're really going to spend an arm and a leg.
I didn't love my (not-so-strong) drink. It was pretty. But $15 pretty? No. Get a beer and save money for the food.
COST: $40—one chef's plate (pork musubi), two small plates (chickpea cakes and smoked fish profiteroles) split between two. Plus a cocktail (Old Tom, New Tricks)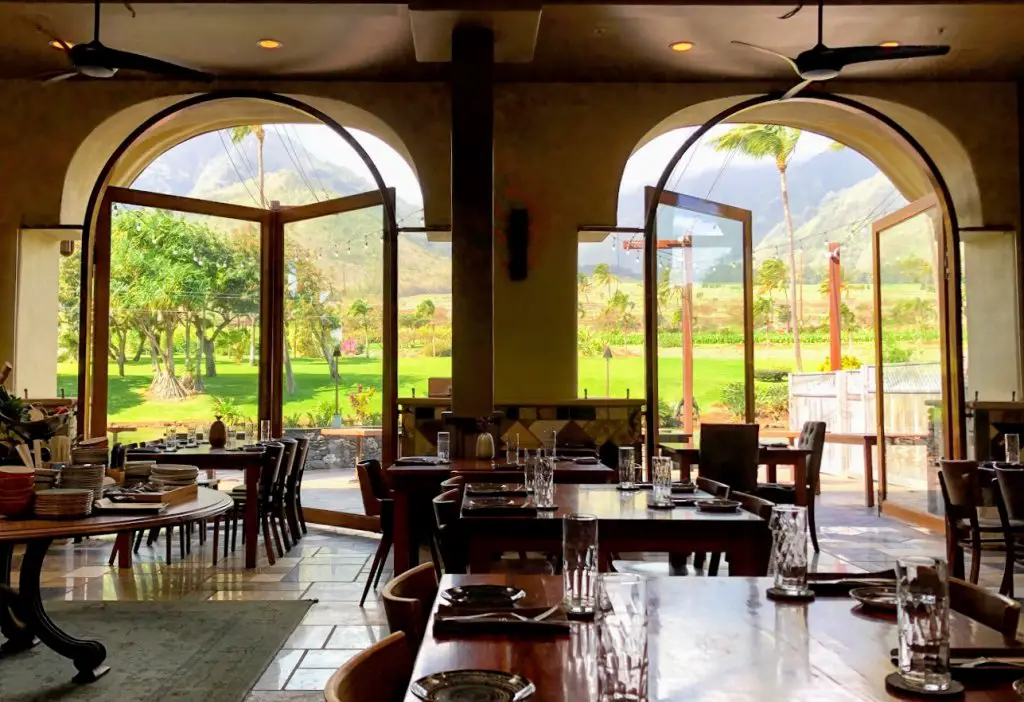 Cafe's & Coffee Shops
Paia Bay Coffee Bar
Fresh ingredients, an adorable ambiance with tropical garden seating, a bit "off the beaten path," and a perfect place to eat in Maui. Of the entire Maui restaurant scene, this was my favorite meal and vibe. And the best açaí bowl I have ever had, complete with granola, bananas, coconut, honey, and extra berries. Paia Bay Coffee Bar also offers scrambles, croissants, coffee, and cocktails. And it is open for breakfast, lunch, happy hour, and dinner.
This is the perfect first stop on the Road to Hana.
Get to Paia Bay Coffee Bar before 8:00AM, it gets busy—you want to start the Road to Hana early anyway!
It's not the easiest to spot but it's just on the other side of Ululani's Shaved Ice on Nalu Pl. off Hana Hwy.
Even if you're not doing Road to Hana, Paia is a cute surf-town that's fun to explore.
COST: $13 for the bowl (definitely filled me up…and I still think of this place daily!)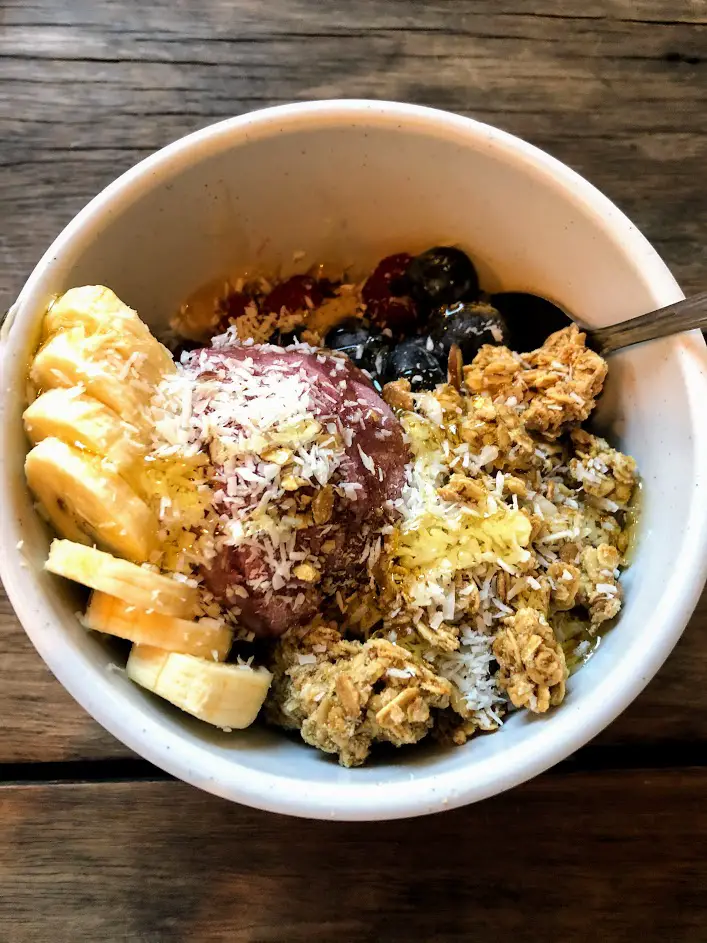 Choice Health Bar
There are a few Choice Health Bar's on the island and they are the perfect way to start the day. Organic, local, and fresh plant food with a variety of options from smoothies to bowls to juices. I grabbed another açaí bowl and though it wasn't quite at the level of Paia Bay Coffee Bar (more commercialized), I enjoyed it while sitting on Kaanapali Beach. It doesn't get better than that!
COST: $10 for the small POWabunga açaí bowl (the large is $13 and more bang for your buck + big enough to split with someone)
Ono Gelato Co. and Espresso Bar
If you are in Lahaina and have a sweet tooth, make sure to stop here! I had the vanilla with sprinkles gelato and it was drool-worthy. Plus it's a cute shop with outdoor seating on the ocean and a wall of souvenirs.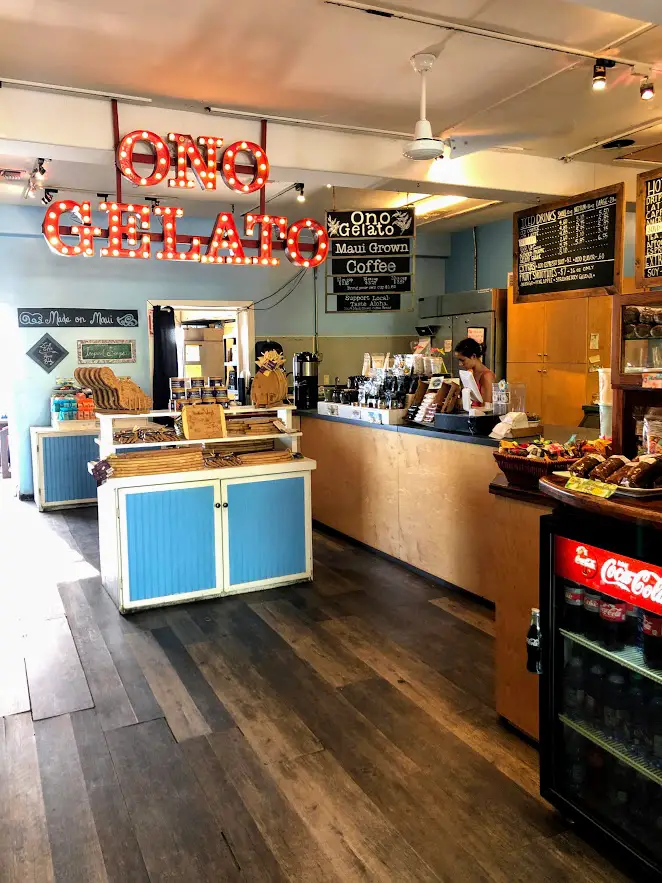 Food Trucks
Like I said, the Maui restaurant scene isn't just regular restaurants. They have amazing food trucks and food stands. If you do the Road to Hana, there are small huts, food trucks, and fruit stands off the side of the road. Don't expect any typical restaurants, but you can expect some authentic Hawaiian food!
Halfway to Hana
This is a must-eat in Maui. As you make your way to Hana through Paia, Mile Marker 17, you'll see it on your right. Buy a small loaf of fresh, warm banana bread. Maui is full of amazing banana bread due to the fruit's abundance and deliciousness but Halfway to Hana is known for some of the best! And don't forget a fresh coconut water to wash it down. I'm hooked on that stuff now.
They have small ginger chews for $0.25 each and I recommend grabbing a few. They are great for settling the stomach when you're on the Road to Hana.
COST: $9 for banana bread loaf (split between two), coconut water, and ginger chews.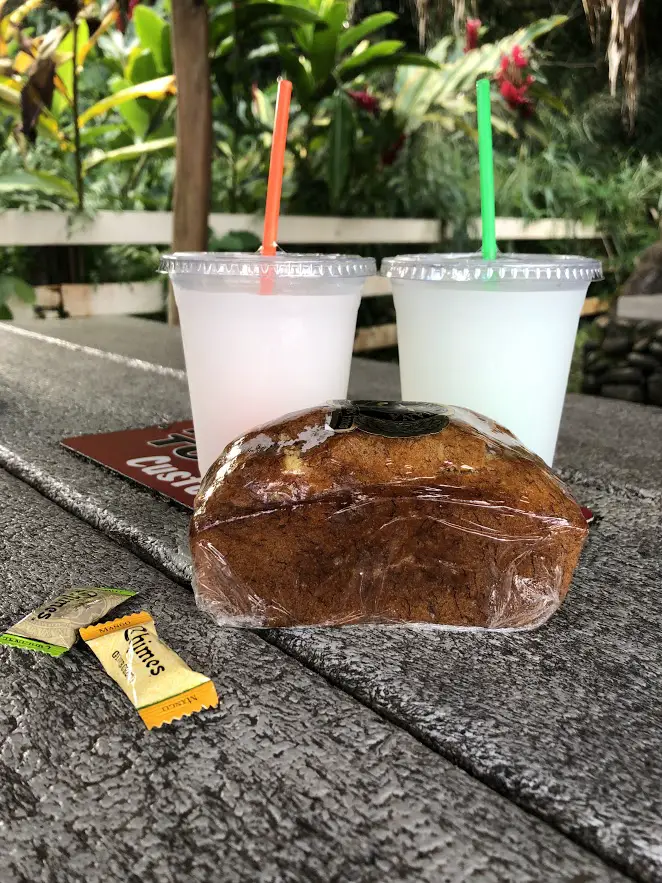 Island Style Tacos at Nahiku Marketplace
Mile Marker 29 on the Road to Hana will bring you to the Nahiku Marketplace. Get out, stretch your legs, and pick a food truck! Thai, BBQ, tacos…you have options! If you choose Island Style Tacos, go authentic with the Kalua Pig Taco complete with slaw, black beans, and house hot sauce! They're big, so one is plenty for a meal or perfect to share for a snack.
COST: $8 for one (big) taco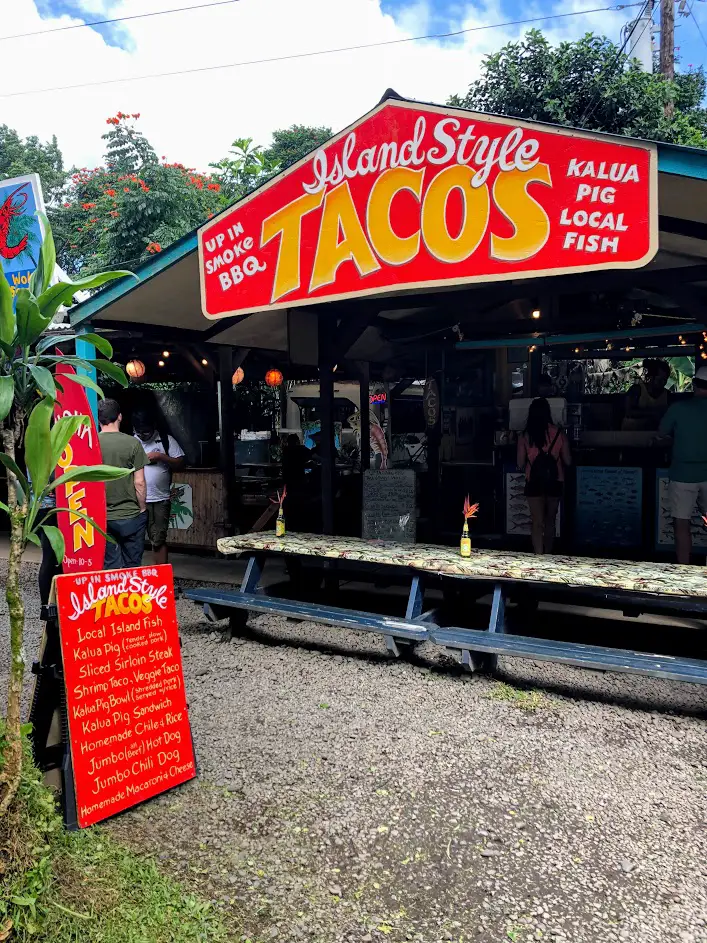 The Maui Restaurant Scene is Next-Level
But that's not everything on this beautiful island. Check out 6+ Fun Things to Do in Maui for some great tips on what to do during your vacation. And don't leave out Road to Hana Stops + Itinerary for a Maui must-do!