PATIO SEASON! A season we all know, love, and long for in the Twin Cities. Fresh air and vitamin D while you sit outside with your friends and enjoy food and drinks—it will get you out of bed on a Saturday morning.
And you can easily find fun outdoor patios in Minneapolis to appreciate the warm weather and a relaxing dining experience. From Northeast to south Minneapolis and everywhere in between, there is a spot for you.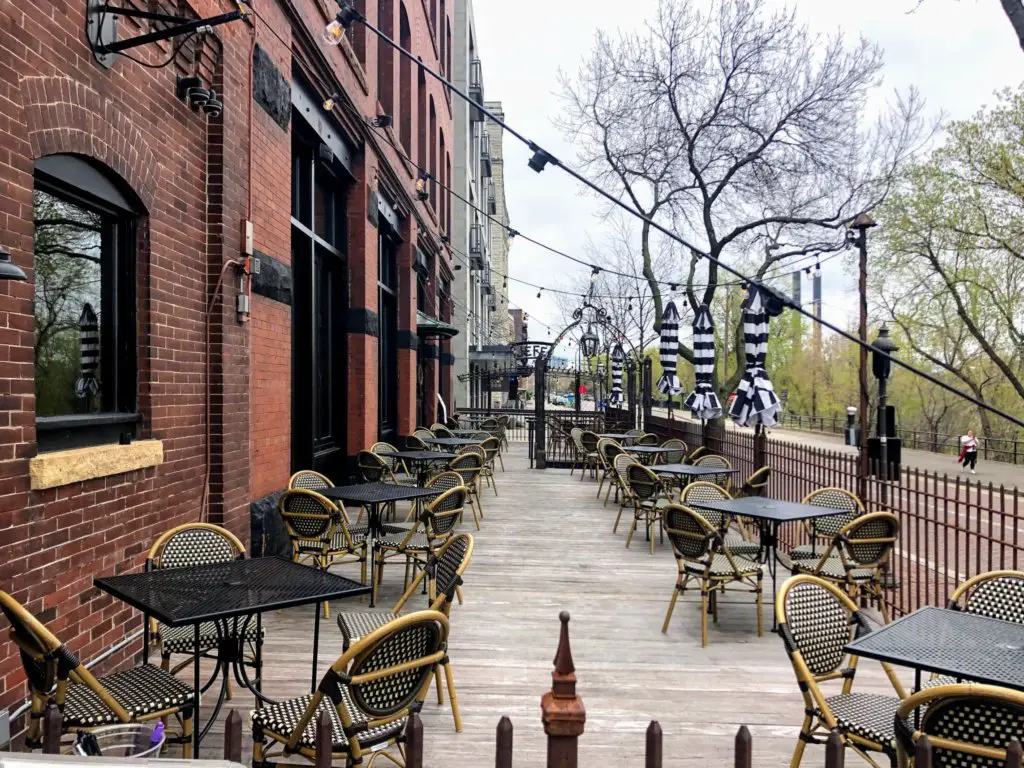 Outdoor Patios In Minneapolis: Downtown/North Loop
Union Rooftop
One of the best outdoor patios in Minneapolis is Union Rooftop complete with an open patio and glass retractable roof. This outdoor patio serves up skyline views in a gorgeous setting!
Their upscale American menu features burgers and sandwiches along with hand-crafted cocktails, beer, and wine. After you enjoy the rooftop, don't forget to stop inside for a few rounds of classic bar games!
Seven Steakhouse Sushi & Rooftop
Swanky and sophisticated. Enjoy the finer things at the Seven Steakhouse Sushi & Rooftop patio in downtown Minneapolis. The rooftop is vibrant and elegant with green plants and outdoor couches. Perfect views of the skyline and delicious cocktails are hard to beat!
Get the "Confidence" (Tito's, Aperol, St. Germain, grapefruit) and a sushi roll. Their brunch menu is also worth noting! Note: Temporarily closed but set to reopen.
Hideway Cabin Bar
If you're looking for easy-going and relaxed, head over to Hideaway Cabin Bar located on SE Main St. Sit out on their deck with views of the Mississippi River and Minneapolis skyline—aka the perfect location to enjoy beers with a Bacon Cheeseburger or Korean BBQ pizza. This is one of the best patios in Minneapolis with a fun, chill vibe.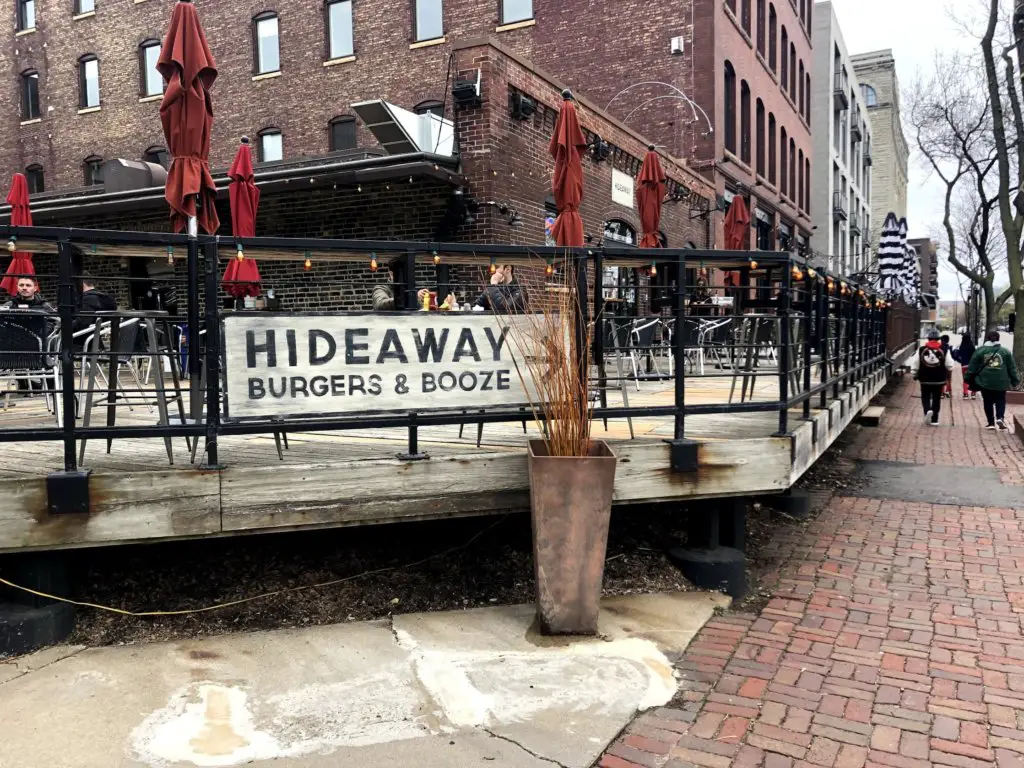 Smack Shack
One of Minneapolis' highly sought after restaurants. You will never regret your decision to visit Smack Shack for some casual seafood. And a sunny afternoon with a lobster roll on their outdoor patio makes it all the better.
The inside has an industrial vibe while the outside ambiance includes brick amongst flowers and garage-style doors. If you're a seafood fan (or just enjoy cocktails!), get this place high on your list. Note: their heated patio remains open through winter with heat lamps and enclosed space.
Number 12 Cider
I don't know what's better here; the cider or the food truck wood fire pizza. (Honestly, the latter is so so good and worth coming for…) But the beauty is you can enjoy both on their string-lit, outdoor patio complete with picnic tables, flowers, and the cute food truck and signage. Make sure to grab a flight so you can try a range of Number 12 Cider creations.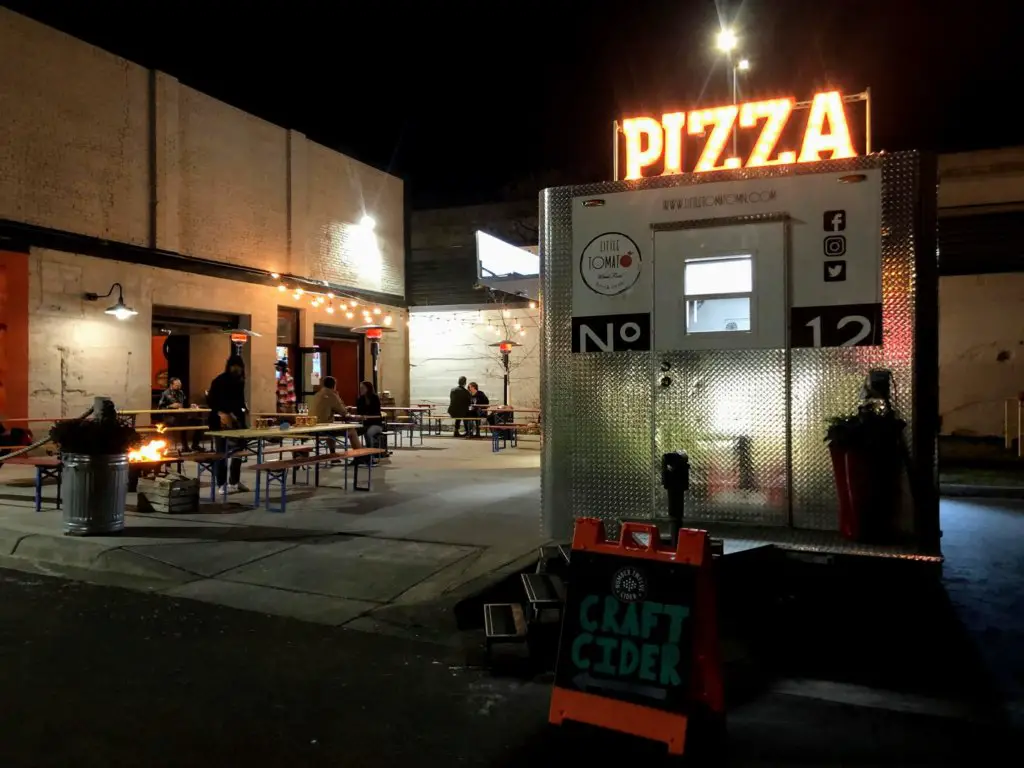 Spoon And Stable
Cozy and rustic and, overall, one of the top Minnesota restaurants. Spoon and Stable is a swanky and phenomenal experience when you snag a spot on the small sidewalk patio. (That said, it is small and if you have to sit inside, you won't be disappointed. It's beautiful.) This Instagram-worthy restaurant is perfect for any occasion and you can't go wrong with the French-inspired menu.
Aster Cafe
The cutest little courtyard with outdoor seating is one of the premier spots for outdoor dining in Minneapolis. Sit on the prettiest cobblestone street underneath big green trees with skyline views at Aster Cafe.
Enjoy a flatbread with a glass of wine for the perfect lunch date. Their menu screams fresh and unprocessed and your experience here will leave you happy and satisfied.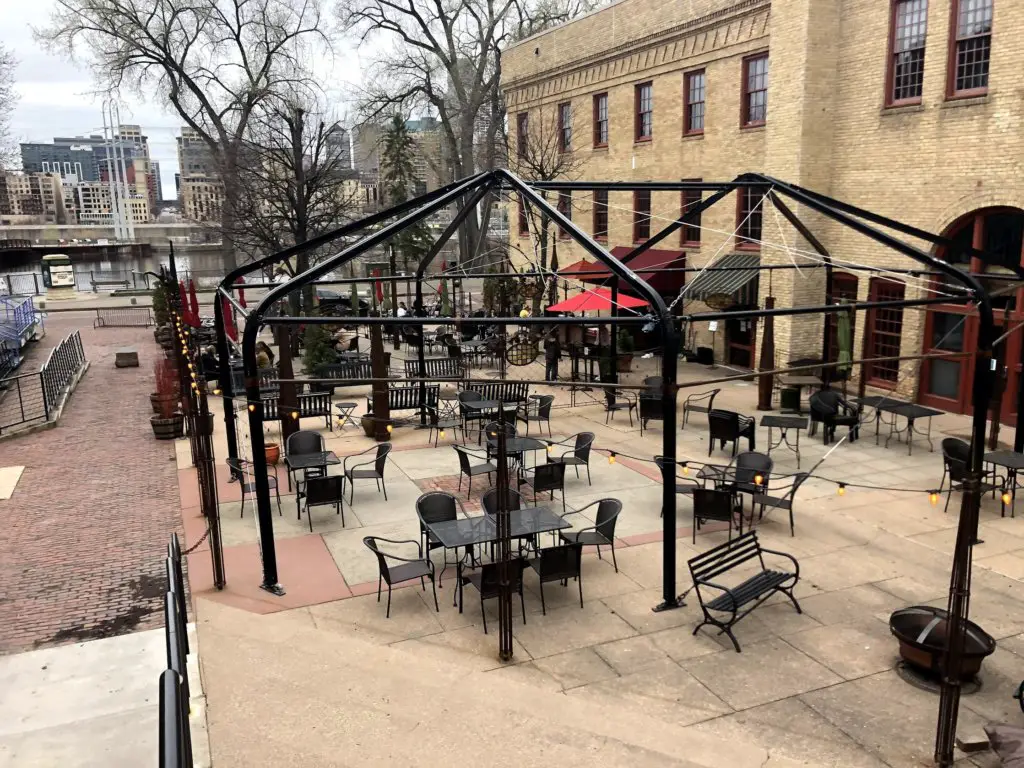 Red Rabbit
Enjoy an authentic Italian outdoor dining experience at Red Rabbit, located in the North Loop. Sit on the string-lit outdoor patio that includes comfortable seating and umbrellas.
And that's just the beginning of comfort because wait until a glass of wine, chopped salad, and plate of spaghetti and meatballs is sitting in front of you. Yum. Red Rabbit knows what they are doing and if you haven't been, get here quick.
Zen Box Izakaya
I don't have enough kind words for this restaurant. Snag a spot on the Zen Box Izakaya sidewalk patio to enjoy Japanese comfort food and one of the best bowls of ramen you are going to find in Minneapolis. I can't even look at their menu without my mouth watering. They have walk-up reservations and are just up the street from the Stone Arch Bridge.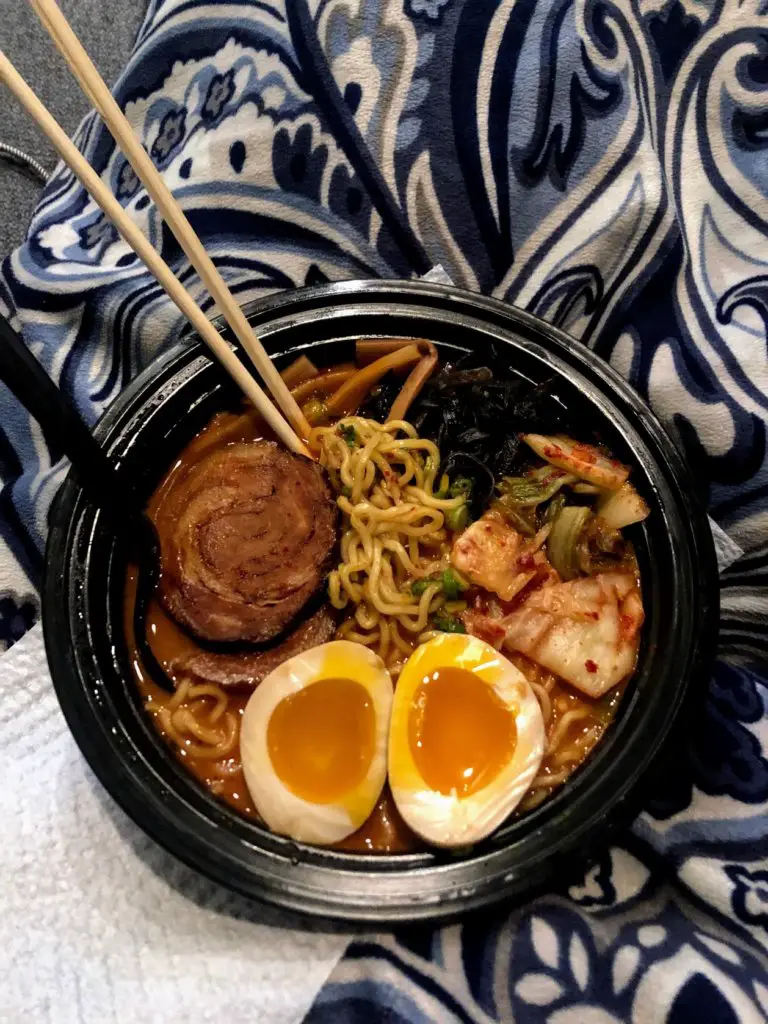 Outdoor Patios In Minneapolis: Northeast
Twin Spirits Distillery
Spirits developed in-house make the best cocktails—and that's exactly what you are going to get at Twin Spirits Distillery! Each one is uniquely crafted with fun ingredients on its ever-changing menu.
This is the first one-woman-owned distillery in Minnesota and offers a huge patio with plenty of space to enjoy your drinks in the fresh air. There is no food menu but feel free to order from nearby restaurants for delivery.
Their space is also heated in the winter! Read Heated Outdoor Patios in the Twin Cities if you're looking for a cozy spot in the winter months.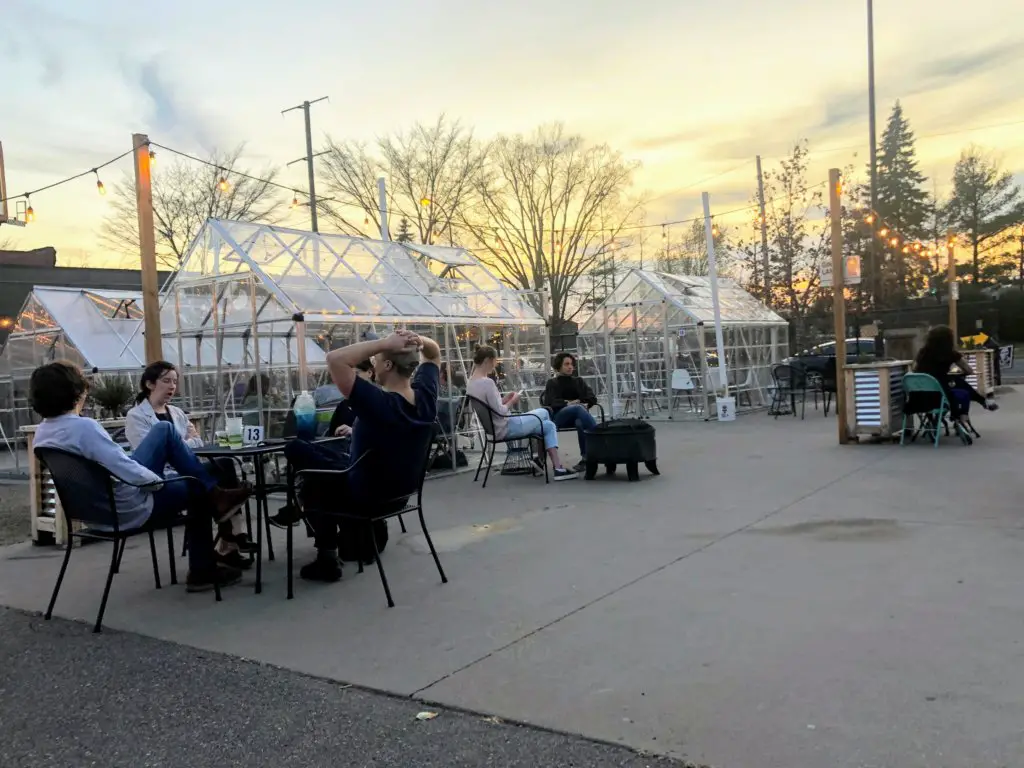 Betty Danger's
Sip craft cocktails on one of the best outdoor patios in Minneapolis—and the most fun. A Ferris wheel that displays some of the best skyline views you can find, mini-golf, and mini donuts.
Betty Danger's is a fun, vibrant, and happening place with bright cocktails and a retro country club vibe that is best enjoyed on their outdoor patio. It's like a mini amusement park and if you're not having a good time here, it's definitely you, not them! NOTE: Temporarily closed but is scheduled to reopen this spring.
Centro
Tacos and margs on an outdoor patio? Yaaas, please. Sign us all up. Trendy and new-age, Centro is a hot spot for Mexican food and drinks and their sidewalk patio seating is colorful and fun. If you love street tacos, this place should definitely be at the top of your list. (Get the barbacoa tacos and don't skip the chips and guac!)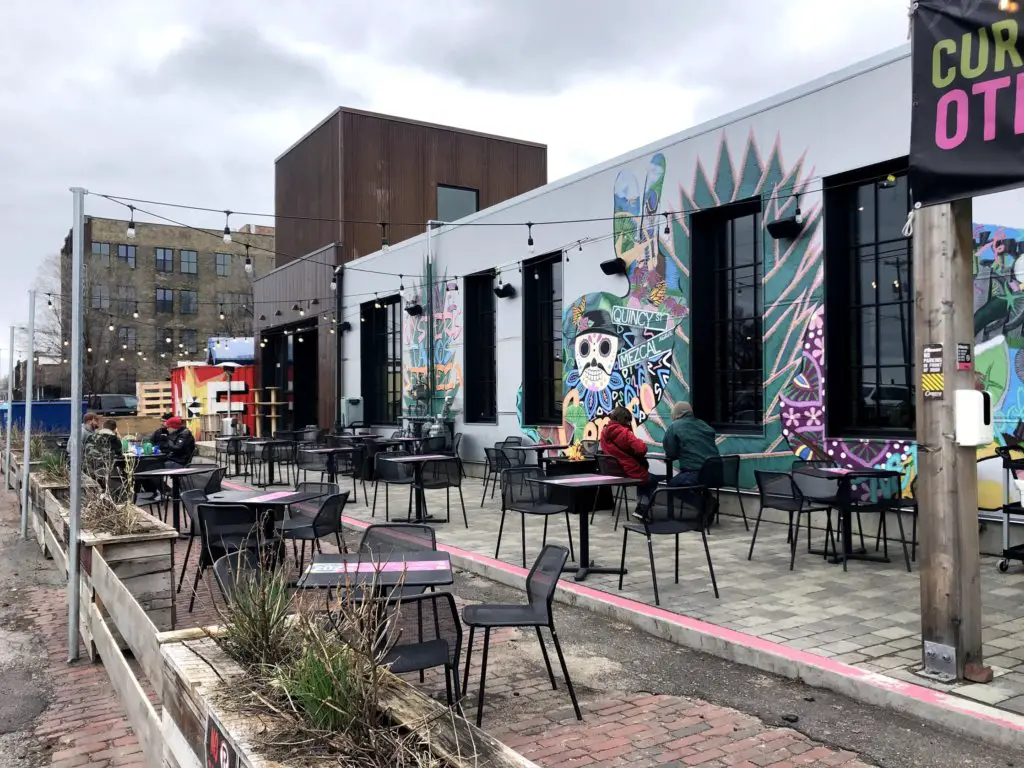 Sociable Cider Werks
Tough to go wrong with craft ciders, food trucks, and a lively outdoor space where you can grab fresh air and catch live music. Sociable Cider Werks ciders are made with freshly-pressed apples and a range of flavors to keep you coming back for more.
They conveniently have a huge parking lot with a bunch of picnic tables out front to enjoy the weather while sippin' cider. (PS, come wintertime they even have an ice rink. And it's a blast!)
Hai Hai
All of the good vibes. This place is so beautifully decorated in a way that makes you feel cozy, clean, and transported to another country. Hai Hai has a modern Vietnamese street food menu that is sure to comfort your soul. It's so green and trendy here and you will love sippin' a colorful cocktail and sharing small plates on their outdoor patio with flowery table tops, turquoise seating, and lots of plants.
Psycho Suzi's Motor Lounge
A Minneapolis hot spot right on the Mississippi River that offers a tiki-style vacation-vibe restaurant and bar. The Psycho Suzi's outdoor patio boasts a "Welcome to Paradise" sign as you enter and greets you with palapa-style seating and a menu full of tropical drinks.
The fun cocktails will bring you here but the food cannot be forgotten! Everything is delicious, they have great service and a bonus for a city restaurant with a dedicated parking lot! NOTE: Temporarily closed but is scheduled to reopen this spring.
Stanley's Northeast Bar Room
This is one of my go-to spots in Minneapolis. If I'm ever having drinks throughout Northeast, Stanley's is on the list. It's a no-frill, chill vibe and great food and solid beer options.
They have year-round patio dining, an all-day breakfast menu (awesome), a fantastic Cubano sandwich, and a welcoming setting. You can make online reservations though it's not necessary. They do have a parking lot, though small.
612Brew
We're pretty far down the list and finally, a brewery. Minneapolis has so many to choose from and 612Brew is one of the best. Their outdoor beer garden is the best place to enjoy their craft beer.
It's a large, simple space right in the heart of Northeast making it the perfect stop when you are in the area. Their craft beers range from IPAs and Pale Ales to Blondes and Pilsners.
Outdoor Patios In Minneapolis: South Minneapolis
Colita
A dining experience you won't forget. Colita, located in south Minneapolis, is a Mexican eatery with a modern twist. The combination of Mexican and smoked BBQ is a common theme and you'll enjoy both the good food and fancy cocktails in the updated and contemporary setting.
The ambiance on the outdoor patio is complete with lights, green plants, and fresh-cut wood. (And if you can't get a seat on the outdoor patio, don't worry. It is beautiful indoor dining as well.) It's a bit pricier, but you get what you pay for with a memorable experience and quality food. P.S. you want the churros.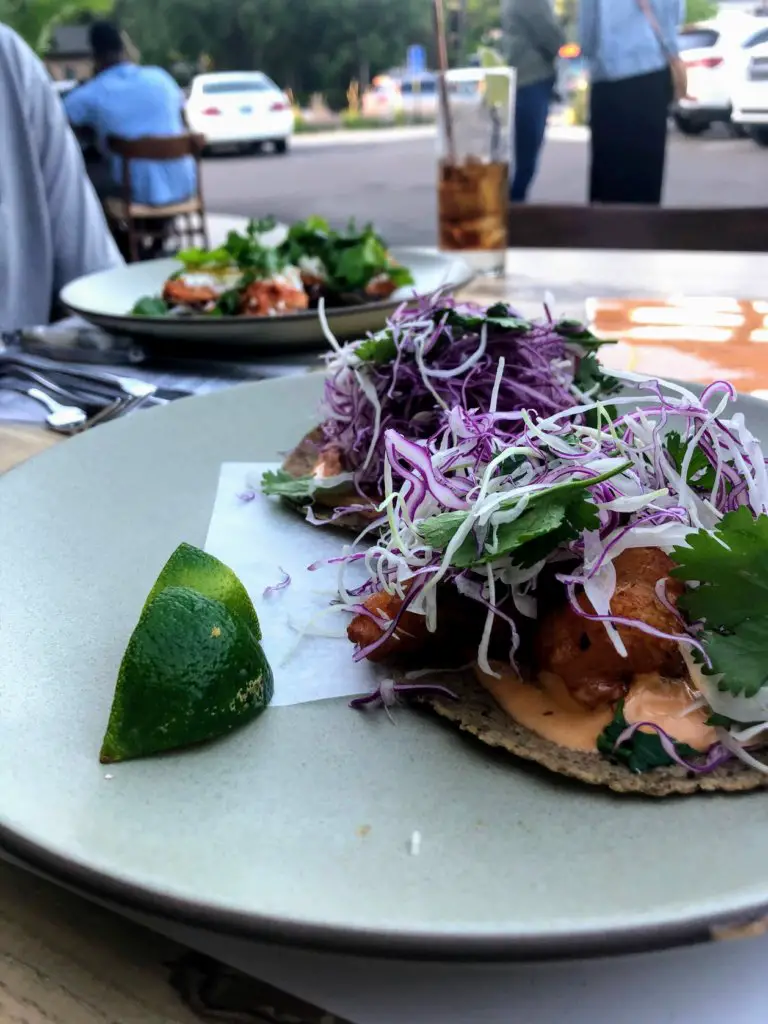 Longfellow Grill
If simple and casual with American grub is your idea of a good time, head to E. Lake St. and hit Longfellow Grill. They have an outdoor patio on the Mississippi River.
Catch their happy hour (Sunday – Thursday 3 pm – 5:30 pm) and pair it with made-from-scratch food that is classic yet includes unique twists. An affordable and casual place where you can't really go wrong!
The Howe Daily Kitchen and Bar
A lively spot with upscale bar food that includes broasted chicken, bowls, burgers, and sandwiches. And you can't beat brunch on The Howe's outdoor, dog-friendly patio.
Their outdoor service is great and the menu features Cinnamon Roll Pancakes, Garden Avocado Toast, and Huevos Rancheros. Plus, you can't forget Bloody Mary's and Mimosa's with options to order them with a little flare!
Hola Arepa
A unique, trendy, and fun place you will never regret visiting. The entire space is major vacation vibes and transports you to a place far, far away. The Hola Arepa take on Latin food does not disappoint and you'll forever crave another bite.
It's best enjoyed on their outdoor patio where it's colorful and full of life. If you can't snag a table (it gets busy in the summer!), grab curbside pickup and enjoy from outside at home.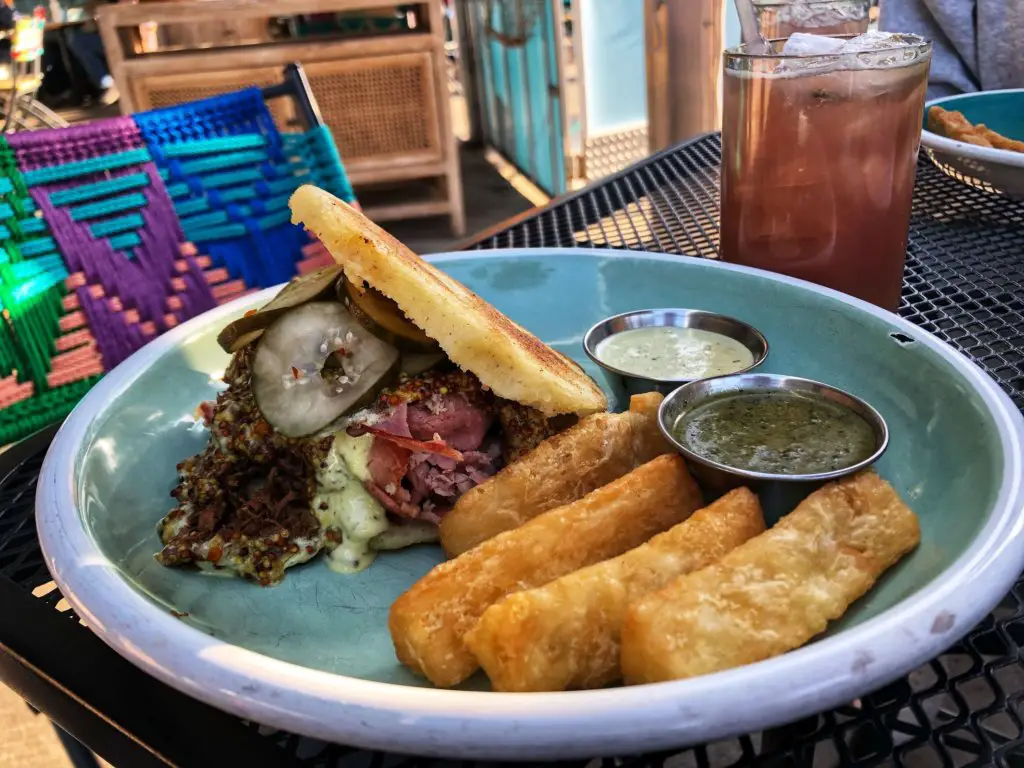 Martina
We are sticking with trendy, but this time mixing up the cuisine and going Argentinian. The South American-influenced Martina menu offers small plates, quality meats and seafood, pasta, and a full bar.
The outdoor patio is simple with sleek wood tables, greenery, and patterned concrete which makes for a beautiful environment. It is a finer dining experience and a perfect place for a special occasion. Note: this is a sister restaurant of Colita, mentioned above.
Sea Salt Eatery
A Minneapolis hot spot come summer months! This is in a great location near Minnehaha Falls and only open May-October. Enjoy delicious seafood at Sea Salt Eatery where its counter service and brought out to you on their large patio space with picnic tables.
This spot, when combined with a hike near and around Minnehaha Falls, makes for the perfect summer day! And if you're a fish tacos fan, don't skip them here!
Outdoor Patios In Minneapolis: Uptown
Wakame Sushi & Asian Bistro
To know me is to know my love for Wakame Sushi & Asian Bistro. This is the best sushi in Minnesota, no contest. And they have an outdoor patio just a block away from the lake (Bde Maka Ska) complete with flowers and umbrellas.
If you are a fan of sushi, this is a 100% must. And I bet you won't only go once! If sushi ain't your thing, you will still love it here with their menu full of noodles, fried rice, and stir fry options. P.S. The Crunch Roll, Minnesota Roll, and Hot & Spicy Girl Roll are my top picks!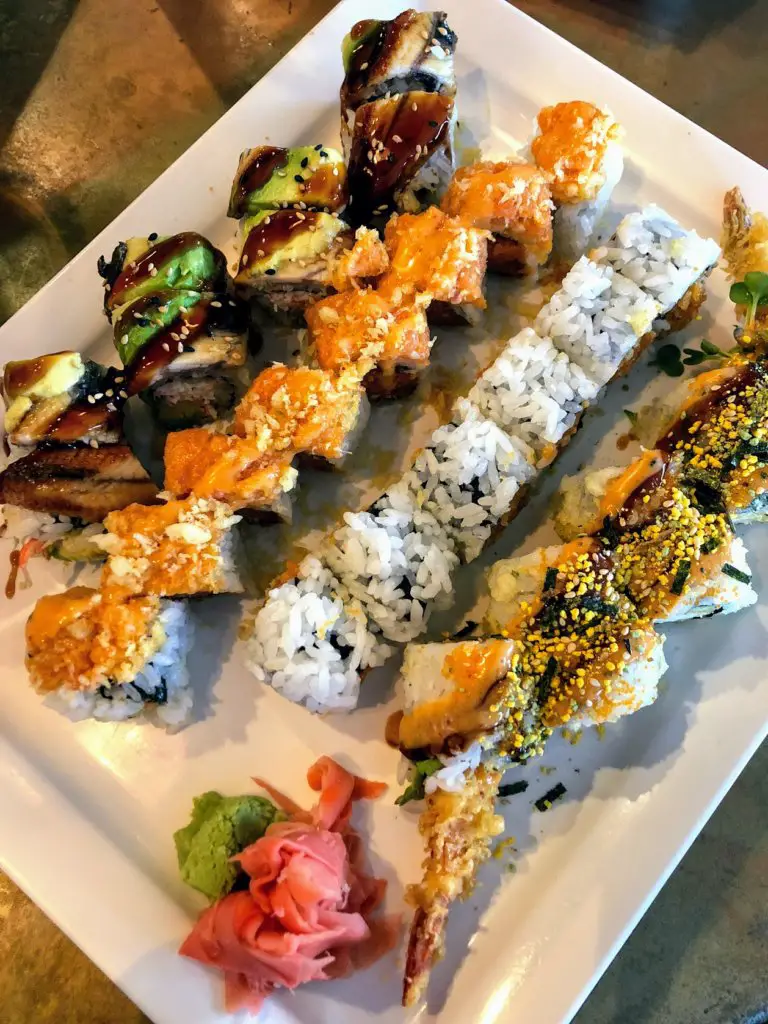 Amore Uptown
Enjoy the lively area of Uptown on a large rooftop patio overlooking the scene. Oh, and you get to eat pasta, too! Perfection. The Amore Uptown string-lit rooftop space is casual and the perfect spot on a sunny day.
Plus, it's only a few-minute walk from the Chain of Lakes. If the rooftop is full, they also offer a few spots on the sidewalk patio as well. Dig into your delicious bowl of pasta and sip a crisp white wine to round out the experience.
Lake and Irving Restaurant & Bar
Uptown is full of great options, let me tell you. One of my favorite local restaurants is this place with a pub feel but food that far surpasses "bar food."
Stop here on a late Sunday morning to enjoy a newly renovated patio and a plate of Chicken and Waffles. Trust me, you will love it. They also offer Smoked Chicken Wings, small plates, and larger entrees. Lake and Irving has a friendly, neighborhood restaurant feel and you'll love the experience.
Taberna Street Tacos
As the last three restaurants have been, Taberna Street Tacos is also in the perfect spot near the lakes. It is a great weekend brunch location and merges a Mexican restaurant with a sports bar.
Visit during one of the best happy hours in the city (every day 3 pm-5 pm) and indulge in $5 margaritas, $3 beers, chips and guac, nachos, and more on their large outdoor patio. They are always serving up classic and unique street tacos and the best elote out there!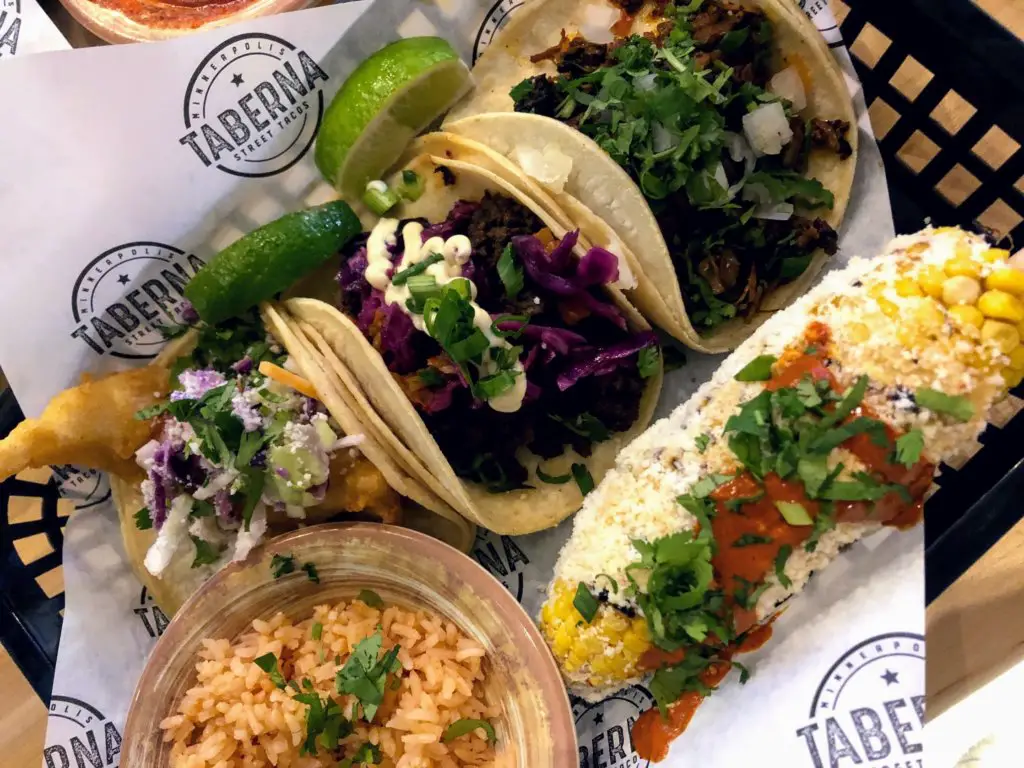 Moto-I
Ramen and sake sound good? How about on a rooftop patio? Visit moto-i which is (according to their website) "the first sake brewpub outside of Japan and Minneapolis' only craft sake brewery."
In addition to ramen, you can browse a menu full of small plates, house-made buns, plus noodles and rice bowls. It tastes as delicious as it sounds! And combined with a rooftop patio, you can't go wrong at this Uptown joint.
Nightingale
One of the best spots for weekend brunch. This small cocktail lounge offers creative craft cocktails and a food menu that consists of small and large plates that are meant to be shared. And the locally-sourced food makes it all the better.
The Nightingale has a small area out front for outdoor dining that is cute and quaint if you can grab a spot. If not, their indoor seating is just as charming.
Lagos Tacos
I was able to check out this backyard patio when it was revamped for the winter months with a fire pit and patio heaters, and I loved the experience. And likely would even more when it's warm outside! Lagos Tacos serves unique tacos, fresh margaritas, and house-made sauces in a casual environment.
Their Uptown location patio is spacious and includes both a full-outside area and a dual space that's partly enclosed. Visit here when you're looking for some solid food in a chill environment. And 100% get hashbrowns!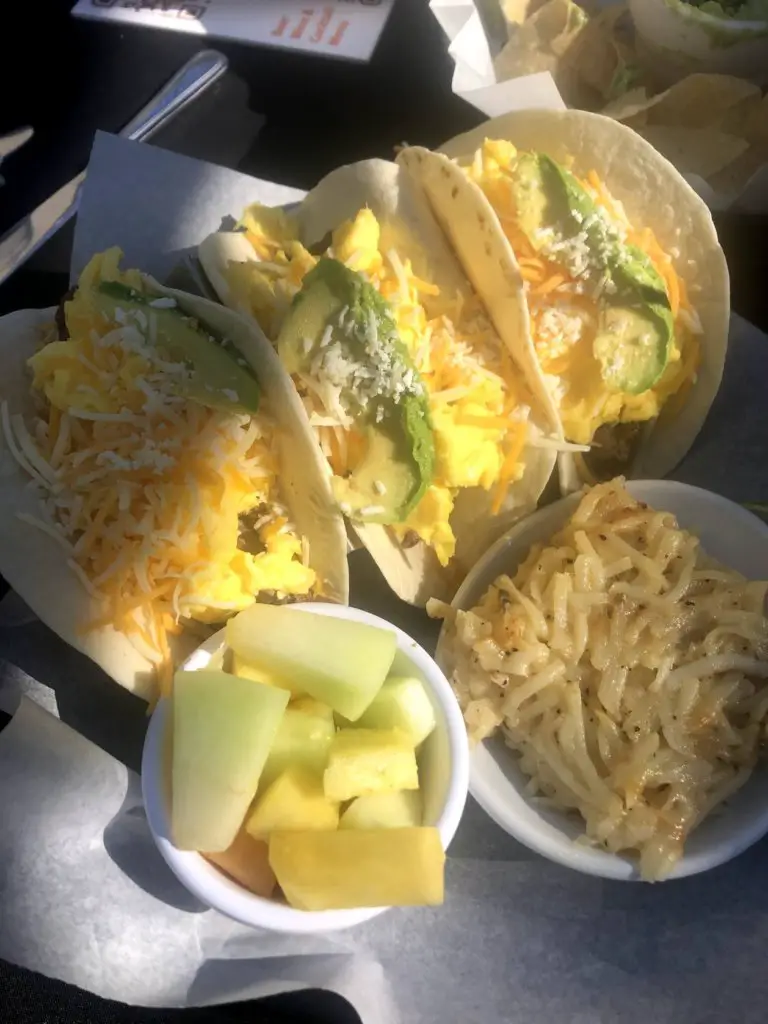 Red Cow
We all crave a burger and some cheese curds from time to time! If that's you, your best bet is Red Cow where you can enjoy the string-lit patio with comfortable seating and a hand-crafted burger.
Their menu options include the classics but also options like the Breakfast Burger (so bomb—includes an egg and peanut butter…juuuust trust me), the Barcelona which has prosciutto and smoked aioli, and both turkey burger and vegan options.
Note: in addition to this Uptown location, there are three others including North Loop, St. Paul, and on W. 50th St. and France.
Outdoor Patios in St. Paul, Golden Valley, St. Louis Park
Minneapolis' neighboring cities also call many outdoor patios home. Check out The Best Outdoor Patios in Saint Paul. Here's a quick glance:
W.A. Frost and Company
Louis Ristorante
Patrick McGovern's Pub
Bad Weather Brewing
Hazelwood Food
Sweeney's Saloon
Handsome Hog
Utepils Brewing
The Block SLP
Too Many Cocktails?
You might need some iced coffee in the morning! 🙂 Here are your best options:
The Best Outdoor Patios in Minneapolis
You have so many options when it comes to outdoor patios in Minneapolis! No matter which cuisine you are craving, there is somewhere to dine (and drink!) outside. Where is your favorite spot?