Minneapolis and St. Paul have some top-notch pizza. Whether you love thin crust, thick crust, deep dish, Detroit-style—there is a pizza joint for you. And many on this list rival top spots in the United States. Yes, even Chicago and New York! Read the Best Pizza Places in the Twin Cities and find your next dine-in or delivery experience.
Note: Check the restaurant's Facebook page before you head over or decide to order. There are some spots not offering dine-in or are operating during unique hours.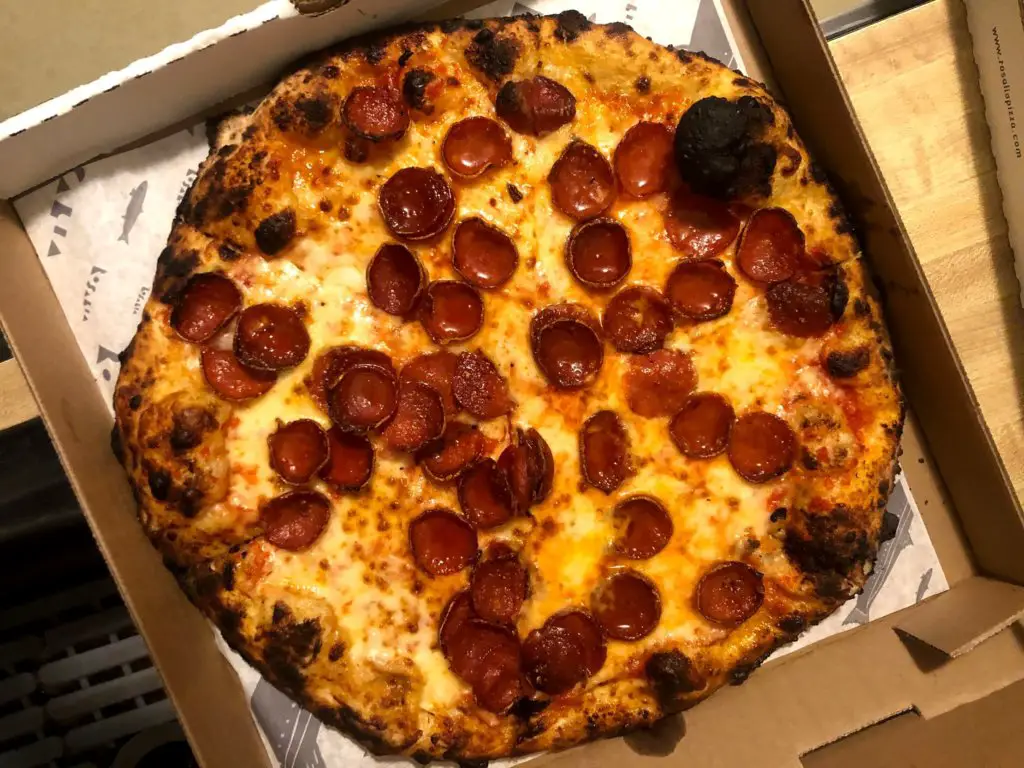 Best Pizza Places in the Twin Cities: Minneapolis
Young Joni
northeast Minneapolis
Easily one of my favorite spots in the city. Young Joni uses the best ingredients for its delicious toppings to create specialty pizzas like the Korean BBQ with short ribs, La Parisienne with prosciutto and gruyère, and Broccolini with french feta. The inside has a dark ambiance with a beautiful bar, distressed wood tables, and a swanky vibe, which makes it a great place to celebrate just about anything! The Tavern Pie is the ultimate go-to (house red sauce, mozzarella, pepperoni, jalapeño, honey) that gives you a classic pizza with a twist. Don't forget their chocolate chip cookies for dessert!
Note: Young Joni currently offers the pick-up option only. Call (it can be hard to get through sometimes!) or order online.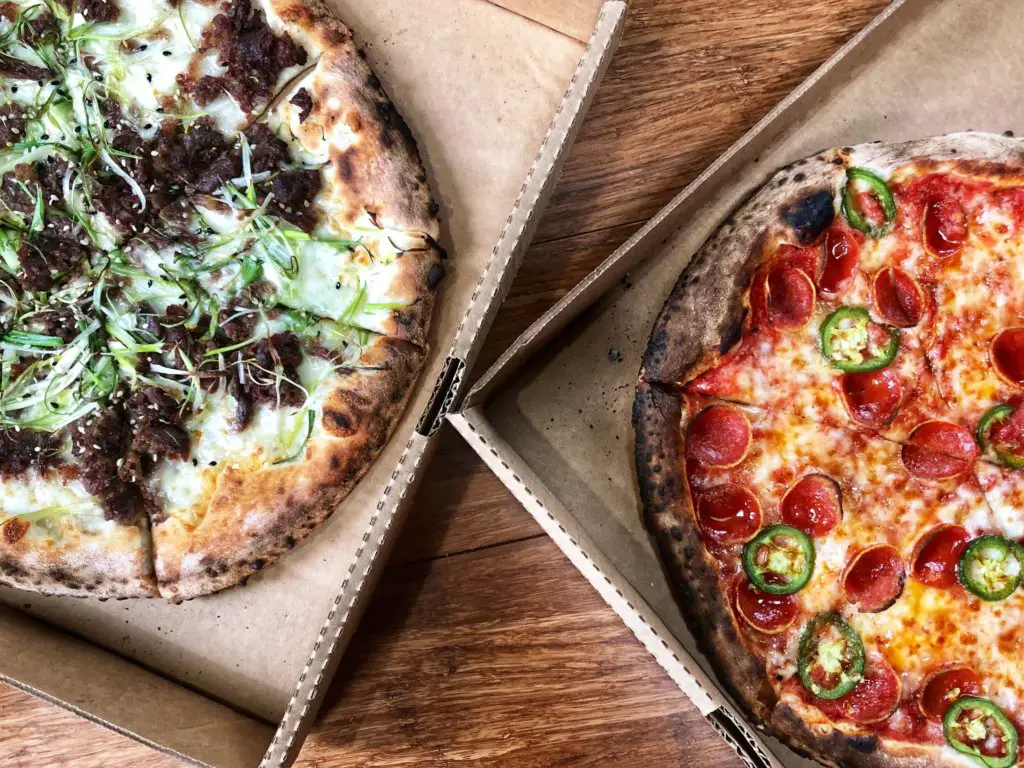 Pizzeria Lola
South Minneapolis
You talk about the best pizza places in the Twin Cities and I guarantee you Pizzeria Lola will be two of the first words out of someone's mouth. Pizzeria Lola is one of the best local restaurants with high-quality, delicious pizza. And it's brought to you by the same chef as Young Joni. Owned by Ann Kim, a Korean immigrant, Lola (her first restaurant) was born after quitting her day job and naming the restaurant after her dog. And best believe everything worked out! Serving pizza in a casual environment, grab their Hawaii Pie-O (Applewood smoked bacon, fresh pineapple, mozzarella, provolone, cream, serrano peppers) with edges of crispy cheese and a flavor explosion. Also, give their ice cream with olive oil and sea salt a try. As one of the local favorites, you can't miss this place!
Note: Pizzeria Lola currently offers the pick-up option only. Call (it can be hard to get through sometimes!) or order online.
Fat Lorenzo's
Minneapolis (Nokomis)
If you're on the New York side of the pizza argument (I'm fully on Chicago, but that's just me!), then make sure you visit Fat Lorenzo's where you get greasy, classic pizza that every taste bud enjoys. I'll start with the vibe here which is a space covered in murals by a local artist amongst wooden booths, cans of tomato sauce, and dark ambiance. In my opinion, you stick with the classics around here. Order the Fat's (Italian sausage, pepperoni, mushrooms, onions, green peppers, (and without the) black and green olives). This place truly has some incredible pizza in a fun, authentic atmosphere. Also, Fat's Gelato has been named best in Minnesota before!
Red Wagon Pizza Company
South Minneapolis
Guy Fieri's famous Diners, Drive-Ins, and Dives featured Red Wagon Pizza Company and their wood-fire pizza has become even more popular since, of course. If you are a fan of thin, light crust (*raises hand*) this is the spot for you with the crispy—yet still a bit of chew, that ultimately makes you feel satisfied vs. over-full. Another thing that makes this a great pizza is that everything is farm-to-table and it all started by the company selling pizza at farmer's markets! Red Wagon Pizza Company has a menu full of unique options and your best bet is the Red Wagon DDD (red sauce, crispy soppressata, banana peppers, and sausage, finished with chili flakes and fig balsamic—plus I added fresh mozzarella cheese, mushrooms, and green peppers.) The menu also has vegan options.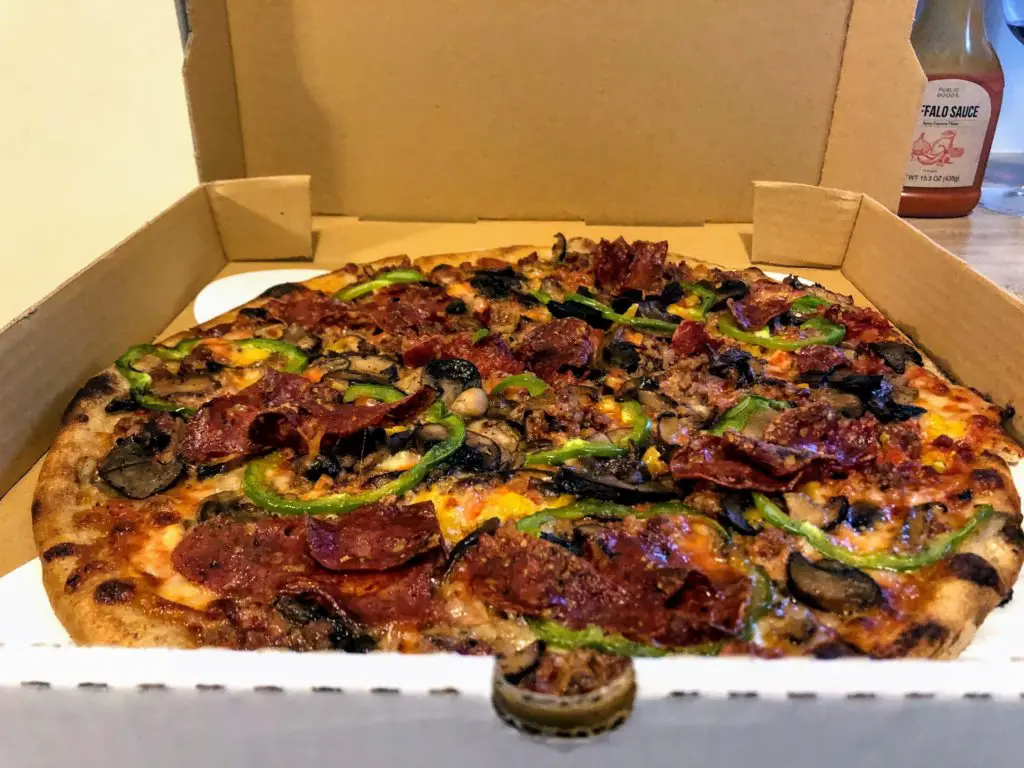 Element Wood Fire Pizza
Northeast Minneapolis
Another wood-fired spot with a fun menu and yummy pizza. Element serves specialty pizzas in three categories—Margarita variations, Napoli, and Bianco (white sauce) options. One of their top sellers is the Fire (spicy sausage, roasted red peppers, goat cheese) and another is the Nordeast (Italian sausage, pepperoni, mushrooms.) You'll also find pizzas named Earth, Water, and Wind as well to play on the restaurant's name.
Rosalia
South Minneapolis
If you are in the know about the restaurants Martina and Colita, then you're going to know the high-end vibe of chef Daniel Del Prado's newest venture–Rosalia. The pizza here is wood-fired and Sicilian-style with traditional Italian ingredients. Rosalia also offers a thick, Argentine-style option which you can grab by the slice or as an entire rectangle pizza. Go with the classic Pepperoni (perfection with the cute little curly pepperonis), or the Salsiccia (tomato, fresh mozzarella, sausage, serrano, cilantro). If you're into spicy, you have to grab the Anana (spiced tomato, pineapple, prosciutto, jalapeño). Oh, and don't skip Roasted Broccolini as a side—it is SO good.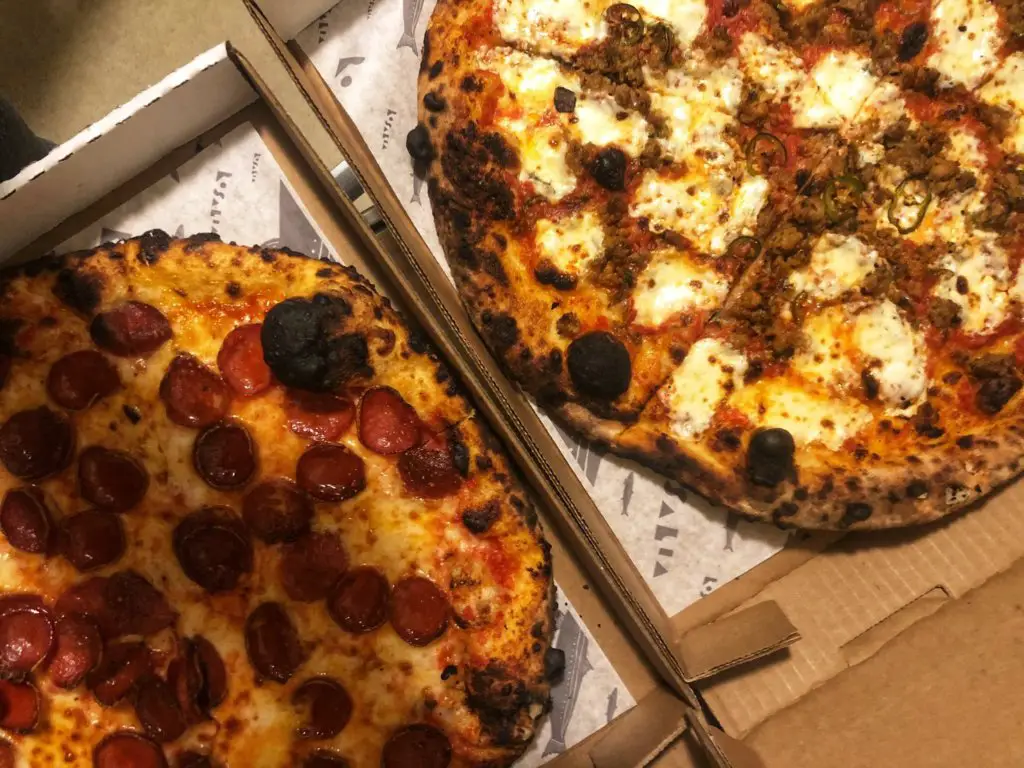 Check out The Best Outdoor Patios in Minneapolis where you'll find pizza and even more fantastic food!
Best Pizza Places in the Twin Cities: Located in Both
Pizza Luce
Multiple locations
When asked "want to order pizza?" Pizza Luce is the first place that pops into my head. They create the perfect pizza with a delicious red sauce and just the right thickness to the crust with a crispy base. Pizza Luce is perfect for pizza delivery with its 9 different locations including Downtown Minneapolis, St. Paul, and surrounding suburbs. It's also a fun place to dine in (super casual) and they serve a variety of craft beers to go with your pie. My favorite pizza options are The Luce (Italian sausage, fresh garlic, onion, and extra mozzarella on red sauce) and the Wild Mushroom (olive oil, fresh basil, arugula, caramelized onion, garlic, wild mushroom blend, and cheeses), though you can't really go wrong! P.S. they have a ton of gluten-free options as well.
Black Sheep Coal Fired Pizza
Multiple Locations
This is the first coal-burning pizza restaurant in Minnesota. And smokey flavor explodes off of the crisp crust, sauce, and toppings. Black Sheep Coal Fire Pizza has three locations including two in Minneapolis and one in St. Paul. (Plus, another one in the Minneapolis airport.) Their menu goes from the #1 Cheese Pizza all the way to #12 Bacon, Golden Pineapple & Dried Chili Pepper. I recommend the #5 (Fennel Sausage, Hot Salami, Onion & (leave off) Cracked Green Olives.) Black Sheep pizza will not disappoint and gives a different flavor than any of your other options! Give it a go if you haven't yet!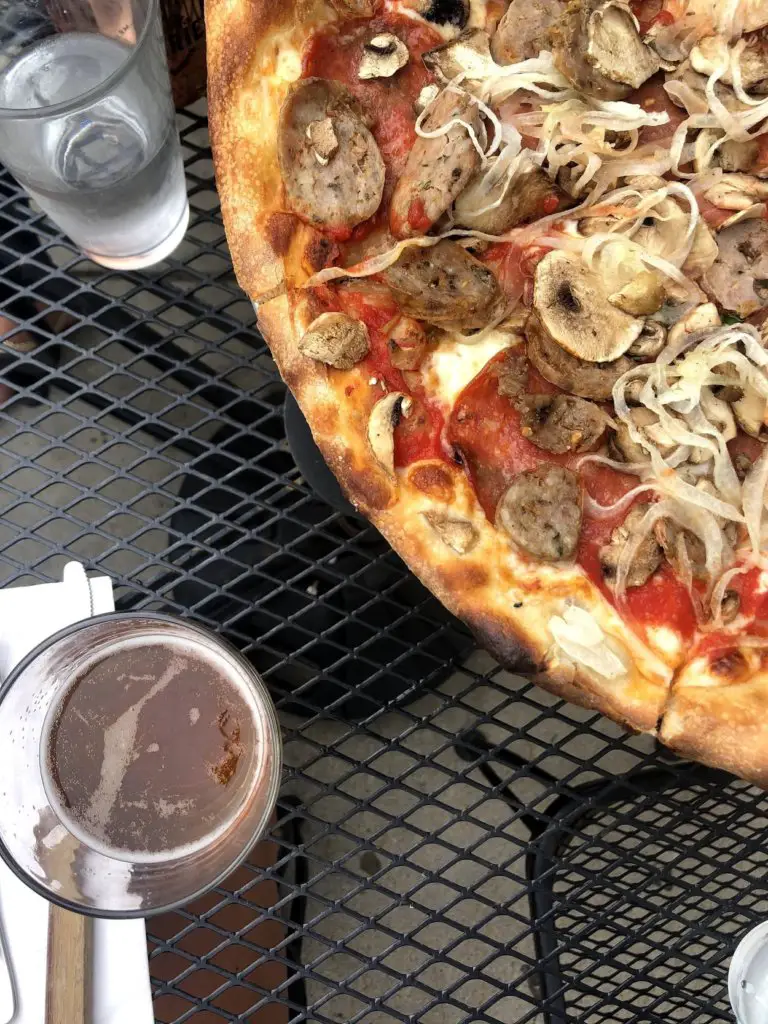 Best Pizza Places in the Twin Cities: St. Paul
Cosetta Pizzeria
Downtown St. Paul
Cosetta Pizzeria goes all the way back to the early 1900s—no lie! If you love classic, traditional, and established, make your way over to Saint Paul where you are going to find hand-made dough rolled out into a spongey classic Italian-style crust inside an Italian marketplace with a great wine list. The entire family will love this place and you'll find it perfect for special occasions while keeping things light and casual. Order by the number of toppings to create the perfect pizza for you! And go with a Cannoli for dessert.
Mama's Pizza
North St. Paul
The famous Mama's red sauce. And cheese. Lots of cheese. If that's up your alley, definitely visit Mama's Pizza, a small, casual neighborhood spot in St. Paul serving pizza and other great dishes. The locals rave about this place with their square-cut slices that have been around since 1964! Go with their Flavor Explosion (Sausage, Pepperoni, Bacon, Pineapple, and Banana Pepper) because who wouldn't order that! You even get a complimentary soft-soft ice cream cone for dessert at this Italian restaurant!
Big River Pizza
Lowertown St. Paul
You know a place is good when their food truck turns into a full-blown restaurant! That's the case for Big River Pizza who creates their pies using locally sourced ingredients and whatever it is that's at the St. Paul farmers markets that week. It doesn't get more fresh than that! They didn't completely say goodbye to their oven on wheels either. You can find their food truck at local events and festivals when the weather turns nice in the Twin Cities. Don't miss the Bacon Jam Sunrise (includes fennel sausage, bacon jam, and eggs.) Come here once and it won't be your last.
Maverick's Pizza
West St. Paul
Forget the fancy. Maverick's pies are New York-style pizza with no frills. Cheese, homemade sauce, homemade cheese blend, grease. This family-owned restaurant is a classic. The Maverick's Pizza menu includes options like Taco Pie, Cheeseburger, and Buffalo Bill. But stick with the Pretty Pesto and you will love the combination (fresh homemade basil pesto, sausage, feta, and roasted red peppers.) Mouth-watering.
The Best Outdoor Patios in Saint Paul are also available! Don't miss these great spots.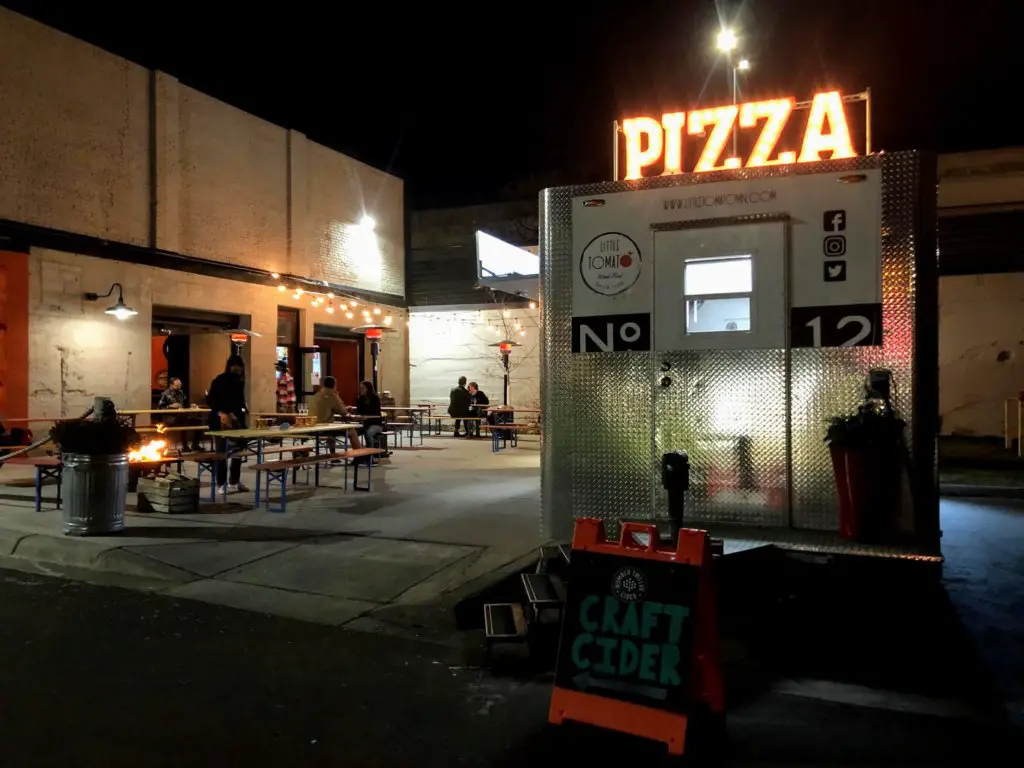 Other Good Spots for Pizza in the Twin Cities
Number 12 Cider: the little food truck outside of this Minneapolis cidery is so damn delicious. The Goat is a must-order (prosciutto, Āoat cheese, mushroom, spinach, red onion, shredded mozzarella, sauce.)
Wrecktangle Pizza: Detroit-style pizza with a thick yet light crust located in Northeast Minneapolis. It gets more popular by the day! (Try something that includes honey infused with hot sauce!)
Punch Pizza: A local favorite with 10 wood-fired pizza locations including one on Grand Avenue in St. Paul. It's super quick and made to order.
Galactic Pizza: "planet-saving pizzas" are brought over by delivery drivers who are dressed in a superhero costume ha! They are located in Uptown.
Carbone's Pizza: if you need a local classic in your typical bar scene, pick one of their 35+ locations.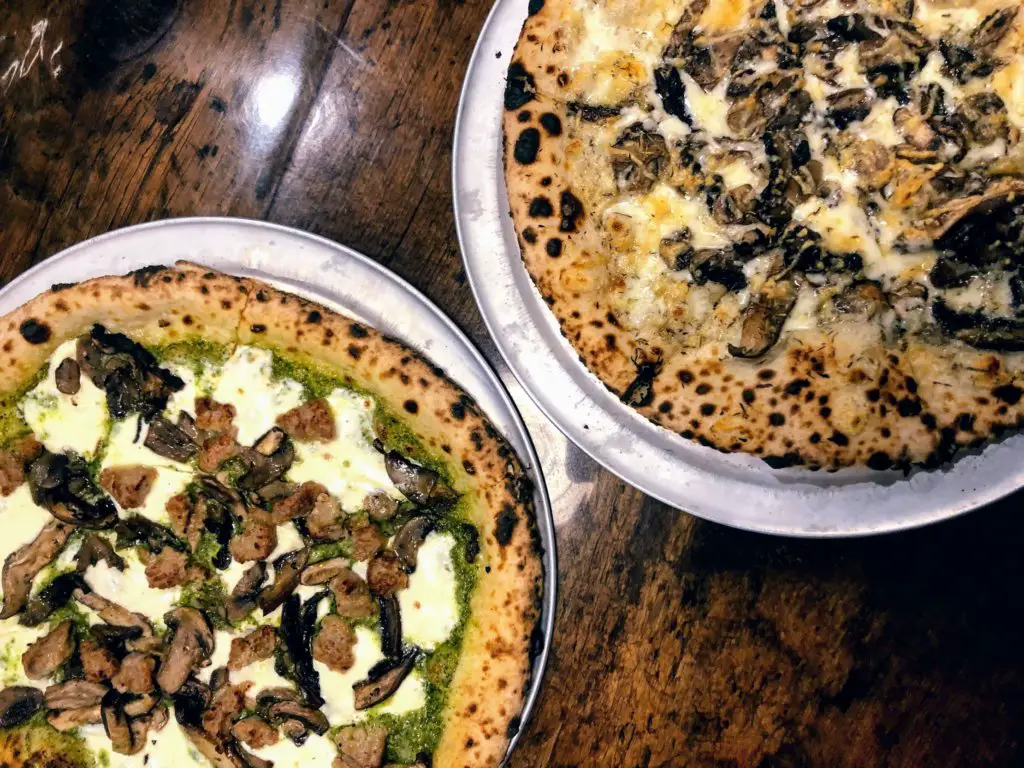 Top 17 Best Pizza Places in the Twin Cities
Pizza is always the answer, right? YEP! And all pizza is good pizza, right? Of course! But this list goes beyond good. Plan to dine in for the full experience, order for delivery, pick it up yourself, or just purchase gift cards for friends and family. These restaurants are doing Grade A work. And your going to love their pies!
What is Your Favorite Pizza Place?