The North Shore is: Cool.
You ever hear the question "what's your favorite season," someone says "winter," and you immediately think what in the world is wrong with you? Well, it only takes one ski trip to understand why some prefer the snow to the sand. You have to be tough and made to endure the elements but a thrilling winter adventure can bring you from meh to bring on more snow!
Head to the North Shore of Minnesota for a relaxing, yet action-packed winter weekend. Get ready to feel the crisp air, surround yourself with your own breath, and test your physical (and mental) toughness. It will prove to be worth it and you will have a one-of-a-kind trip that includes beautiful views, thrilling experiences, and all the perfect small town feels.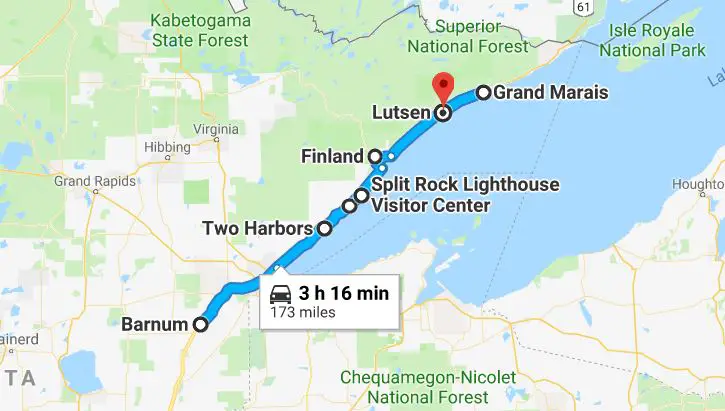 The North Shore runs along Lake Superior from Duluth, Minnesota to Thunder Bay, Ontario. You'll drive along Highway 61 and be surrounded by scenic views of rocky cliffs, beaches, and hills which makes it the perfect road trip. Tip: Start your day in Barnum and enjoy the best breakfast in northern Minnesota at the Rustic Diner – Pigs in the Valley Skillet, add jalapenos. 
Your North Shore trip officially begins in Duluth which is a destination in itself and will be your only "big city" experience. There are endless attractions and things to do, but I recommend checking out Enger Tower, an 80-foot, observation tower atop Enger Hill with a beautiful view, and the Aerial Lift Bridge. Next on your agenda are charming, small towns along the northern shore.
The Best Experience:
Skiing at Lutsen. Four peaks overlooking the beauty that is Lake Superior.  Mountain-hop by gondola and ski down long runs blanketed with fresh snow that's equal parts packed and fluffy. Thaw out in one of the chalets where you can grab a drink, some food, and take in the winter scene.
Call a mountain-side cabin at Eagle Ridge Resort home. Ski right up to your door and warm up by the fire with a cup of hot cocoa. (Lol, kidding – coffee and Bailey's, maybe straight whiskey by the end of the day.) Take a warm dip in a steaming Jacuzzi, walk to a couple different restaurants, or just enjoy a night of peacefulness playing cards. I miss our little two-day cabin (pictured below from the chairlift!) which made it effortless to disconnect and enjoy the elements.
Tip: Renting skis was a breeze so don't let not having equipment be your excuse! The staff was happy, helpful, and informative. And there are runs for both beginners and pros.
Honorable mentions:
Hiking at Gooseberry Falls; A hike to the frozen waterfall had me forgetting that I was wearing five layers of pants and three pairs of gloves. It's a great place to explore on the North Shore of Minnesota and breathe in the fresh air. Papa Charlie's: Full disclosure: one full day skiing in -15° was enough and we got a rain check for our second day. Instead, we decided to watch Sunday Football at the famous Papa Charlie's bar with a great Bloody Mary, lively crowd, and cozy atmosphere. Bar Hopping in Grand Marais; what a cute, enjoyable place to be. Bars, shops, waterfronts. 100% worth going the extra 20 minutes north past Lutsen. The city has a charisma that had me thinking, I'll be coming back almost immediately. (Fun Fact: I hit a triple bullseye in the Legion on my first three darts. #TrueStory)
$FREE.99:
The beauty of this road trip? There is a ton of entertainment for $FREE.99. There are stop-worthy destinations all the way up the shore. State Parks, waterfalls, hiking trails and bluffs. Get your nature hat on and clear the space on your camera roll because there is no shortage of scenery. In addition to Gooseberry Falls, I recommend the Splitrock Light House (it's free in the winter) which will show off amazing views of Lake Superior.
What I'd Skip:
Finland, Minnesota. I'm a proud Finlander and the name got me. And though I did get my picture taken in front of a huge Finland mural, the city itself doesn't offer much and I would recommend driving by this destination. There are better parts to the North Shore of Minnesota.
Best Meal:
Gun Flint Tavern: We stopped here first while bar-hopping in Grand Marais. The Walleye Fish Sandwich tasted like the fish came straight out of Lake Superior an hour before. It's a big place with very friendly staff including a bartender who served us a great rum & coke and sat down to tell us all about the area. #MinnesotaNice
My North Shore Tips
Bring. Layers. It's going to be cold but if you're dressed appropriately, you are more than capable of handling the elements. Long underwear, wool socks, boots (that won't allow snow to soak through!), hats, gloves, and goggles. Don't forget a scarf for your neck and don't leave one sign of skin showing.  Pro Tip: Hand Warmers. At all times. 
Be Adventurous. Being open to random stops along the way is going to give you the best experience. We hopped in the car and just started driving. Once the hunger hit, we pulled off in Two Harbors and had a great meal at Cedar Coffee Company. Our waitress recommended Gooseberry Falls and we let the day roll from there. You really can't go wrong on this trip.
Start Your Day Early. You don't want to be driving at night – you'll miss all the views! In order to make stops along the way and still travel in daylight, wake up early, grab some coffee and be on your way. This will also save on costs if you avoid leaving the night before and including an extra night of lodging.
Snacks. Every road trip needs snacks, and it's also great for your mountain-side condo. Avoid overpriced chalet food that's been underneath a heat lamp and opt for your own grub. (Check out a few other ways to save during your vacation here)
Would I Go Back?
Absolutely! Though I might take this trip when it's 0° vs -15°. Or maybe even 80°? This trip is an equal mix of adventure and relaxation. There is so much beauty that will give you a new appreciation for The Bold North and winter in general. Those Californians don't know what they're missing.
Have You Experienced the North Shore? 
Leave a comment! I'd love to hear about your North Shore experiences and any tips you have for my next trip up.