Given what Minnesotans go through in the winter, we enjoy spring as much as, if not more than, anyone in the United States. Lucky enough, there are so, so many spring things to do in Minneapolis-St. Paul. Believe it or not, it's a great spring break option or place to spend a weekend. Downtown Minneapolis and Downtown St. Paul are just the beginning. Get out into the neighborhoods and nearby suburbs and you can enjoy the perfect spring day whether you're a hiker, lover of outdoor activities, sports fan, artist, shopper, or foodie.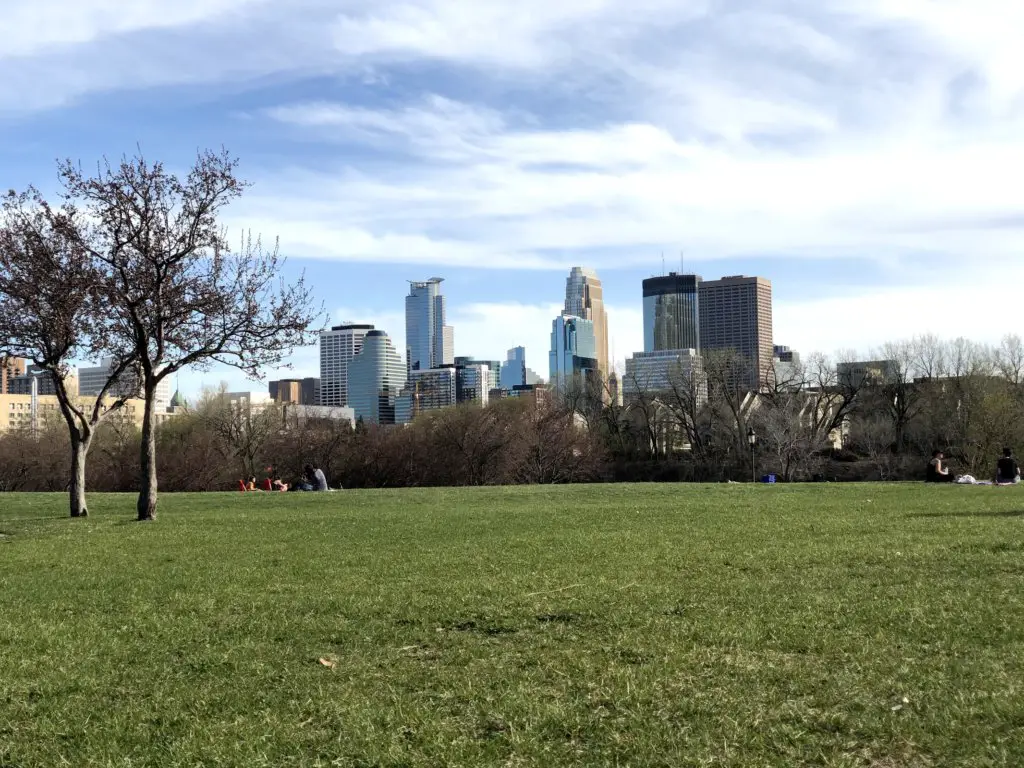 Spring Things to Do in Minneapolis-St Paul for the Hiker/Walker:
Hike Miles of Trails
It is hard to find a better place to be than outside during Minnesota spring. People are happy. The air (finally) feels warm. Flowers are in full bloom. And everything smells good. There are endless options for great hikes in the area. Here are a few:
Fort Snelling State Park: One of the best MN state parks and beautiful spot where the Mississippi River and Minnesota river collide. There are 18 miles of hiking trails (both paved and unpaved), 5 miles of paved biking trails, and a Visitors Center.
Minnehaha Falls: One of the best places to explore in Minneapolis with walking/biking paths, a waterfall, and open green space. You can find paid street parking not far from the waterfall.
Crosby Farm Regional Park: one of the great Nature Centers in the Twin Cities with natural areas and beautiful places to explore including forests along the Mississippi River.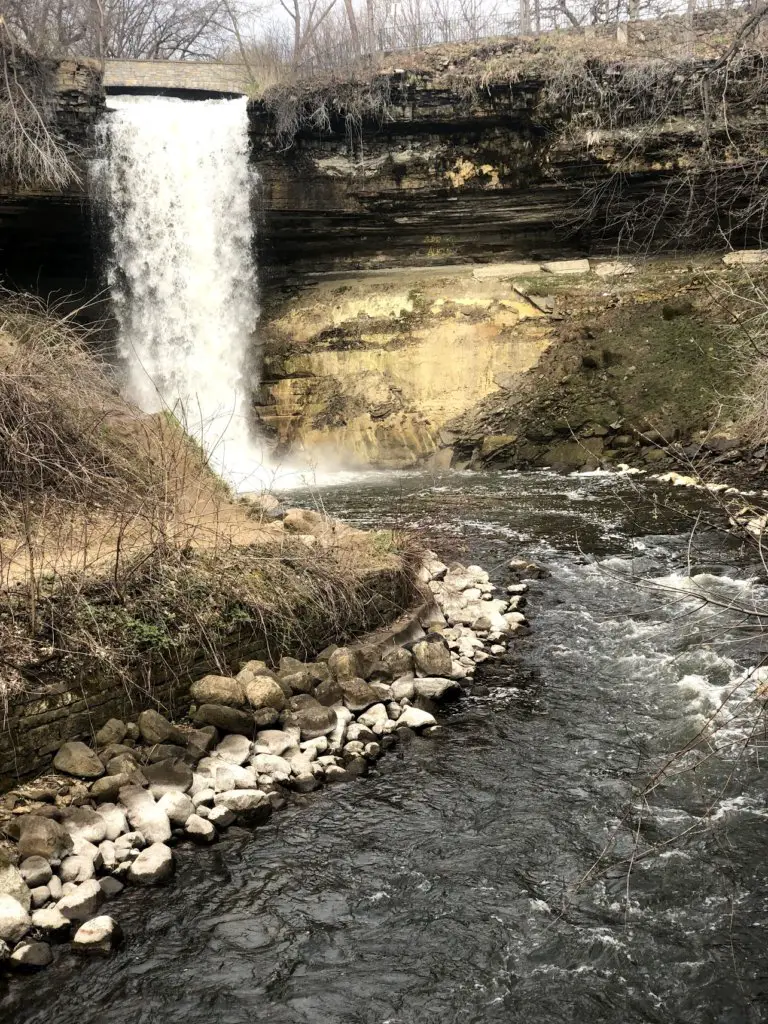 For more hikes throughout the state, read The Best Spring Hiking Trails in Minnesota.
Stone Arch Bridge
Looking for prime-time city views and a must-stop if you're a visitor? The Stone Arch Bridge in the St. Anothony Main neighborhood is a popular destination in the metro area (for good reason) where you really can't beat a view of the skyline. Walk the bridge built in 1883, get a look at St. Anthony Falls, visit the Mill City Museum (when it reopens), and take in all of the fresh, spring air. There is a pay parking lot on W. River Pkwy just a few steps from the bridge. Or you can find street parking on the other end on SE Main St.
Pro Tip: Zen Box Izakaya (closed Sunday/Monday) is nearby and one of my favorite places to eat in the city. Get the Spicy Ramen and Gyoza app. Promise you'll love it!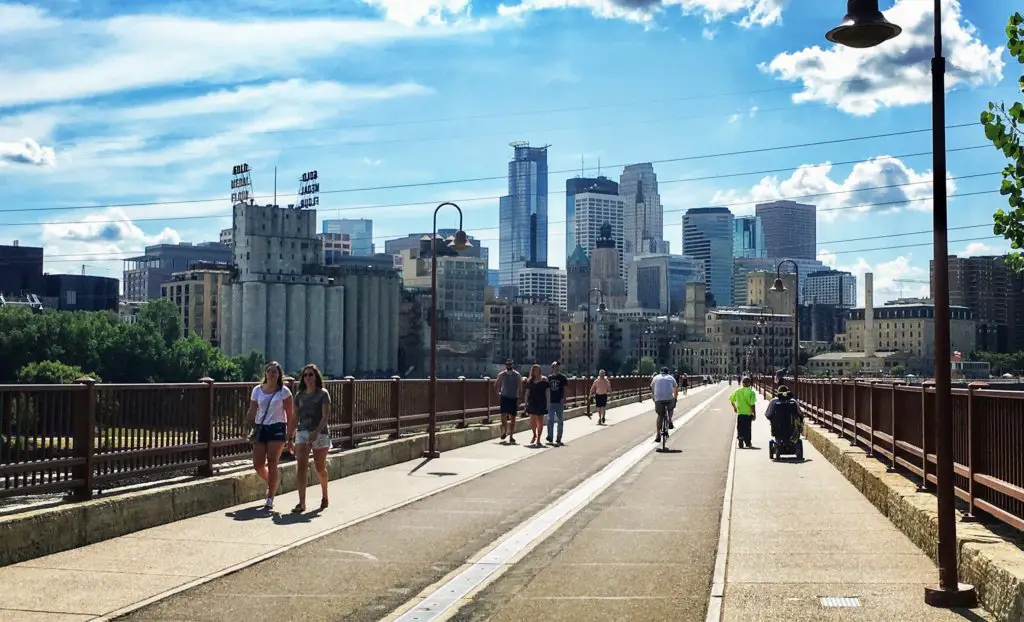 Boom Island Park
Only 1.7 miles from the bridge is Boom Island Park, one of the best green spaces in Minneapolis. The views continue here along the river with skyscrapers as your backdrop. Relax in the park or take advantage of the walking trails with pretty views and a bridge for some cool photos. Either take a nice walk from the Stone Arch Bridge area or you can drive right there. There is a paid parking lot.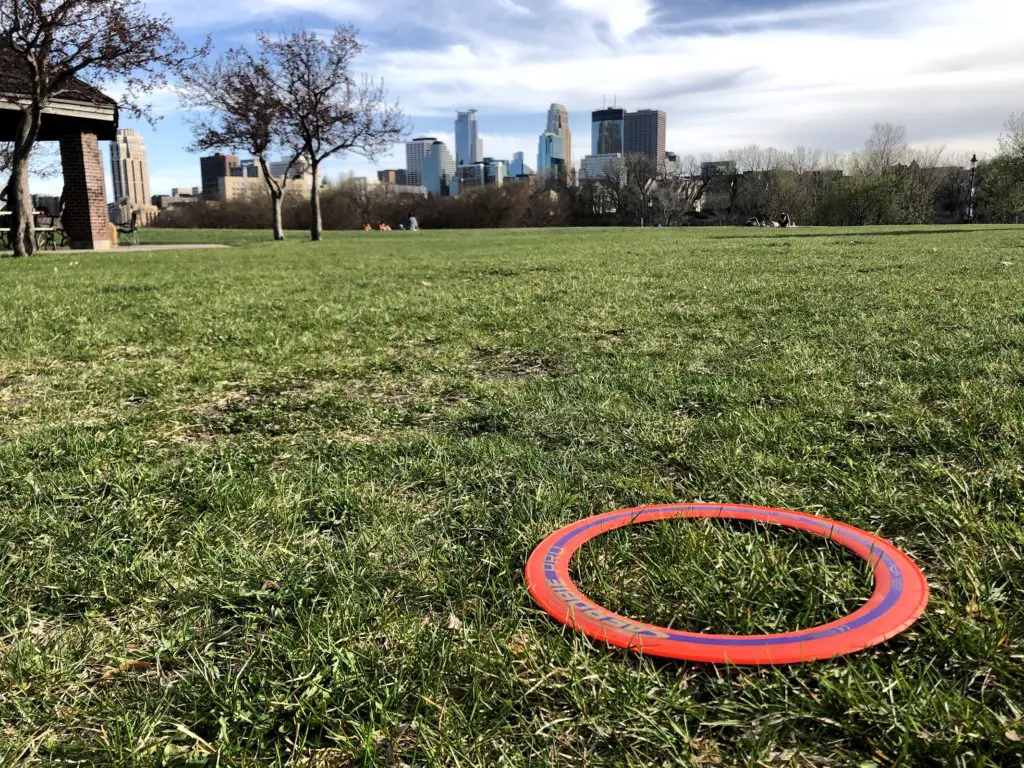 Chain of Lakes
If you have never been, the Chain of Lakes area is my favorite Minneapolis recommendation and one of the best things you can do. Made up of Cedar Lake, Lake of the Isles, Bde Maka Ska, and Lake Harriett, you will find everything from walking and bike paths to beach volleyball, sunbathers, and partiers. Bde Maka Ska is the liveliest. Isles is beautiful for walking and admiring in a calmer setting. Cedar Lake is remote and great for biking. And Lake Harriet is a small dose of everything, including live music and special events in the park. There is a bunch of street parking and small paid lots throughout the lakes.
Pro Tip: If you love sushi, Wakame Sushi and Asian Bistro is an absolute must–they have an outdoor patio. If you want tacos (or there is a game you want to catch), head over to Taberna Street Tacos. They have a great bar scene and outdoor space as well.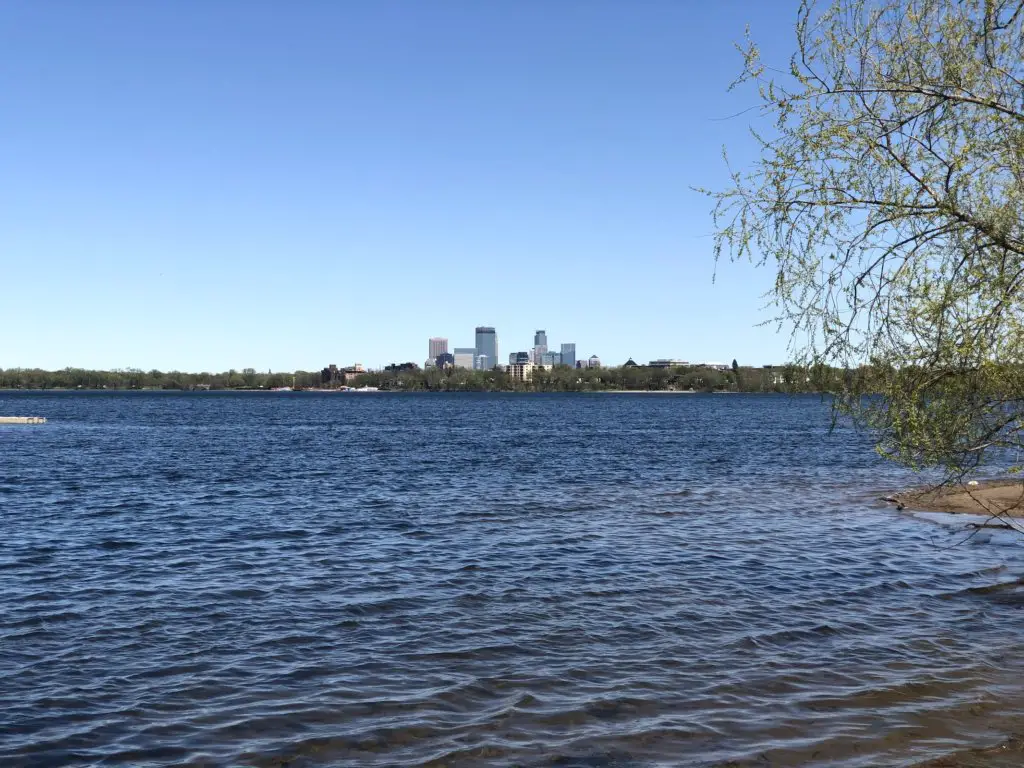 University of Minnesota Campus
Take a walk around the beautiful University of Minnesota campus. Well-kept grounds. The Mississippi River. Old, historic buildings. Check out the UofM walking guide for a ton of information.
Walk along the Washington Avenue Bridge.
On East Bank, check out the Northrop Mall area and the green space in front of McNamara Alumni Center.
The St. Paul campus offers beautiful gardens.
Spring Things to Do in Minneapolis-St Paul for People Who Love Outdoor Activities:
Theodore Wirth Park
Public parks in the Twin Cities are some of the best and Theodore Wirth Park is a great place to visit at any time of year. That said, come spring a lot of fun activities come back and you don't need to dress in twelve layers to have fun. Visit for the hike/bike trails, disc golf course, 18-hole golf course, fishing pier, or playground. Located in Golden Valley, it's only a few-minute drive from the city.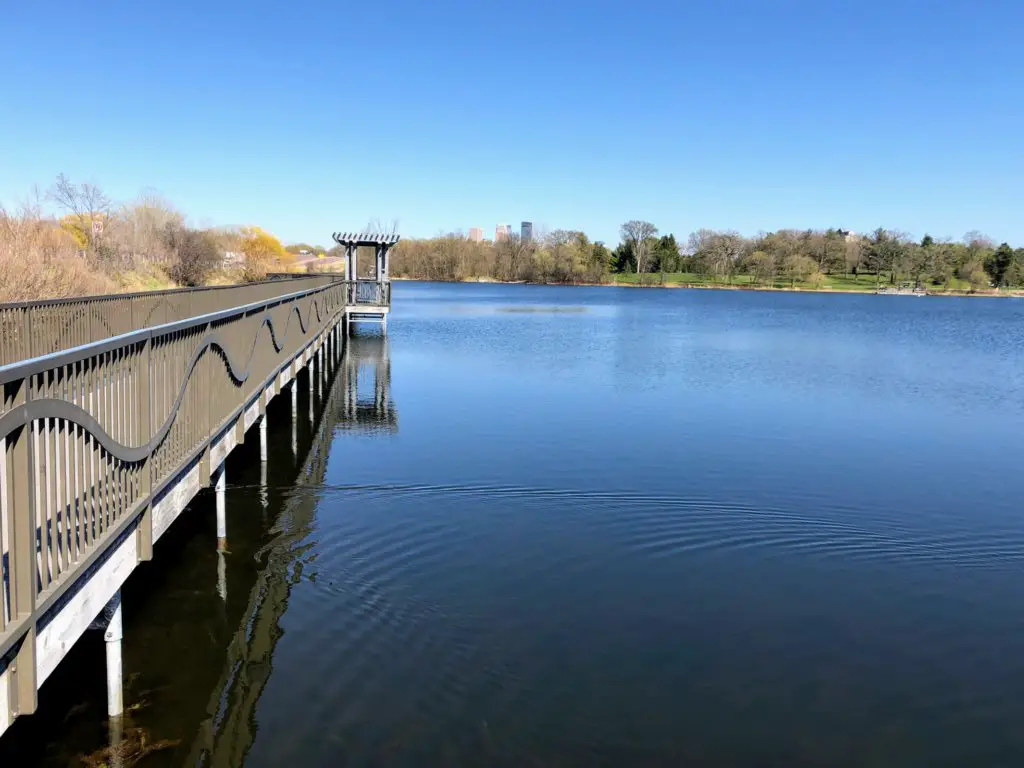 Como Park
A beautiful urban park in St. Paul that includes Como Zoo (free!), Como Lake, Como Golf Course (18-holes), mini-golf, Como Town Amusement Park, and the Majorie McNeely Conservatory. In addition, classic park activities like fitness in the park, bike rentals, and music in the park are options here as well. Everything is so well-kept and if you just need a place for a stroll, here is your spot. Make sure to check out everything at Como Regional Park. You can find free street parking.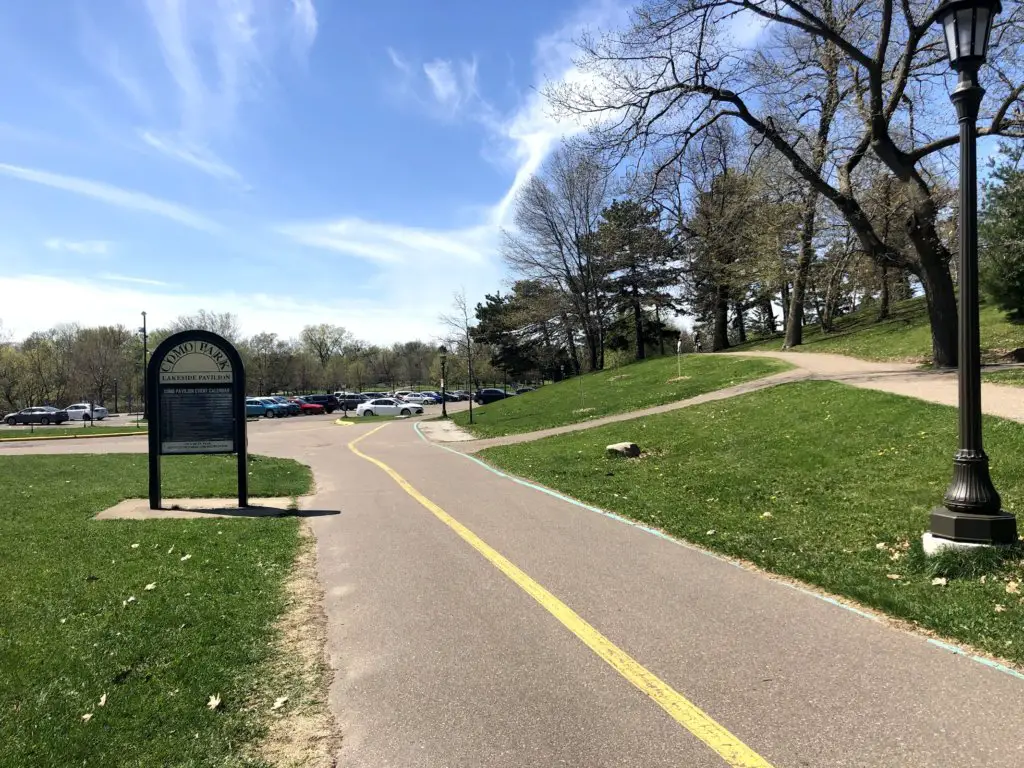 Minnesota Zoo
Lion's and tiger's and bear's, oh my! (Dumb lol.) The Minnesota Zoo, located in Apple Valley (25 minutes south of the city), offers hundreds of animal species, fun exhibits, a gift shop, play areas, and a ton of interactive fun. Adult tickets are $19.95, Kids 3-12 + Seniors are $13.95, and kids 0-2 are free. Check out their Plan a Visit to the Minnesota Zoo page for everything you need to know.
Spring Things to Do in Minneapolis-St Paul for Sports Fans
Golf Courses
Golf is one of the best spring things to do in Minneapolis-St. Paul area and you have plenty of options to choose from!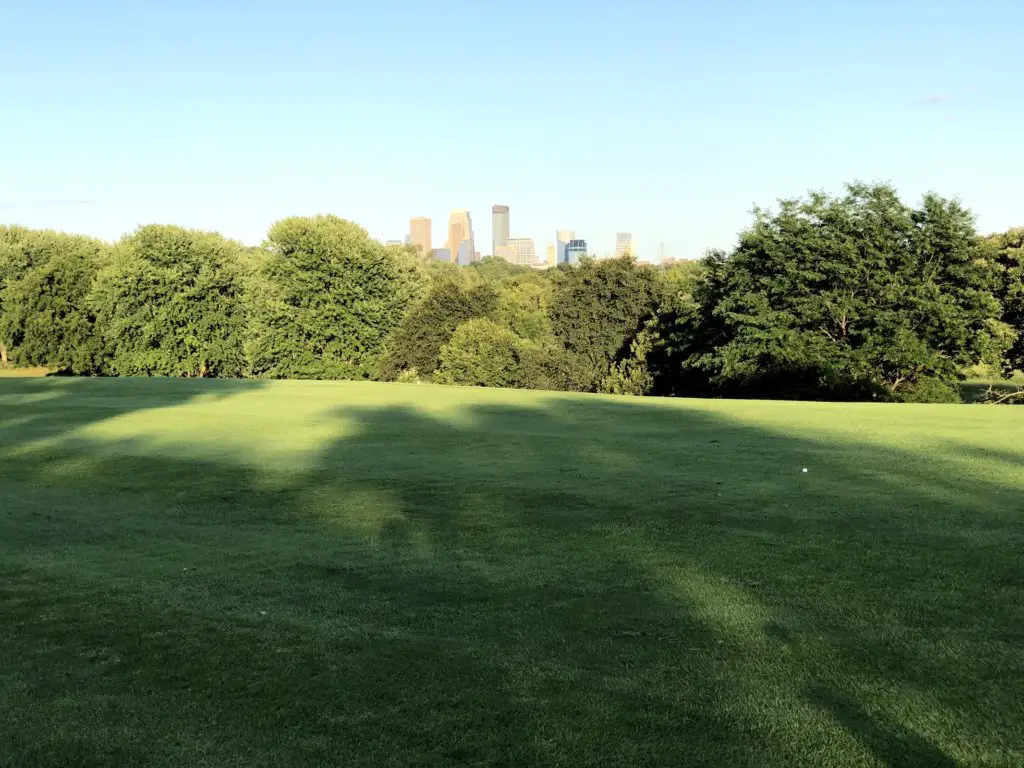 Target Field to Watch the Minnesota Twins
One of the best spring things to do in Minneapolis is head downtown for a day at the ballpark! Built in 2010, Target Field is a relatively new stadium that's packed full of fantastic food, rowdy bars, a skyline view, and fun fans. For the best experience, get there an hour or so early and head to Hrbek's bar in Section 114. Here you can order one of the best Bloody Mary's out there. It's not cheap but it's also an entire meal with a mini burger, chicken wing, cheese, sausage, and more fun food on top. I call that bang for your buck! You can find a bunch of different parking ramps and lots throughout downtown. The train is also a very solid option!
Pro Tip: make sure your seats are on the third baseline for the best views. You will get awesome pictures of both the field, outfield signage, and the skyline!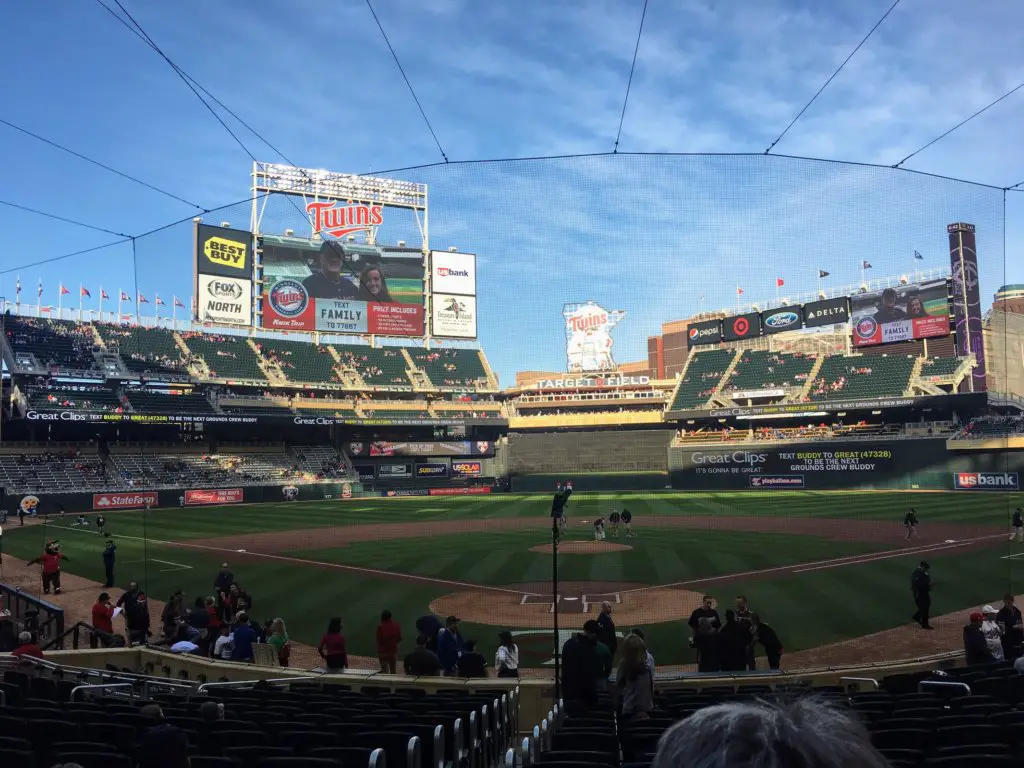 CHS Field to Watch the St. Paul Saints
If you want the baseball vibes without the major league prices, St. Paul Saints games are a ton of fun! Big kids (and little kids, honestly) will love it here with all of the entertainment they have going on throughout the game. And it's an awesome weekend night with a group of friends. Their first home game is in mid-May. There are a ton of parking ramps and lots in the area. And bars and restaurants, too!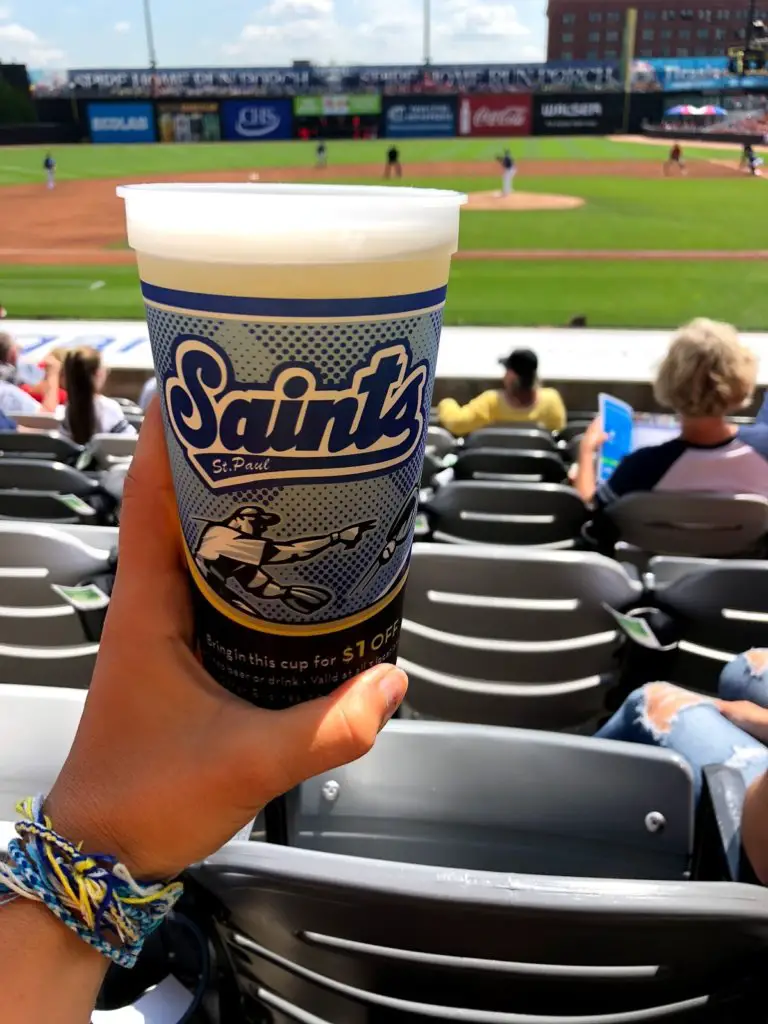 Spring Things to Do in Minneapolis-St Paul for the Artists & Scientists
Walker Art Center and Minneapolis Sculpture Garden
Let me start by saying that I'm not one for a museum or art center. I seldomly visit (I really should more!) but I received free tickets here and I'm so glad I did—it's a popular destination in Minneapolis for good reason! The Walker Art Center is definitely worth the $15 and fun to walk through and spend a couple of hours just admiring art. You will walk through the inside and then right across the street is the outdoor Minneapolis Sculpture Garden with sculptures and city views, including the famous cherry! You need to find street parking and you may get lucky on streets surrounding the center but may end up parking in the neighborhood area and have a short walk.
Pro Tip: When it reopens, don't miss the bar, Esker Grove—haha. Seriously though, it's swanky and fun to have a handcrafted cocktail there.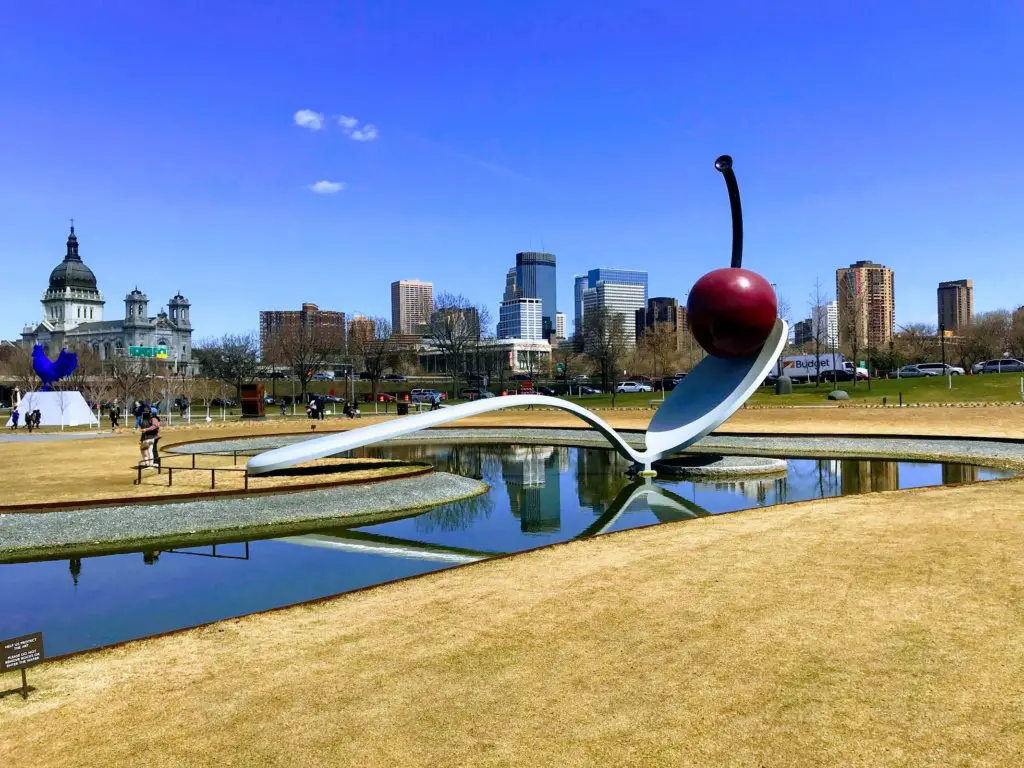 Science Museum of Minnesota
Founded in 1907 and located in St. Paul, the Science Museum of Minnesota is 370,000 square feet of space and focused on technology, natural history, physical science, and mathematics education. Kids (and parents!) love to explore the exhibits that are very interactive and not only fun but educational as well. Learn about dinosaurs, the body, Native Americans, race, and Sportsology. Adults are $19.95, Kids are $14.95, and Seniors are $16.95. There is a parking ramp with a $5 fee.
Minnesota Landscape Arboretum
Now we are really talking spring! This one is a bit outside of the city in Chaska (30 minutes from Minneapolis) but I didn't want to leave it off the list. Visit the Minnesota Landscape Arboretum with trails, more than 1,200 acres of gardens, and 5,000+ plant species and varieties. They offer fun activities like yoga in the gardens, pancake breakfasts, and full moon hikes. Visitors 16+ are $15 and anyone younger is free.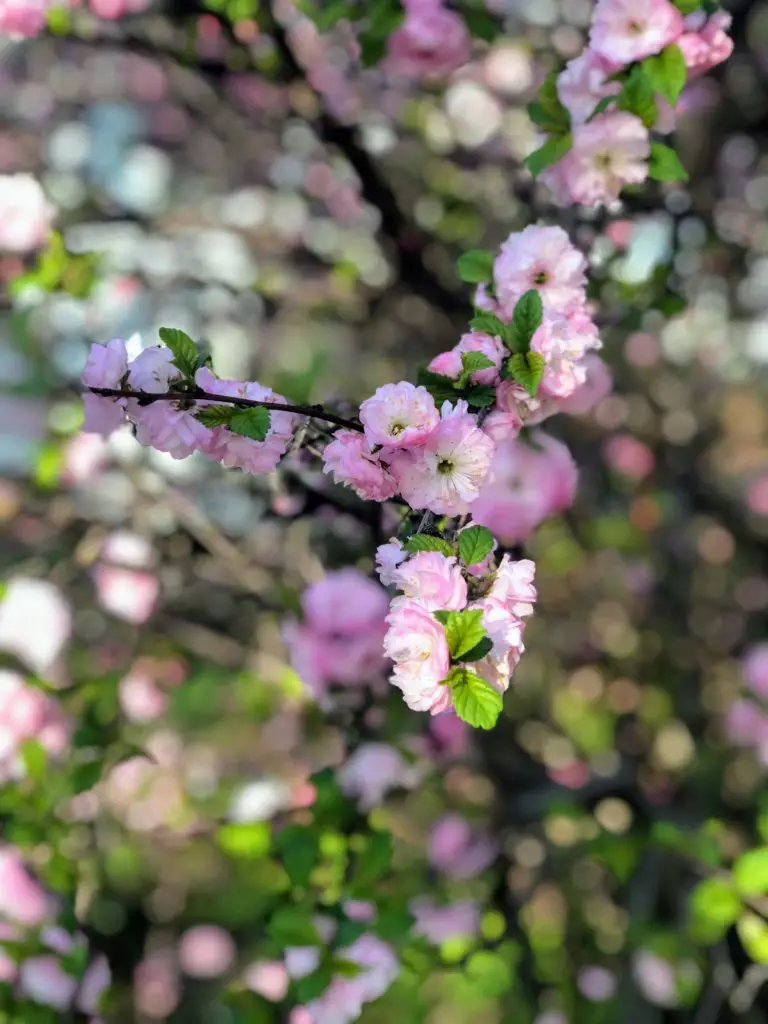 Spring Things to Do in Minneapolis-St Paul for Shoppers
Mall of America
Tourist trip, yes. As a local, do I visit frequently? No. But is it something to see if you are visiting or a good way to spend a rainy spring day, yes. I'm not a huge shopper (I know plenty of locals who LOVE this mall) but, as the biggest mall in North America,  the Mall of America is truly is a sight to see! Go on a date to shop at your favorite stores, grab dinner, and see a movie. Make it a girl's day. Or a fun for the whole family day and hit Nickelodeon Universe—the mall's indoor amusement park, the aquarium, Crayola Experience, or the Lego Store.
Support Lake Street
As Lake Street continues to rebuild, head in that direction to enjoy shops and show your support. Lake Street is rich in arts and culture and full of hidden gems. You can hit Minnesota gift shops, galleries, bookstores, breweries, sporting goods, and restaurants. Of course, be safe. But don't believe everything you see that's portrayed in the news…
Spring Things to Do in Minneapolis-St Paul for the Hungry/Thirsty
Get Ice Cream at MN Nice Cream
You're going to love your pictures as much as you love the ice cream! Built for Instagram, grab yourself a photo of your MN Nice Cream soft-serve complete with sprinkles, drizzles, doughnut holes, and glitter. It's really an amazing place in the city and a memorable spot for a treat!
Find an Outdoor Patio
Spring time, of course, means the emergence of warm weather outdoor patio days. Everyone's favorite! Grab drinks and some food at one of these great locations:
Hola Arepa: Keep the warm weather vibes and visit the tropical and vibrant Hola Arepa. They have the cutest outdoor patio and delicious food and drinks!
The Freehouse: High-end sports bar vibe with really, really good food and fun outdoor space decorated with greenery.
Psycho Suzi's: if you've never been, you'll love this place on the river. Tiki huts, great apps, and tropical cocktails with flowers and enough booze!
Sea Salt Eatery: if you go to Minnehaha Falls (mentioned above), don't miss this spot (open March-October) for one of the best fish tacos!
The Gnome Craft Pub: A giant patio and beer garden where you can have an awesome time and order delicious food.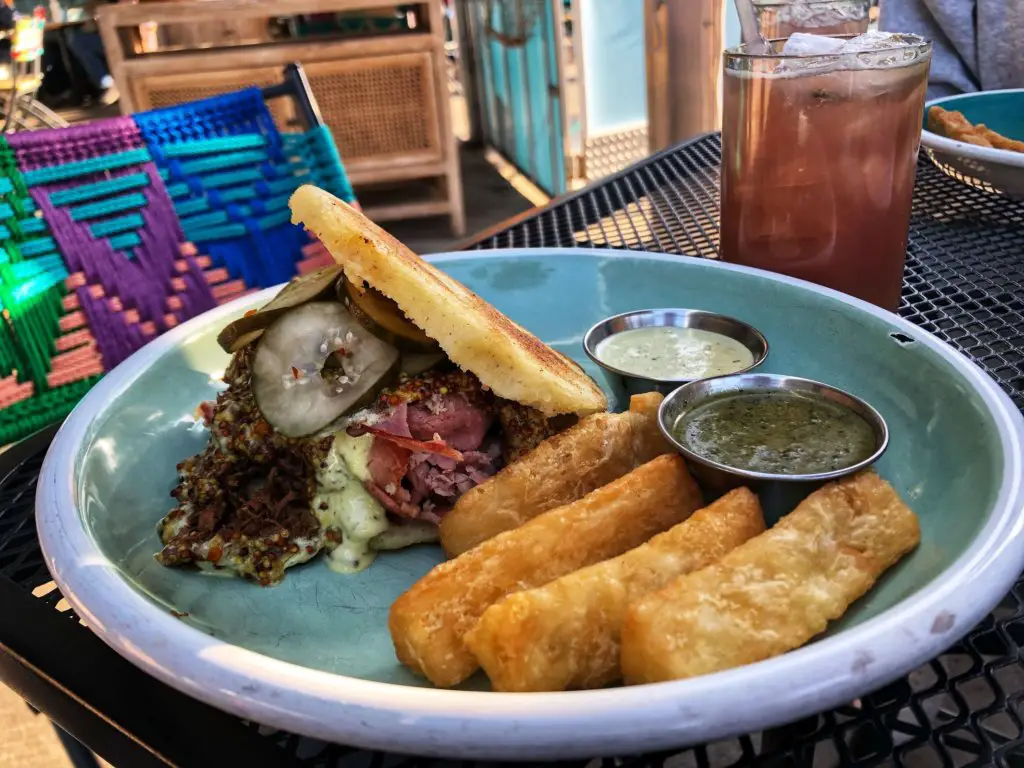 26 Best Spring Things to Do in Minneapolis-St Paul (Twin Cities) MN
Spring is an exciting time in Minnesota and full of options for the hikers, shoppers, athletes, activity junkies, and the hungry. Whichever one you are on any particular day, pick a spot and enjoy your Minnesota spring day!
Need a weekend OUT of the city? Read Minnesota Spring: 8 Places to Visit in 2021