What am I learning about in 2023? Traveling while pregnant! And let me tell you, it's different. Typically, I pack my travel days with fun things to do from morning to night. I love a good party. I eat everything and anything because I love trying local cuisine and/or new foods. And it's rare to find me in any kind of bad mood while I am on a trip.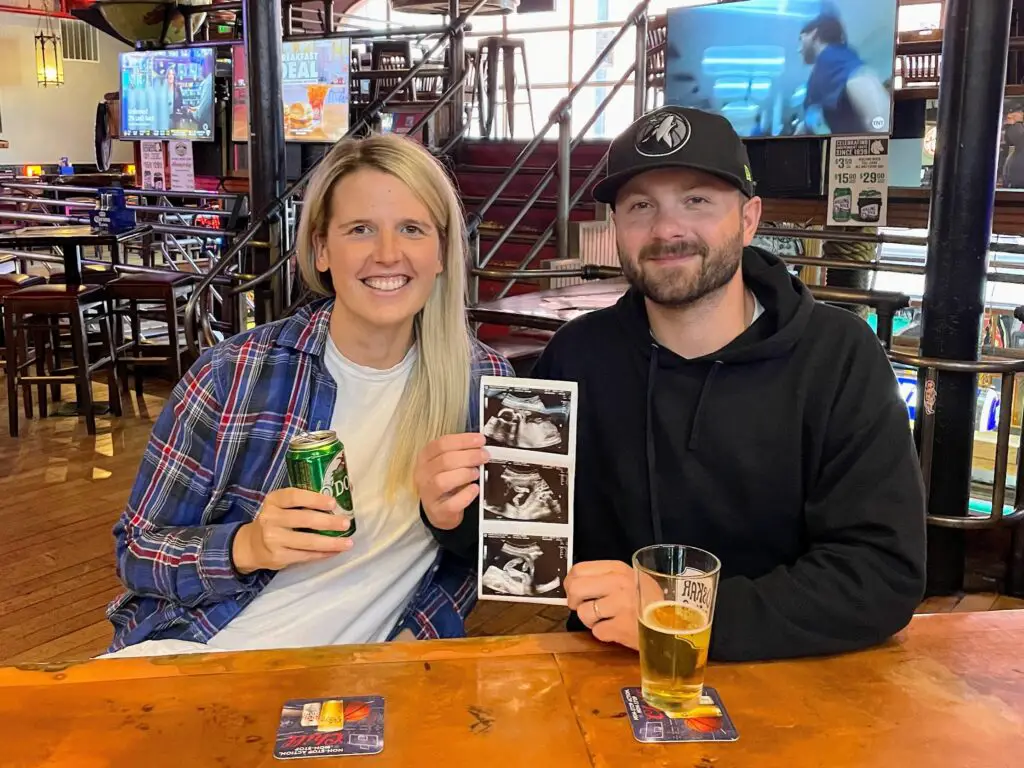 But now…I feel like all of that has turned right on its head! I get tired earlier (and randomly.) I can't party at all (I'll admit this is the most difficult for me to handle!) There's always that voice in the back of my mind wondering if I should eat something or not. And bad or salty moods show up a little more often.
That said, I wasn't going to let pregnancy stop me from traveling!
While pregnant, I've been to Austin, Aruba, and Las Vegas with future trips planned before our baby arrives. And throughout my travels, I've been thinking about these…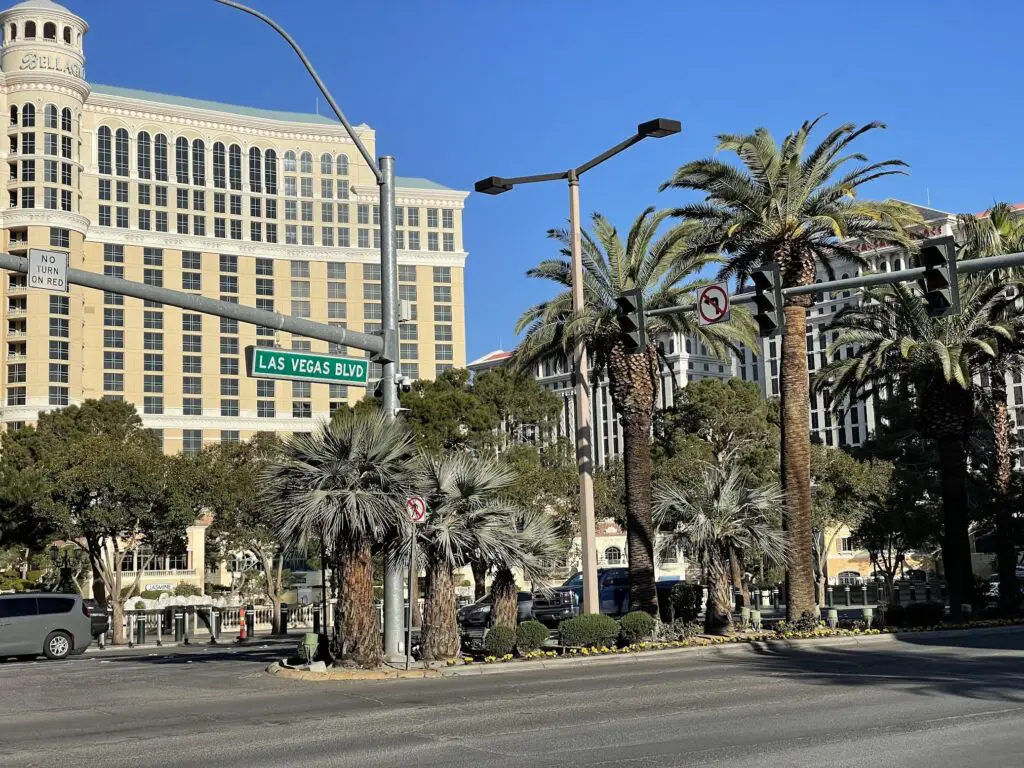 21 Tips For Traveling Pregnant
I can't be the only one who finds this new way of life challenging (or at least different!) so I figured I'd share my tips and tricks for continuing to enjoy and even love traveling while pregnant. Here are my 21 Tips For Traveling Pregnant:
1. Check with Your Doctor
In most cases, you can travel until 36 weeks pregnant but there are risks and other factors that tie into if you should be traveling or not. Make sure your doctor clears you to travel whether you are taking a road trip or hopping on a flight. Once you get the all-clear, you'll have peace of mind!
2. Plan Around Your Appointments
Keep your monthly appointments and ultrasounds in mind as you plan ahead for your trip. You don't want to throw these off any more than you need to. Luckily, your monthly appointments are typically around the same time each month so you can plan ahead.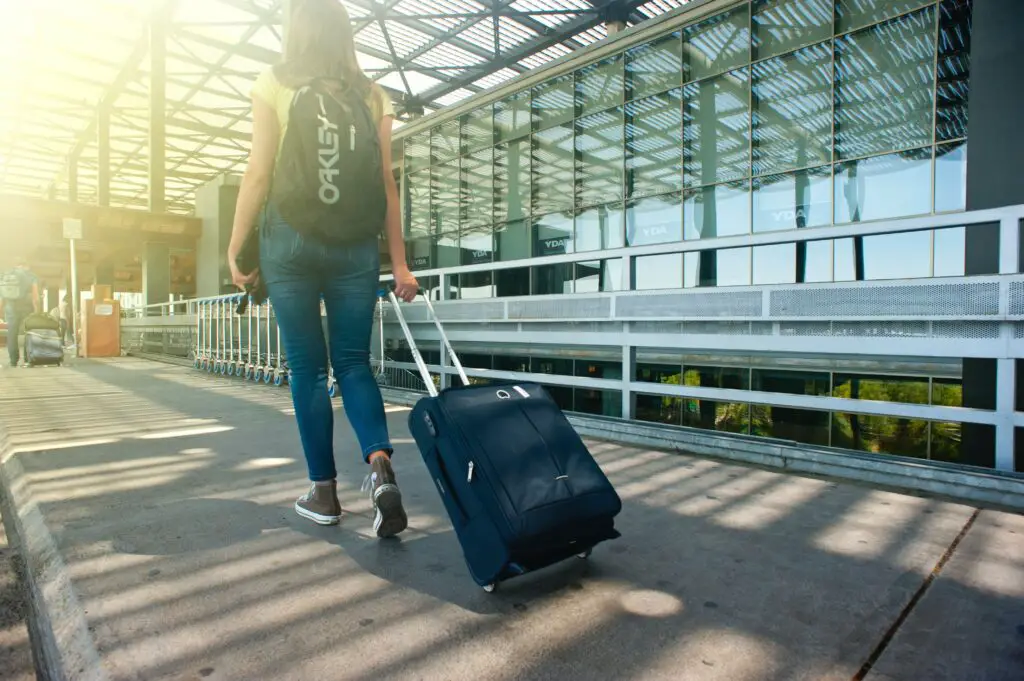 3. Travel When You're Most Comfortable
Be mindful of how many weeks along you will be during your trip. The real sweet spot is between weeks 14-28. You're in the second trimester and (usually!) feeling good with high energy. In the first trimester, you're often fighting sickness and/or fatigue. And the later you get into trimester three, well…you're likely going to be a little uncomfortable!
4. Choose the Right Destination
First things first, the weather. You won't want to be exploring Washington D.C. or Texas in the heat of summer, or Minnesota or New York in the winter—especially the later you get into pregnancy! Choose somewhere nice with mild, warm weather.
Second, think about what you're going to do. A trip like Austin, Texas was tough for me because our trip was centered around live music at bars while everyone gets drunk and sings! And while I thought Las Vegas would be underwhelming (and annoying) while completely sober, I actually had a blast because there is just SO MUCH going on! And making bets and watching basketball was a big distraction.
Choose a place where there is enough to do for you beyond cocktails and parties.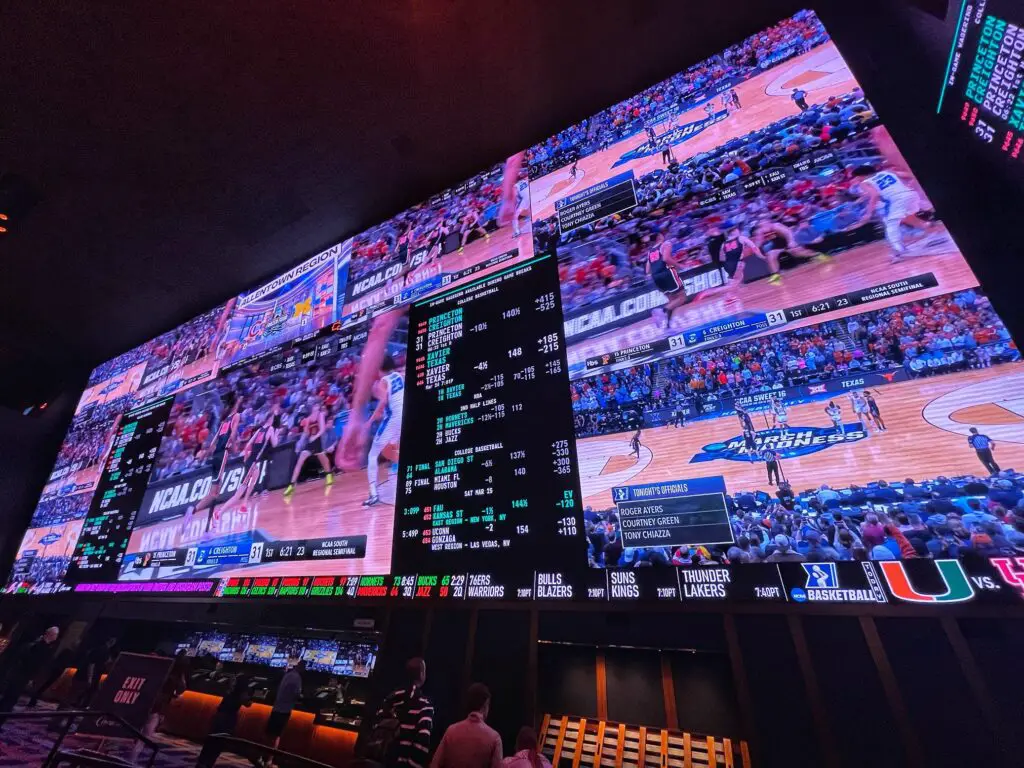 5. Shift Your Mindset
This is a big one, and easier said than done. But you do need to reframe your brain before you go on a trip—ESPECIALLY the trips you have been on before! I traveled to Aruba with my family for the 8th time and it was a much different experience without the daily beers and fun parties. I won't lie, it kind of sucked at times!
But I did do my best before the trip even started to reframe what this vacation was going to be. I went from party mode to relax mode. The vacation became a chance to unwind and chill out on the beach, which you surely cannot complain about.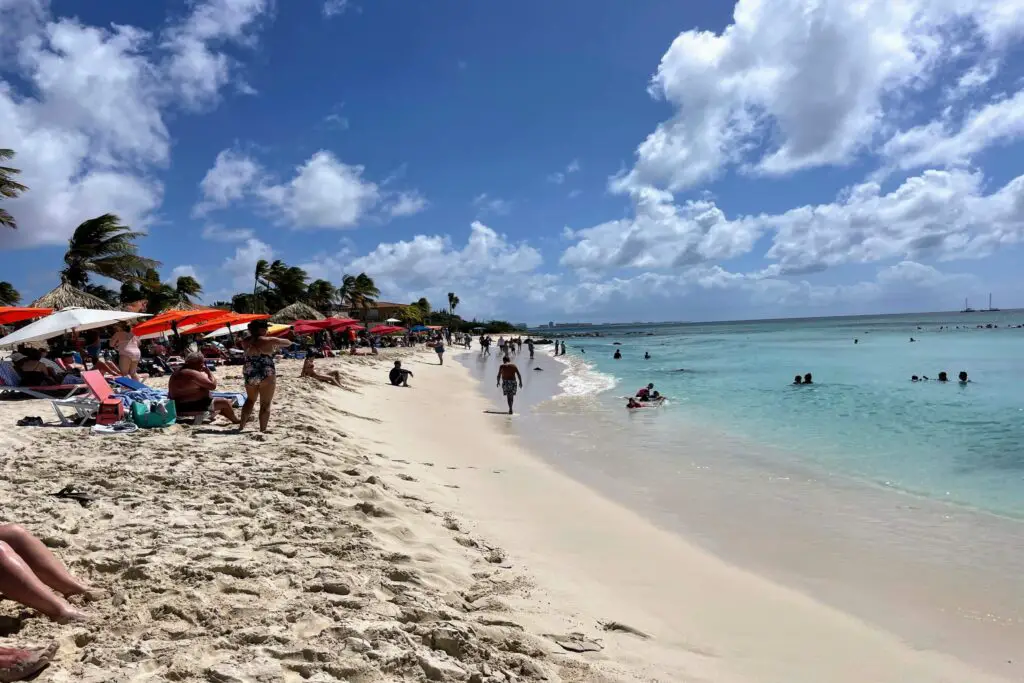 6. If Driving, Make Frequent Stops
Agree with your travel partners ahead of time that there may be more stops than usual. Pregnant women are at a higher risk of blood clots, not to mention swelling and overall uncomfortableness. Prolonged sitting can cause all of the above so be mindful about moving as much as possible.
7. If Flying, Book an Aisle Seat
An aisle seat will be a wonderful perk! You will definitely want to get up and walk up and down the aisle every two hours or so. Oh, and of course, the peeing—it's frequent lol.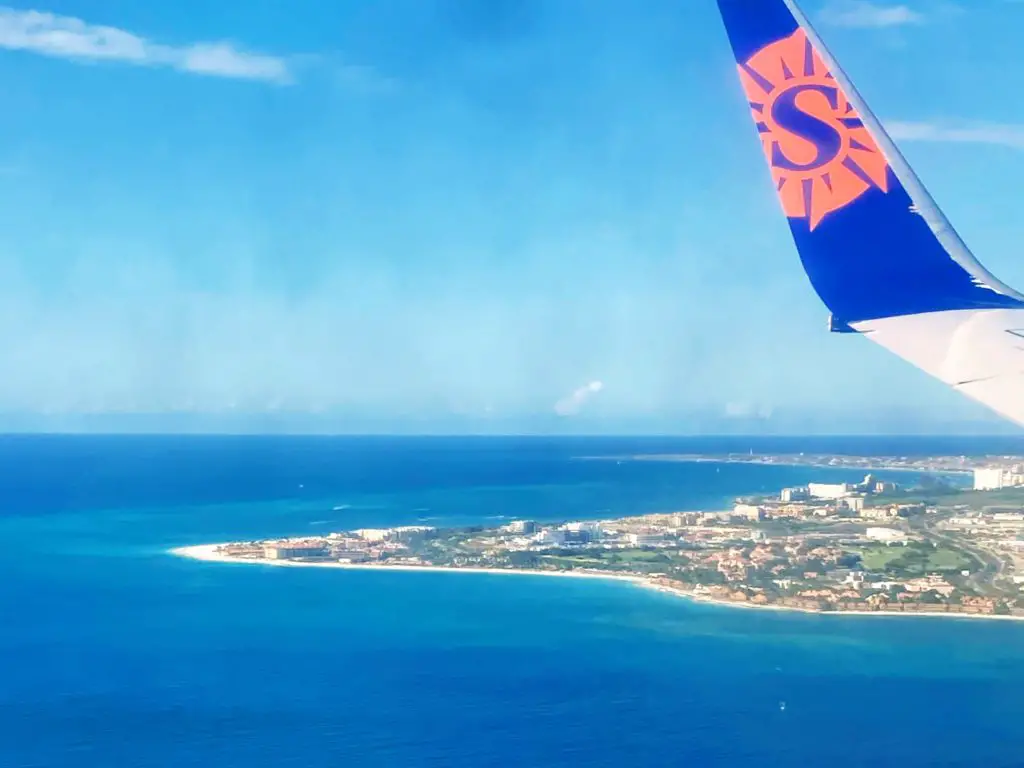 8. Consider Travel Insurance
I'm not one to purchase insurance when it comes to flights and hotels, but it's not the worst idea when you are pregnant. If you are booking logistics far in advance, consider the extra cost for peace of mind in case something comes up and you need to cancel your trip.
9. Know Your Plan B!
Not THAT Plan B… a little late for that lol jk. But seriously, do a little research beforehand so you are aware of where the nearest hospitals are. It's worth knowing where the closest walk-in clinic and urgent care facilities are located as well. Hopefully, you won't actually need this information, but it's important to know in case any complications arise.
PRO TIP: Make sure to check locations that are covered by your insurance!
10. Pack Your Prenatal Vitamins
And leave them right next to your bed! These are easy to forget when your day-to-day is thrown off and you don't want to miss a bunch of days in a row. Keep them near your pillow and take first thing when you wake up or right before bed.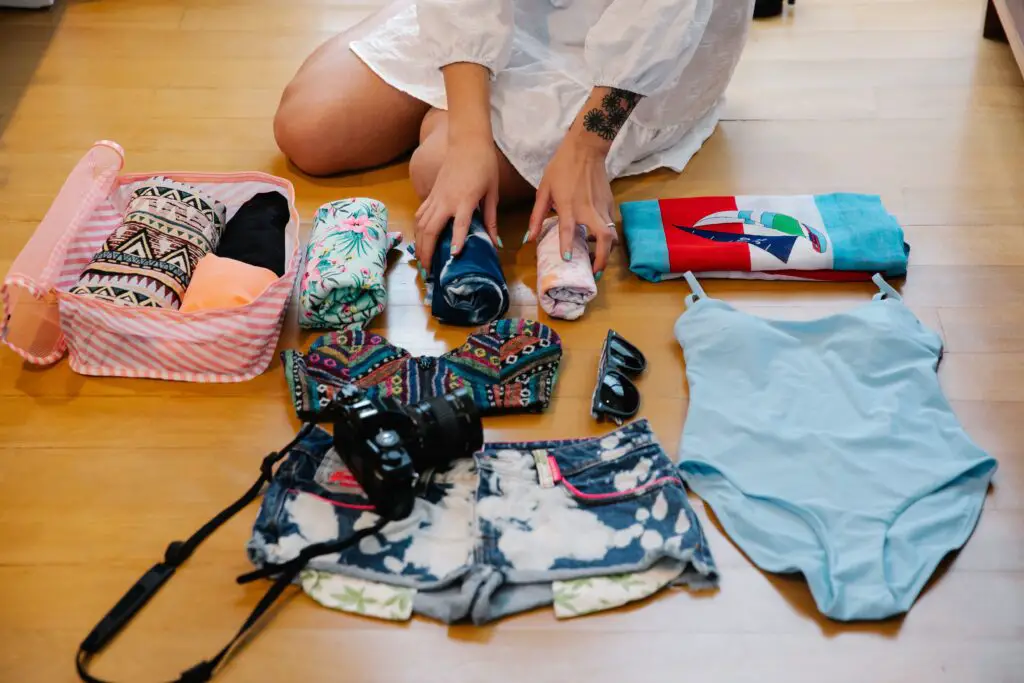 11. Stay Hydrated
It's super important to keep your water intake high while pregnant, and sometimes this can get overlooked when you're not at home in your normal routine. Make sure to bring a refillable water bottle with you and stay hydrated throughout your trip!
12. Drink 0.0 & Mocktails
I swear it really does help, especially if you're around a group of people drinking. Having a non-alcoholic beer or a virgin cocktail just helps you feel more included, and they really can taste (close to) the real thing. And just remind yourself that you're not about to start acting like an idiot! 🙂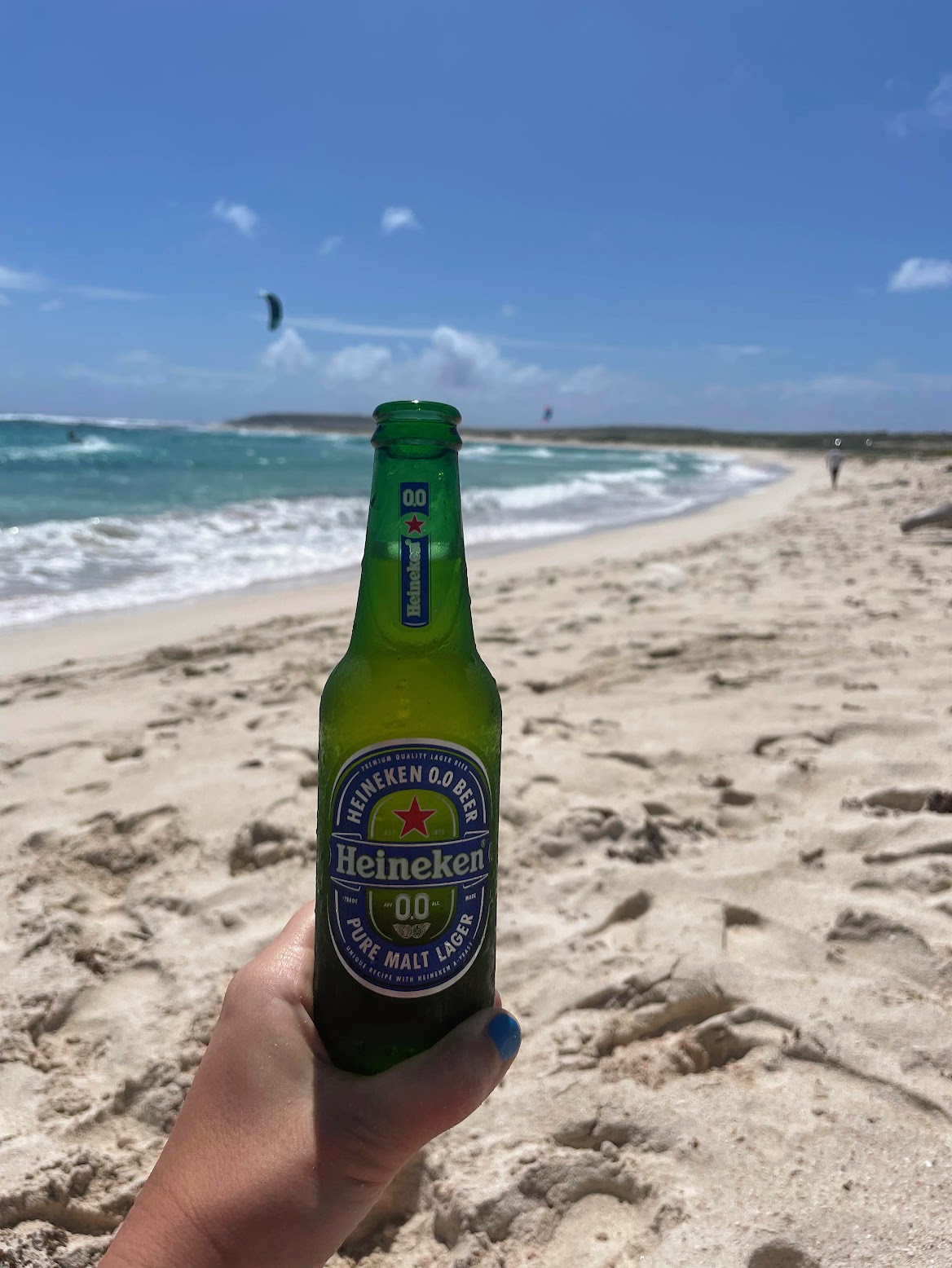 13. Focus on Good Food
When you can't have a cocktail, focus on all of the delicious foods you get to eat. Scope out a few restaurants that you can look forward to and choose some of your favorite cuisines. You're saving money on booze so you may as well spend it on food! Instead of bar hoppin' with beers, bar hop with appetizers! Ha.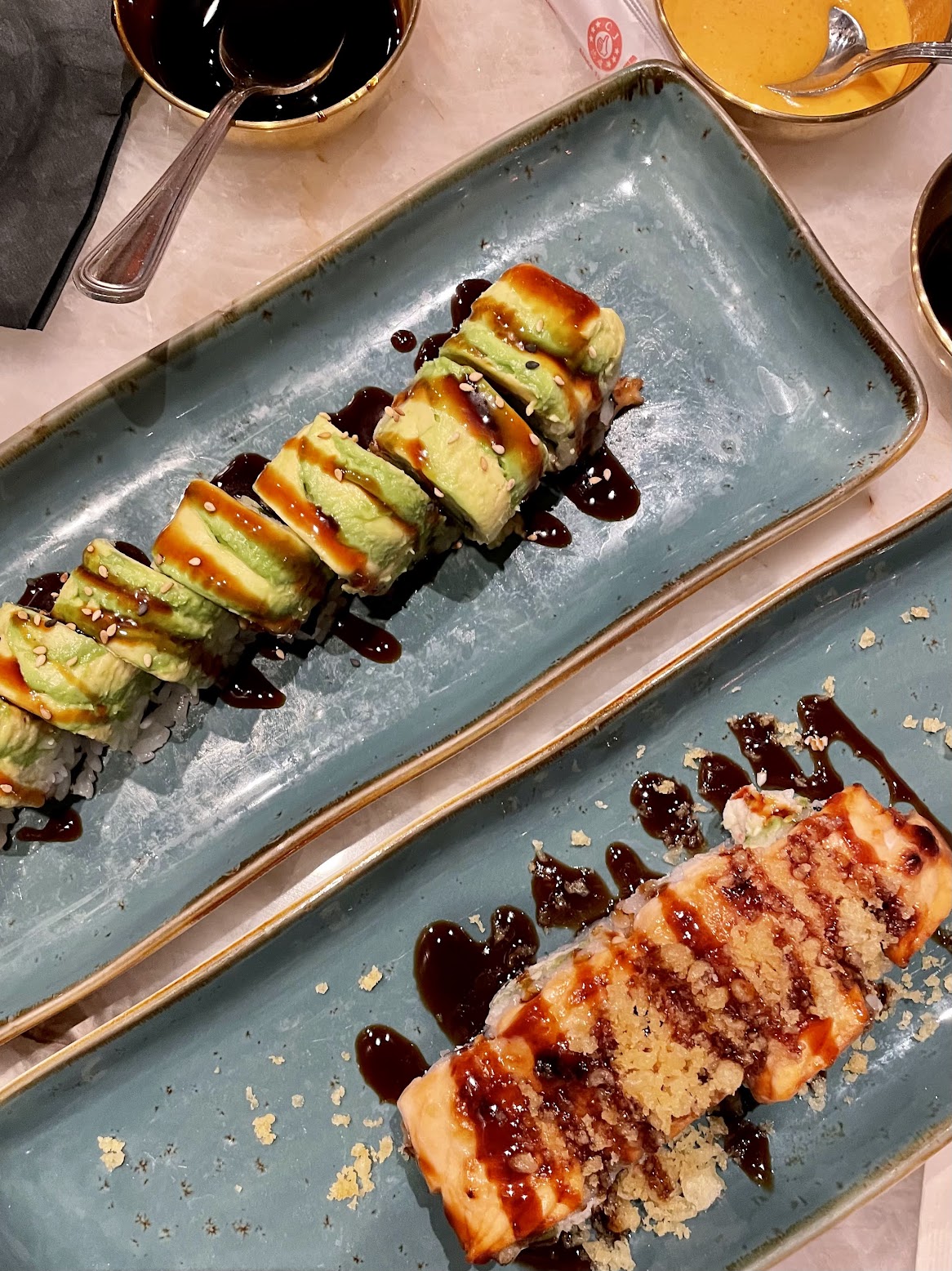 14. Bring Snacks
Hunger can strike at any time so make sure you bring some easy-to-travel-with snacks like dried fruit, nuts, and granola bars. Keep them somewhere that's easy to access so you don't get hangry!
15. Buy Your Favorite Snacks
Also, buy your favorite snacks when you get there. I have been loving me some pickles and string cheese so I made sure to stash those in the fridge when we were in Aruba!
16. Don't Overbook Your Days
Yes, it's fun to see and do everything, but the reality is: you won't want to! Plan one or two things each day and let the rest be dictated by your energy levels. If you're overtired, you won't have any fun and your best option might just be a nap!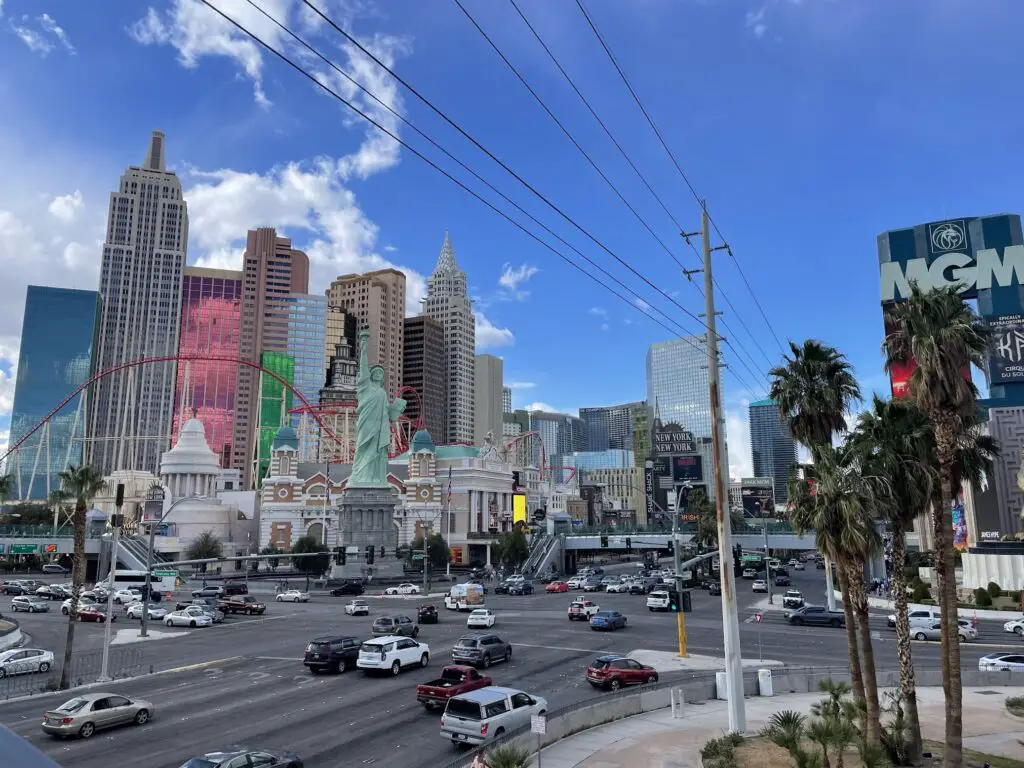 17. Go to Bed Early
This one shouldn't be a problem! You're going to be tired. And you may want to get away from the fun, nighttime partying everyone else is doing. But I promise, putting on your PJs and cozying up in a hotel bed (maybe with a treat!?) feels pretty damn great too.
18. And Enjoy the Mornings
A bonus to not drinking? NO HANGOVERS! And it is a beautiful thing. No pounding headaches, upset belly, next day hangziety. Enjoy this TO THE FULLEST. Get up early, have something good and healthy for breakfast, enjoy the sun, go for a walk or hike, find a fun coffee shop, anything your heart desires. While your travel partners are lying in bed poppin' Advil and chugging water, get out there and see what fun you can find!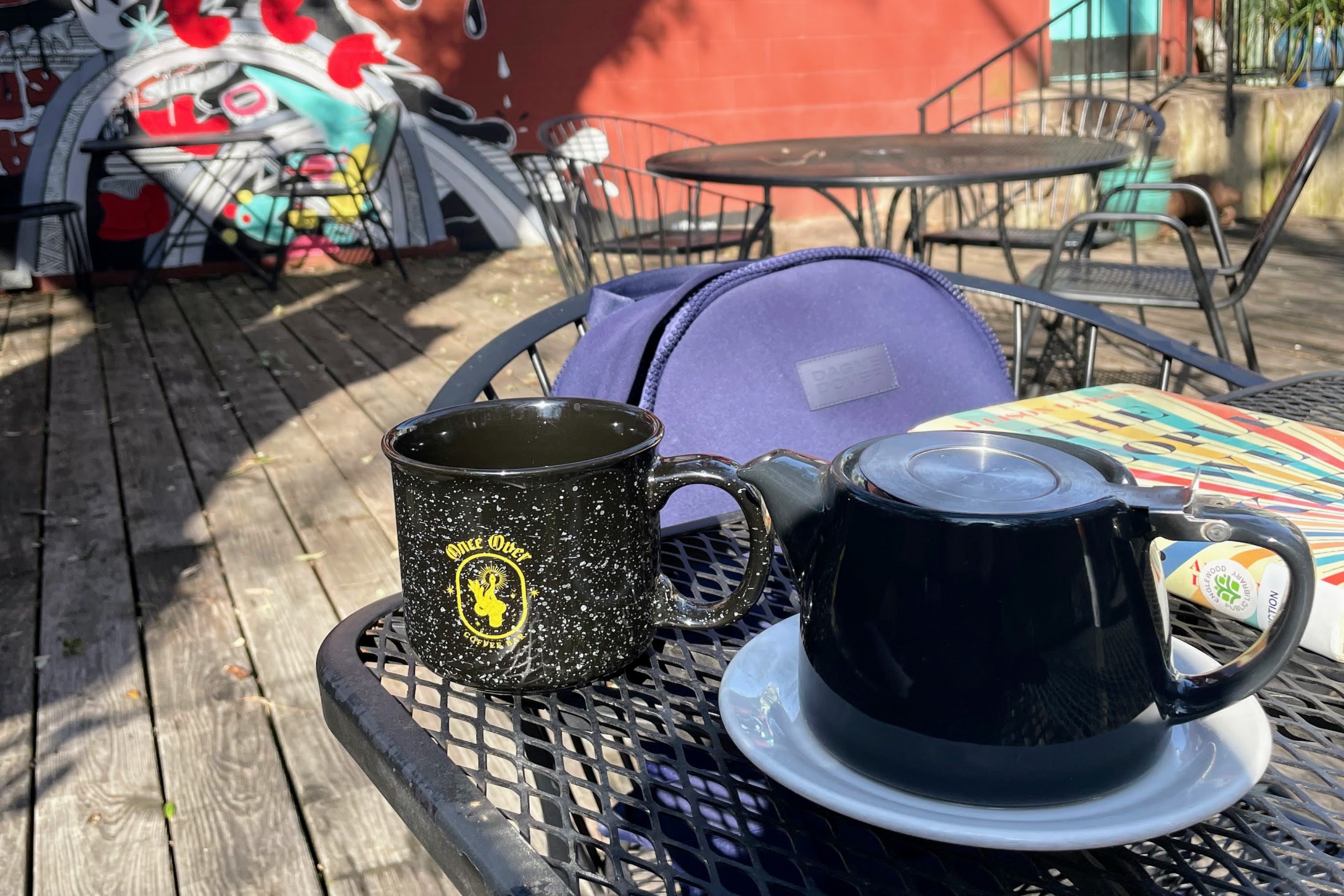 19. Treat Yo' Self!
You (obviously) deserve it! Splurge on a massage, facial, pedicure, or complete spa day. Go shopping and buy something nice. Get a new book for the beach. Whatever your favorite way to relax is, find a way to do it on vacation!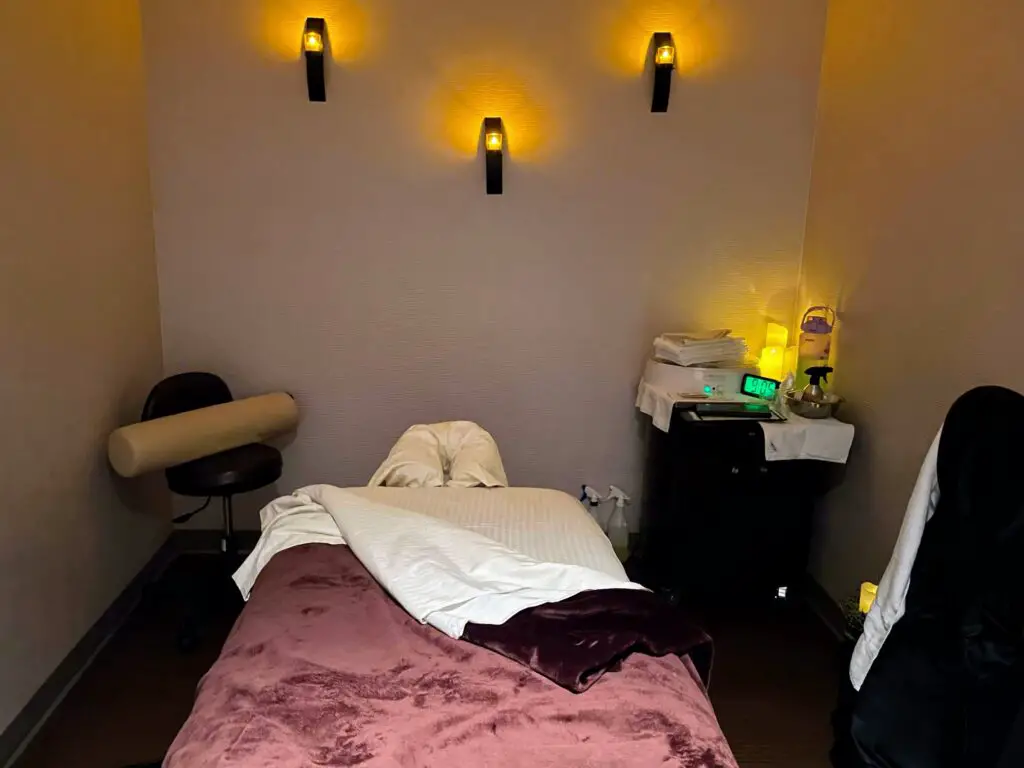 20. Take a Break from the Group
Remove yourself if you want! If your group is off enjoying happy hour or partying late into the night, go do something else. Enjoy some alone time in your room, go find something else to do, or go to bed. No one will care (or even notice lol) and it's not worth being bored, annoyed, sad, or frustrated.
At the end of the day, you're still on vacation. Do whatever the hell you want! (You do have the pregnancy excuse in your back pocket if anyone wants to say anything!)
21. Remember, It Doesn't Last Forever
While 9 months sure feels like a LONG ASS TIME while you're going through it, it will end, and you will be back to your old self. And the beer will taste that much better! (This is me typing this in hopes it sticks into my brain because I haven't really accepted it yet—and I'm halfway done! LOL)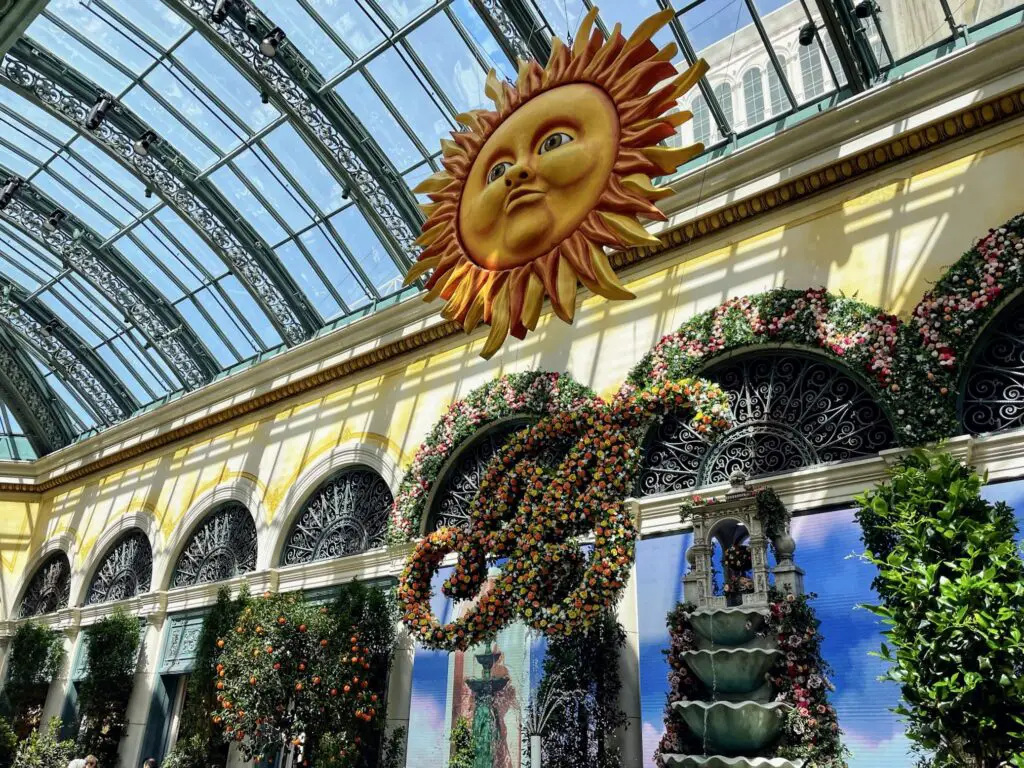 21 Tips For Traveling Pregnant
I'll admit, these might not be your MOST fun vacations. But, they are still going to be relaxing and memorable. Plus, what are you going to do? Sit around the house for 9 months? Not me. The world is much too big to see and pregnancy shouldn't stop you. Hopefully, these 21 tips for traveling pregnant help you out.