You might think a trip to Aruba is nothing but going to the beach. And I'm sure for some people, that's true. Now don't get me wrong, you will enjoy yourself if you do it that way. And if you want to keep things simple and chill, that may be the best option. But know that you will miss out on some action and experiences going on around the island. Aruba isn't exactly a beached whale vacation.
From off-roading excursions to days out at sea to finding spots full of arts and culture, Aruba has a lot to offer. And the best part about it? You're safe anywhere you go. It's an island to explore, cruise, tour, and meander. And whether it's by UTV, catamaran, car, or your own two feet, it's worth it. Here are 7 things to put at the top of your list when visiting One Happy Island:
1. Make Friends in Aruba
Not what you were expecting, huh? But hang on, it's important. I list this first because you should be mindful of it everywhere you go! People ask what my favorite part of Aruba is. And also why I keep going back. #1 reason, hands down? The PEOPLE. They make you smile, feel welcome, remember your name, and want to share their home with you. The toughest part about going home is leaving all your island friends behind. (Until next time…)
Talk to the locals, ask their names, get to know them, share stories and laugh. They are the best, most genuine humans out there!
2. A Day at Eagle Beach
I said don't spend every day at the beach. But one most certainly belongs at the top of the list. And that's this white-sand, turquoise water beach that's a consistent Top 5 Beach in the WORLD. And for good reason. A day spent here will be a highlight of your year with its incredible views, soft sand, beach activities, light waves, and a sunny day paired with a breeze. You will forget about every problem and worry that tried to come to the island with you.
For more details on a perfect day here (when to arrive to get a palapa, food/drinks in the area) read Aruba Beaches: 6 Spots to Enjoy.
3. Visit San Nicolas, Aruba
It's easy to get caught up in everything near the resorts, but don't let the west-side trap you. Make your way south (you will need a car or there is a bus option) to San Nicolas where you will get a feel for what it might actually look like to live in Aruba. Rich in history and culture. Bright, colorful murals and artwork. Locals going about their day-to-day life. Here are a few things to check out:
Baby Beach
Eagle Beach is a tourist hot-spot that lures in resort guests. Baby Beach has a mix of both vacationers and locals. It's a chill spot with warm, shallow waters, snorkeling, and an animated Flintstones-themed bar with colorful cocktails and lively bartenders. Get here in the morning for a palapa, spot underneath the trees, or a beach hut.
Note: the same blog from up top, Aruba Beaches, will give you more info.
Rum Reef
Order a cocktail and take a dip in the infinity pool overlooking the bright blue turquoise ocean. This bar brings a magazine to life. Rum Reef is right near Baby Beach (you will pass it on your way in) so after a day in the sun, hop on over here for a refreshing dip in the chilly pool with impeccable views. Note: You'll need to spend $15 per person to access the outdoor infinity pool.
Local Art & Murals
Don't let the talent go unnoticed when you visit San Nicolas with their come-to-life murals and shake-your-head-worthy paintings. Check out where buildings have transformed into local art since the Art Fair in 2016. The pieces are remarkable!
Charlie's Bar for Drinks
The most famous bar in San Nicolas. It's become a "tourist trap." But it's worth it. Charlie's Bar, a family-owned and operated pub that's been open since 1941. It's a space chock full of memorabilia and bartenders ready to make you smile. Stop in for a beer!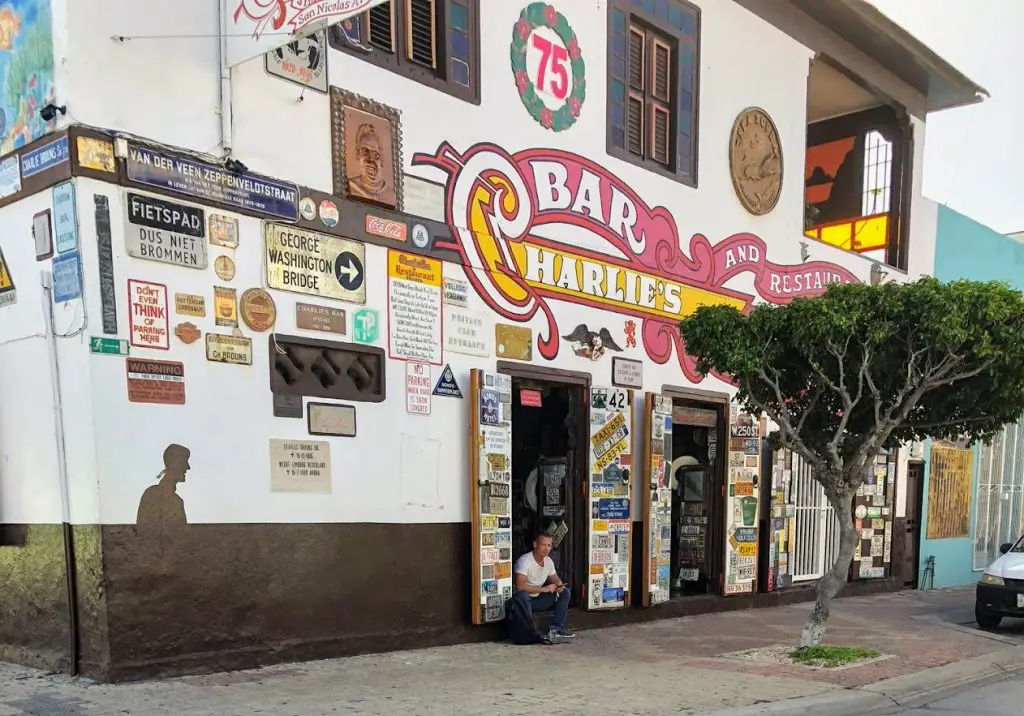 Zeerover's for Lunch or Dinner
In the wee hours of the morning, while it's still dark and quiet, locals are out fishing beyond Zeerovers. And everything they catch is what's on the menu! Your food is brought out to your picnic table on the water in one big basket, complete with fish that's lightly crusted and flaky. Optional sides include fries, plantain, cornbread, onion, and tartar sauce. It's a great experience. Tip: CASH ONLY!
4. Snorkel at Arashi Beach
If snorkeling is high on your list, this is the place to do it. Get here by 9:00AM (before the tourists start to arrive on catamarans and scare away all the sea creatures) and experience the thrill. Sea turtles, stingrays, barracuda, starfish, sea urchins. They're all there!
Tip: There are no equipment sales at Arashi Beach. Bring your own, rent snorkel equipment from your resort, or (recommended) get it from Palm Beach. Red Sail Sports, located on the beach-side of the Hilton, rents full gear for $15 (24-hours).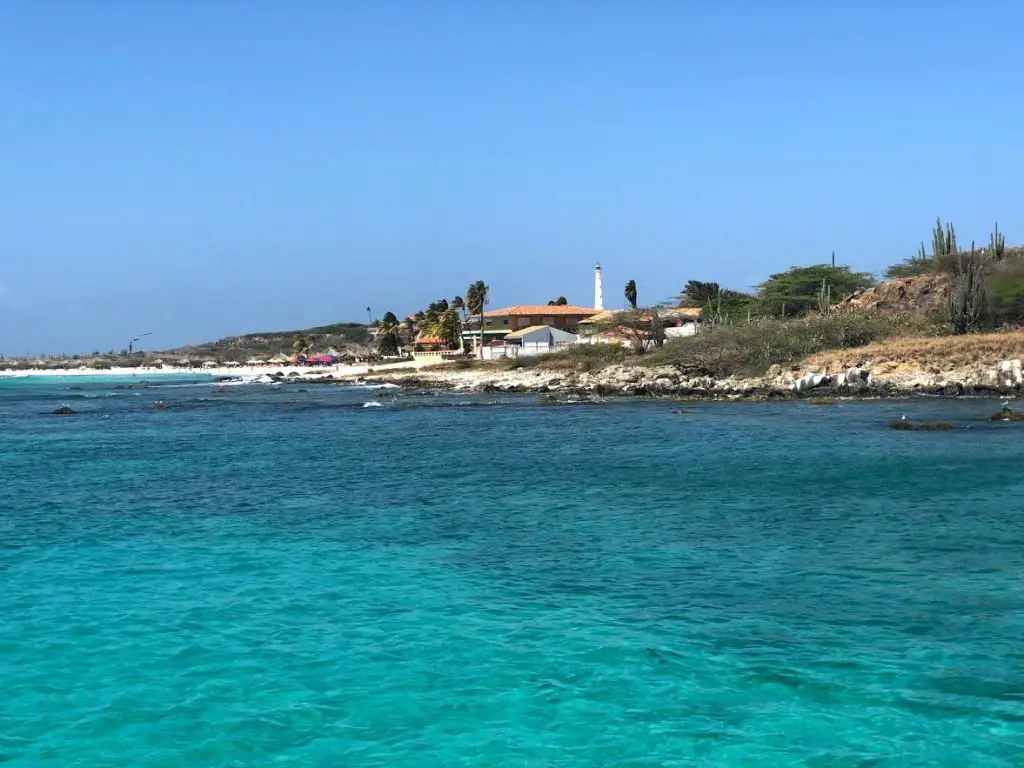 5. Enjoy a Catamaran
The highlight of my vacation for the last 3 years. Being out in the Caribbean is exceptional and the color of the water never ceases to amaze you. Swim, snorkel, enjoy the music and drinks and relax on a 3-hour boating excursion that will make you feel like you need to do it again before you leave. It's a dream world that never lasts long enough. There are places along Palm Beach to block a day/time that works for you. And I highly recommend looking for options with 15-20 people on board. Some will pack as many as 50.
6. Rent a UTV to Explore Arikok National Park
Your trip is not complete without a visit to the east side of the island, home to Aritok National Park. While the west-side is full of restaurants, white-sand beaches, and resorts, the east is desert land along the rough waters and dusty roads. I recommend renting a UTV (or a jeep) for the day and taking a self-guided tour so you are able to make your own stops at your own pace. This adventure includes the Natural Pool, drinks at Boca Prins, caves, and much more. Note: you cannot do this is a car!
For a full guide including what to bring and where to stop, read Aruba Jeep Tour.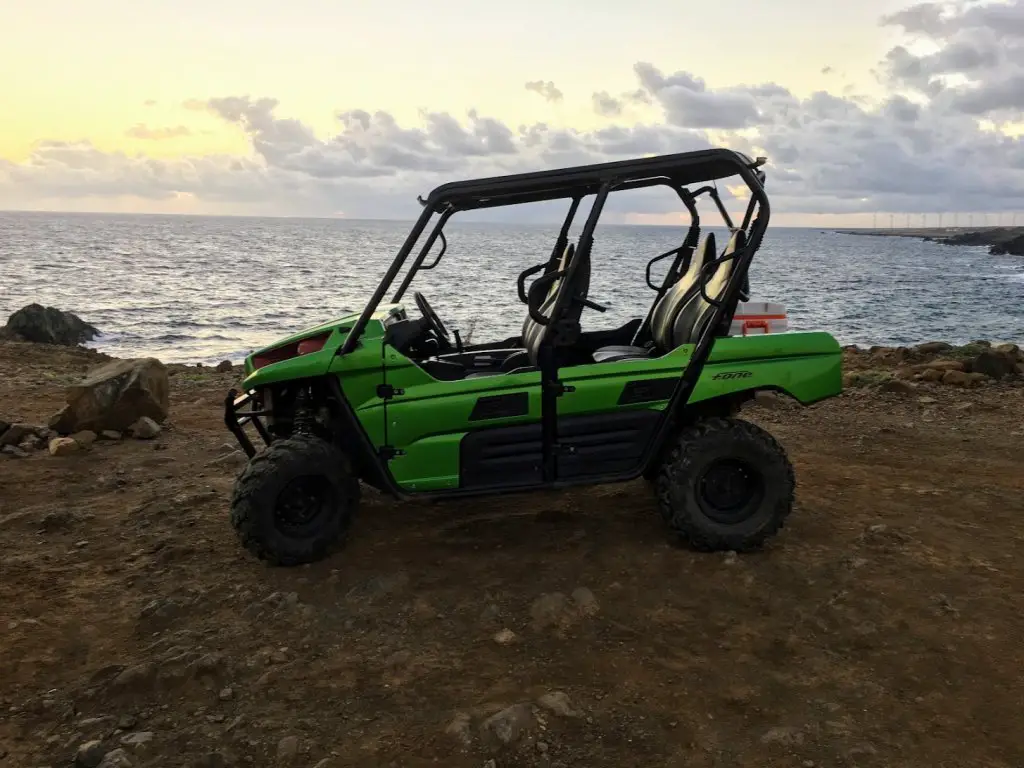 7. Bar Hop on Palm Beach
You've got to have an all-day party day at least once while visiting the island. And it's easy as ever to create your own pub crawl. Walk along the beach—stop at a bar. Walk a little farther—stop at the next one. There is no shortage between the pier bars and those off the 2-mile walking path.  A few of my favorites:
Bugaloe; beach pier bar with staff ready to dance and liven up your day. Located between the Hilton and the Riu.
Moomba's; the most well-known party place on the island. Located between the Marriott and Holiday Inn.
Piets Pier Bar; tiny pier bar with great views. Located at Hyatt Regency Aruba Resort.
Carlitos; even the locals show up to this sports bar. Located off the walking path near Playa Linda Resort.
For more details and places to have a good time, read Where to Party in Aruba.
Bonus! Downtown Orjansted
Markets. Festivals. Shopping. Dining. History. There's much to explore in the island's capital. If you're ready for a break from swimsuits and sand, head down for the afternoon.
Endless Opportunities in Aruba
For such a small island, there really is much to experience in Aruba! Mix in both relaxing days at the beach with adventurous days exploring and everything in between.