If you're planning a trip to Aruba, you are likely thinking of all the right things. Beaches, pools, palm trees, cocktails, fresh fish, and an opportunity to enjoy time on a Caribbean island. You deserve to daydream and anticipate ALL of the fun things about the small island of Aruba. And I will help you out with the rest. These Aruba travel tips might get overlooked before your first time on One Happy Island, but you'll be all set by the end. This post is full of practical information for one of the best Caribbean destinations out there!
Avoid these 17 mistakes when you visit Aruba and you'll make your vacation even MORE memorable!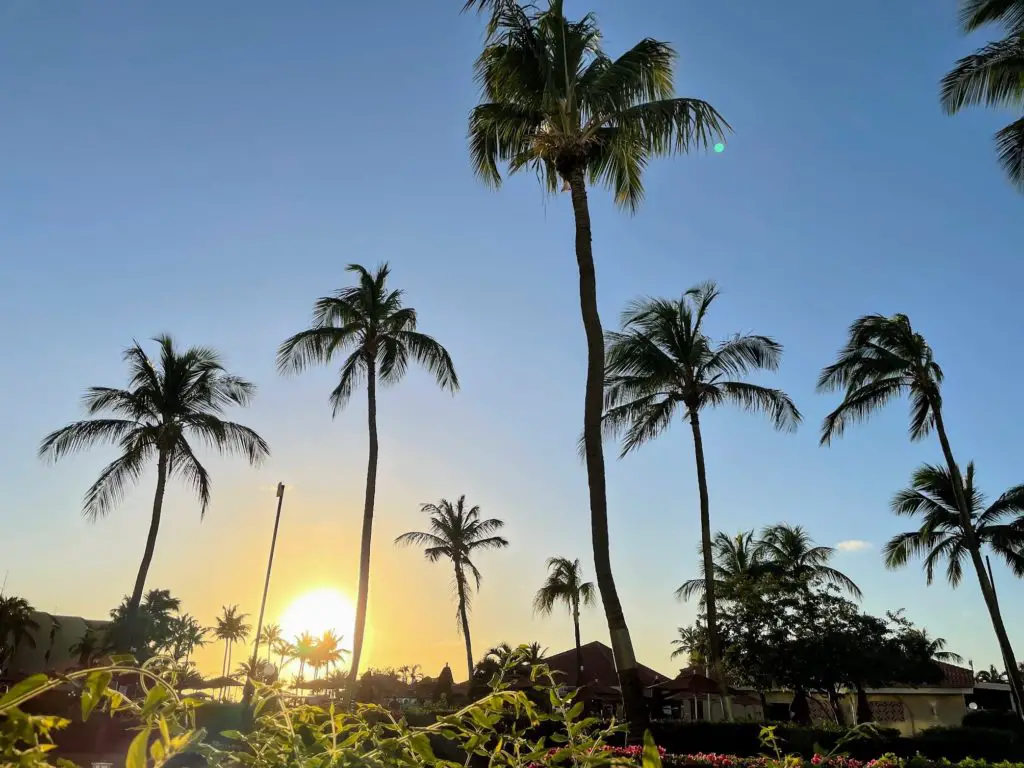 Rest assured that you have chosen an amazing place! The weather could not get any better. The locals are beyond friendly. You'll eat (and drink!) good. And it's always a happy place. Here are the mistakes to avoid and my best Aruba travel tips…
1. You Forget Ponytails/Headbands/Hats, and Clips
When I say the wind blows in Aruba, I don't mean a little bit. I mean the wind REALLY blows in Aruba. It's a good thing because of the heat, but you will still want to be prepared…
First, make sure to pack ponytails, headbands, and hats to keep your hair out of your face (see tip 3 if you don't have hair!) And side note, if you are envisioning a perfect hair day in Aruba, just get that out of your head now lol. Beach hair—all day, every day.
Second, towel clips are your best bet. Buy them or you are going to fight your towel every single day. These keep it in place and you will thank yourself. Here is a good set.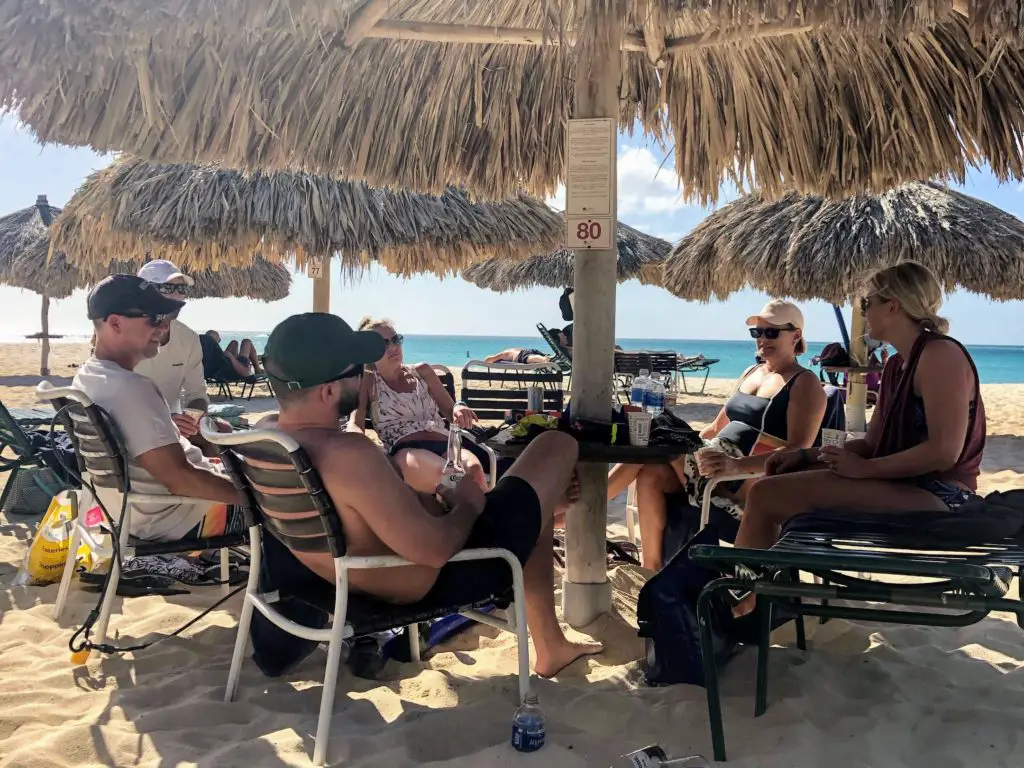 2. You Bring Too Many Fancy Outfits
Aruba is VERY casual! Leave your heels and sport coats at home because nearly every restaurant you go to will only require relaxed attire. While you might want to bring one or two dresses or button-down shirts, don't feel the pressure to look formal. Even high-end restaurants don't require it.
One of the best tips I can give you is to spend your money on bathing suits and cover-ups! You're better off having a variety of those and throwing on a tank and jean shorts at night. Trust me, you will fit right in.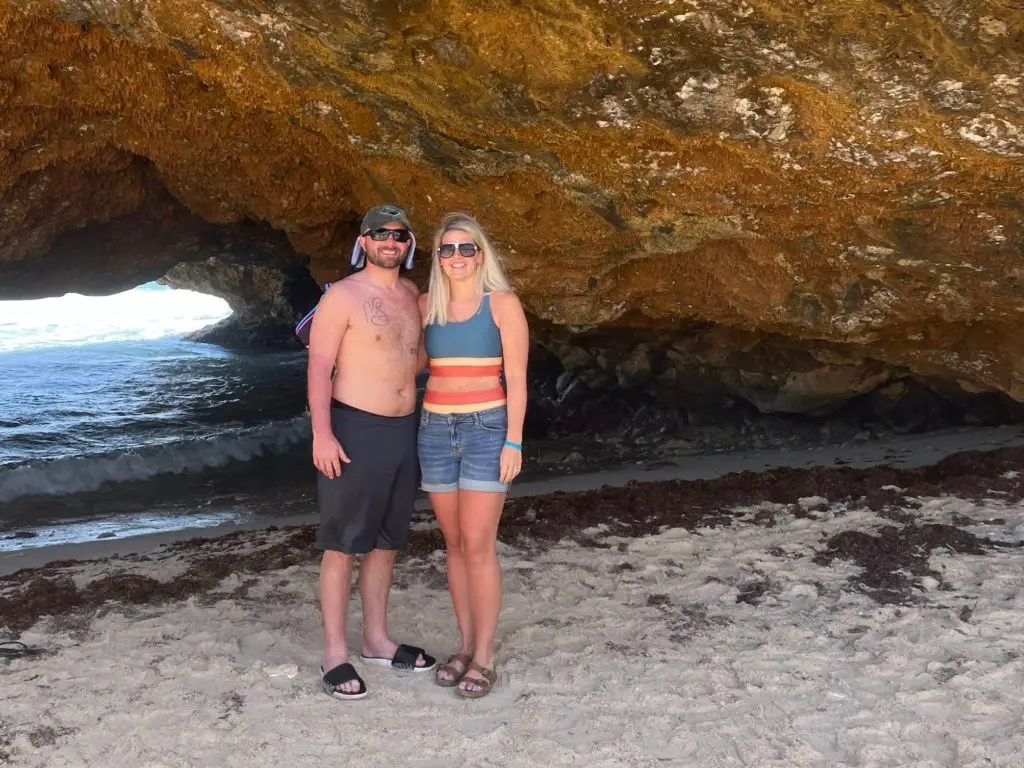 3. You Don't Bring Enough Sunscreen
All right, you probably aren't planning to visit Aruba without sunscreen. That said, this is one of the most important Aruba travel tips and you'll want to bring a little extra: Aruba is HOT. And while it's breezy and some days you won't notice its intensity, make sure to reapply a few times throughout the day. A great way to be miserable in Aruba is to forget! Remember, you are close to the equator.
Recommendations: I have a very dry face and love the Aveeno 30 SPF. I'm also into Cocokind which is a more natural/organic sunscreen for the rest of my body.
4. You Worry About Rain & Hurricanes
One of Aruba's BEST attributes is the weather. Nearly every single day on the island is 80° and sunny, without much rain. First thing in the morning, you might see dark clouds but I don't exaggerate when I say any rain lasts about 2 minutes!
Also, Aruba is located outside of the hurricane belt and there is rarely ever a storm on the island. No need to worry, even during hurricane season! You are likely to enjoy warm weather, clear days with minimal clouds every day you are there!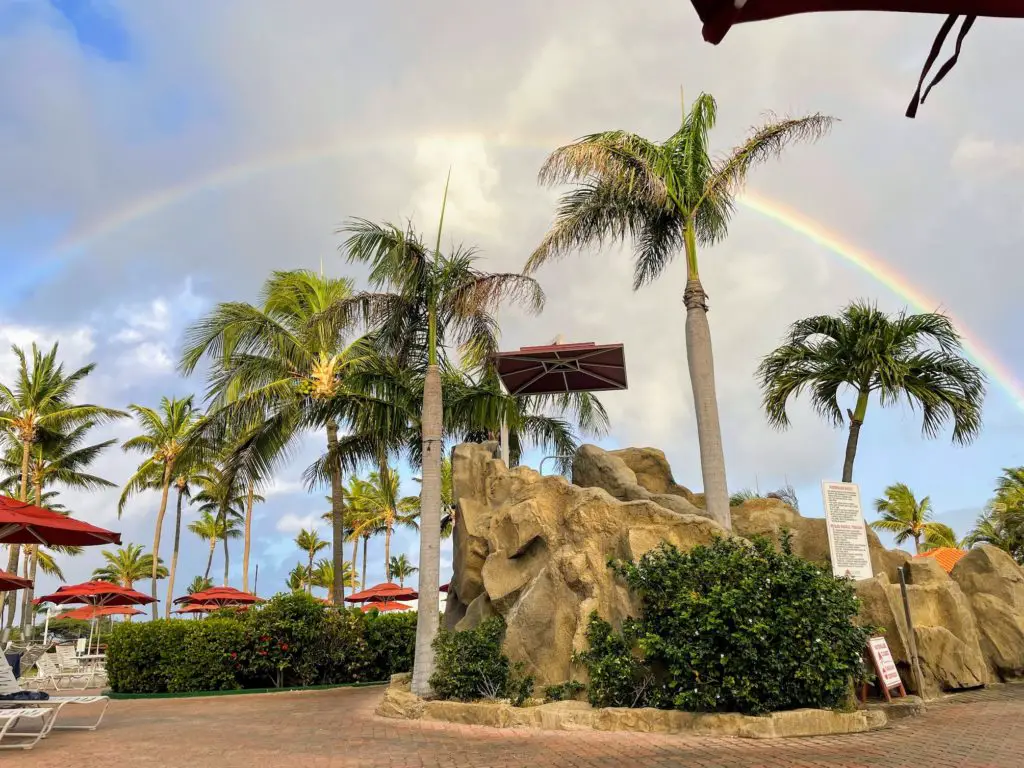 5. You Skip Renting a Car
While I know car rentals are an expense, a car in Aruba is WORTH IT. This is a small island, but that doesn't mean there isn't a long list of places to explore. Without a car, you are going to be trapped in one general area. And if you hope to see the entire island (you do!), you won't want to be hopping in a cab everywhere you go.
One of my TOP Aruba travel tips is to rent a car. Keep in mind that you won't spend too much on gas since it's such a small island. And, you can find free parking all over the place. Also, Arubans drive on the right side of the road—what you're used to…just be ready for roundabouts!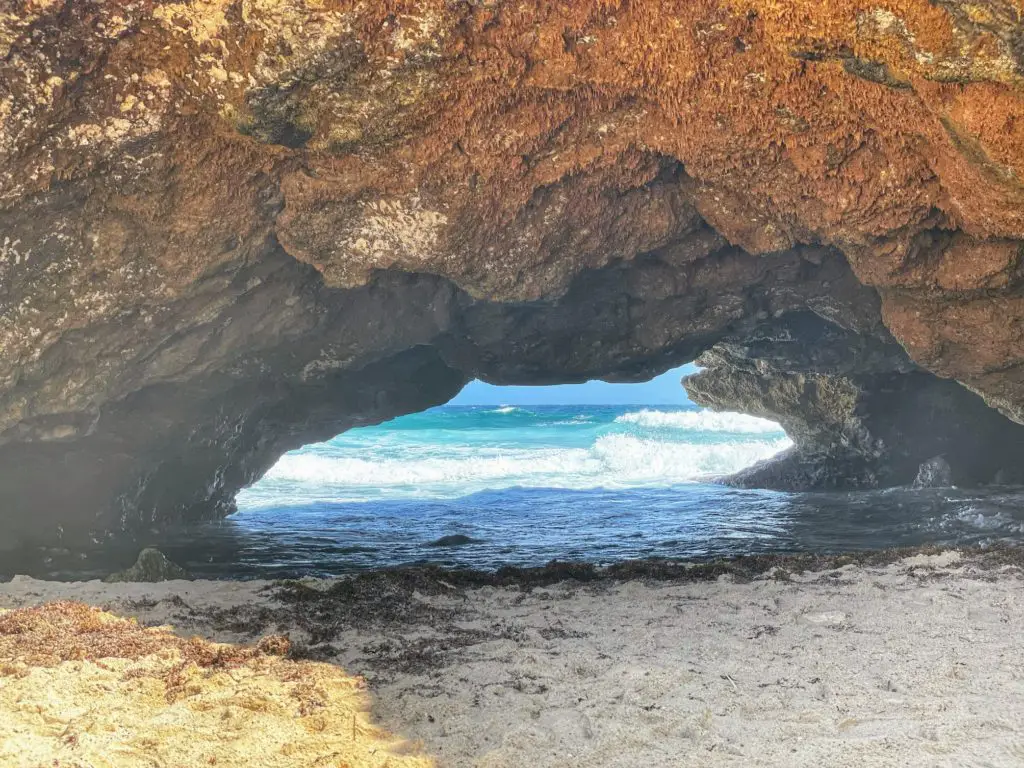 Places to Visit in Aruba by Car:
Downtown Oranjestad: Renaissance Mall, restaurants (go to The West Deck), outdoor shops, and a chance to watch the cruise ships come in.
San Nicolas: Plenty of great restaurants, artwork, and an overall cool area to get the vibe of Aruba on the south end.
California Lighthouse: The north end of the island where you will find great views.
Arikok National Park: More below.
Aruba Beaches: More below.
OPINION: I would never do an all inclusive resort in Aruba. There is WAY too much to (safely) explore.
Note: Aruba is one of the safest islands and violent crime is extremely low. Do not be nervous to explore! And if you are looking for a place to stay—La Cabana Beach Resort & Casino is my FAVORITE.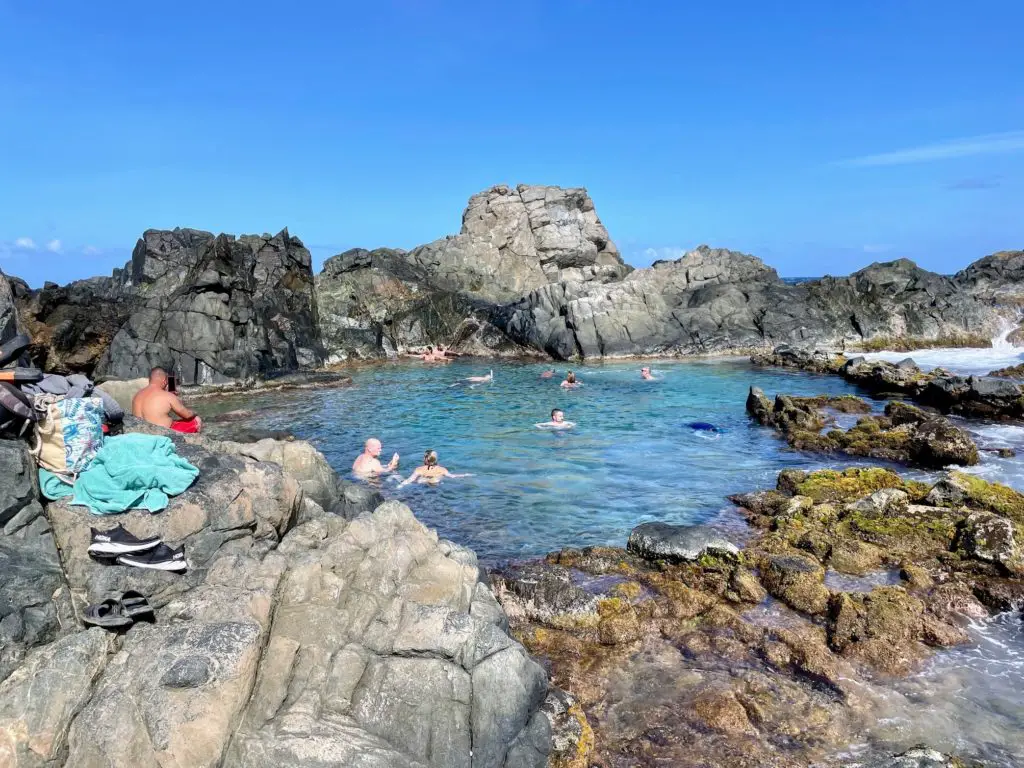 Even Better…Rent a Jeep
One of the best Aruba experiences is a self-guided Jeep Tour that includes Arikok National Park. Here you will find the Natural Pool ("Conchi"), Fontein Cave, and beaches and bridges on the rough side of the island. This is a really cool experience that shows an entirely different side. Make sure to grab a map!
Note: Jeeps are more expensive, so you might want to rent a car for the entire trip but rent the Jeep for just the one-day for off-roading.
Recommendation: Rent from Royal. They have some of the best prices on the island. And they will bring it right to you plus pick it up the next day!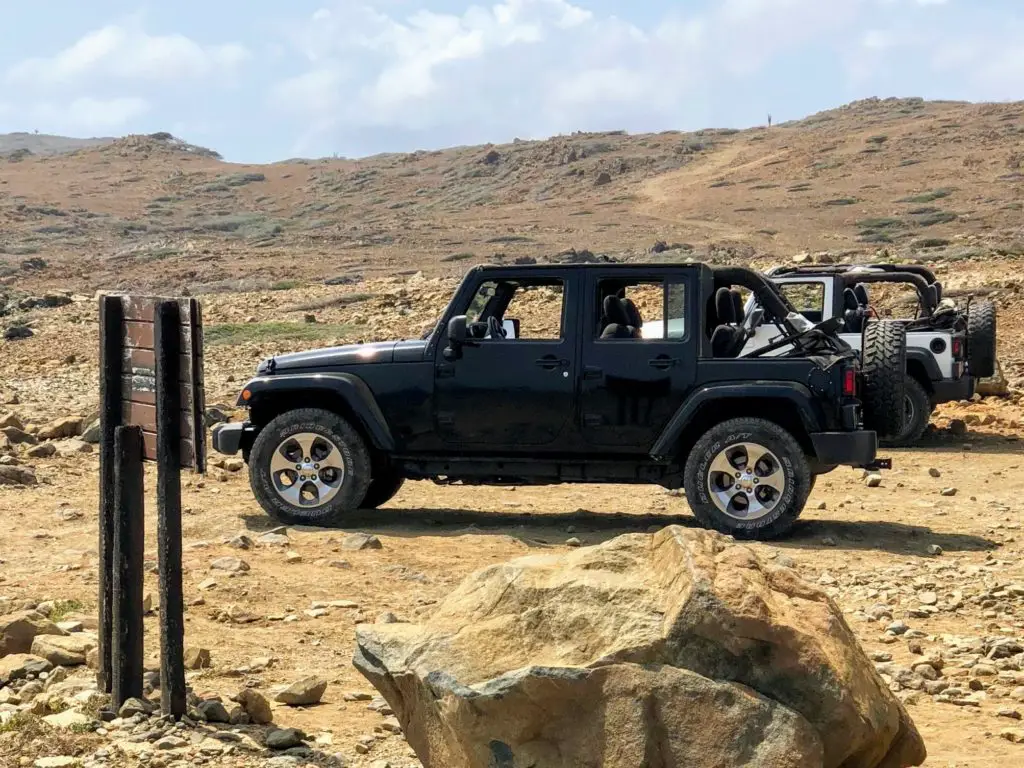 6. You Only Visit One Beach
Another one of the most important Aruba travel tips! You're likely staying somewhere on or near Eagle Beach or Palm Beach. Both white-sand beaches deserve ALL of the hype they get. But some of the best beaches are elsewhere on the island! Visit Arashi Beach on the north end, Baby Beach on the south, and everything in between!
Hop on jet skis, snorkel, grab cocktails, swim in the waves, or park it right in the sand. Each has its own unique personality and you won't regret visiting as many beautiful beaches as you can. For information on all of my favorites, read The Best Beach Days in Aruba.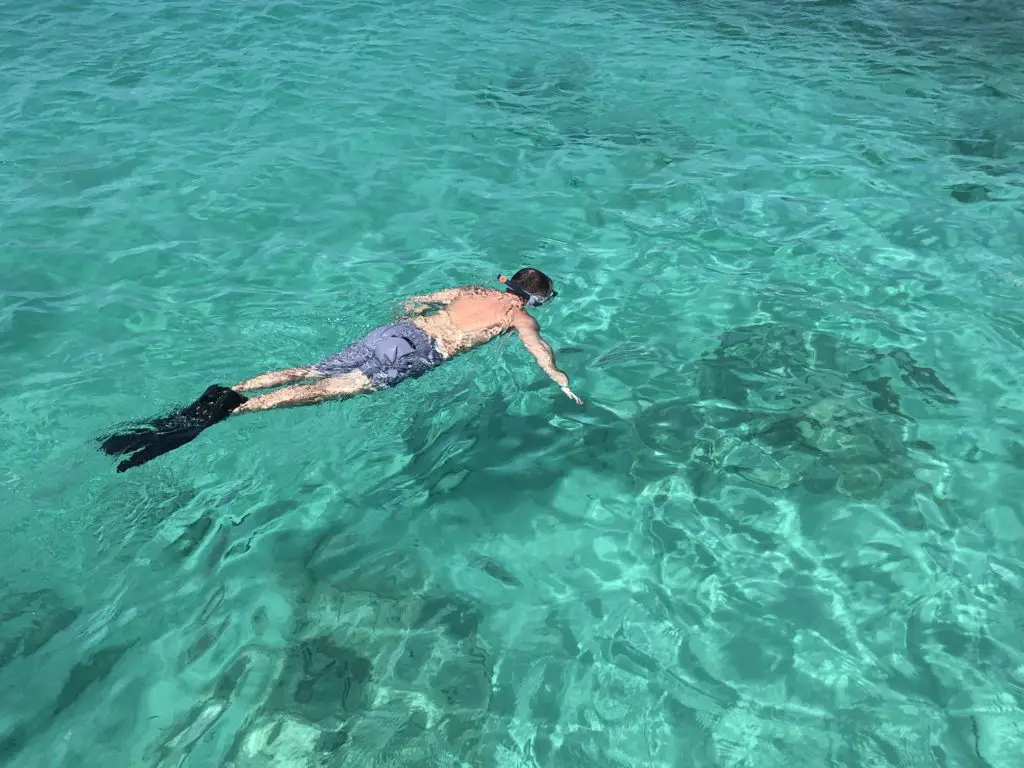 7. You Don't Get Out on the Water
If you are looking for something fun to do, make sure you get on a boat! The colors of the Caribbean sea are top-notch and you will never regret going out there.
There are Catamaran cruises on Palm Beach that take you on a party boat for a fun time of snorkeling and drinking. You can also try deep-sea fishing which takes you out on 4-, 6-, or 8-hour trips and you keep everything you catch! The guides will filet your fish which you take right to a restaurant to cook it!
8. You Waste Money on Bottled Water
All water is clean and pure—straight from the tap! Bring your own water bottle and use it around the island to avoid buying any. You need the extra money for beer, anyways!
9. You Are Shocked at Beer Prices
If you are a beer drinker, take a deep breath. This might come as a bit of a shock lol. But beer is EXPENSIVE. We're talking triple the price of US dollars for a case—$20 Coors Light cases become $60. Coronas are roughly $70 a case. Heineken is about $70 a case—and they are 8 oz. minis. While it sucks, you're not going to do much about it.
One of the best things you can do is bite the bullet and forget about it. In the long run, you're better off with your own to enjoy on the beach or hotel rooms vs. the bar.
Do you want a good deal? Find daily 2-for-1 happy hour. They are very popular on the island. My favorites are Beach Bar (5 PM-6 PM) and Pata Pata Pool Bar at La Cabana (4 PM-6 PM.)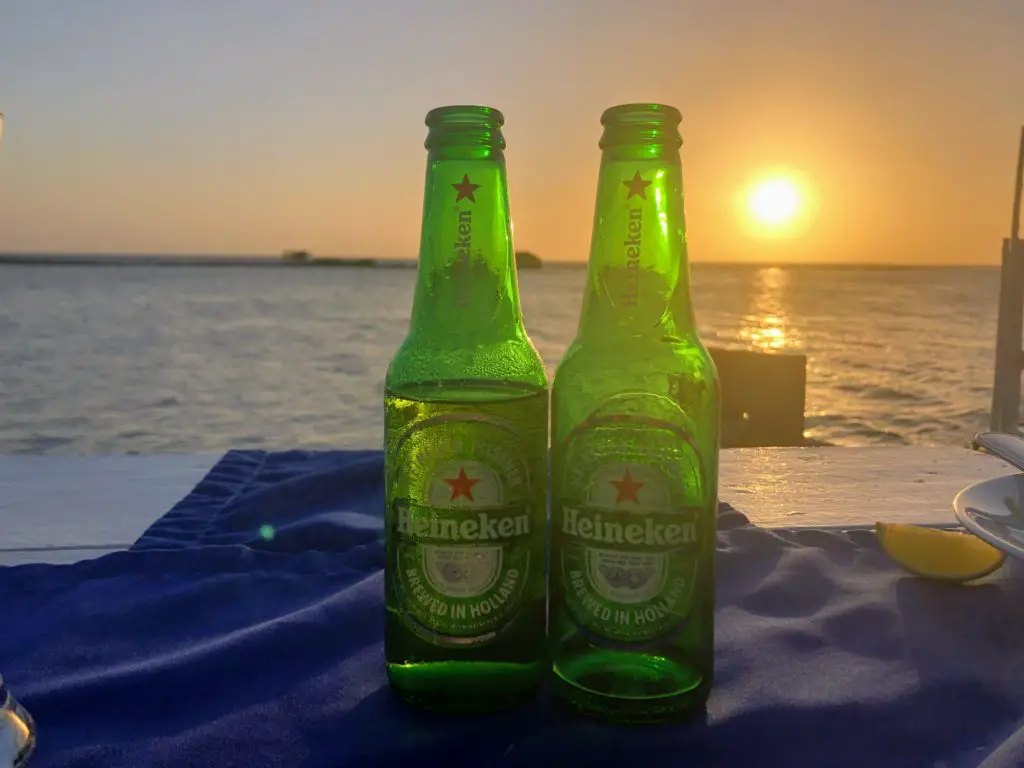 10. You Don't Try Fresh Fish
When I say fresh, I mean FRESH. Caught daily from the Caribbean sea, make sure at least a few of your meals include fish. Grouper, seabass, mahi-mahi, shrimp, and more are all available at most restaurants. And you'll love the taste! (Don't forget to look for the orange bottle of hot sauce.)
Tip: My favorite places for fresh fish are Zeerover's, Fishes and More, and Bingo Cafe & Restaurant.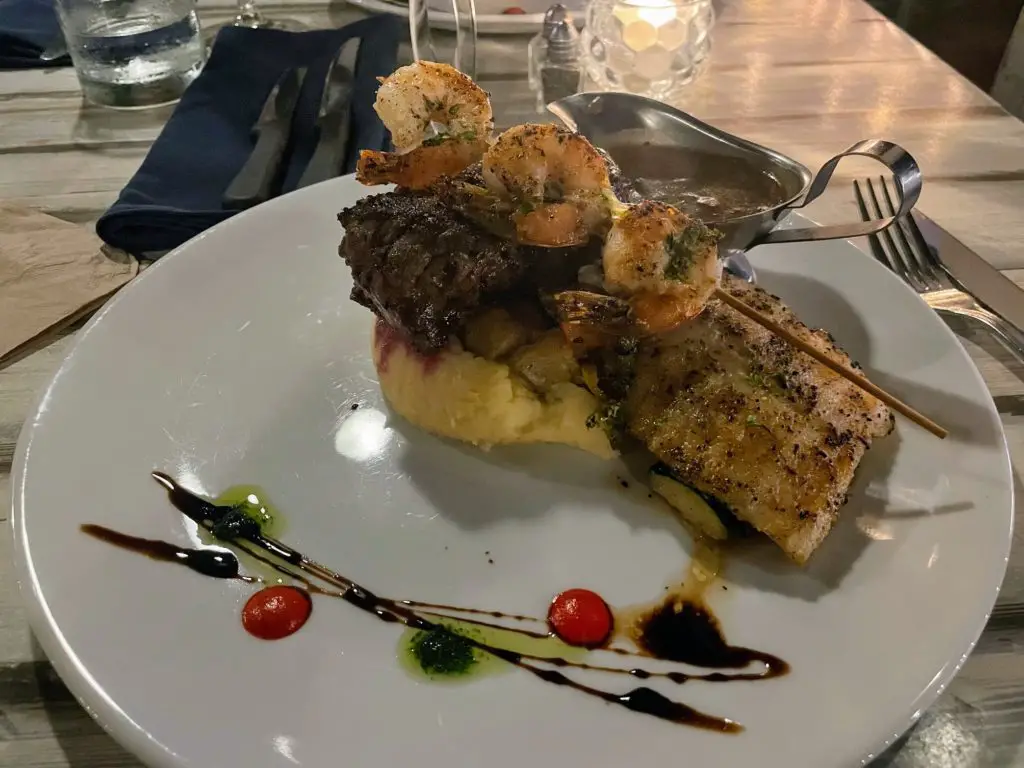 11. You Only Bring an American Express
Most major credit cards are accepted in Aruba but the one that gets denied most frequently is American Express cards. Be mindful of this and bring a different card—or better yet, carry cash! It's the easiest way to go and they accept U.S. dollars in Aruba so no need to worry about any exchanges.
12. You Are Unaware You Will Get Florin Back
That said, when you do use cash, you will get any coin change back in the local currency—Aruba Florin. So, if I owe $15.50 and give them $20, I'll get $4.00 US Dollars and the 50 cents back in Aruban Florin.
Good idea: use any Florin you accumulate and include it in the tip for your maid at the hotel. (I do like to keep a few coins as souvenirs as well!)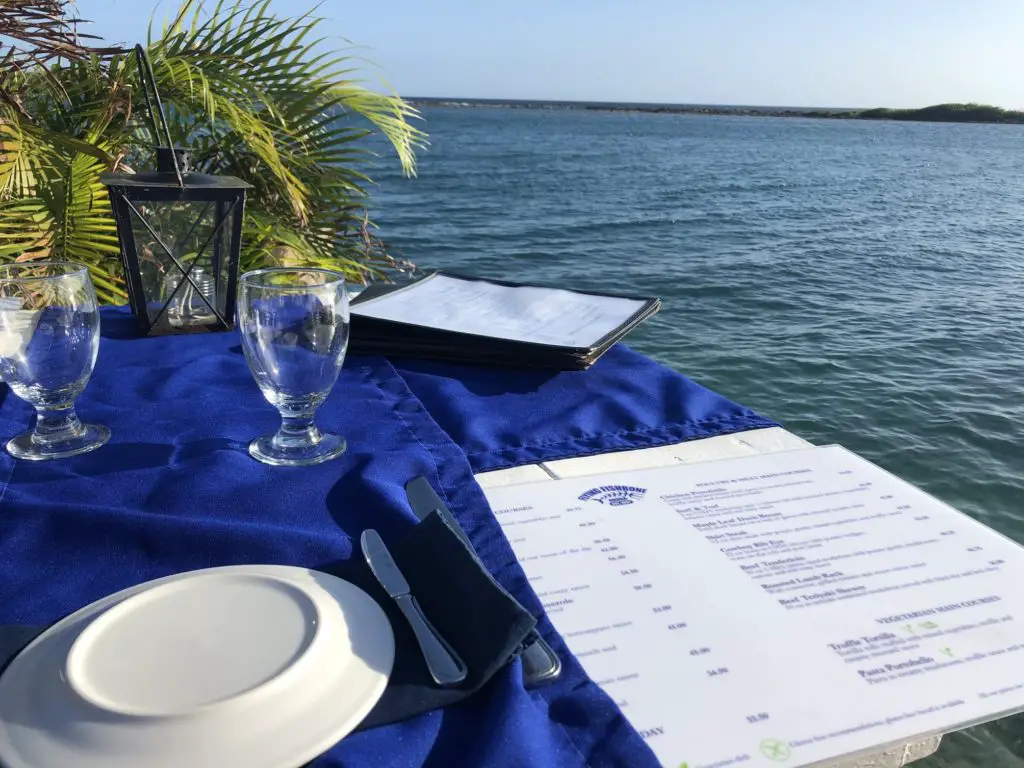 13. You Play the Slot Machines
If you love gambling, you are in the right place! Aruba has 12 casinos across the island where you can test your luck and win some money! That said, it's difficult! I recommend sticking to card games and sports betting vs. the slot machines which aren't shooting out too many extra dollars…
Recommendation: The Aruba Marriott Resort has a great casino!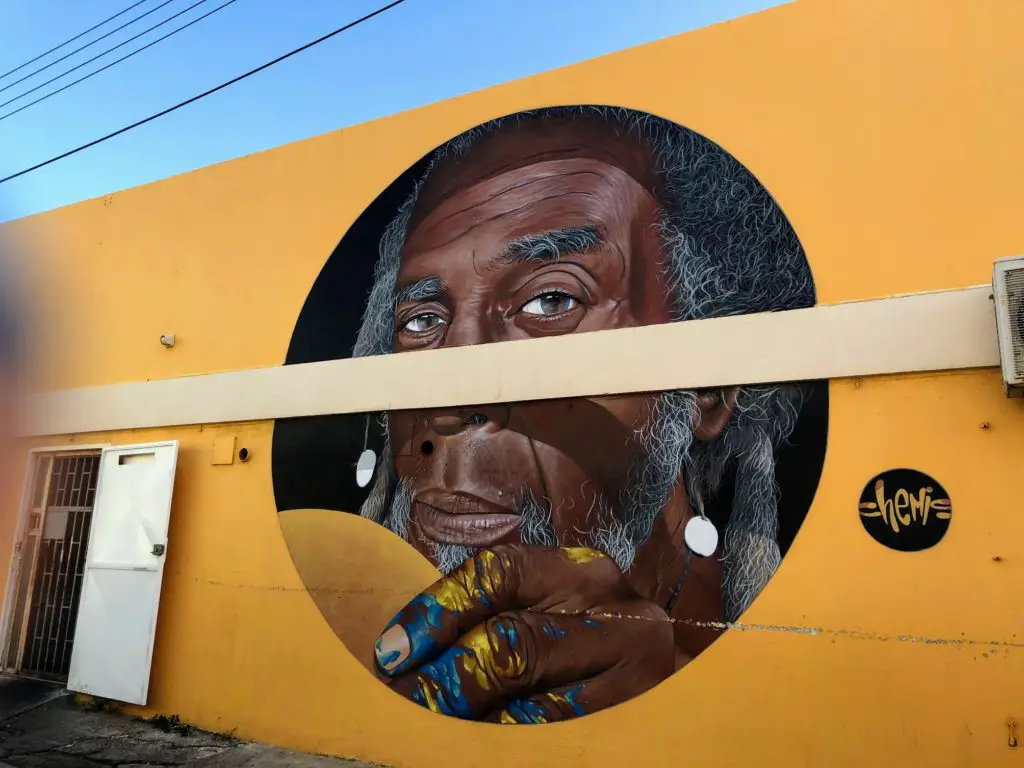 14. You Don't Make Friends with Locals
Another one of the TOP Aruba travel tips. There are friendly locals everywhere you go, and they want to be your friend! Locals are happy to have visitors from all over the globe and make it well-known you are welcome! Strike up a conversation (most know 3+ languages!) and get to know them. Who knows, they might become a lifelong friend!
15. You Only Stay One Week
The island of Aruba is a special place. And while vacations are typically a week, I highly recommend staying longer if you can swing it! Even 10-14 days will give you a few extras to make sure you check off different beaches, excursions, pool days, and try a variety of bars and restaurants!
Your best option is a month! Ha. But seriously, you can stay 30 days without a visa.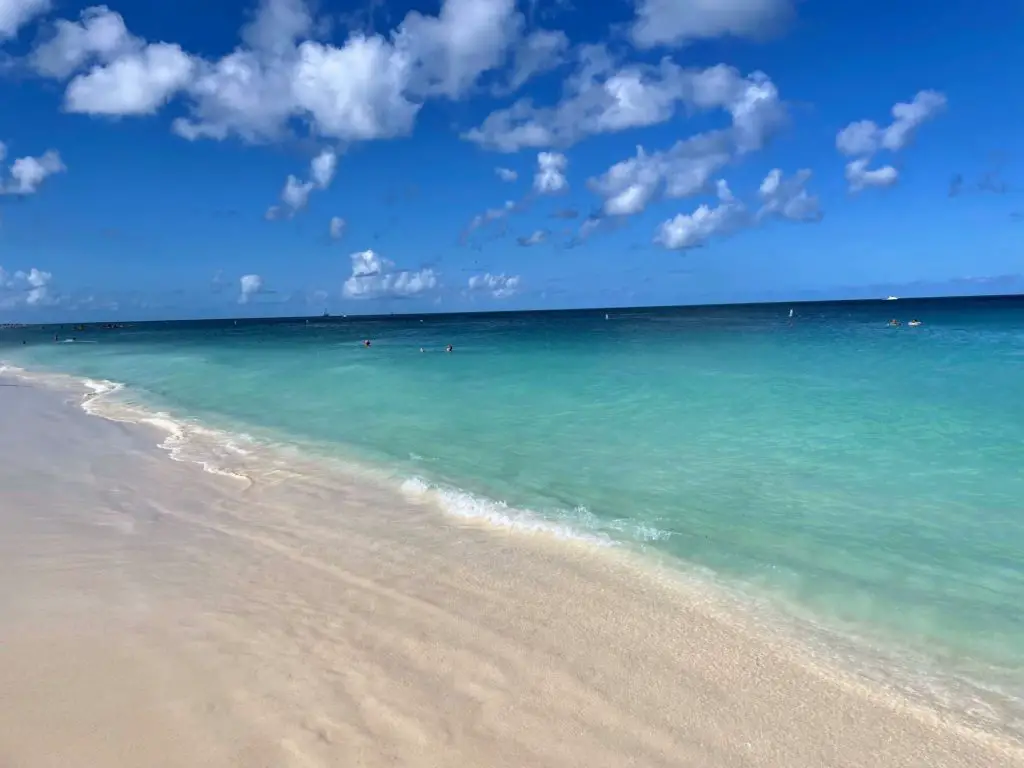 WARNING: Aruba Travel Tips that involve your flight home—a sad day!
16. You Don't Arrive at the Aruba Airport 3+ Hours Early
This is a happy island. I promise for 98% of your trip, you will be happy. But the other 2%? The Aruba airport. It's not exactly a walk in the park. One of the most important things to know is that you will want to arrive at least 3 hours early on the day of your flight home. There are multiple steps when it comes to getting your ticket and getting through security and customs.
Not to mention, it's a tiny airport (8 gates) and there are a lot of people visiting the island! Between that and the lack of urgency ("island time"), it can create the perfect storm. Get there early and plan for it to take a while. You might get lucky and go through quickly, in which case, enjoy One Happy Bar inside.
Note: Make sure to review any entry requirements and required travel insurance.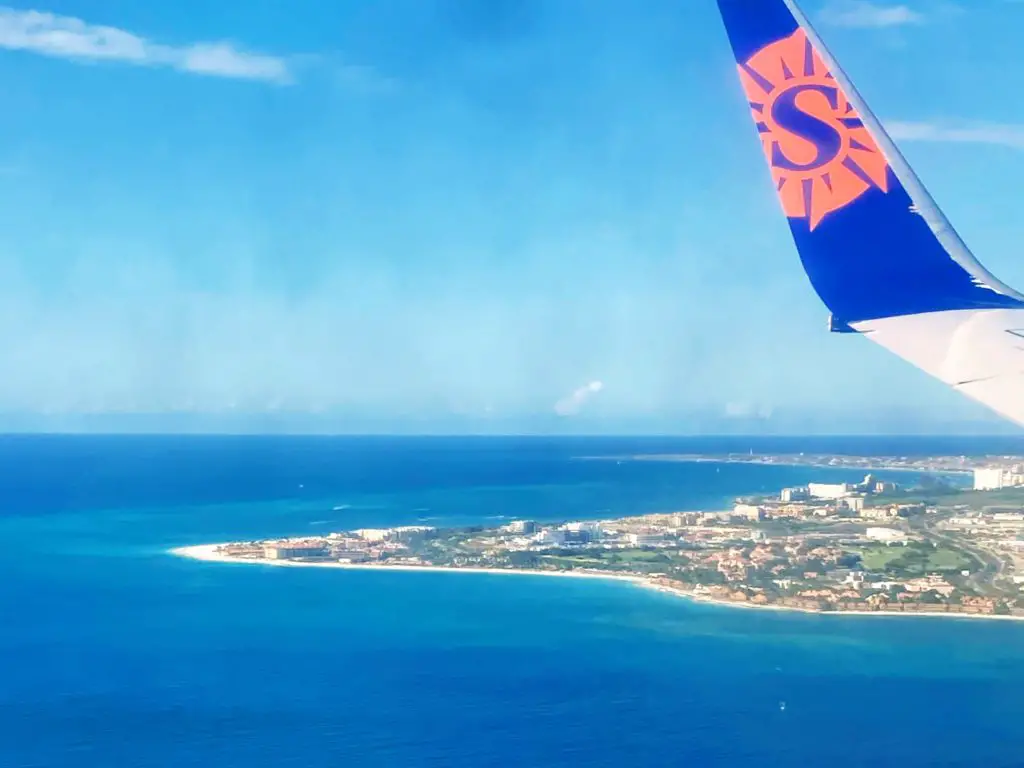 17. You Travel on Saturdays
On that note, keep in mind that Saturday is the worst day to travel into, and especially out of, Aruba. It is the busiest travel day and typically the most chaotic at the airport—especially during the high season (December-May.)
The best time to travel is the middle of the week if you can swing that so check around for different times. If you do not have a choice, don't worry. I've traveled Saturday-Saturday numerous times and it's manageable. But if you do have a flexible schedule and can look at something else, it's worth it!
Aruba Travel Tips—Mistakes to Avoid!
Hopefully, this was all relevant information and you learned a thing or two before you head on your Aruba vacation! It's an incredible island that's easy to get to from the United States and I don't think you will be disappointed, especially since you made it to the end of this post!
Looking for another Aruba Travel Guide? There's Plenty Where That Came From…
Did this post help you out? Support the work and pass along $5 for a Coors Light 😉 VENMO: @Amber-LBB or PAYPAL: amber@littlebluebackpack.com. THANK YOU.